I hope you enjoy my review of the O.Henry Hotel and the Green Valley Grill in Greensboro, NC. Including Chef Leigh Hesling's Braised Lamb Shank with tomato chickpea ragout
Total Time:
2
hours
50
minutes
This post includes affiliate links. As an Amazon Associate I earn from qualifying purchases.
When I think of the Braised Lamb Shank, I have visions of melt in your mouth deliciousness. A perfectly cured and seasoned piece of meat that evokes a memory of a far away place in a land of magic and mystery…..sigh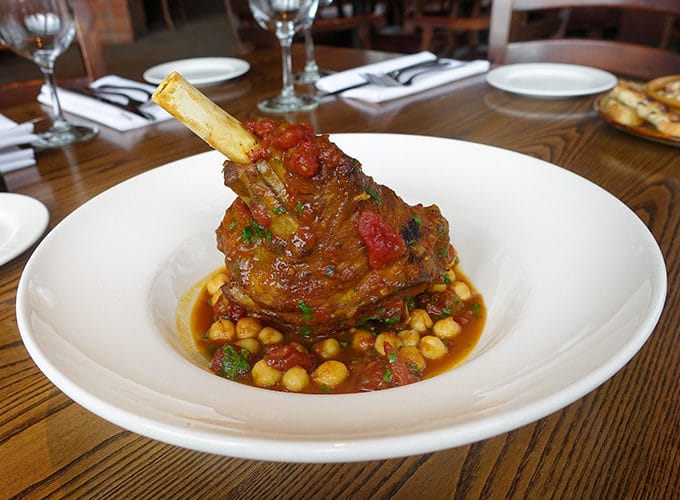 Food can do that to you, it can remember things you've things, things you've read and things you've only dreamed of.
While staying at the O.Henry Hotel in Greensboro, North Carolina, I had the opportunity to speak with Chef Leigh Hesling and he was kind enough to invite me into his kitchen at the Green Valley Grill for a private tasting of his Legendary Braised Lamb Shank. (Chef Leigh graciously offered his recipe so you can try this dish in your own home, you'll find it at the end of my post)
Since 2005, Leigh Hesling has been the Executive Chef of both Print Works Bistro and Green Valley Grill. Owing to his mantra of "nearer the farm to the fork, the better the flavor," you will often see him at the farmers market or transporting fresh vegetables.
Having a restaurant of this caliber attached to the O.Henry Hotel makes it a great spot for travelers to get amazing meals. But it isn't just about the hotel guests, this restaurant has a loyal local following that loves the dishes that Chef Leigh serves at The Green Valley Grill as well as their sister restaurant Print Works Bistro.
The bar area of the restaurant is a great place to unwind after a busy day and you'll find a lively crowd there every evening for happy hour and appetisers.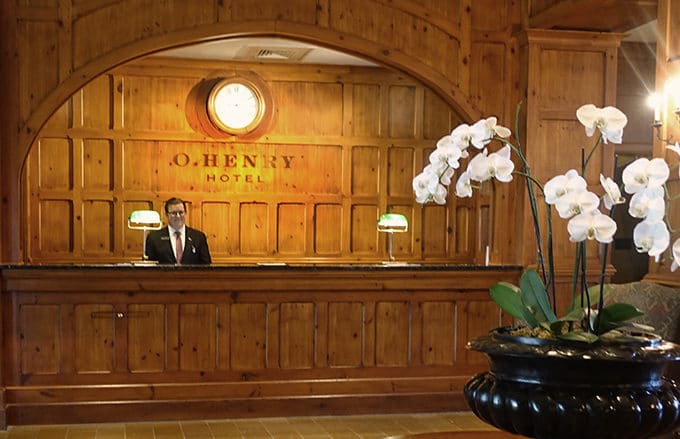 What really sets the O'Henry apart from other hotels is their friendly and professional staff. They're serious about Southern Hospitality and go out of their way to make you feel welcome and at home during your stay.
The O.Henry Lobby is where you'll find many of the guests throughout the day.
Taking tea in O.Henry's Social Lobby has become a Greensboro tradition. In fact, it's so popular that they've expanded the hours. Serving tea Friday, Saturday and Sunday, 12 Noon–5 PM, Monday – Wednesday, 2–5 PM and Thursday 2-3:30 PM.
Every Thursday you can enjoy vintage craft cocktails and delightful Mediterranean tapas (see the menu) garnished with live American jazz standards from 5:30 – 8:30 PM. They even take requests, I asked for Cole Porter's Begin the Biguine which they performed masterfully.
The rooms at the O.Henry are well appointed with a sofa, desk, tv and a very comfortable bed. In fact, it was so comfortable I slept till 8 am every morning!
But I did have to get up so I could make my way down to a delicious breakfast buffet that is served each and every morning at the O.Henry.
So I guess you can tell from my post that I enjoyed my stay in Greensboro and the O.Henry Hotel. Next trip I'll have to try their sister hotel the Proximity.
To learn more about what you can do in Greensboro read the post about my visit.
If you enjoyed my post about Greensboro please leave a comment, I love hearing from you!
You can also FOLLOW ME  on Instagram @chefdenniseats and @chefdennistravels,  Twitter and Facebook.
This is an affiliate link and If you are booking a trip to Greensboro or anywhere else in the world I would appreciate it if you could use this link. The added income helps me keep traveling and writing about my travels.
Print Recipe
Braised Lamb Shank with a Tomato Chickpea Ragout
I hope you enjoy my review of the O.Henry Hotel and the Green Valley Grill in Greensboro, NC. Including Chef Leigh Hesling's Braised Lamb Shank with tomato chickpea ragout
Ingredients
Lamb Shank Cure
6

lamb shanks

2-3

tablespoons

chopped garlic

6

tablespoons

Moroccan Spice Blend

(see recipe)

1 ½

cups

kosher salt
Moroccan Spice Blend
2

teaspoons

turmeric

3

tablespoons

ground cumin

1 ½

tablespoons

ground coriander

1 ½

tablespoons

onion powder

¾

teaspoon

ground cinnamon

1

tablespoon

fresh cracked black pepper

¼

cup

kosher salt
Lamb Shank Braising
6

Lamb Shank Cure

(see recipe)

1 ½

chopped yellow onions

4

tablespoons

chopped garlic

6

tablespoons

canola/ olive oil blend

3

cups

dry sherry

7

cups

chicken stock
Tomato Chickpea Ragoût
7

cups

canned diced tomatoes

4

cups

lamb shank braising liquid

2

cups

chickpeas

(canned garbanzo beans)

¼

ounce

chopped cilantro
Instructions
Lamb Shank Cure
Rub shanks with garlic and the spice blend.

Lay shanks in a pan and pack with salt.

Allow to sit for 24 hours.

Remove from pan and dust off the excess salt.
Moroccan Spice Blend
Combine well and store in an airtight container.

Makes: 12 tablespoons
Lamb Shank Braising
Heat oil in a large pan and sear the shanks on all sides.

Remove shanks and add garlic; sauté until golden.

Add onions and caramelize. Deglaze the pan with sherry and simmer for 10 minutes.

Add chicken stock and red sauce. Add shanks to the liquid and simmer for about 2 hours or until tender. Remove shanks and reserve the braising liquid.
Tomato Chickpea Ragoût
In a sauce pot, heat braising liquid.

Add chickpeas and heat through.

Remove from heat and add chopped cilantro.
Braised Lamb Shank Tagine Assembly
6 shanks, Lamb Shank Braising (see recipe)

6 cups Tomato Chickpea Ragoût

Heat ragoût and place in 6 serving bowls.

Place shank over ragoût.
Nutrition
Calories:
1042
kcal
|
Carbohydrates:
47
g
|
Protein:
110
g
|
Fat:
34
g
|
Saturated Fat:
8
g
|
Cholesterol:
318
mg
|
Sodium:
5890
mg
|
Potassium:
2298
mg
|
Fiber:
8
g
|
Sugar:
16
g
|
Vitamin A:
470
IU
|
Vitamin C:
33.5
mg
|
Calcium:
230
mg
|
Iron:
15.9
mg