Garlic herb lamb chops marinated in a blend of garlic, rosemary, thyme, cracked black pepper, and aromatics infused with olive oil for a lamb chop bursting with flavor. Pan-seared, creating a tender and juicy, flavorful lamb chop that is guaranteed to be better than your favorite high-end restaurant.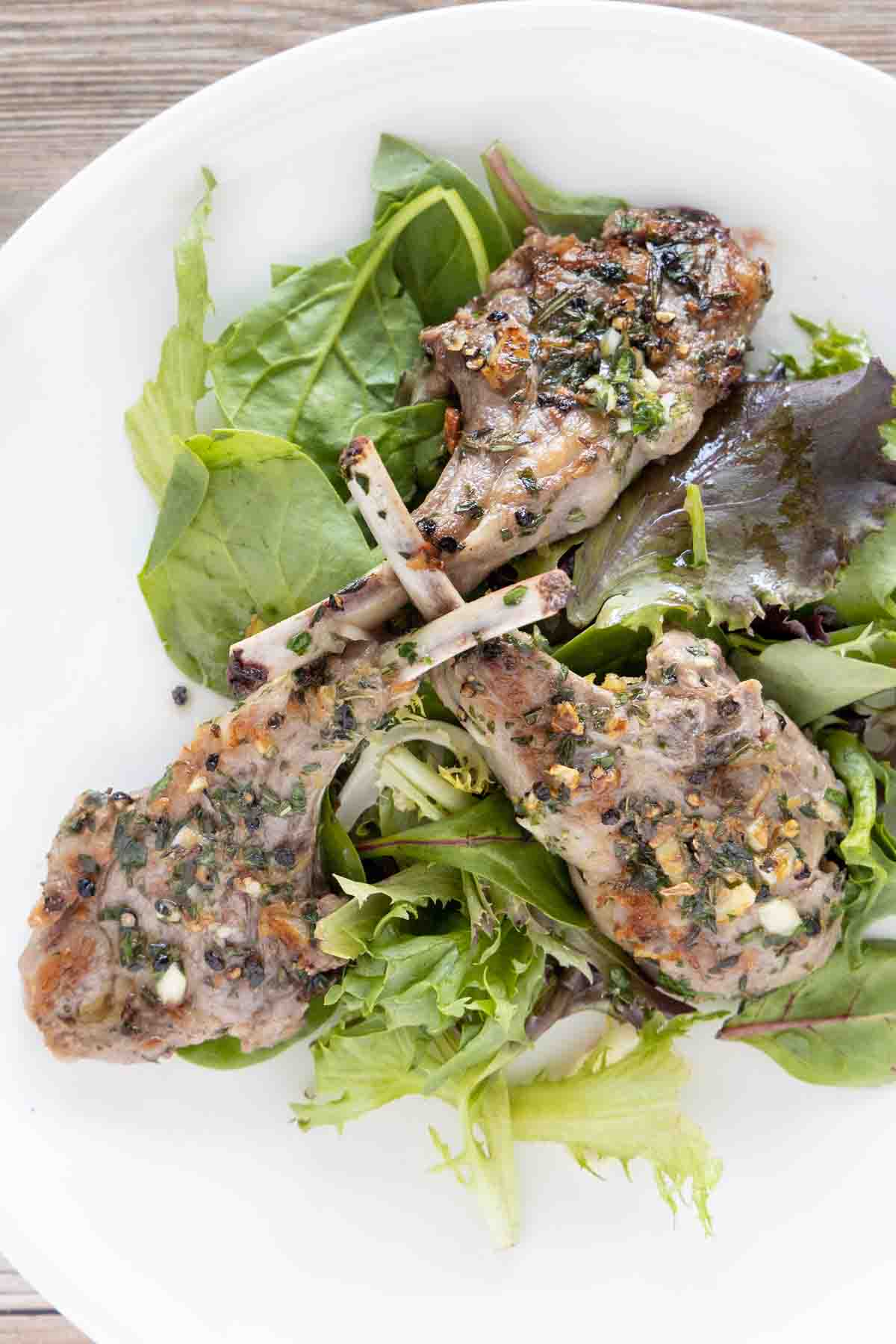 Creating Restaurant Quality dishes in your own home is easier than you think, and my Garlic Herb Lamb Chops can be on your dinner table in less than an hour. With a quick 40-minute marinade and a cooking time of 4-5 minutes, these tender lamb chops will be on your dinner table faster than ordering takeout.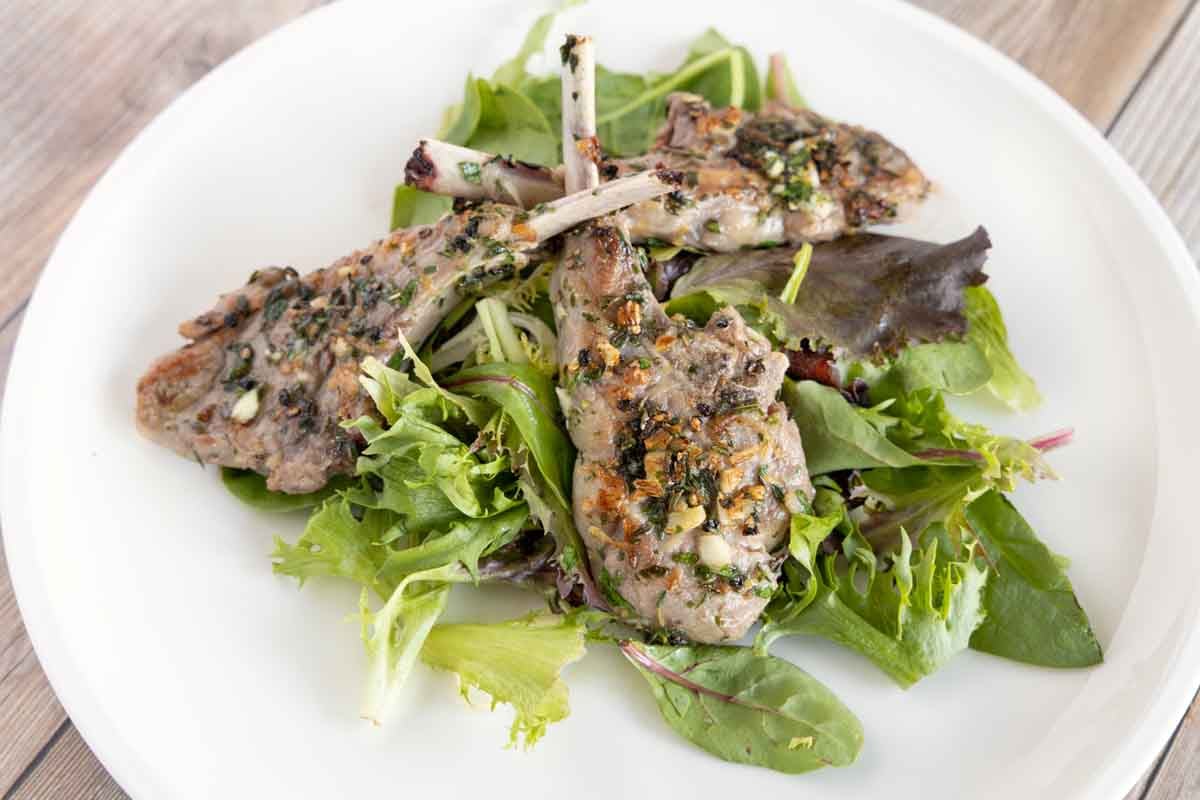 I love Pan Searing Lamb Chops because it creates a delicious crust on the outside that's loaded with flavor while keeping the chops moist and tender on the inside!
Cooking lamb isn't difficult, and if you love lamb chops, my roasted rack of lamb is delicious lamb recipe.
Ingredients to make Garlic Herb Lamb Chops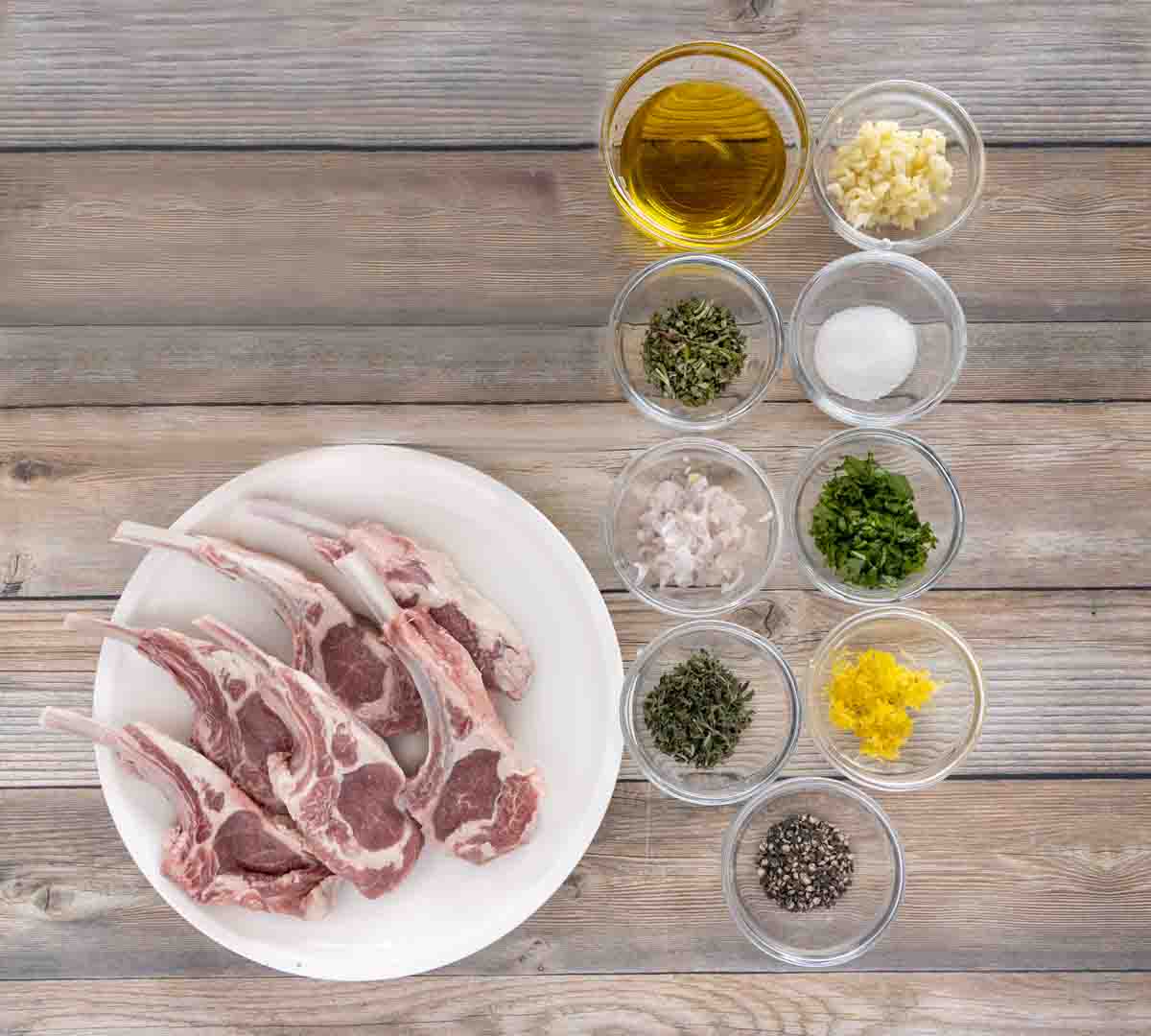 Let's start by gathering the ingredients we need to make Marinated Galic Herb Lamb Chops. In Chef Speak, this is called the "Mise en Place," which translates to "Everything in its Place."
Not only does setting up your ingredients ahead of time speed up the cooking process, it also helps ensure you have everything you need to make the dish.
Made with simple ingredients
lamb rib chops
fresh rosemary
fresh thyme
fresh parsley
cracked black pepper
lemon zest
salt
shallots
garlic cloves
extra virgin olive oil
Rib chops are cut from a rack of lamb and are also referred to as lollipop chops. Loin Chops resemble a miniature porterhouse steak and tend to be meatier than rib chops. They're not as tender as rib chops, but loin chops have a wonderful smooth flavor and are an excellent cut of lamb.
How to make Garlic Herb Lamb Chops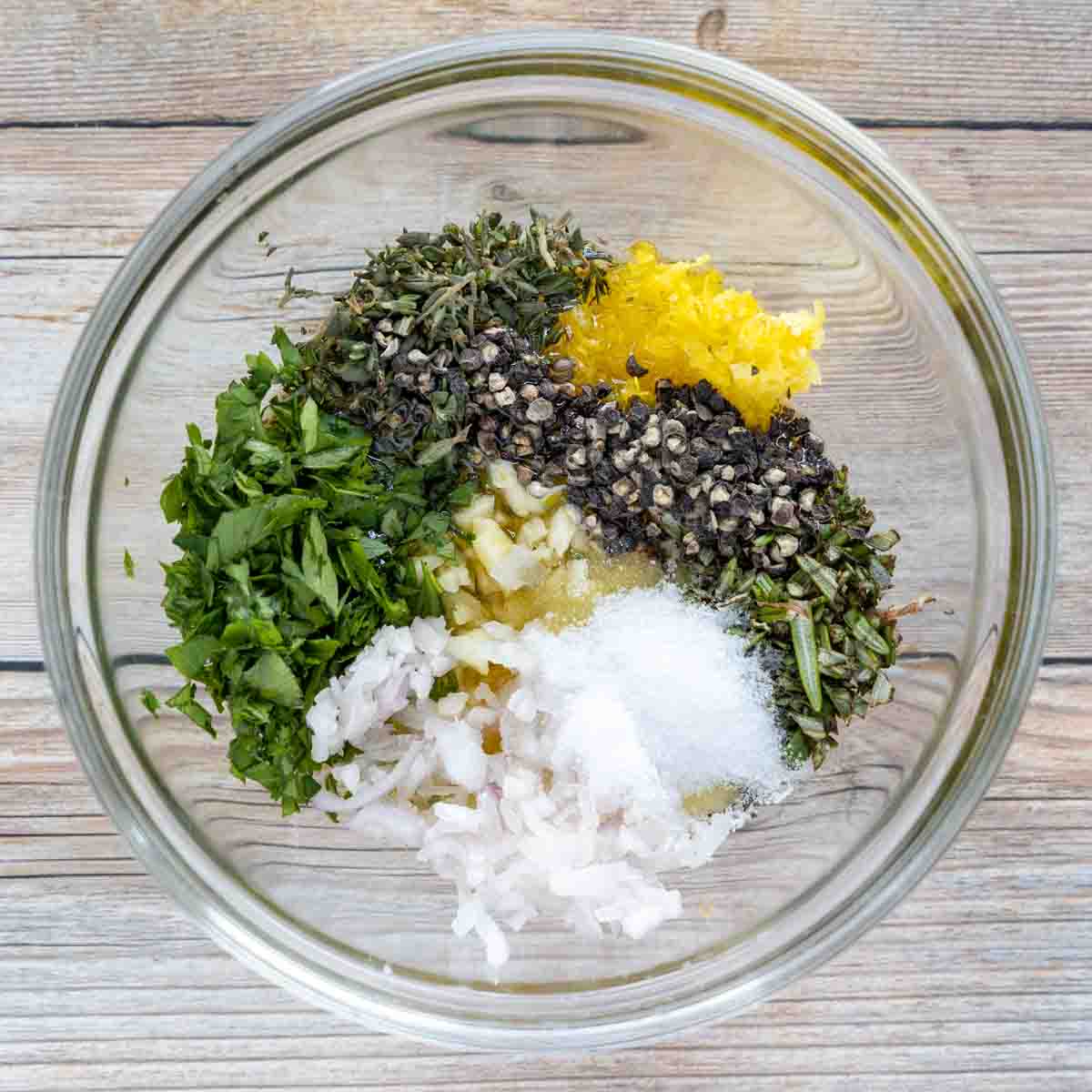 Add the seasonings and fresh herbs to a small bowl and mix with the extra virgin olive oil. Add the mixture to a medium size baking dish that the lamb chops will fit in for the marinating process.
Pat lamb chops dry with paper towels before adding them to the herb garlic marinade. Le the chops marinate at room temperature (not refrigerated).
Place lamb chops in the olive oil herb marinade and allow to marinate for 20 minutes.
Turn the chops over and continue to marinate for an additional 20 minutes.
I used rib chops, but if your grocery store has sirloin chops, those will work as well. Shoulder lamb chops are not the same, they can be used for this recipe but will require a longer cooking time.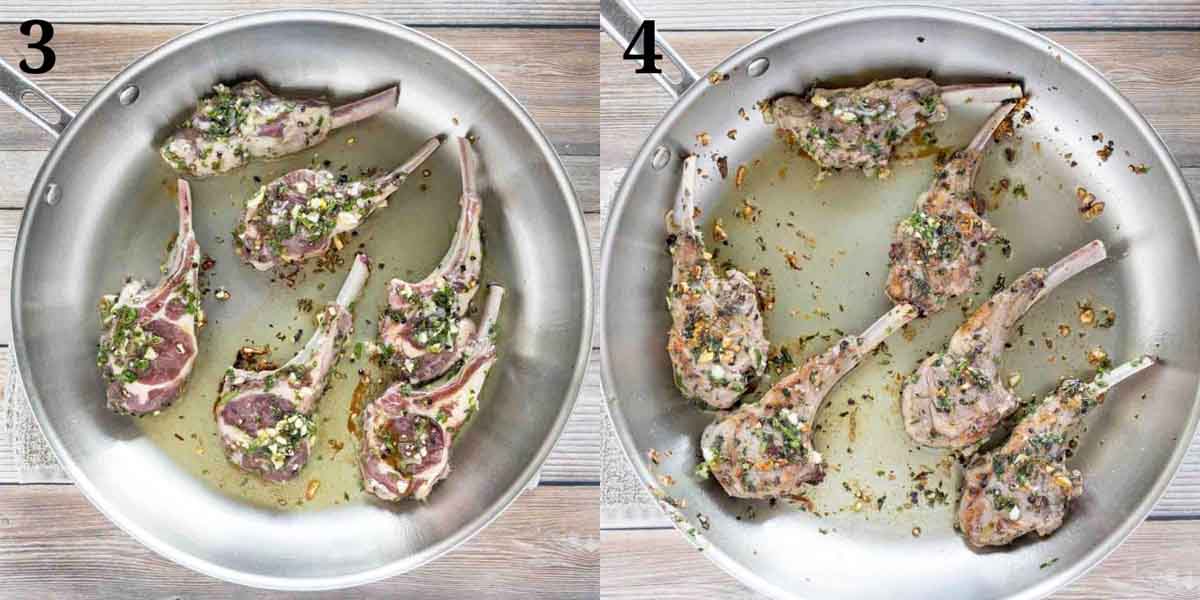 Place a large skillet (or cast iron skillet) over medium-high heat, and when the pan is hot, carefully place the lamb chops into the hot pan.
Sear the lamb chops for about 2 minutes on each side for a medium rare chop.
You can also cook these chops on an outdoor grill or use a grill pan.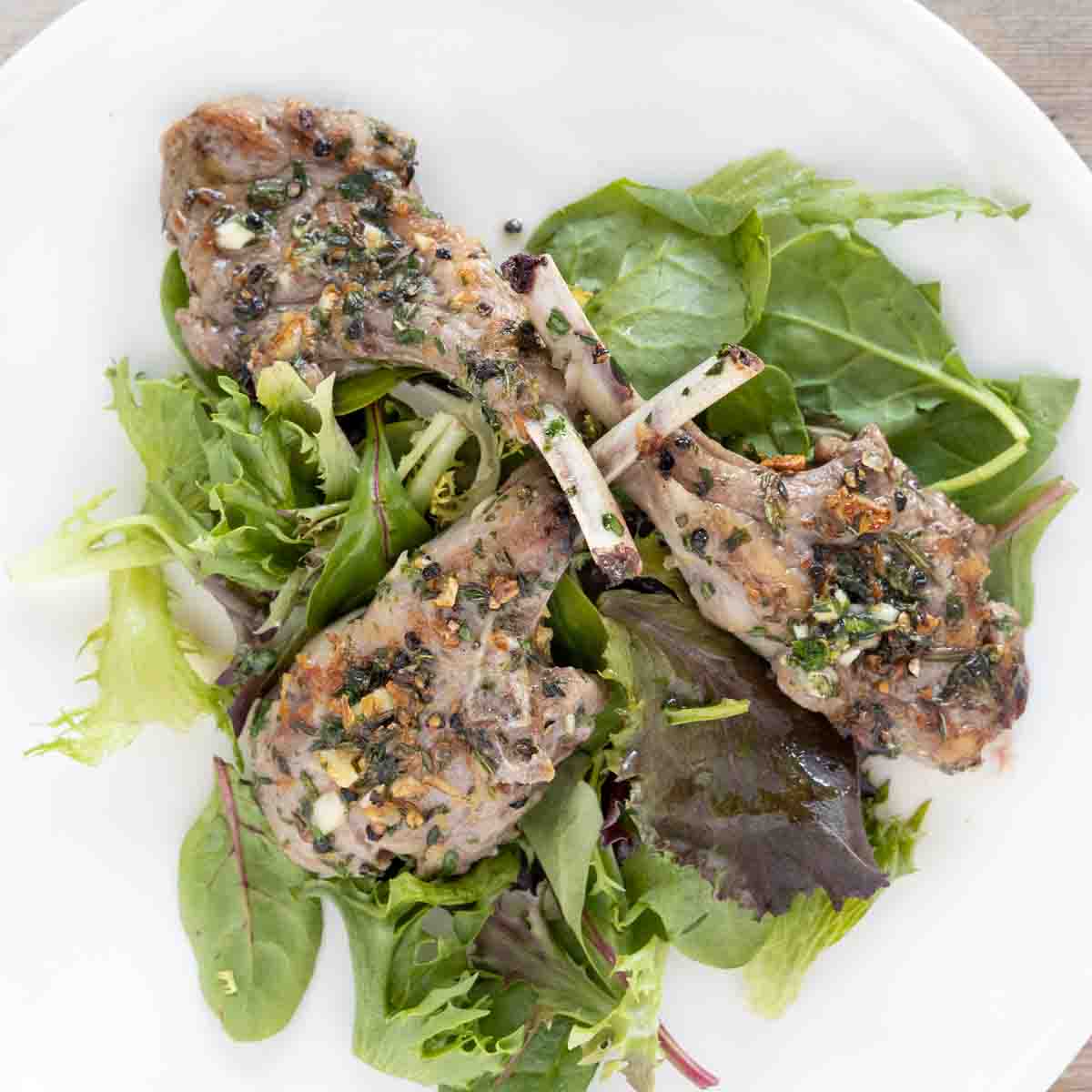 This delicious lamb recipe is fast enough for a busy weeknight dinner and fancy enough for a dinner party or a romantic dinner for two.
The succulent lamb is an easy recipe that you'll make time and time again. And I know after tasting one of those little lamb chops, you'll agree that this is the best Garlic Herb Lamb Chops you've ever had!
Serve the lamb with green beans, asparagus, or broccoli with roasted potatoes or seasoned rice.
Recipe FAQ's
What herbs go best with lamb?
Lamb goes well with quite a few fresh herbs. The flavors of Rosemary, Sage, Thyme, Flat-Leaf Parsley, Oregano, Mint, Sage, and Basil all work well with lamb. Use your herb or a blend of seasonings to create the perfect lamb dish.
Do you have to marinate lamb?
No, you don't. Marinating lamb adds flavor and helps to tenderize the meat, but you don't have to marinate lamb. The meat is tender enough without marinating. Cooking lamb simply with just olive oil, salt, and pepper will produce a flavorful chop.
How do I reheat lamb chops?
You can reheat lamb chops in the oven at a low temperature to prevent them from drying out. Another way is to warm them on the stovetop over medium-low heat.
More Lamb Recipes You'll Love!