What could be better to celebrate the summer than my red white and blue Ricotta Cheesecake. My oh so creamy cheesecake will be a hit at your next gathering
Total Time:
1
hour
20
minutes
This post includes affiliate links. As an Amazon Associate I earn from qualifying purchases.
How to Make a Ricotta Cheesecake with a fruit topping
For the past few weeks, I have been thinking about a Ricotta Cheesecake, I originally planned on using cherries for my topping, but my wife ate them before I had a chance to make it…..don't get me wrong she didn't eat them all in one sitting, it was over 3 or 4 days, but of course, I didn't notice until I was ready to make the cake.
So I bought more cherries, but I also bought strawberries and blueberries, and while I was pitting the cherries for the cake (eating more of them than I should), I decided on strawberries and blueberries instead of the cherries. It would be the perfect dessert to celebrate the summer and the upcoming 4th of July.
As I searched for a recipe that included ricotta and mascarpone I wasn't happy with what I found. I couldn't find anything in any of my cookbooks that sounded good to me. But I had a pretty good idea of what should go into the cake. So I figured I would just wing it.
I knew I wanted it to be creamy but also had to have that ricotta base, so I added a little of this a little of that and my new love Greek Yogurt.
I wanted the crust to be a little different, and as luck would have it, I found digestive biscuits and pistachio's in my pantry…..perfect!
If you're not familiar with digestive biscuits I like to think of them as Adult Graham Crackers.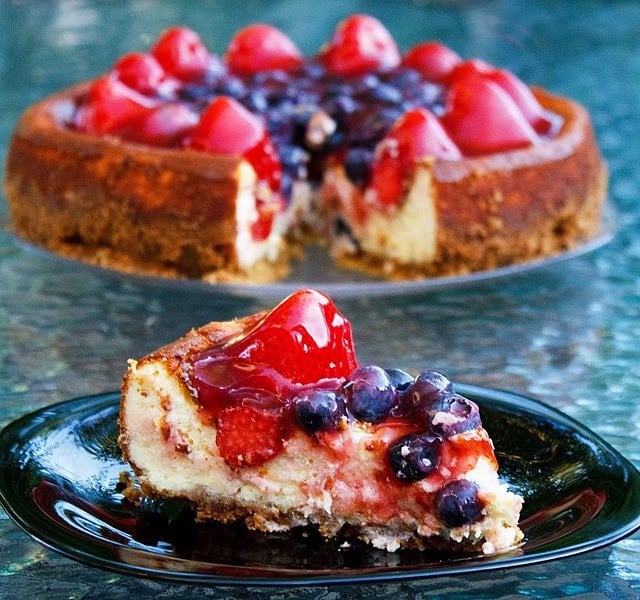 If you enjoyed this recipe you may also like these: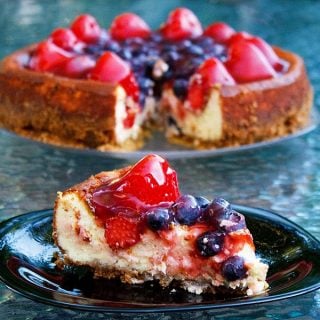 Print Recipe
Ricotta Cheesecake
What could be better to celebrate the summer than my red white and blue Ricotta Cheesecake. My oh so creamy cheesecake will be a hit at your next gathering
Ingredients
Crust for Cheesecake
12

Digestive Biscuits or one pack of Graham Crackers

1/2

cup

Roasted Pistachio's

1

stick of Unsalted Butter

melted

1/4

cup

of Sugar

Ricotta Cream

16

oz

Ricotta Cheese

16

oz

Mascarpone

8

oz

Greek Yogurt or Sour Cream

1

cup

Sugar

6

Large Eggs

2

Tablespoons

Flour

grated peel of one Lemon

Juice from one Half Lemon

1

Tablespoon

Pure Vanilla

1

Teaspoon

Salt
Topping for Cheesecake
Topping for Cheesecake

pint

fresh Strawberries whole

1/2

Pint

fresh Blueberries

1

cup

of red fruit juice

Juice of one Lemon

2

tablespoons

sugar

1 1/2

Tablespoon

of Corn Starch
Instructions
Crust for Cheesecake
In a food processor, grind up the pistachio's and then the digestive biscuits to a fine meal.

Melt one stick of butter and add the butter and sugar to the ground pistachio's and digestive biscuits, mix well

The mixture should be wet enough to form, but not so wet that it oozes butter.

Form crust into your springform pan and bake at 375 degrees for about 7 minutes. Let cool.
Ricotta Cream
In your mixer blend together the Ricotta Cheese, Mascarpone, and Greek Yogurt blend until smooth.

Add eggs one at a time until well blended.

Add sugar, flour, salt, grated lemon peel, lemon juice, and vanilla.

Blend well until very creamy. Pour mixture into prepared Springform pan and Bake at 375 degrees for 50-60 minutes in a conventional oven or until the cake has set in the middle. The top of the cheesecake can get brown if you are not topping it or prefer a lighter top, cover with foil for half of the time in the oven.
Topping
Wash Strawberries and Blueberries and dry well.

Cut the tops off the dried Strawberries and place around the outside of the Cheesecake, fill inside with the blueberries, they should be two deep in the middle of the Strawberries.

Place all but 1/4 cup of the juice and lemon juice and sugar in a saucepan, heat to a near boil. Mix corn starch, into remaining juice and make into a slurry, add to the heated juice and bring to a low boil. Your mixture should start to clear as it thickens, remove from heat and allow to cool for 5 minutes then spoon over your berries.

Refrigerate the cake for at least 4 hours or overnight. Cheesecake will be soft and crumble unless you give it time to set up! I know it's hard to resist but it will be worth it!!
Nutrition
Calories:
488
kcal
|
Carbohydrates:
45
g
|
Protein:
13
g
|
Fat:
27
g
|
Saturated Fat:
14
g
|
Cholesterol:
140
mg
|
Sodium:
353
mg
|
Potassium:
240
mg
|
Fiber:
1
g
|
Sugar:
33
g
|
Vitamin A:
995
IU
|
Vitamin C:
8.3
mg
|
Calcium:
174
mg
|
Iron:
1.4
mg