What could be better to celebrate the summer than my red white and blue Ricotta Cheesecake. My oh so creamy cheesecake will be a hit at your next gathering
Total Time:
1
hour
20
minutes
This post includes affiliate links. As an Amazon Associate I earn from qualifying purchases.
How to Make a Ricotta Cheesecake with a fruit topping
For the past few weeks, I have been thinking about a Ricotta Cheesecake, I originally planned on using cherries for my topping, but my wife ate them before I had a chance to make it…..don't get me wrong she didn't eat them all in one sitting, it was over 3 or 4 days, but of course, I didn't notice until I was ready to make the cake.
So I bought more cherries, but I also bought strawberries and blueberries, and while I was pitting the cherries for the cake (eating more of them than I should), I decided on strawberries and blueberries instead of the cherries. It would be the perfect dessert to celebrate the summer and the upcoming 4th of July.
As I searched for a recipe that included ricotta and mascarpone I wasn't happy with what I found. I couldn't find anything in any of my cookbooks that sounded good to me. But I had a pretty good idea of what should go into the cake. So I figured I would just wing it.
I knew I wanted it to be creamy but also had to have that ricotta base, so I added a little of this a little of that and my new love Greek Yogurt.
I wanted the crust to be a little different, and as luck would have it, I found digestive biscuits and pistachio's in my pantry…..perfect!
If you're not familiar with digestive biscuits I like to think of them as Adult Graham Crackers.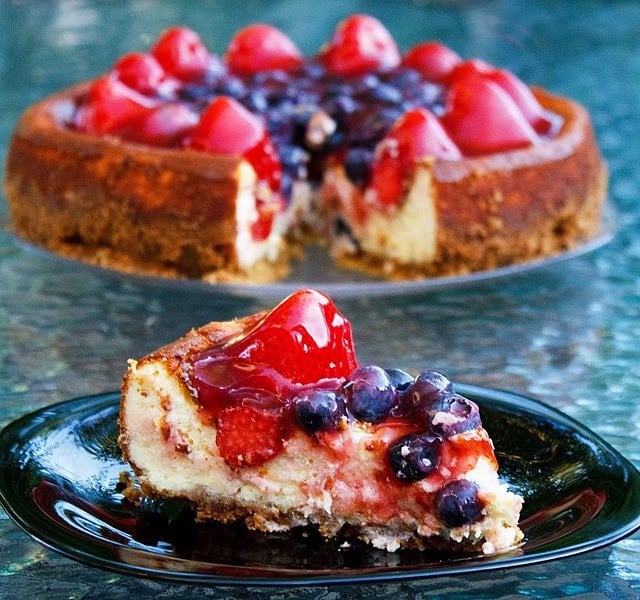 If you enjoyed this recipe you may also like these: