I love lemon, especially Meyer Lemon and this Meyer Lemon Pound Cake is definitely a keeper! You'll this moist and delicious cake and the lemon-lime glaze is the perfect addition.
Total Time:
1
hour
20
minutes
This post includes affiliate links. As an Amazon Associate I earn from qualifying purchases.
How to make a Meyer Lemon Pistachio Pound Cake-
I just love the flavor of a Meyer Lemon. They come in second only to Lemons from the Amalfi Coast….sigh, How I miss Italy!
But when life gives you Meyer Lemon, you don't complain you bake a Meyer Lemon Pistachio Pound Cake! And of course, you can make this delicious pound cake with regular lemons too.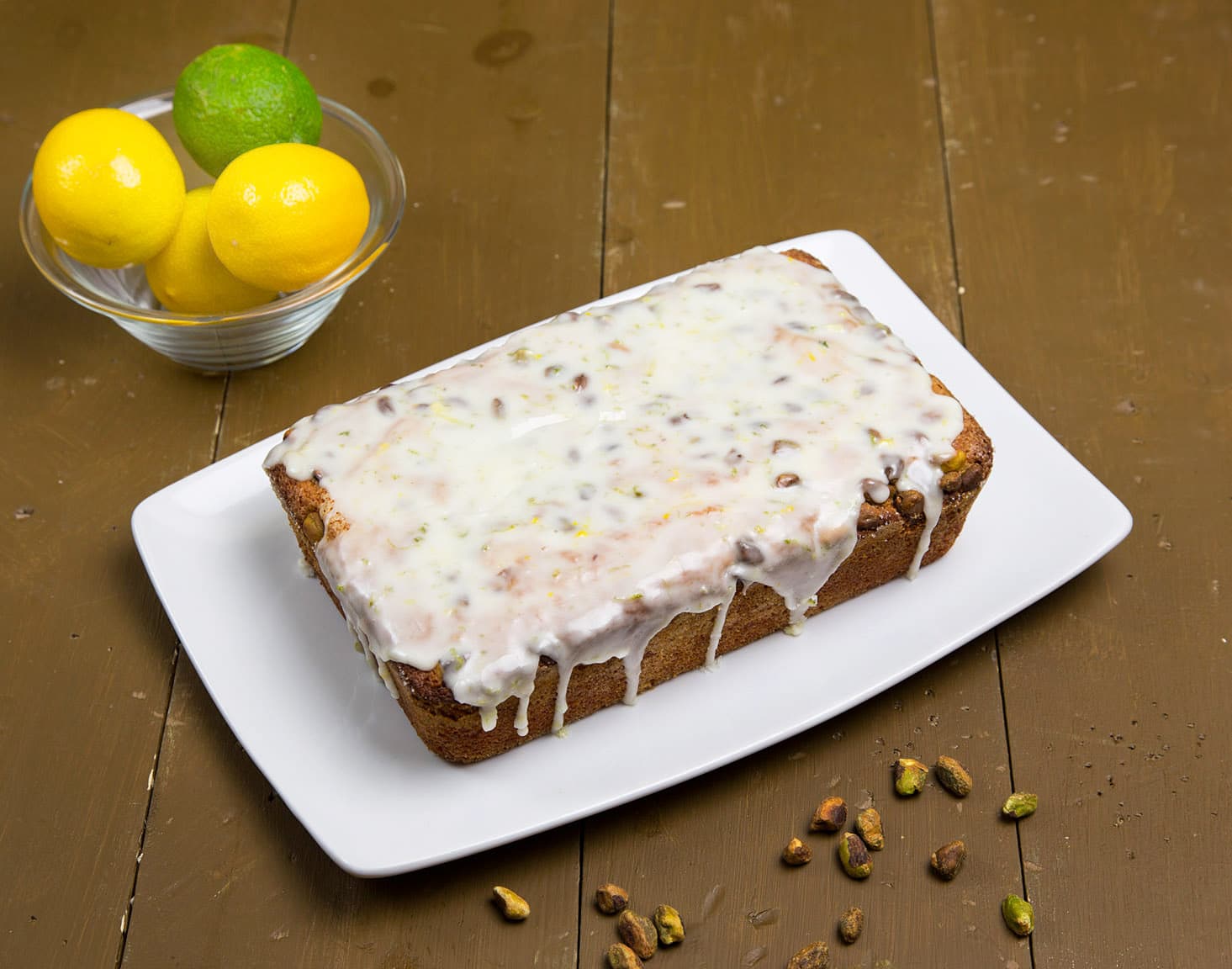 I hate to admit that I've never been a big fan of Pound Cake, the ones I've had were usually too dense, or too dry, but never too delicious. And for that reason, I've never made a pound cake before. So I started looking through the recipes I found on Google for some inspiration and to get the idea of how this cake should be put together.
I found some similarities and some differences, most notably the use of cake flour instead of all-purpose flour. I finally decided to use what looked like a stellar recipe from Julia of Dozen Flours and was thrilled to see her claim that it was better than Starbucks! Her cake looked too good to fool with, but being a chef I still made a few alterations to her original recipe. I also cut the recipe in half so I only ended up with one loaf instead of the killer bundt cake that she made.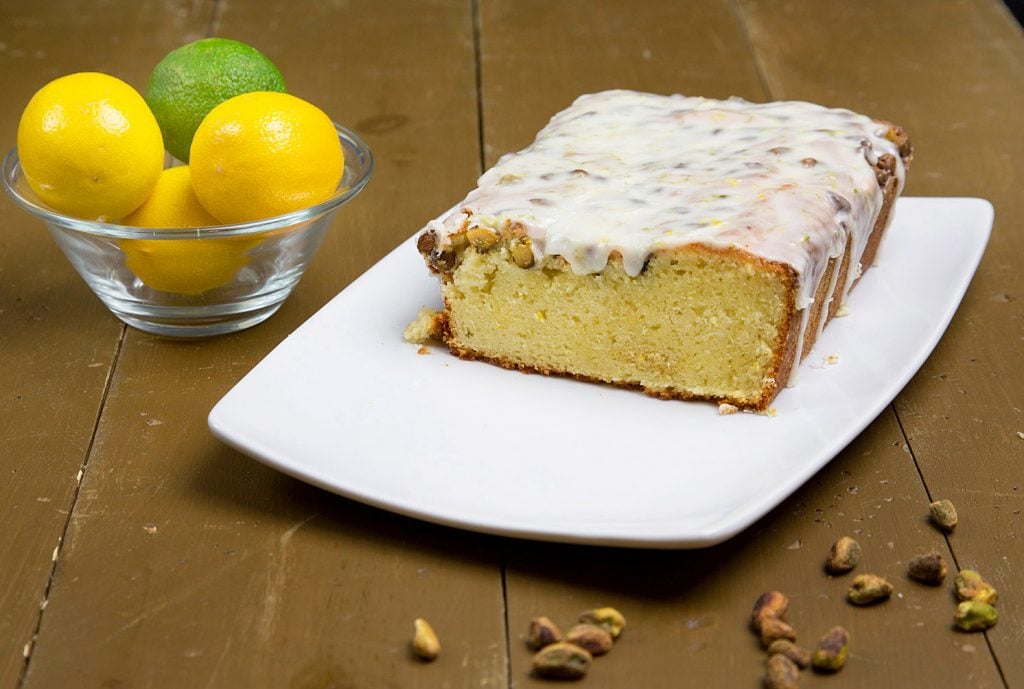 The lemon pound cake did not disappoint.
Can you freeze a lemon pound cake?
This cake freezes well, just wait till it defrosts to add the glaze. Double the recipe and freeze one of the cakes for a later date.
What size pan do you use for a pound cake?
I used a standard 9×5 loaf cake pan that traditionally makes a one pound cake. Hence the name. You can double the recipe and make it in a bundt pan or 2 layer cakes.
Do I have to use Meyer lemons for this lemon pound cake?
No, regular lemons can be used instead of Meyer lemons.
You might also like these delicious cake recipes:
Of course, I'm sure you could find a willing friend or neighbor to take the other cake off your hands! And trust me when I say this is even better than the original at Starbucks.
If you like this recipe, you will also like these:
Print Recipe
Meyer Lemon Pistachio Pound Cake with a Lemon-Lime Glaze
I love lemon, especially Meyer Lemon and this Meyer Lemon Pound Cake is definitely a keeper! You'll this moist and delicious cake and the lemon-lime glaze is the perfect addition.
Ingredients
Pound Cake
2

Meyer lemons

4 tablespoons of juice, you can use regular lemons

11/2

cups

cake flour

1/4

teaspoon

baking soda

1/4

teaspoon

salt

4

ounces

unsalted butter softened

1 1/2

cups

superfine sugar*

3

in

eggs

warmed for 10 minutes hot tap water before using

1/2

cup

Greek yogurt at room temperature

full fat

1

tablespoons

Meyer lemon zest

or regular lemon zest

1/2

cup

salted pistachios
Lemon-Lime Glaze
1 1/2

cup

confectioners' sugar

2

tbsp

juice from one Meyer lemon

or regular lemon

1

tbsp

juice from one lime

1

tbsp

zest from one Meyer lemon and one lime
Instructions
Preheat the oven to 350 degrees and butter and flour one standard size loaf pan
Lemon Pound Cake
Using a zester or grater carefully remove the zest of the two Meyer lemons, being careful not to get into the white part of the skin.

Juice the lemons, removing the seeds and set aside.

In the bowl of a food processor, add the sugar and lemon zest and pulse until well blended (5 or 6 times) You can do this by hand if you like.

Allow this to set for 5 minutes to build the aromatics.

Sift together the flour, salt and baking soda and set aside

beat the butter in the bowl of your electric mixer for two minutes on medium to high speed (scrape down the bowl as needed)

add half the sugar mixture and whip for an additional minute, then add the remainder and continue to whip the butter /sugar mixture for four more minutes, scraping down the bowl and blade as needed.

Remove the eggs from the water, dry them off and add the eggs one at a time, beating for about 30 seconds in between each addition.

On a very low speed add in the flour mixture, mix until just blended.

Add in the Greek Yogurt and lemon juice , mixing just enough to incorporate them.

Pour batter into prepared pan, and top with the pistachios

Place the cake on the center rack of your oven and bake for 55-60 minutes. (start checking your cake at around 50 minutes. It should be browned on top and a tester stuck in the middle should come out clean when the cake is done)

Allow cake to cool on a wire rack for 15-20 minutes then remove from pan.
Lemon-lime glaze
mix the juice from one Meyer lemon and one lime with the confectioners' sugar and mix until well blended, then add zest.

Allow glaze to set for 10 minutes before using.

Top pound cake with glaze adding and additional coat as it drys.

Slice pound cake and enjoy!
Nutrition
Calories:
464
kcal
|
Carbohydrates:
83
g
|
Protein:
8
g
|
Fat:
11
g
|
Saturated Fat:
5
g
|
Cholesterol:
23
mg
|
Sodium:
144
mg
|
Potassium:
120
mg
|
Fiber:
1
g
|
Sugar:
40
g
|
Vitamin A:
250
IU
|
Vitamin C:
0.2
mg
|
Calcium:
26
mg
|
Iron:
0.7
mg