My easy cranberry orange bread is rich, buttery, and loaded with juicy, sweet, tart cranberries. You'll love the subtle orange flavor and sweet orange glaze. It's the perfect sweet treat for your holiday season or any time you're craving cranberry deliciousness.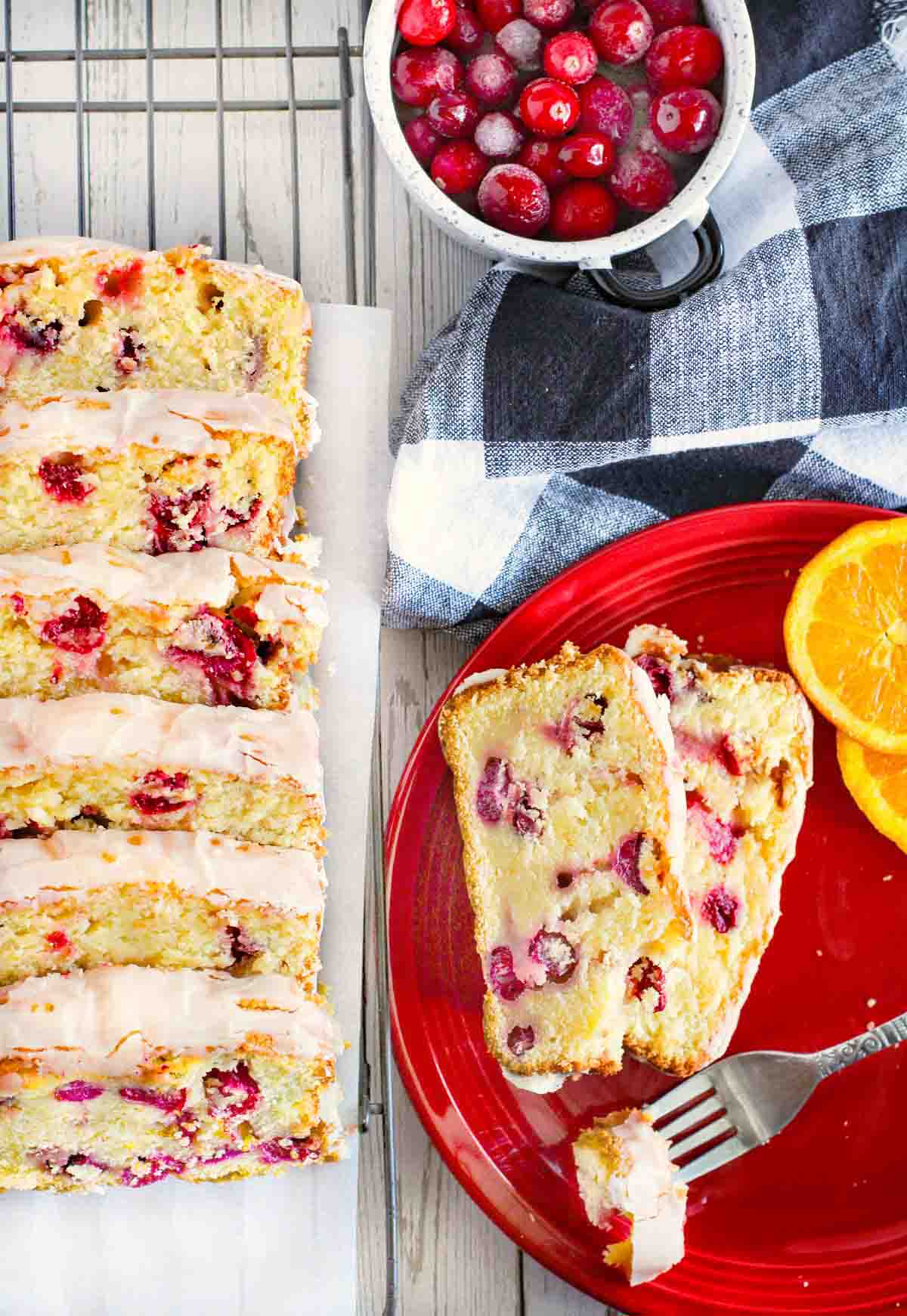 Everyone who's ever tasted my cranberry orange bread absolutely loves it and always asks for my easy, quick bread recipe! The juicy whole cranberries add the perfect balance of sweet and tart.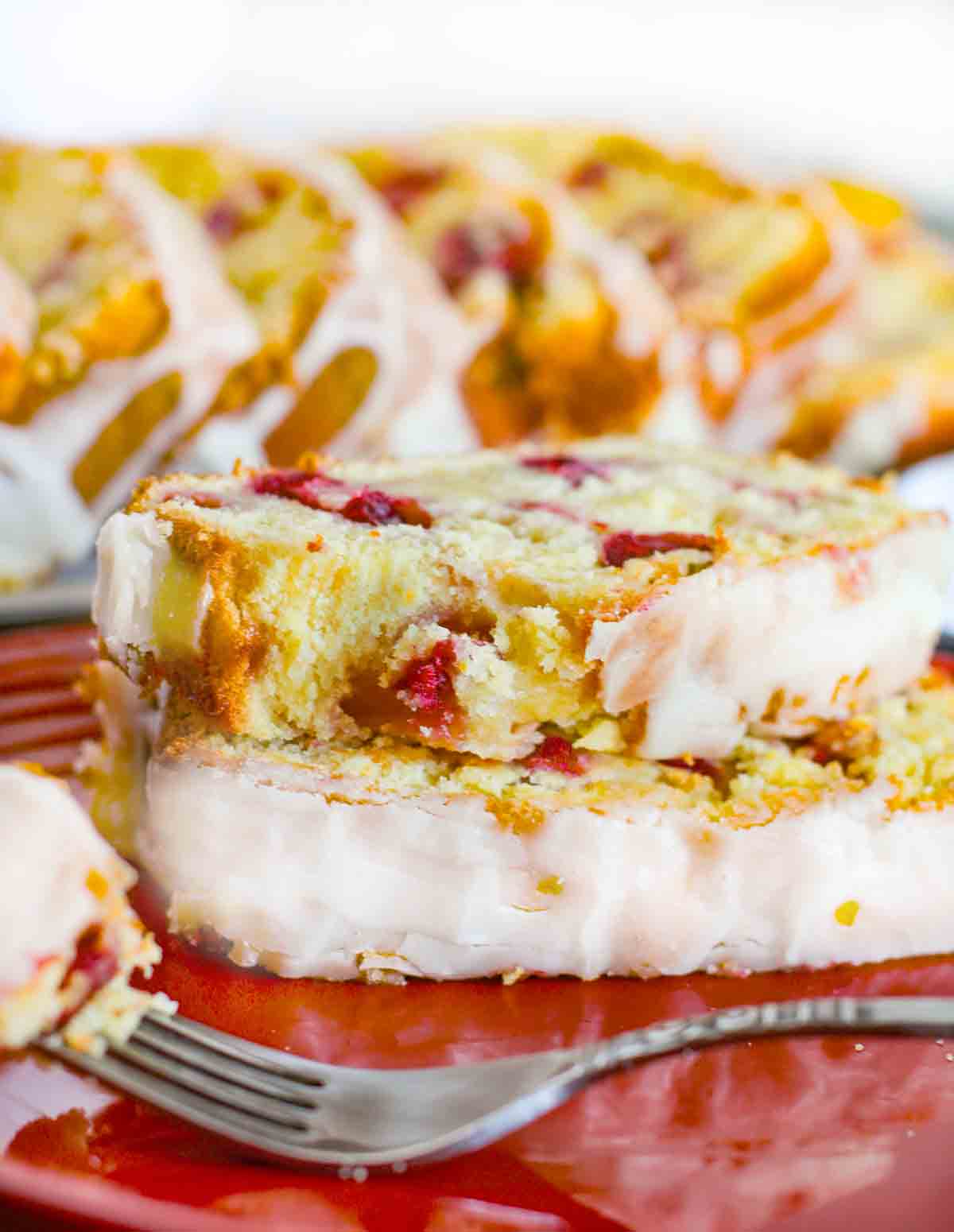 This would make a perfect treat for Christmas morning, but you don't have to wait that long to make this delicious cranberry orange bread. It's perfect during the fall and winter seasons or any time of year you can find fresh or frozen cranberries at your local grocery store.
If you love cranberry recipes, make sure to check out my cranberry egg nog bread pudding, cranberry gelato, and homemade cranberry sauce.
Ingredients for Cranberry Orange Bread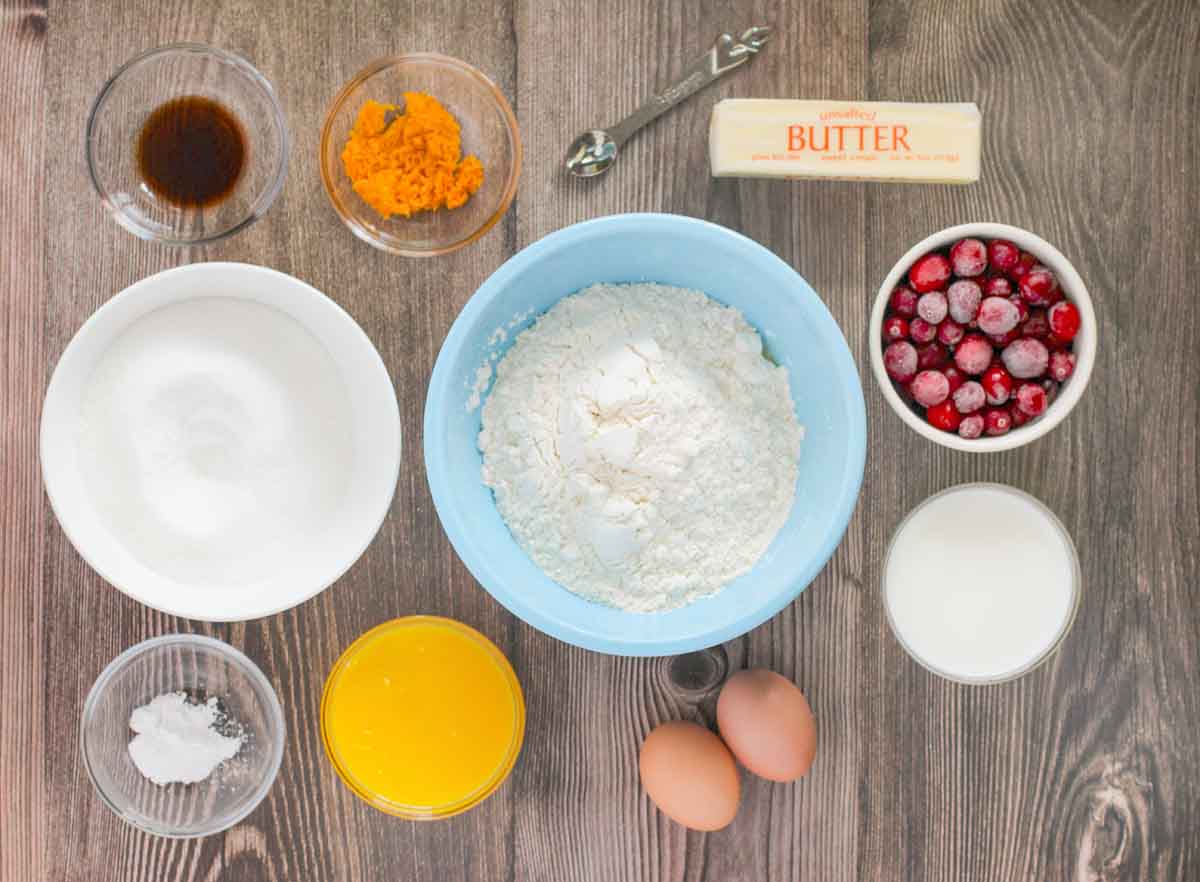 Let's start by gathering the ingredients we need to make my Cranberry Orange Bread recipe. In Chef Speak, this is called the "Mise en Place," which translates to "Everything in its Place."
Not only does setting up your ingredients ahead of time speed up the cooking process, it also helps ensure you have everything you need to make the dish.
Made with simple ingredients
All-purpose flour
Granulated sugar
Fresh cranberries (or frozen)
Large eggs
Unsalted butter
Whole milk
Fresh orange juice
Fresh orange zest
Baking powder
Table salt
Powdered sugar
Vanilla extract
Fresh orange juice is always best, but you can also use bottled orange juice or juice made from concentrate. If you're not a fan of orange juice, you can use other citrus juices. I've made lemon juice, grapefruit, and tangerine versions of my orange cranberry bread, and they all came out perfectly.
You can use dried cranberries if you prefer, but they don't compare to fresh, juicy cranberries. If using dried, cut back to one cup to make my easy recipe.
How to make Cranberry Orange Bread
Preheat oven to 350 degrees Fahrenheit.
Line a 9×5 inch loaf pan with parchment paper and spray with non-stick cooking spray. This will make it easy to remove the bread.
Add the all-purpose flour, salt, and baking powder to a medium mixing bowl and whisk to combine. Set the flour mixture aside until needed.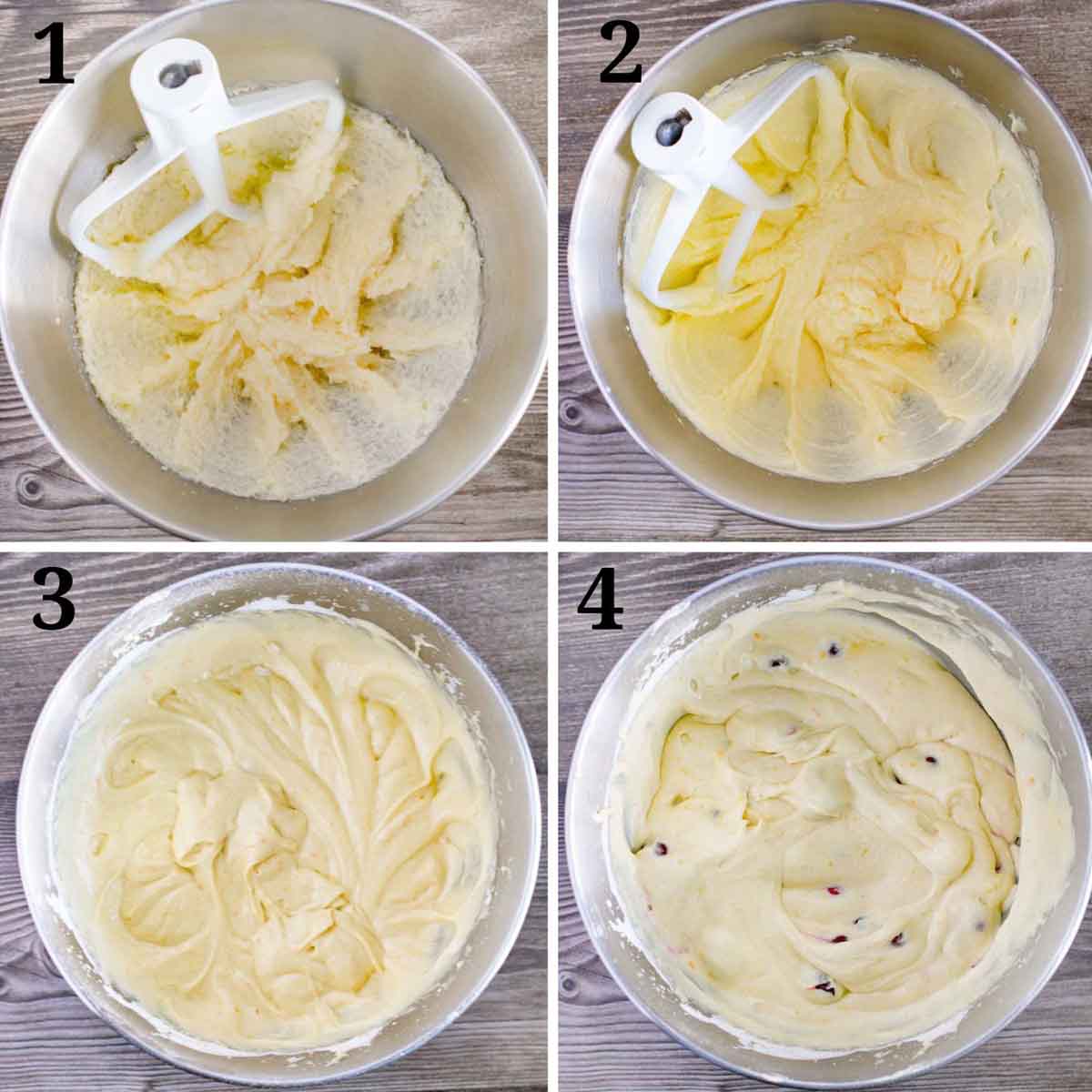 Add the softened butter and granulated sugar to the bowl of a stand mixer fitted with the paddle attachment (or a large bowl and an electric hand mixer) and mix until light and fluffy.
Add both of the room-temperature eggs and beat until fully combined.
Scrape down the bottom and sides of the bowl with a rubber spatula.
Add the milk, orange juice, orange zest, and vanilla extract to the bowl and mix until fully combined, scraping down the bottom and sides of the bowl with a rubber spatula as needed.
With the mixer set on low, slowly add the dry ingredients to the wet ingredients. Mix just enough to combine.
Gently fold the cranberries into the orange cranberry bread batter using a rubber spatula.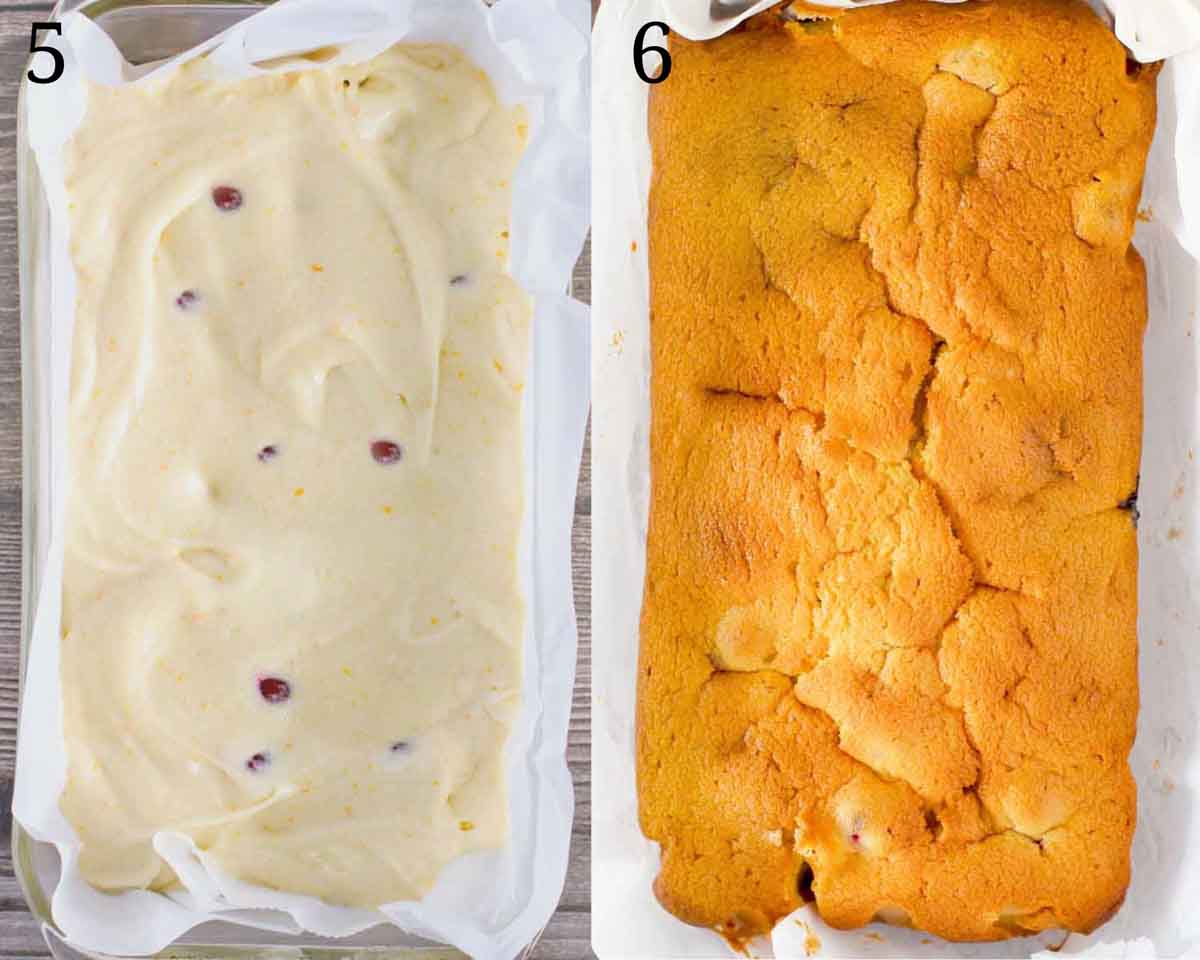 Pour the batter into the prepared pan and spread it evenly in the pan.
Place the loaf pan on the center rack of the preheated oven and bake for 55 – 65 minutes, or until a toothpick inserted in the center comes out clean.
Remove the loaf from the oven and let the bread cool on a wire rack in the pan for 10 – 15. Then, remove it from the pan and place it back on the wire rack to cool completely.
*You can also use the batter to make mini loaves of the cranberry orange sweet bread or spoon the batter into muffin cups to make cranberry orange muffins.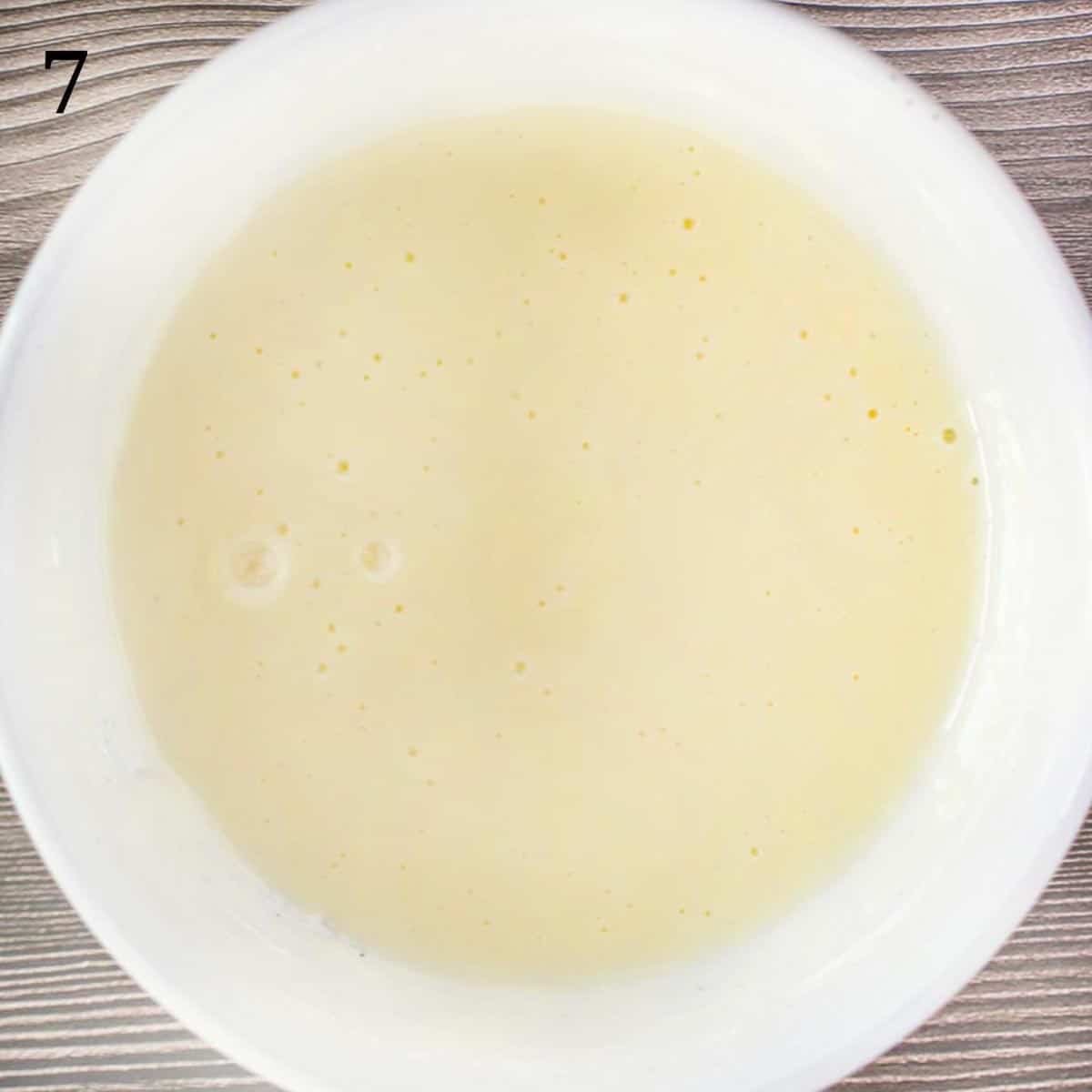 Add the confectioners' sugar, orange juice, and vanilla extract to a small bowl and mix until smooth.
If the glaze is too thick, add a little more orange juice or water to get the right consistency. If it's too thin, add a little more powdered sugar.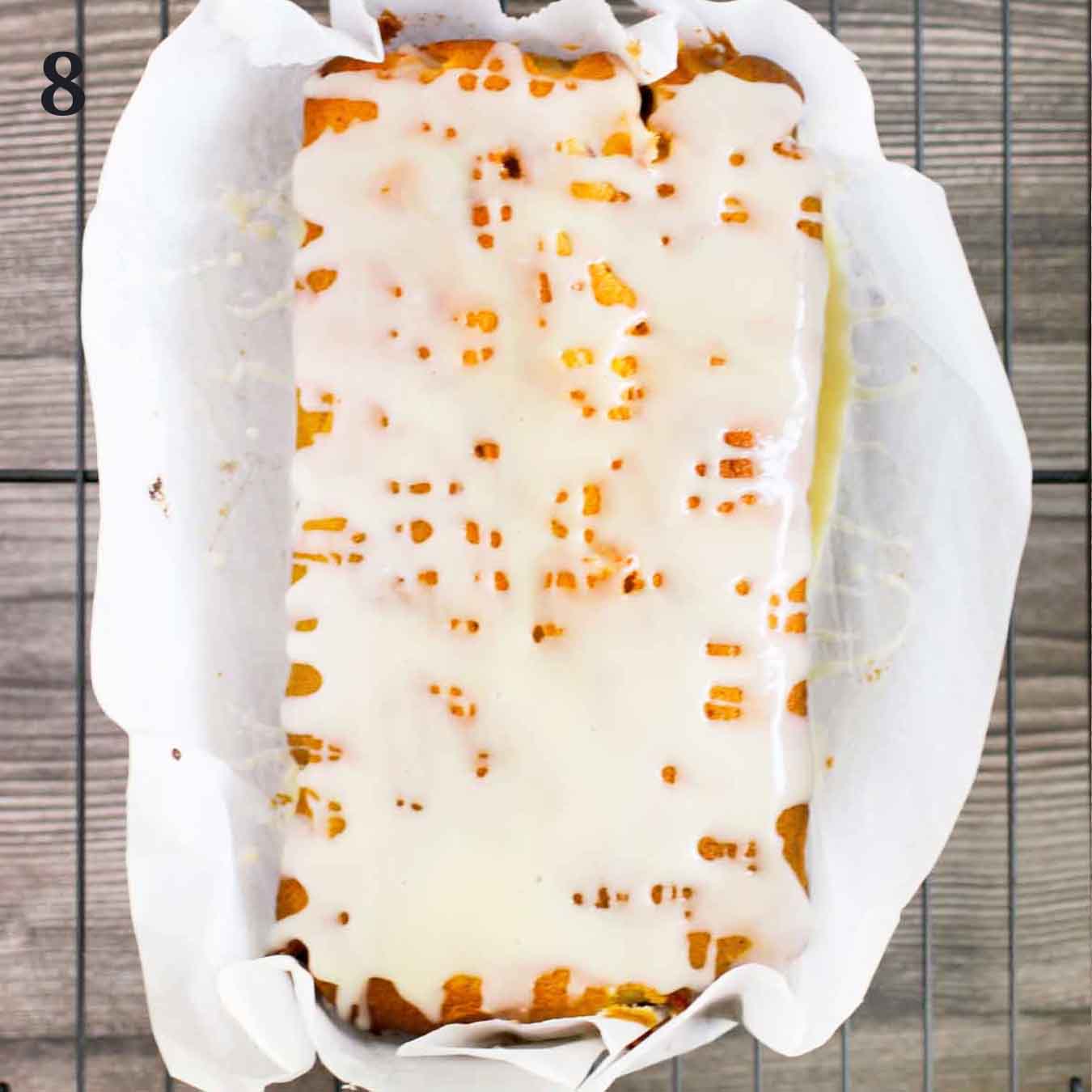 When the bread has fully cooled, drizzle the glaze over the top of the bread. For best results, set the orange cranberry bread in the fridge for 10 minutes to let the glaze set up before slicing.
The sweet orange flavor of the glaze adds another layer of deliciousness to the cranberry orange loaf.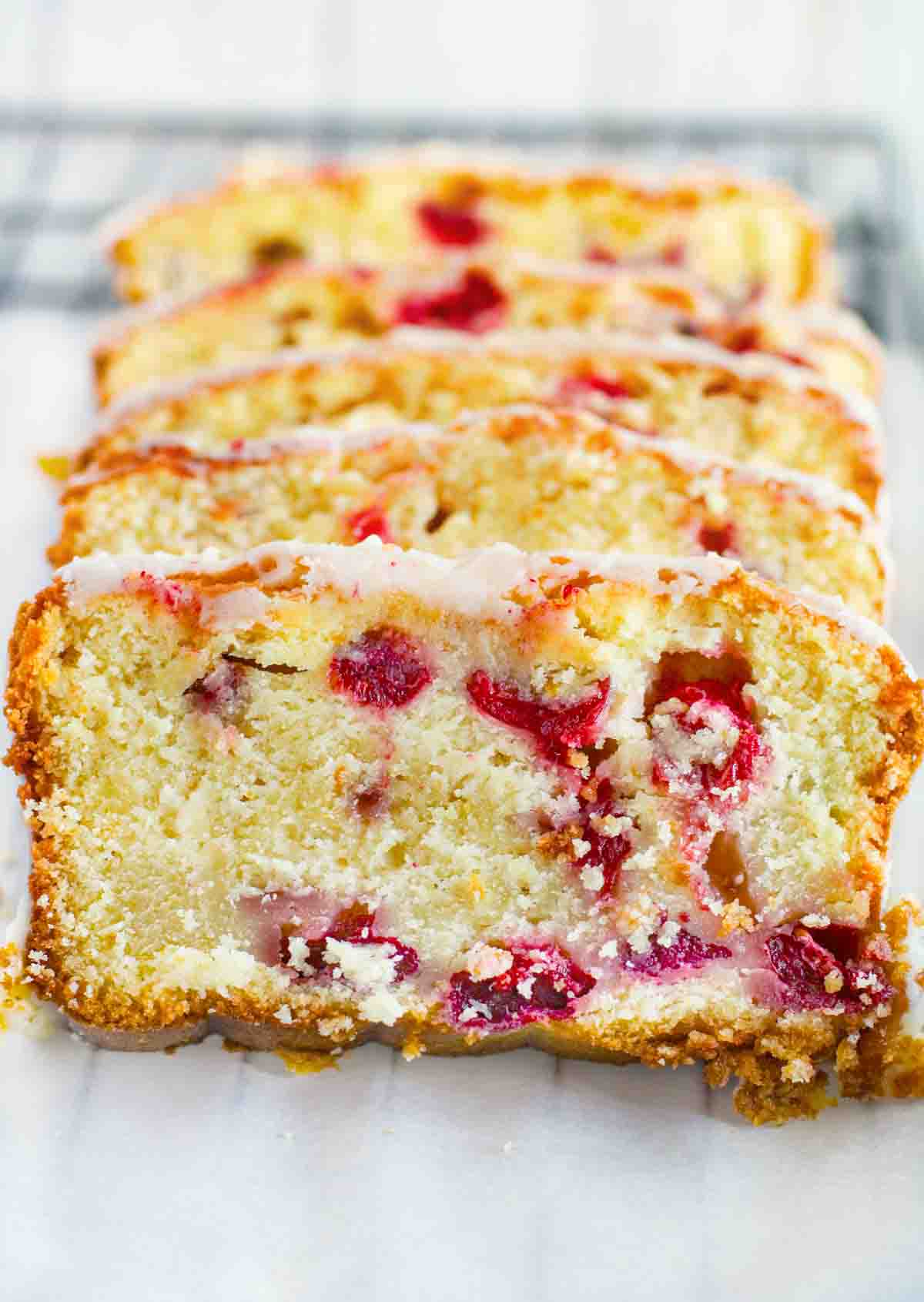 You're going to love the flavor combination of cranberries and orange in this delightfully delicious orange-glazed cranberry bread
Store any leftover cranberry orange bread in an airtight container at room temperature for 2-3 days or refrigerated for 4-5 days. It can be kept frozen in a freezer-safe container or double-wrapped in plastic wrap and then aluminum foil for 2-3 months. You can also wrap and freeze individual slices.
Chef's Choice
Chef's Choice
Chef's Choice
Recipe FAQ's
Can I use frozen cranberries?
Yes, you can. Just ensure that you thaw and drain them before adding them to the batter to prevent excess moisture.
Why did my cranberry orange bread come out dry?
Overbaking is usually the reason the loaf would be dry. Make sure to check the bread's doneness a few minutes before the recipe's suggested baking time. Not measuring the flour or other ingredients can also lead to dry bread.
Can I make this recipe gluten-free?
Yes, you can. Simply replace the all-purpose flour with a gluten-free cup-for-cup flour blend.
More Recipes You'll Love!