I recently fell in love with one of my new kitchen tools, my Spiralizer. I have to admit it wasn't love at first sight, it was a relationship that was six months in the making.
I purchased my spiralizer via Amazon Prime over six months ago, unboxed it, took it apart and then put on a shelf in my pantry. Over the last six months, I'd catch the spiralizer glancing my way and I would return the looks, letting the anticipation of that return touch and use build between the two of us….sigh
Then at the urging of my Around the Kitchen Table co-host Susan Serra, I brought my spiralizer into the kitchen. Being a chef and a guy, I didn't pay too much attention to the directions and just jumped right into using my spiralizer.
My first attempt at zucchini was flawless. I ran two zucchini's through just to be sure I had it down after all practice makes perfect (do you sense the overconfidence?). I felt good about sharing spiralized vegetables on my next cooking show, easy-peasy!
Everything was set up for my show, my spiralizer was out, we had a good crowd and everything was going great. Then I loaded my spiralizer with a zucchini and had a bit of an epic fail. I hadn't taken into account being nervous (yes even after 300 shows I still get nervous) and was using too much pressure as I tried to push the zucchini through the blades. It was getting a little ugly, but I eventually realized what I was doing wrong and the vegetable noodles started to flow. It was a beautiful thing!
After spiralizing my zucchini, turnips and beets, I was ready to cook up some deliciousness!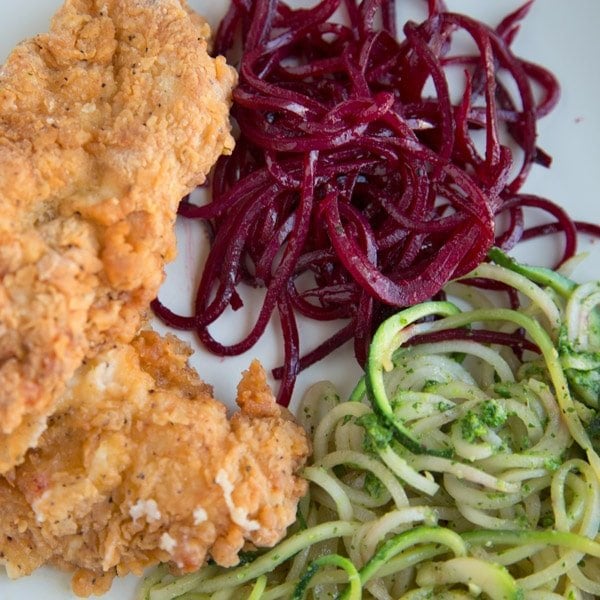 Of course, since I was eating so healthy with these wonderful veggie noodles, I decided to make some buttermilk fried chicken to go with all those delicious vegetables! But any way you serve those noodles you're going to have one delicious meal! Try them as a pasta replacement with your favorite sauce or mix them half and half with pasta to gradually ease your way into just veggies.
If you enjoyed this recipe you may also like these: