I do love strawberries and it seems like we are really into the season now, with beautiful juicy strawberries on display in every grocery store! I've found a few really good recipes in some of my Italian Magazines, and I think I may have to try every one of them. I saw a recipe for a Honeyed Ricotta Mousse in one of other favorite cooking magazines,  Tastes of Italia.
I don't subscribe to many magazines, but I have always favored Italian style cooking so when I do buy them, or subscribe, magazines like Taste of Italia, and La Cucina Italiana are at the top of my list for US magazines. I do love the Australian and British magazines, but sadly there usually twice as expensive because they're imported and since  my confusion at converting the pound to dollars resulted in the most expensive magazine subscription I've ever purchased, they don't find their way into my home too often. That's one of the reasons I love Barnes and Noble, I can buy a latte and sit down a table to read those wonderful publications, and just enjoy the day. Lisa hates going to the bookstore with me, because when I do go I like to stay for a few hours, I guess that's why we don't go very often….sigh
But let's get back to the recipe I found in Taste or Italia, there were a lot of great pizza recipes in this months edition and also a special section on Venice and Rural Umbria. This ricotta recipe comes from Umbria and the Honeyed Ricotta Mousse really caught my eye. I've used ricotta for cheesecakes and cannoli's but never thought of using it  pudding or mousse until I saw this recipe. I did make a few adjustments to the original recipe, which called for Mascarpone or Whipped Cream, I thought why not use both, and I also doubled the original amount of whipped cream to make this dessert a little lighter.
Ingredients
1

cup

Whole Milk Ricotta

1/4

cup

Mascarpone

1

cup

Heavy Cream

1/2

cup

Confectioners Sugar

1

tsp

Vanilla

2

Tbsp

Artisanal Raw Honey

2

cups

sliced Strawberries

or peaches

2

Tbsp

sugar

1/4

white wine or sweet Liquor

optional
Instructions
Mousse
in large bowl whisk together the Ricotta, Mascarpone and Confectioners sugar

with an electric mixer whip heavy cream and vanilla until fully whipped

gently fold whipped cream into ricotta mixture, cover and refrigerate for at least 1 hour
Strawberries
slice strawberries and toss with sugar and wine (or Liquor) and allow to marinate for at least one hour in the refrigerator*
Serve
Place serving of ricotta mousse in cup, top with marinated strawberries and drizzle honey over top

serve immediately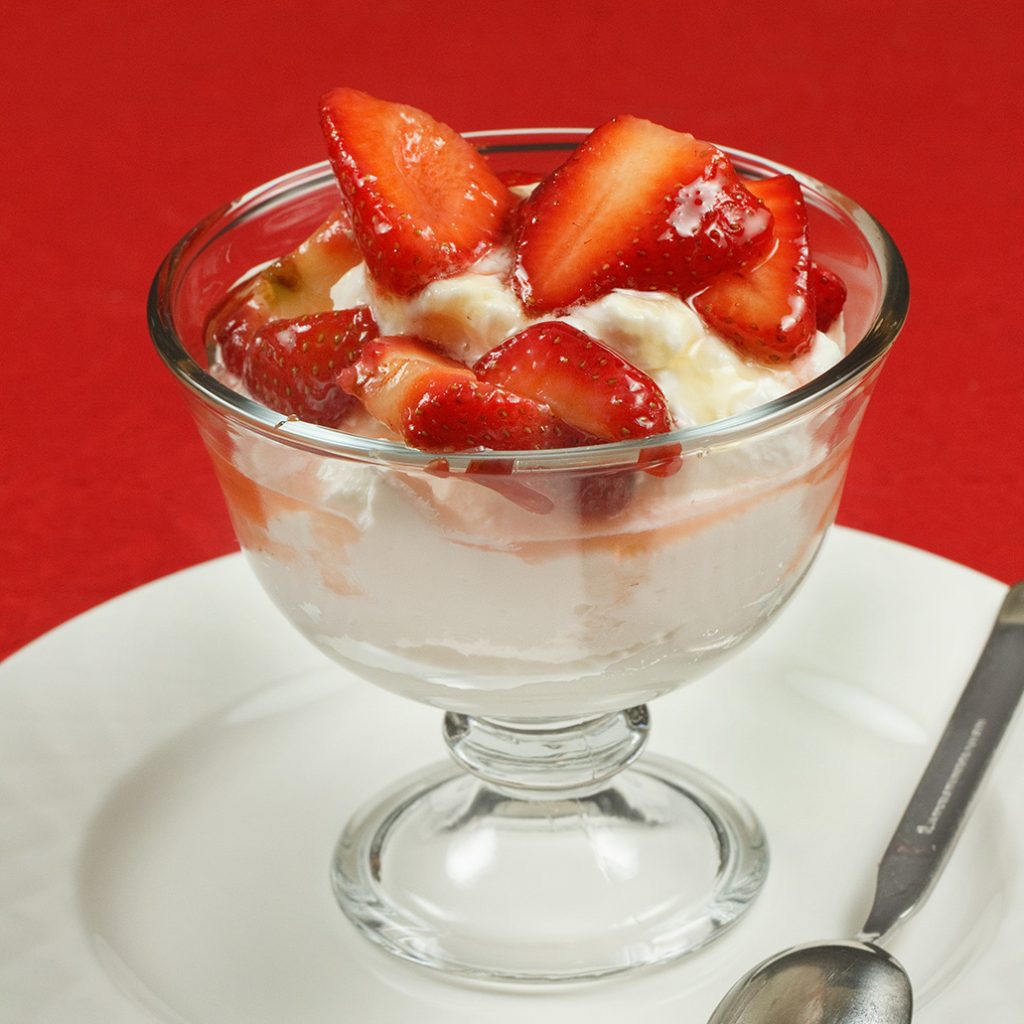 This really was a very different type of dessert, not very sweet, very light, and quite a unique texture. I think the strawberries could have been sweeter or even boozier,  to add more contrast to the ricotta mousse, or you might try adding a liquor into the mousse to kick up the flavor just a bit. But all in all I did enjoy this Rustic Umbrian Dessert,  and would recommend you giving it a try and have some fun adding your own twist to this recipe! And don't forget the honey,  look for a good artisanal honey to add even more flavor to this rustic dessert.
Thanks so much for stopping by, and have a wonderful week my friends! Ciao!