When it comes to comfort food, homemade Gouda Mac and Cheese is at the top of my list. Creamy gouda blended with sharp cheddar cheese makes a velvety sauce that will work its way into the nooks and crannies of the cooked macaroni, making each bite cheesy and delicious.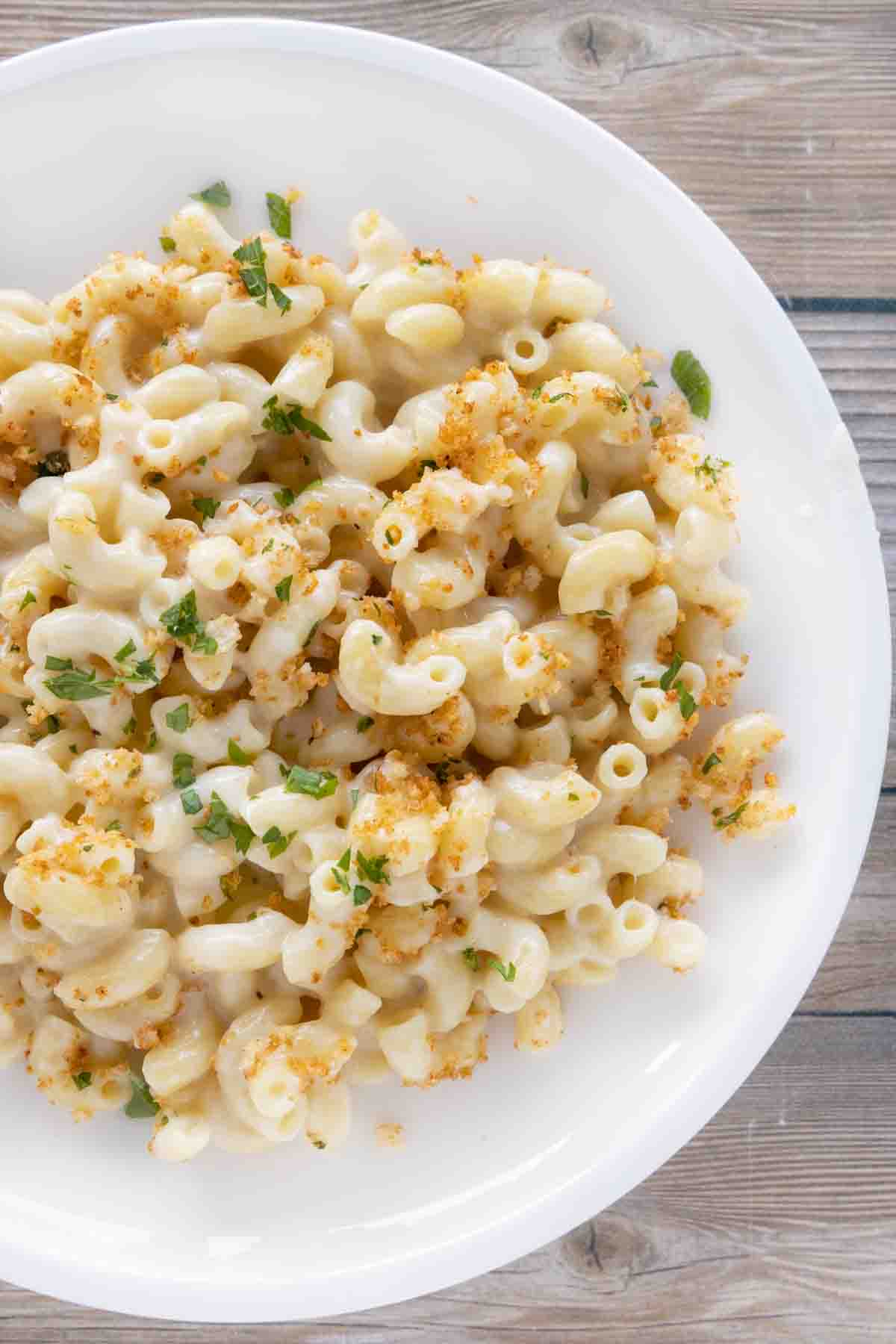 My gouda mac and cheese recipe is easy to make and can be on your dinner table in less than 30 minutes. The creamy, velvety cheese sauce takes this mac and cheese to a whole new level of deliciousness!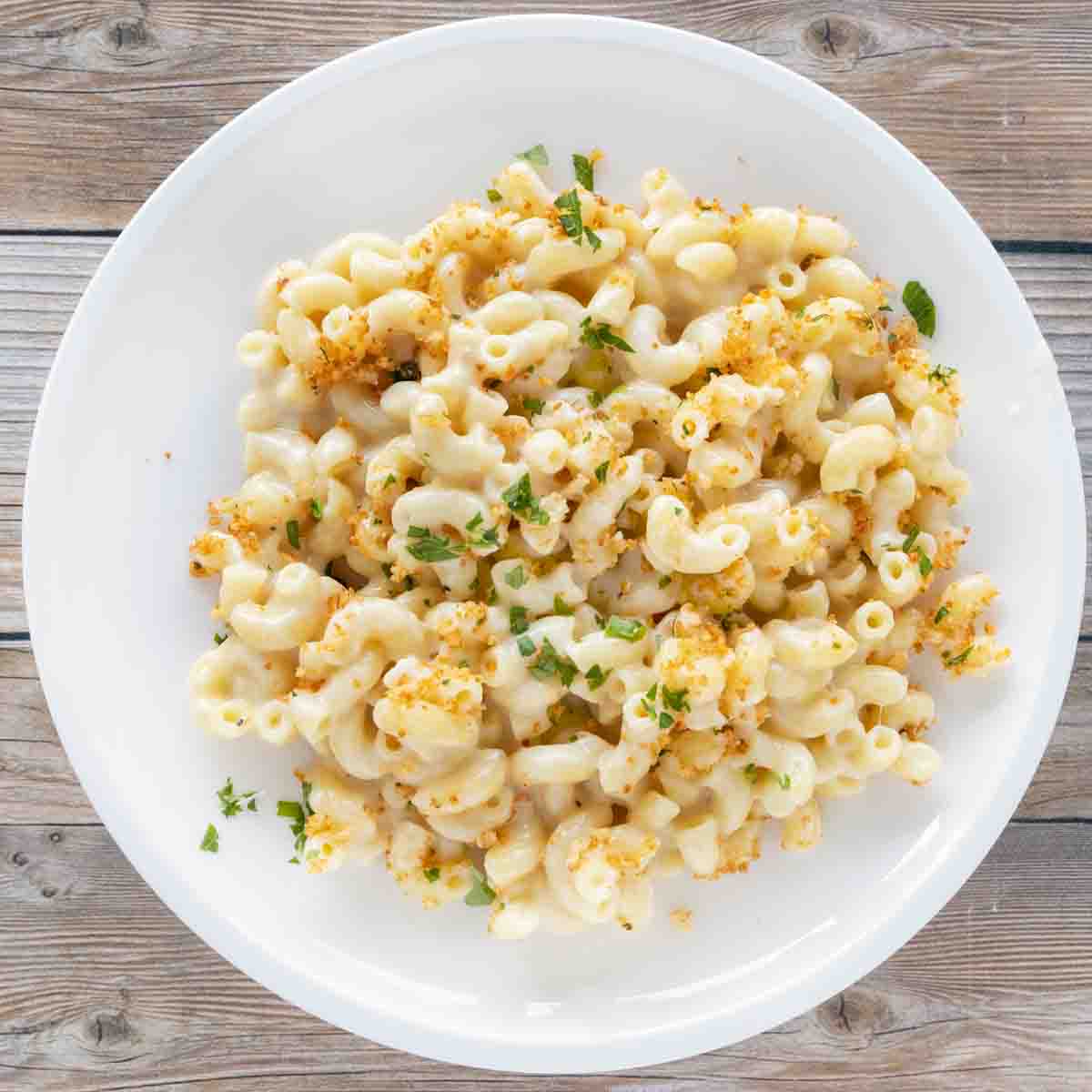 I know my Gouda Macaroni and Cheese is going to be a family favorite at your house, it certainly is at mine. It's a classic dish the whole family will love!
And if you want to amp up your mac and cheese, try my Lobster Mac and Cheese recipe.
Ingredients to make Gouda Mac and Cheese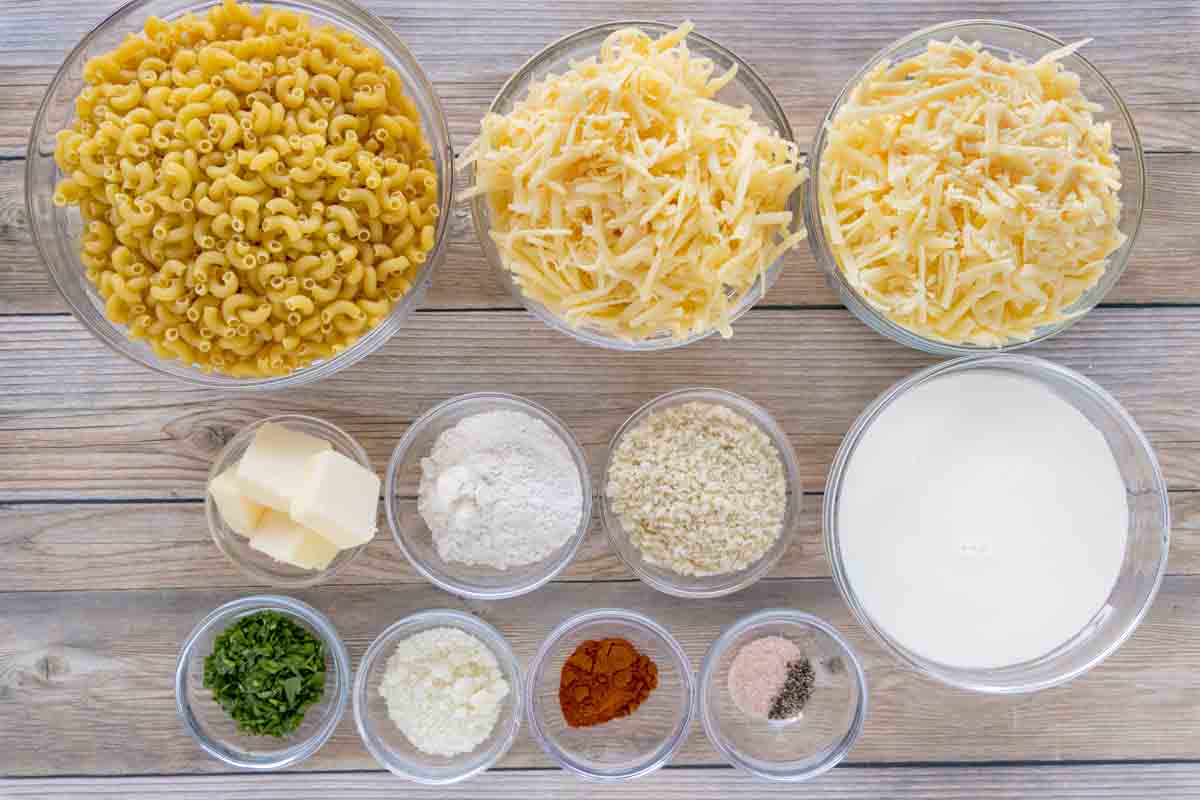 Let's start by gathering the ingredients we need to make Gouda Mac and Cheese. In Chef Speak, this is called the "Mise en Place," which translates to "Everything in its Place."
Not only does setting up your ingredients ahead of time speed up the cooking process, it also helps ensure you have everything you need to make the dish.
Mae with simple ingredients
elbow macaroni (or your favorite pasta shape)
salted butter (or unsalted butter)
all-purpose flour
whole milk (or 2% milk)
gouda cheese (or smoked gouda cheese)
sharp cheddar cheese
table salt
black pepper
panko bread crumbs
sweet paprika
Romano cheese (or parmesan cheese)
Italian parsley
Can I use other cheese in this dish?
You sure can. If you're not a fan of Gouda or don't have any on hand, you can substitute Swiss cheese, Gruyere, Fontina, Emmental, Cream Cheese, and Brie can be used in making mac and cheese. Don't be afraid to add your favorite cheese to make my easy gouda mac.
What pasta can I use to make Gouda Mac and Cheese?
I prefer elbow macaroni for the classic look, but you can also use small shells, cavatappi, penne, ziti, or your favorite pasta shape.
What else can I add to Gouda Mac and cheese?
You can definitely add other ingredients to this dish. Some of my favorites are:
green peas
chopped cooked bacon
shredded chicken
ham cubes
spinach
broccoli
mushrooms
How to make Gouda Mac and Cheese
Add 4-6 cups of water to a large pot over high heat. Add one-half teaspoon of salt to the water. Bring the water to a rolling boil.
Add the butter to a small saucepan. When the butter is melted, add the flour and whisk to combine. This is the roux.
Let the roux cook over low heat for 2-3 minutes to cook the raw flavor out of the flour. It will have a slightly nutty flavor.
In another small saucepan, heat the milk over medium-high heat until hot but not boiling. Do not let the milk boil. Remove the pan from the heat when the milk has reached close to 175-180 degrees.
Add one cup of the hot milk to the roux, whisking to combine.
Add the remainder of the milk to the mixture and whisk to combine. Simmer the sauce over medium-low heat for 4-5 minutes. *If you're feeling decadent, add one-quarter cup of heavy cream to the sauce.
While the sauce is simmering, add the macaroni to the pot of boiling water. When the pasta is done, drain and set aside in the large pot until needed.
Cook the pasta per the package directions. The pasta should be fully cooked (just a little past aldente) but not mushy for my gouda mac n cheese.
Once the white sauce has slightly thickened (it won't be very thick), add the shredded cheddar and Gouda to the sauce, stirring until the cheese melts and is well combined. *It will take about two minutes to fully incorporate the cheese, so it's not stretchy and more like a cheese sauce.
Add the salt and black pepper to the sauce, stirring to combine (season to taste)
Place the drained cooked macaroni in a large bowl or the pot it was cooked in.
Pour the cheese sauce over top of the cooked macaroni and stir to combine.
Place a skillet over high heat. When the pan is hot, add the panko breadcrumbs and stir until golden brown. Remove the bread crumbs from the pan and set aside until needed.
Melt butter in the same skillet, then add the toasted bread crumbs back to the pan along with the paprika, Romano cheese, and parsley. Stir to combine the mixture.
Pour the macaroni and cheese into a baking dish, and sprinkle the prepared bread crumbs over the top of the Gouda mac and cheese. Serve immediately.
I know after one bite of this delicious recipe, you're going to be hooked on my gouda mac and cheese. You may never buy the boxed stuff again!
It makes a perfect side dish, or serve it as an entree with a salad for a delicious light dinner.
Save any leftover mac and cheese, refrigerated in an airtight container for 3-4 days. Gouda Mac and cheese can also be frozen for up to 3 months.
Recipe Faq's
Does gouda melt enough for mac and cheese?
Gouda that has not been aged for more than 9 months is considered "young Gouda." Gouda which has not been aged longer is a creamy, mild cheese that melts exceptionally well and is a great choice to make mac and cheese.
Should I use pre-shredded cheese for mac and cheese?
Pre-shredded cheese does not melt as well as freshly grated cheese. Pre-shredded cheese is treated to keep it from sticking together in the package. While it will melt, it does not melt as well as freshly shredded, which makes it more difficult to get a creamy cheese sauce.
More Recipes You'll Love!