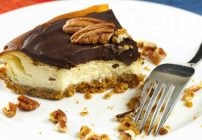 My Feta Cheesecake is a tangy and delicious blend of cream cheese and feta bringing you a different and delightfully flavorful cheesecake
This post includes affiliate links. As an Amazon Associate I earn from qualifying purchases.
When life hands you feta make a Feta Cheesecake! Feta would not be my first choice for a cheesecake but it surprised me at just how flavorful the cake was. The chocolate did help temper the stronger feta flavor.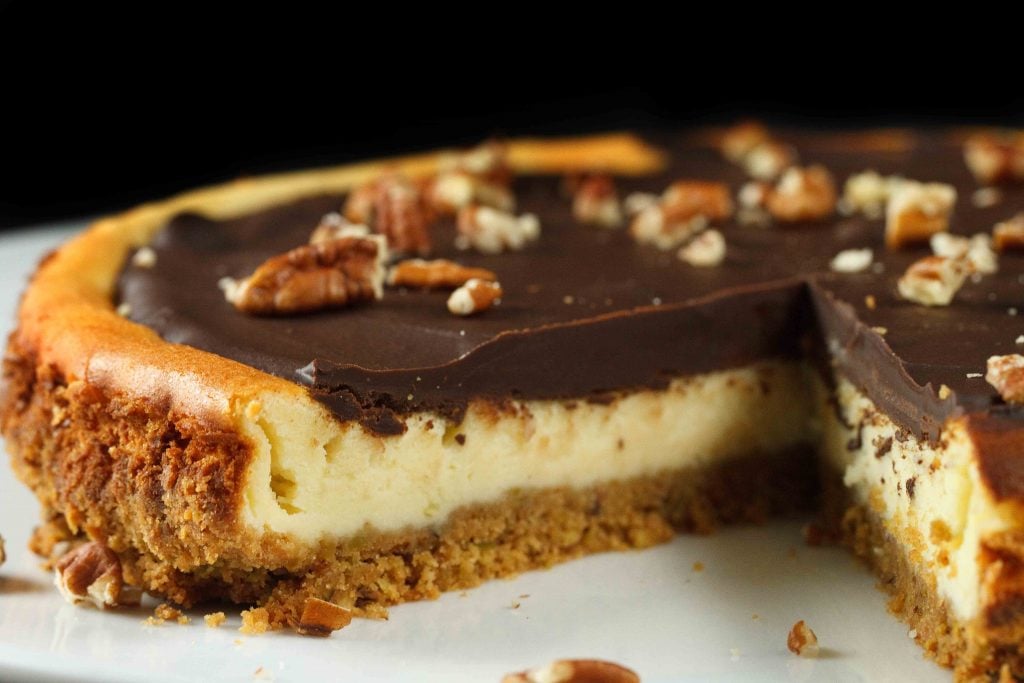 I love feta cheese. It is such a flavorful cheese, and I use it on almost every salad I eat, but I was thinking of other applications, what could I do a little outside the box with this wonderful cheese? I kept going back to cheesecake, something kept pulling me towards the unlikely combination of feta and cream cheese, I saw a lot of savory types of feta cheesecakes but hadn't seen any use as a sweet cheesecake…..sigh There must be a reason, but since I couldn't think of one, I decided to give it a try.
I knew the cheesecake would not be as sweet as a new york style or even ricotta, the flavor of the feta was just a little too pronounced to let that happen. I knew my cheesecake would need a complement to the tang of the feta, and chocolate seemed to be the answer…….well chocolate is the answer to a lot of questions, but that's another story! I reached for my semi-sweet chocolate and prepared a ganache for the topping, for the crust I used my favorite digestive biscuits, and threw in a good handful of salted pistachio's just to add another element into this flavor feast.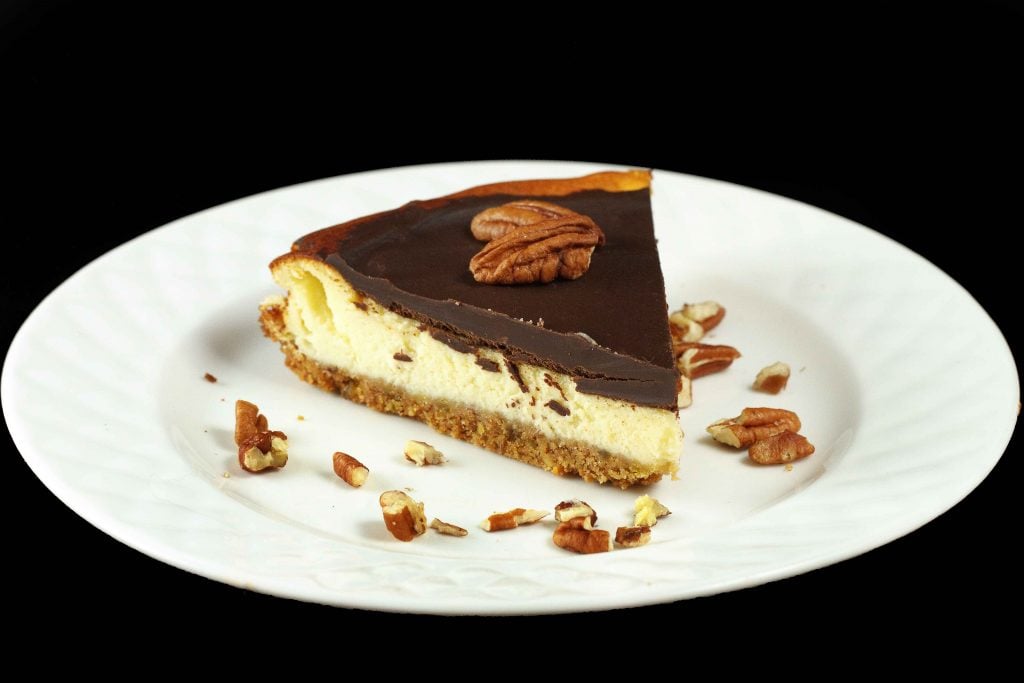 The results were not quite as I had planned but all in all, it was a very interesting and tasty cheesecake, the feta lent an interesting element to the filling, and the chocolate complimented the cheese so very well. The crust was a little bit of a letdown but did add yet another dimension to the cake if I make this again my only change would be to sweeten the crust up a bit and instead of pistachios use an unsalted pecan.
All in all the experiment was a success and while it got mixed reviews even the doubters were impressed with the flavors. If you do try this cake, I think you will be pleasantly surprised, especially served with a good cup of coffee or espresso!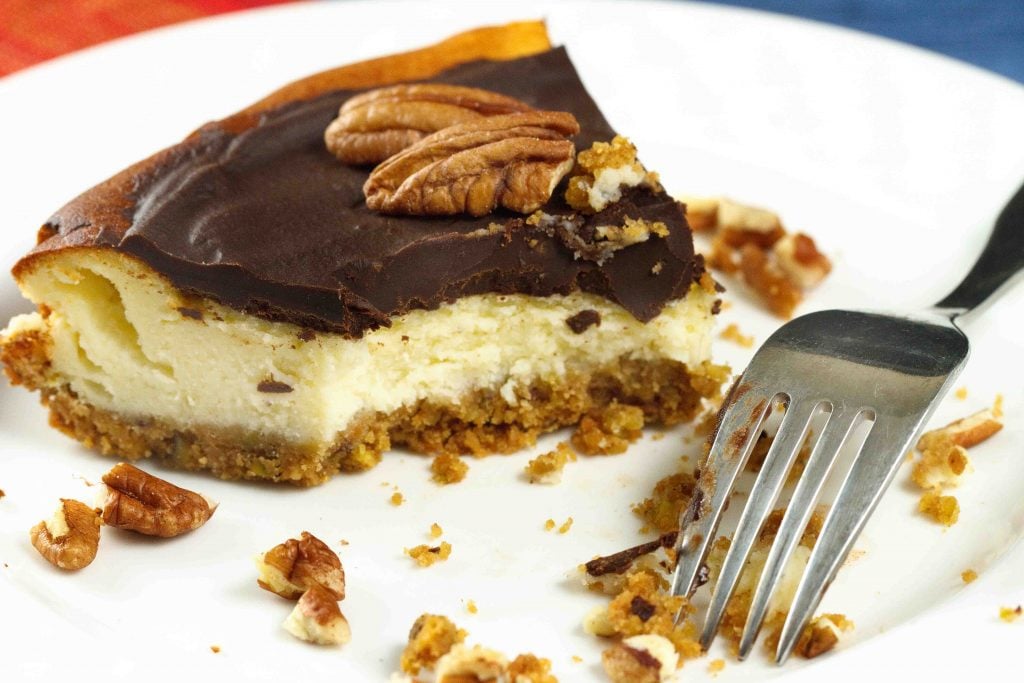 If you love cheesecakes your going to love these recipes: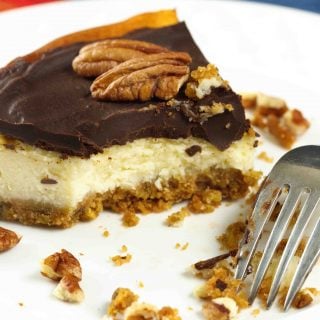 Print Recipe
Feta Cheesecake with a Rich Chocolate Ganache
My Feta Cheesecake is a tangy and delicious blend of cream cheese and feta bringing you a different and delightfully flavorful cheesecake
Ingredients
8

oz

Feta Cheese

8

oz

Cream Cheese

1/2

cup

Heavy Cream

2

Large

Eggs

3/4

cup

Sugar

2

Tbsp

All Purpose Flour

1

Tbsp

Lime Zest

finely grated

Juice of one lime

1

Tbsp

Vanilla Extract

12

Digestive Biscuits

1/2

Cup

Salted Pistachio's

(or pecans)

4

oz

unsalted butter

(melted)

8

oz

semi sweet chocolate

chopped

4

oz

heavy cream
Instructions
In a food processor add the digestive biscuits and pistachios and process into crumbs for crust

add melted butter to crust mixture and form into crust in a tart pan, or cheesecake pan.

Bake crust for 10 minutes at 350 degrees

In the bowl of the food processor, add the feta and heavy cream and process, until it begins to get smooth.

Add in Cream cheese and continue to process

Add eggs, lime juice, vanilla and lime zest and process until blended.

Add in flour and sugar and process until all is incorporated and mixture is smooth and creamy*

Pour mixture into cooled tart shell and bake at 350 degrees for about 20 minutes, keep an eye on the cheesecake, do not let it get too dark or crack.

While cheesecake is baking prepare the ganache.

Over a pot of boiling water in a metal bowl add your chopped chocolate and heavy cream, stirring until all the chocolate is melted and is smooth.

Allow chocolate to cool while cheesecake is cooling down.

Pour ganache over the cheesecake, using an offset spatula to smooth it into place.

Use a nice layer of chocolate, it should be about 1/4 of an inch thick at the center.

Place finished cake in refrigerator and allow to set for at least 4 hours or overnight.*
Notes
* taste the mixture and if it's not sweet enough add more sugar to your liking. Once baked it will not be as sweet as the raw batter. * If you have time allow cheesecake to set overnight and add the chocolate to the cake the next day, then allow the chocolate to set up in the refrigerator.
Nutrition
Calories:
514
kcal
|
Carbohydrates:
37
g
|
Protein:
8
g
|
Fat:
37
g
|
Saturated Fat:
20
g
|
Cholesterol:
116
mg
|
Sodium:
361
mg
|
Potassium:
241
mg
|
Fiber:
2
g
|
Sugar:
25
g
|
Vitamin A:
920
IU
|
Vitamin C:
0.3
mg
|
Calcium:
152
mg
|
Iron:
2.3
mg