the perfect blend of ricotta and mascarpone make up this classic Italian cheesecake. Serve up deliciousness with my blood orange ricotta cheesecake
This post includes affiliate links. As an Amazon Associate I earn from qualifying purchases.
This Blood Orange ricotta cheesecake is perfect for the holiday season.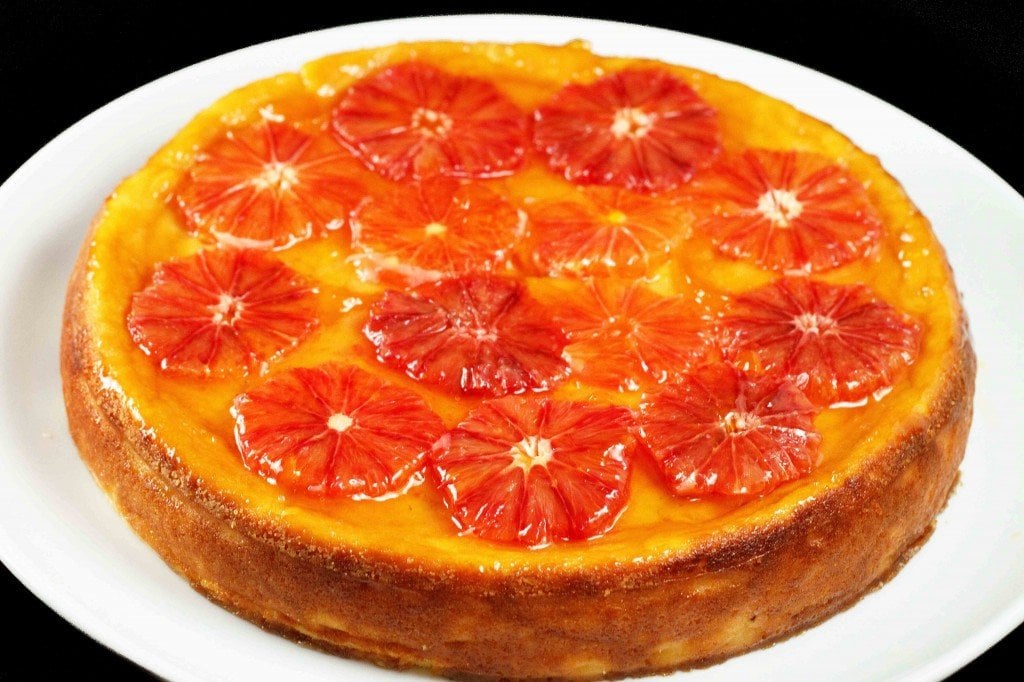 I remember my first encounter with blood oranges, we were in Rome and it was Christmas day, and had gone down to breakfast in our hotel before heading out to the Vatican to see Pope John Paul. It was a continental breakfast with delicious pastries, cheese, fruit and of course juice. I decided to start with juice and the offerings were a reddish juice that assumed was pink grapefruit, and a normal orangish juice, that I of course assumed was orange juice. After tasting what I thought was orange juice, I knew had made a mistake because it was grapefruit juice, and when I questioned our server, I was told the other red tinged juice was, in fact, blood orange juice. It was love at first taste!
After all these years, I still wait for blood oranges to come into season, they're available in the US from November to May and are grown in Texas and California, the cooler fall and winter nights help develop the distinct maroon color. The varieties grown in the US seem to vary in sweetness, but It really doesn't matter to me if they're not as sweet as I remember, because the memories are…..sigh The best blood orange juice I ever had was in Pompeii from a little cart where it was freshly squeezed while we waited, it was so good I went back for more. So you see even if our blood oranges aren't as sweet as those grown in Italy, my memories add more sweetness to them!
This year's blood oranges proved to be a little on the tart side, but the color was beautiful and having bought more than I would eat, I knew I had to come up with a good use for the remainder. It really was an easy decision, they would be a wonderful addition to a ricotta cheesecake! The tart-sweet orange with its hints of raspberry would be the perfect compliment to my ricotta cheesecake, and the color of the blood oranges would be a delicious contrast from the pale creamy color of the cheesecake!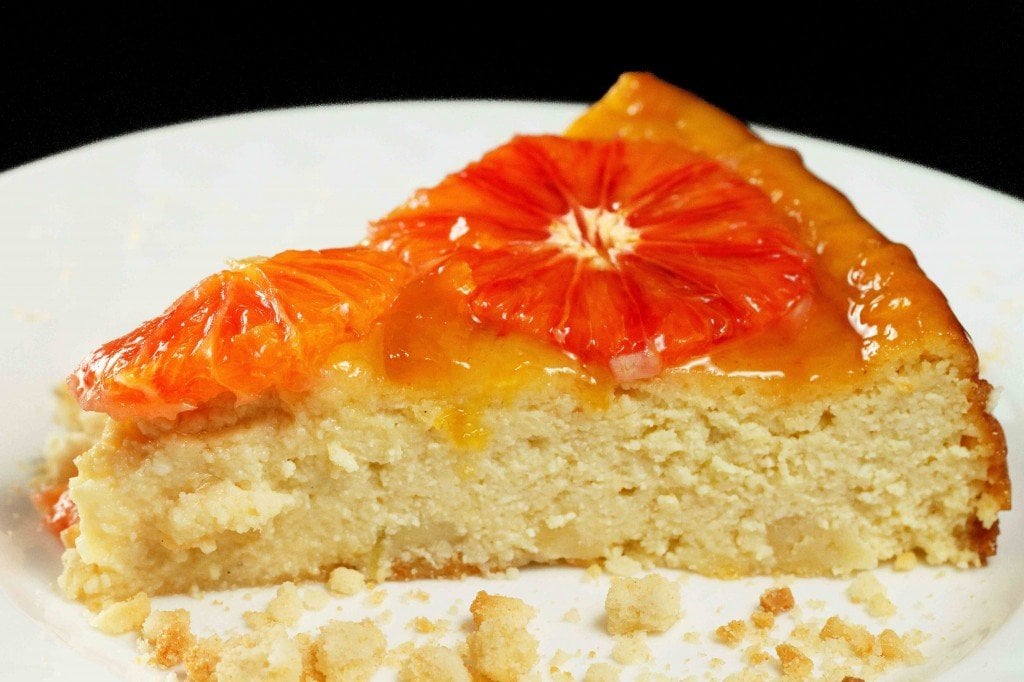 Ricotta cheesecakes are not for everyone, and honestly, I do still enjoy a New York style cream cheese cheesecake, but every now and then I miss that flavor and texture of a good ricotta cheesecake! I find that by using mascarpone it smooths out the texture and adds some richness to the dessert. Feel free to use cream cheese if you can't find mascarpone it will still be a delicious alternative to the New York style cheesecake. You might also like this Ricotta Cheesecake with Blackberries.
If you love cheesecake as much as I do, you might also like these delicious recipes: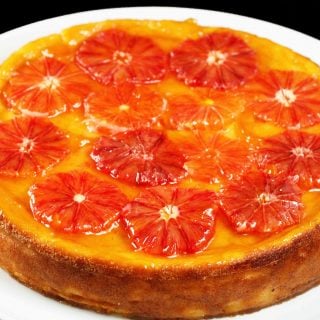 Print Recipe
Blood Orange Ricotta Cheesecake
the perfect blend of ricotta and mascarpone make up this classic Italian cheesecake. Serve up deliciousness with my blood orange ricotta cheesecake
Ingredients
Crust
12

lemon creme cookies*

1/2

stick of butter

melted
Cheesecake
16

oz

Ricotta Cheese

16

oz

Mascarpone

8

oz

Greek Yogurt

1

cup

Sugar

6

Large Eggs

2

Tablespoons

Flour

grated peel of one Lemon or lime

Juice from one Half Lemon or lime

1

Tablespoon

Pure Vanilla

1/2

Teaspoon

Salt
Topping
3

Blood oranges

skin removed, and sliced (remove seeds)

2

tbsp

Orange marmalade

peach or apricot preserves will also work
Instructions
preheat oven to 375 degree's F
Crust
in the bowl of a food processor pulse your choice of cookie for crust until smooth

add melted butter and combine.

press crust into the bottom of prepared springform pan, and partway up around the sides of the pan.

Bake crust for 7-10 minutes, and allow to cool.
Cheesecake
In the bowl of your mixer blend together the ricotta cheese, mascarpone, and Greek yogurt blend until smooth.

Add eggs one at a time until well blended.

Add sugar, flour, salt, grated lemon peel, lemon juice, and vanilla.

Blend well until very creamy.

Pour mixture into a prepared springform pan and Bake at 375 degrees for 50-60 minutes or until the cake has set in the middle.

The top of the cheesecake can get brown, if you are not topping it or prefer a lighter top, cover with foil for half of the time in the oven.

Remove from oven and allow to cool
Topping
place the orange marmalade in a small pan and over low heat allow it to liquify

after allowing the cheesecake to cool, place the orange slices on the top of the cheese cake.

using a pastry brush, brush the marmalade on the oranges and all exposed areas on the top of the cheesecake.

Use enough of the marmalade so it has a nice glaze.

allow the cheesecake to set up in the refrigerator overnight for best results*
Notes
* I used Italian lemon cream cookies for my crust. Normally I use digestive biscuits, but you can also use graham crackers, or go crustless.
*Cheesecake needs time to set up, I would recommend a minimum of 6 hours refrigerated before serving.
Nutrition
Calories:
410
kcal
|
Carbohydrates:
29
g
|
Protein:
12
g
|
Fat:
26
g
|
Saturated Fat:
15
g
|
Cholesterol:
141
mg
|
Sodium:
242
mg
|
Potassium:
112
mg
|
Sugar:
21
g
|
Vitamin A:
830
IU
|
Vitamin C:
1.9
mg
|
Calcium:
170
mg
|
Iron:
0.9
mg