Celebrate the season with my Cranberry Eggnog Bread Pudding!
Bread pudding is the ultimate comfort food and this oh so flavorful version of my classic dessert went over so well, it's now becoming a family tradition.   I've been meaning to make Cranberry Eggnog Bread Pudding for quite a few years now and time or ingredients never seem to be on my side.  I'd be all set to make to find out that Lisa had gotten into the eggnog, or it would after Christmas when I remembered…..sigh.   But this year the stars were aligned and I made this delightful, rich and somewhat decadent dessert to share with you this holiday season.
Let's start by gathering our ingredients (aka mise en place).  As you can see its really pretty simple and there are only a few tricks that will help you become the master of bread pudding.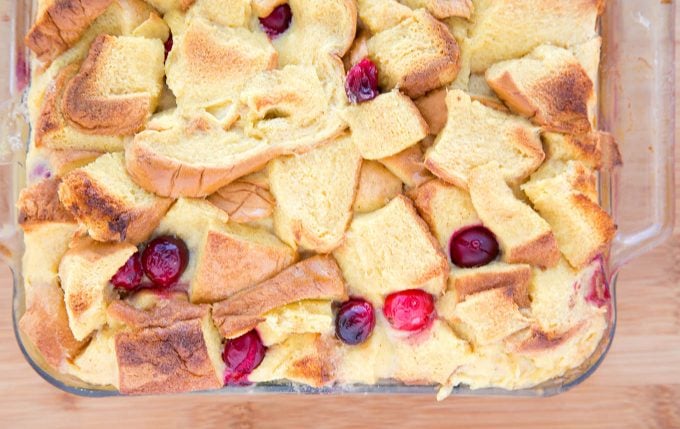 One of the major problems with most bread puddings is there's not enough liquid in the mixture.  I know you've all had the bread puddings that could double as a door stop and that's because there was not enough milk to keep the texture like pudding.  The other issue I sometimes see is the omission or simply not enough eggs to make the custard.  This is really essential with the additional liquid.  Think egg custard with bread in it.
As you can see from my bread pudding pictured above the egg nog mixture almost came up to the top of the baking dish.  Allowing it to soak in before baking helps as well.
When it comes out of the oven its puffed up really nicely and as it cools it well set back down to the level of the dish or a little lower.  This is normal.
After allowing it to cool down, you can now top it with the bourbon cream cheese frosting.   You can also skip the frosting and serve it with vanilla ice cream, whipped cream or creme Anglais.   Although the cream cheese frosting is almost the best part.
You don't have to allow it to cool down completely, and warm is even better.  The only problem you'll have is the shape of the pudding.  I promise no one will care what it looks like once they taste it.  Allowing it to cool down completely will let it keep its shape, but its best right out of the oven.
Anyway, you serve it, I promise you your guests are going to be ah-mazed at the flavor and the originality of the dessert.    If cranberries aren't your thing, try blueberries, its equally delicious, just not quite as festive.
Cranberry Eggnog Bread Pudding with a Bourbon Cream Cheese Frosting
Ingredients
1

loaf

Potato Bread cut into cubes

(more if you need it, the bread should mound high above your casserole dish.)

4

cups

Egg Nog

3

Large Eggs

1

cup

of Sugar

2

tablespoons

pure Vanilla

1

teaspoon

cinnamon

1

cup

fresh or frozen cranberries
Cream Cheese Frosting
1/4

lb

butter - softened

8

ounces

cream cheese softened.

(not whipped cream cheese)

1

cup

Confectioners sugar (aka 10X)

more if you like it sweeter

1

tablesoon

bourbon, whiskey or rum

(use vanilla extract for a non alcoholic version)
Instructions
Preheat the oven to 350 degrees and get out a 9 x 9 baking dish

cut potato bread into cubes and place in baking dish

mix in the cranberries with the cut bread

In your mixer or a large container, mix the eggnog, eggs, sugar, cinnamon and vanilla together, making sure all the eggs are beaten into the milk and all the sugar has been incorporated.

pour this mixture over the cut bread, mixing it well so that all of the bread has absorbed some of the milk. Let it sit for at least 15 minutes, overnight in the fridge is even better.

Cover the prepared bread pudding with cling wrap (don't worry it won't melt then with aluminum foil and Bake for One hour at 350 degrees)

Uncover and continue to bake for 15 minutes more or until center is fully set.

The bread pudding will rise quite a bit, but sadly it will fall, this won't affect the flavor.
Cream Cheese Frosting
Whip the butter and cream cheese in your mixture at high speed to get some air into it.

Turn the mixer down all the way and add the confectioners sugar gradually increasing the speed

Add the vanilla and mix well

spread cream cheese frosting over the warm bread pudding, serve and enjoy.
Here is the link for the original version of my Classic Bread Pudding.