Celebrate the season with my Cranberry Eggnog Bread Pudding!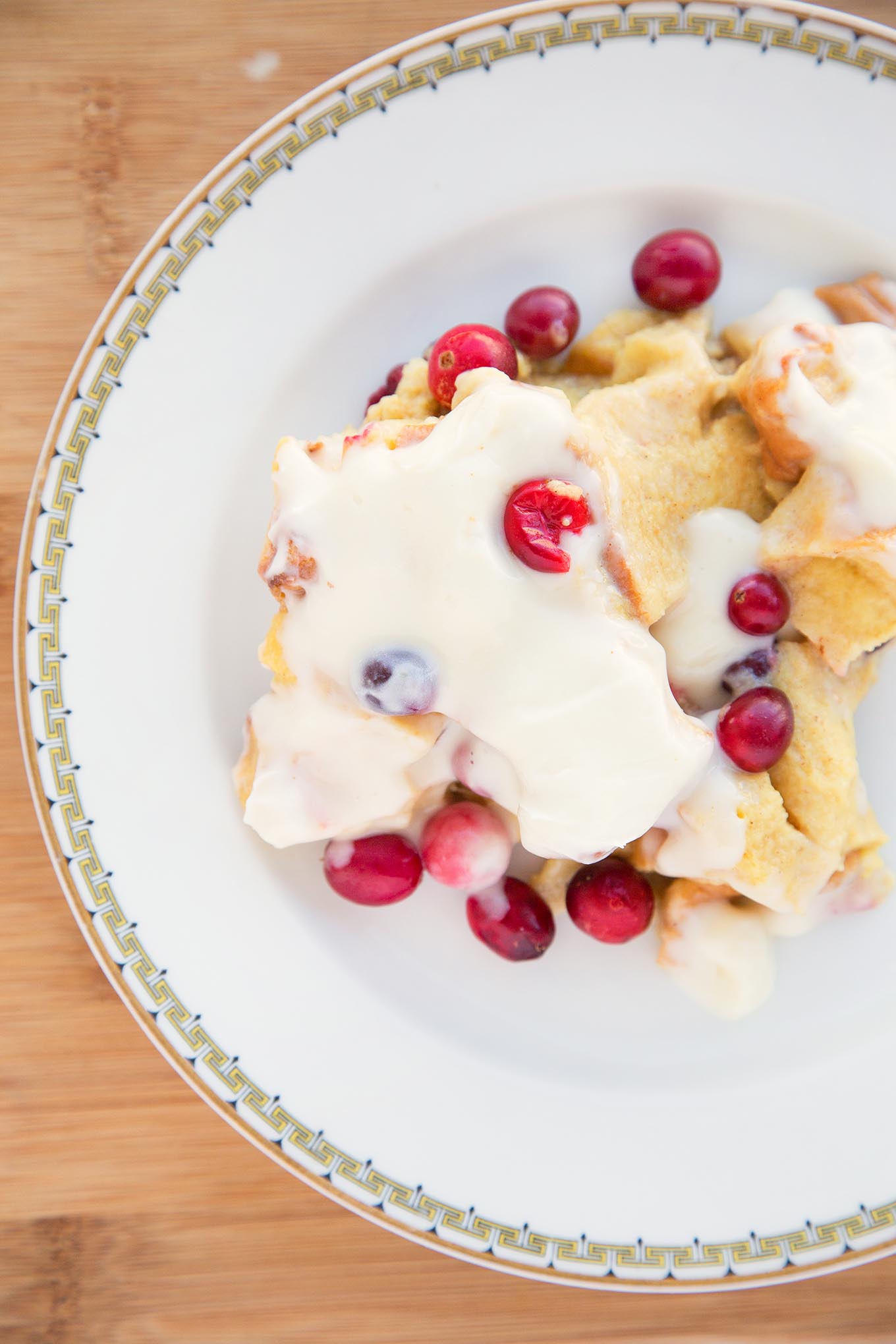 Bread pudding is the ultimate comfort food and this oh so flavorful version of my classic dessert went over so well, it's now becoming a family tradition.
I've been meaning to make Cranberry Eggnog Bread Pudding for quite a few years now and time or ingredients never seem to be on my side. I'd be all set to make to find out that Lisa had gotten into the eggnog, or it would after Christmas when I remembered…..sigh.
But this year the stars were aligned and I made this delightful, rich and somewhat decadent dessert to share with you this holiday season.
What ingredients do I need to make Cranberry Eggnog Bread Pudding?
Let's start by gathering our ingredients (aka mise en place). As you can see its really pretty simple and there are only a few tricks that will help you become the master of bread pudding.
Bread Pudding Chef Tips
One of the major problems with most bread puddings is there's not enough liquid in the mixture.
I know you've all had the bread puddings that could double as a doorstop and that's because there was not enough milk to keep the texture like pudding.
The other issue I sometimes see is the omission or simply not enough eggs to make the custard. This is really essential with the additional liquid. Think egg custard with bread in it.
As you can see from my bread pudding pictured above the egg nog mixture almost came up to the top of the baking dish. Allowing it to soak in before baking helps as well.
When it comes out of the oven it's puffed up really nicely and as it cools it will set back down to the level of the dish or a little lower. This is normal.
After allowing it to cool down, you can now top it with the bourbon cream cheese frosting. You can also skip the frosting and serve it with vanilla ice cream, whipped cream or creme Anglais. Although the cream cheese frosting is almost the best part.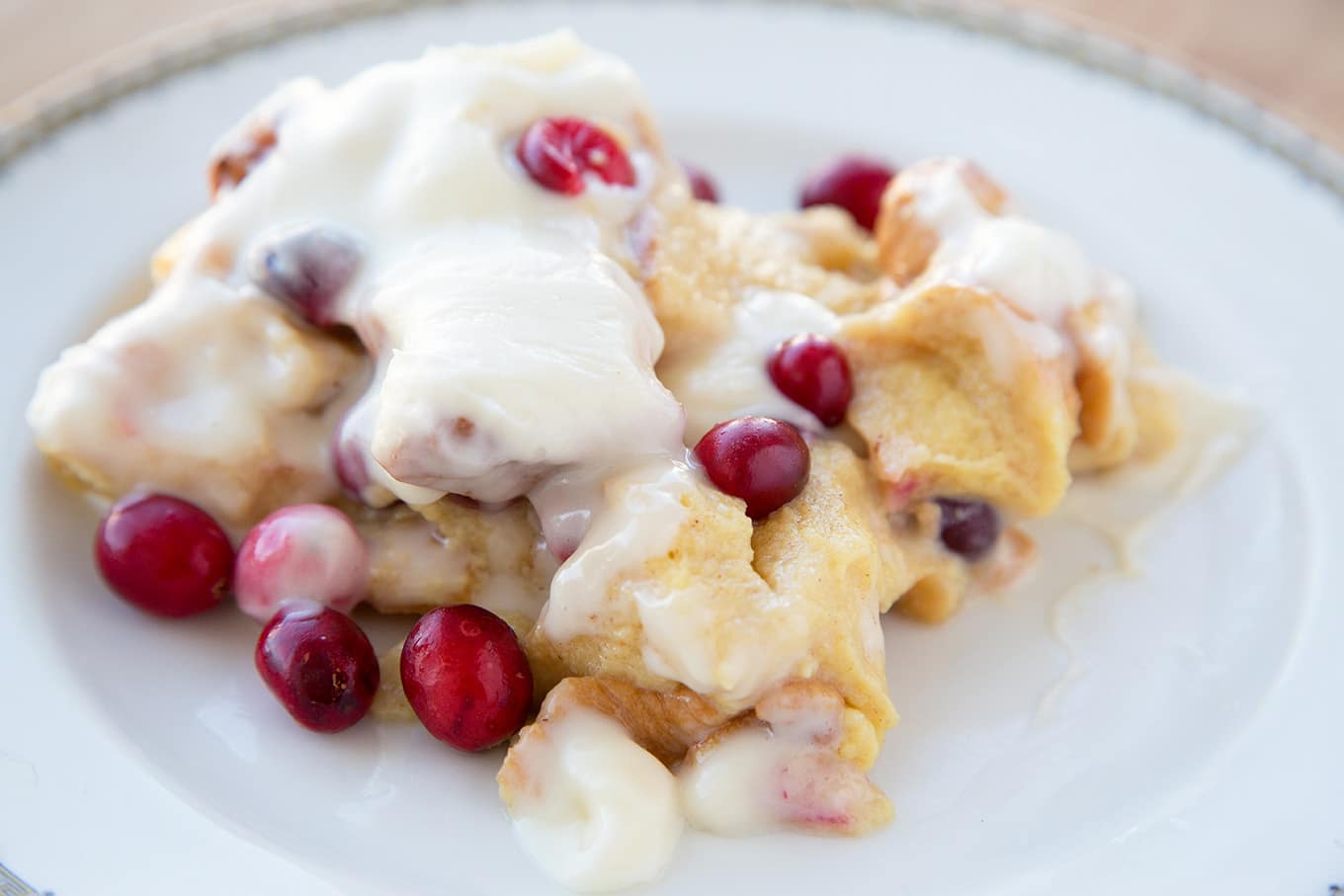 You don't have to allow it to cool down completely, and warm is even better. The only problem you'll have is the shape of the pudding. I promise no one will care what it looks like once they taste it.
Allowing it to cool down completely will let it keep its shape, but its best right out of the oven.
Anyway, you serve it, I promise you your guests are going to be ah-mazed at the flavor and the originality of the dessert. If cranberries aren't your thing, try blueberries, it's equally delicious, just not quite as festive.
Here is the link for the original version of my Classic Bread Pudding.
Recipe FAQ's
Why do they call it bread pudding?
Bread pudding can trace it's roots to the early 11th and 12th centuries. Nothing could be wasted in those times and cooks looked for ways to use stale, leftover bread instead of letting it go to waste. It became known as the "poor man's pudding" now it's simply delicious comfort food!
Why is my bread pudding like a brick?
You simply didn't use enough milk and egg mixture if your bread pudding is dense and heavy. Eggs make it rich and light, think of it as custard being poured over the bread.
Can I freeze bread pudding?
Yes. you can. Double wrap it in plastic wrap and foil. Don't add the topping until it's defrosted and reheated.
More Desserts You'll Love!