I love pasta and meatballs, but I've also been trying to eat less meat, so I decided to try making this Italian classic with Tuna Meatballs. It turned out to be all the deliciousness without any of the guilt of eating too much meat.
This is post is sponsored by Blue Harbor, all opinions are honest and my own.
I decided to add a little zing to my marinara to compliment the Tuna Meatballs, but if you prefer a less spicy sauce or want to use your favorite jarred variety of spaghetti sauce feel free to make the changes.
This is your dinner and it should be made the way you want it!
What Ingredients do I need to make Tuna Meatballs?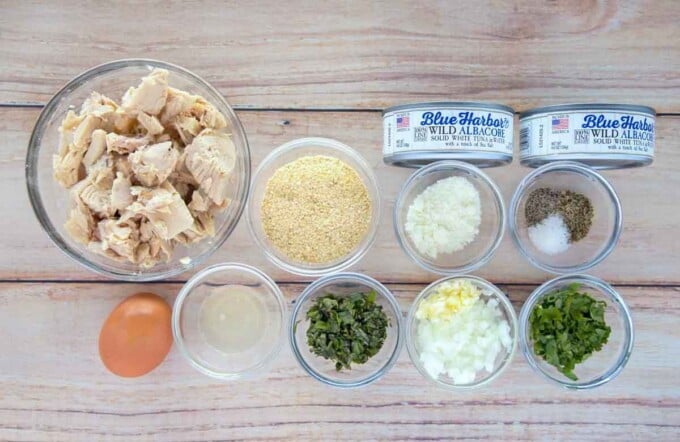 Let's start by gathering the ingredients we need to make my Tuna Meatballs. In Chef Speak this is called the "Mise en Place" which translates to "Everything in its Place".
Not only does setting your ingredients up ahead of time speed up the cooking process, it also helps ensure you have everything you need to make the dish.
Not all tuna is created equally and that's why I choose Blue Harbor Wild Albacore Tuna. Did you know that every fillet of Blue Harbor albacore tuna is hand-selected and hand-prepared? Humans make better choices than automated machines do. And that's why Blue Harbor is hands-down better than the competitor.
How do I make Tuna Meatballs?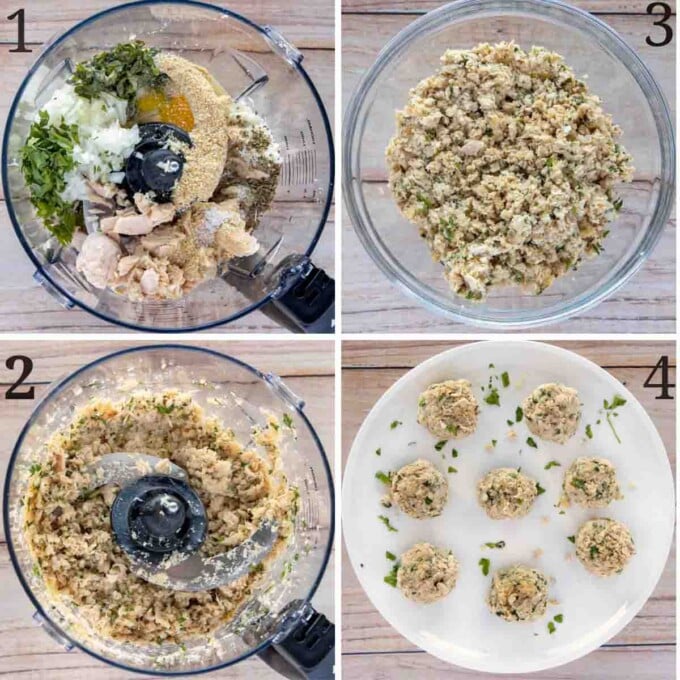 The process to make these delicious Tuna Meatballs couldn't be easier!
In the bowl of your food processor add the tuna, garlic, basil, breadcrumbs, egg and seasonings. Pulse the mixture until fully mixed and the tuna is shredded.
Once fully combined, roll the mixture into 8 meatballs shaped tuna balls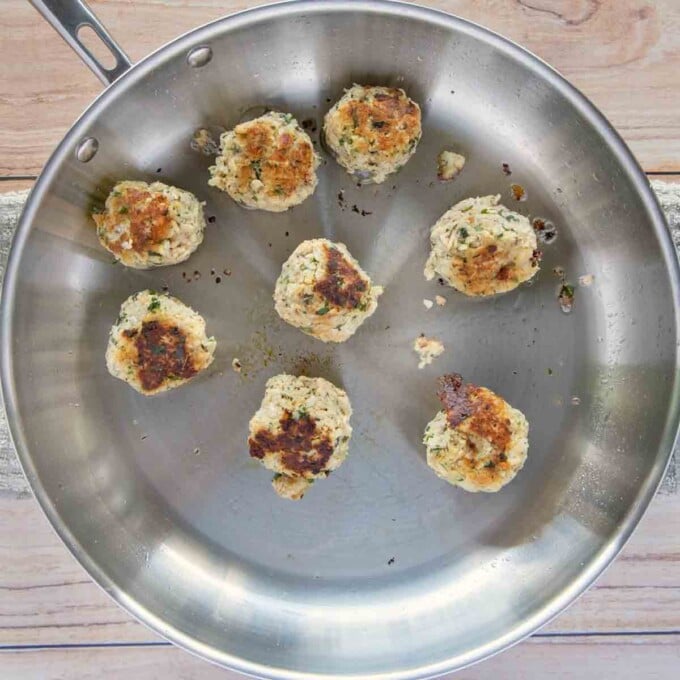 Heat 1 tablespoon of oil in a frying pan and sear the tuna balls for 3-4 minutes. When you have some color on the tuna meatballs transfer them onto a plate and refrigerate them until needed.
*Get some color on two sides of the tuna meatballs, don't try and sear the entire ball or it will break up.
*You can make the tuna meatballs ahead of time, refrigerated. When you're ready add them to the sauce during the last part of the simmering stage.
Can I freeze the tuna meatballs?
Yes, you can. Let them freeze solid on a tray then place the frozen tuna meatballs into a ziplock bag or container until needed. Use within 6 weeks of freezing.
How Do I make Spicy Marinara Sauce?
In the same pan you seared the tuna meatballs, add the olive and saute the onions and garlic for 1-2 minutes on medium heat until fragrant.
Add the crushed tomatoes and spices to the pan.
Bring the marinara to a light boil and reduce the heat to a simmer. Simmer for 20 minutes.*If the sauce is thick, add a little water to the pan.
After simmering the sauce for 20 minutes, taste and re-season the sauce if needed.
Carefully place the tuna meatballs into the sauce, spooning some of the sauce over top of the meatballs and continue simmering while the pasta is cooking.
Do I have to make a spicy marinara?
No, you don't. You can make a regular marinara or use your favorite store-bought spaghetti sauce.
WHY DO I USE BLUE HARBOR ALBACORE TUNA?
As a chef and home cook, I've opened many cans of Tuna over the years. From the small home, use can to the restaurant size can. I'm sure you experienced the same feelings as I have when you open up a can of tuna to a strong odor, a mushy texture, or an abundance of liquid. It's not very appealing and looks more like cat food than tuna
With Blue Harbor Sustainable Albacore Tuna and Wild Pink Salmon, you can be sure that each time you open the can you're the best canned (or pouch) tuna or salmon that money can buy.
Simply prepared with water and sea salt (without preservatives) and sustainably caught each can or pouch of Blue Harbor Albacore Tuna will have that clean, fresh, mild taste that will let you taste the delicious flavor that tuna was meant to have.
You can find Blue Harbor Tuna and Salmon online at Target and Walmart and your local grocery store.
Click through the link to find Blue Harbor Albacore Tuna and Wild Pink Salmon at a store near you.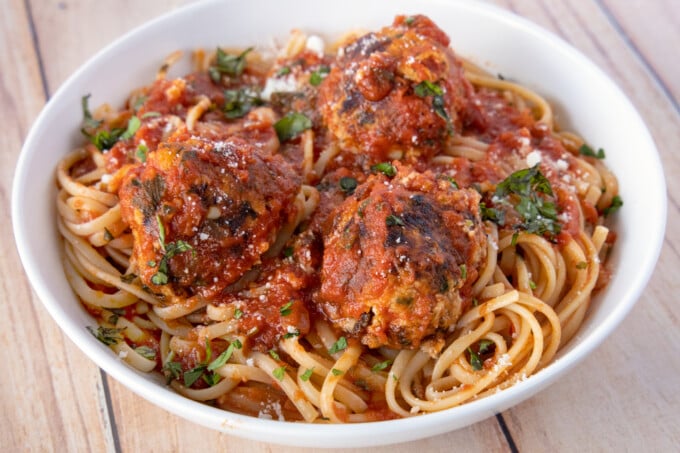 Wouldn't you love to sit down to a bowl of my linguine with tuna meatballs? It's a pasta dish you don't have to feel guilty about.
More Recipes You'll Love!