My Classic Pumpkin roll is a timeless fall dessert that is guaranteed to bring smiles to your dinner table. It's one of those desserts that everyone thinks is too difficult to make, but honestly, it's not that hard to make and is well worth the effort.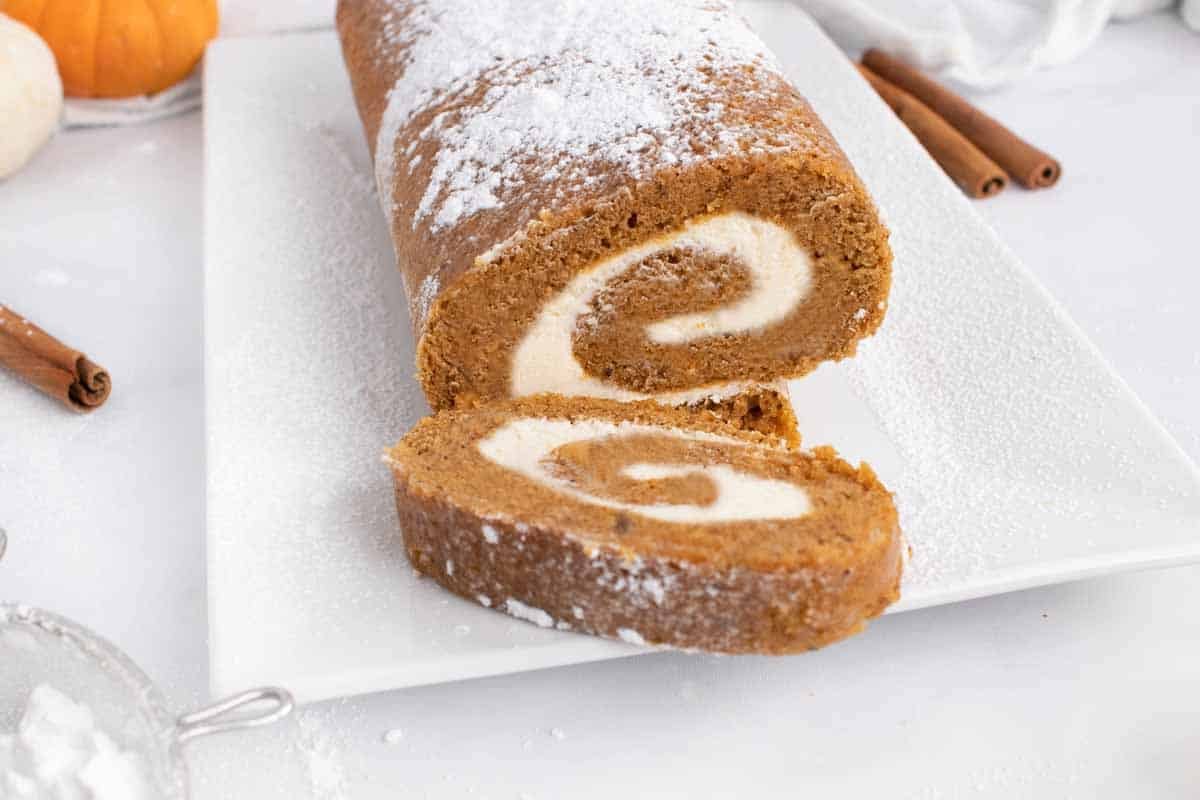 This perfectly moist spiced pumpkin cake filled with a luscious layer of cream cheese frosting is a delicious addition to any fall table. I've never been a fan of pumpkin recipes, but I do make an exception for this classic pumpkin dessert.
My other pumpkin season favorite is my Pumpkin Crunch Cake.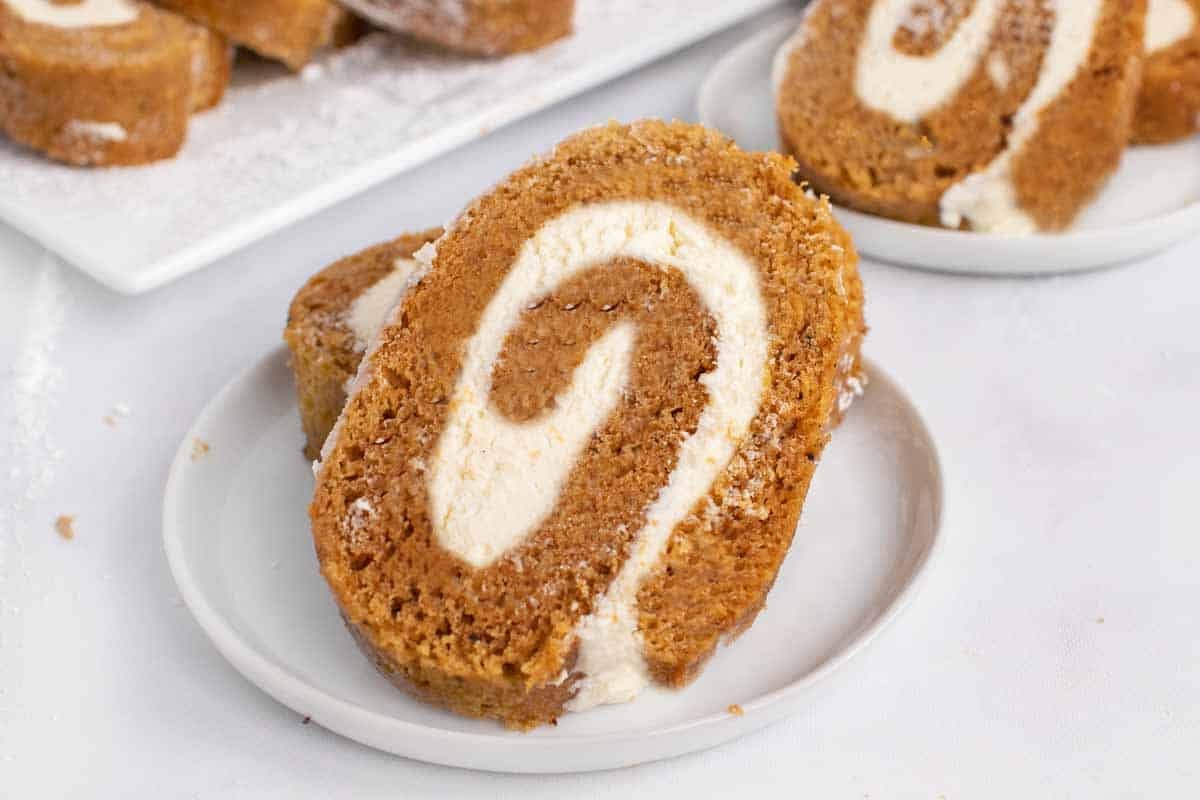 If this is your first time making a (Swiss Rolls) pumpkin cake, don't be intimidated by the process. Making the sponge cake isn't difficult. It's a combination of simple pantry ingredients including, pumpkin puree, flour, pumpkin pie spice, eggs and sugar.
If you need a Gluten-Free version of this delicious cake roll, you can find it here, Gluten Free Pumpkin Roll.
Ingredients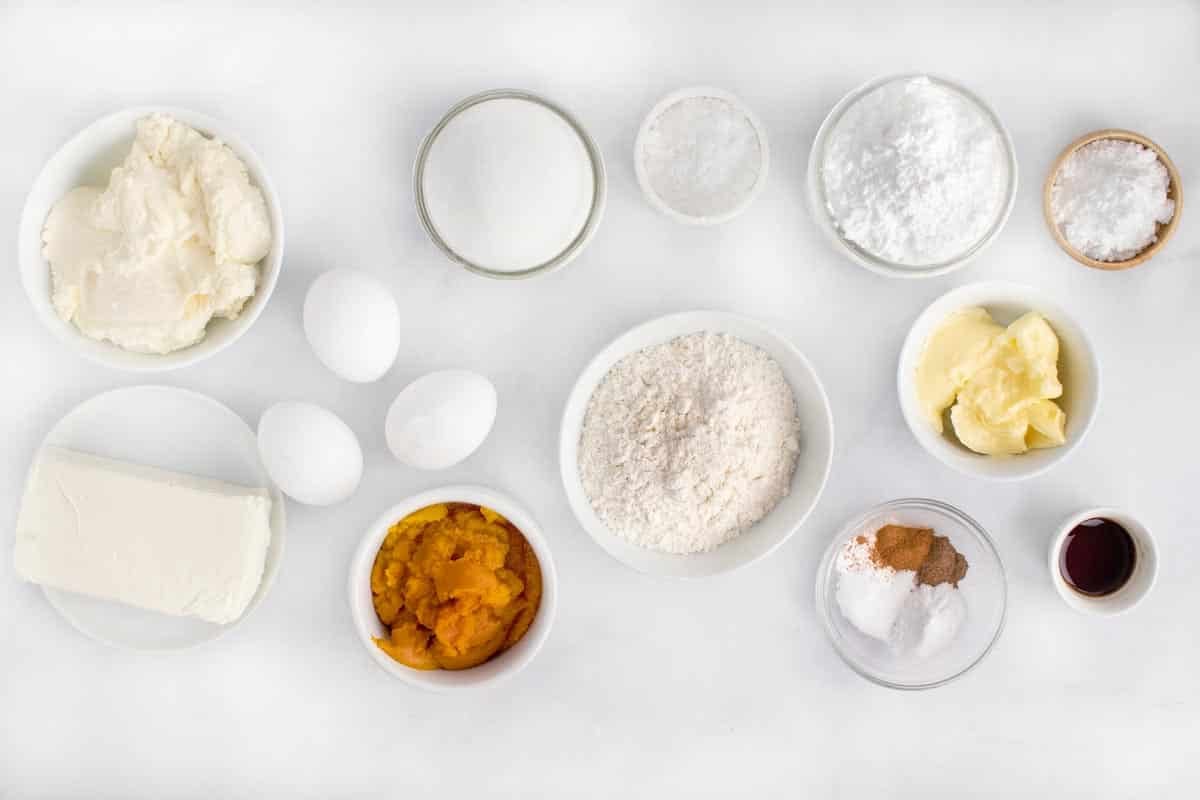 Let's start by gathering the ingredients we need to make a Classic Pumpkin Roll. In Chef Speak this is called the "Mise en Place" which translates to "Everything in its Place".
Not only does setting your ingredients up ahead of time speed up the cooking process, it also helps ensure you have everything you need to make the dish.
Make sure to use 100% pure pumpkin, not pumpkin pie mix.
How to make a pumpkin roll?
Preheat oven to 375 degrees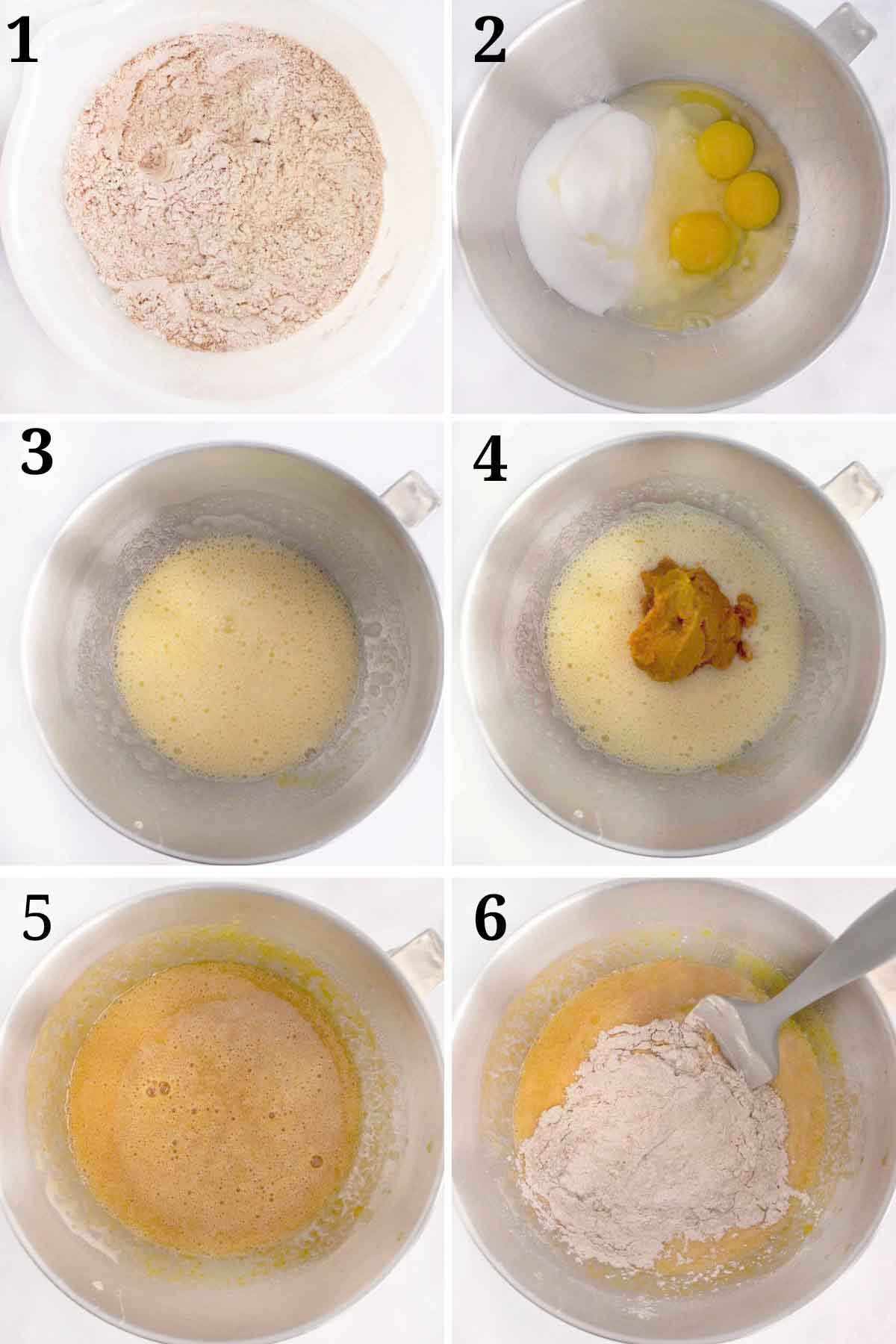 Mix flour, baking powder, baking soda, cinnamon, cloves and salt in a small bowl. Set aside the dry ingredients until needed.
Add eggs and sugar to a large mixing bowl.
Beat the eggs and sugar on medium-high speed until thick.
Add the pumpkin puree to the egg mixture.
Mix the pumpkin in until well blended and creamy.
Add the flour mixture to the wet ingredients.
Make sure to use 100% pure pumpkin, not pumpkin pie mix.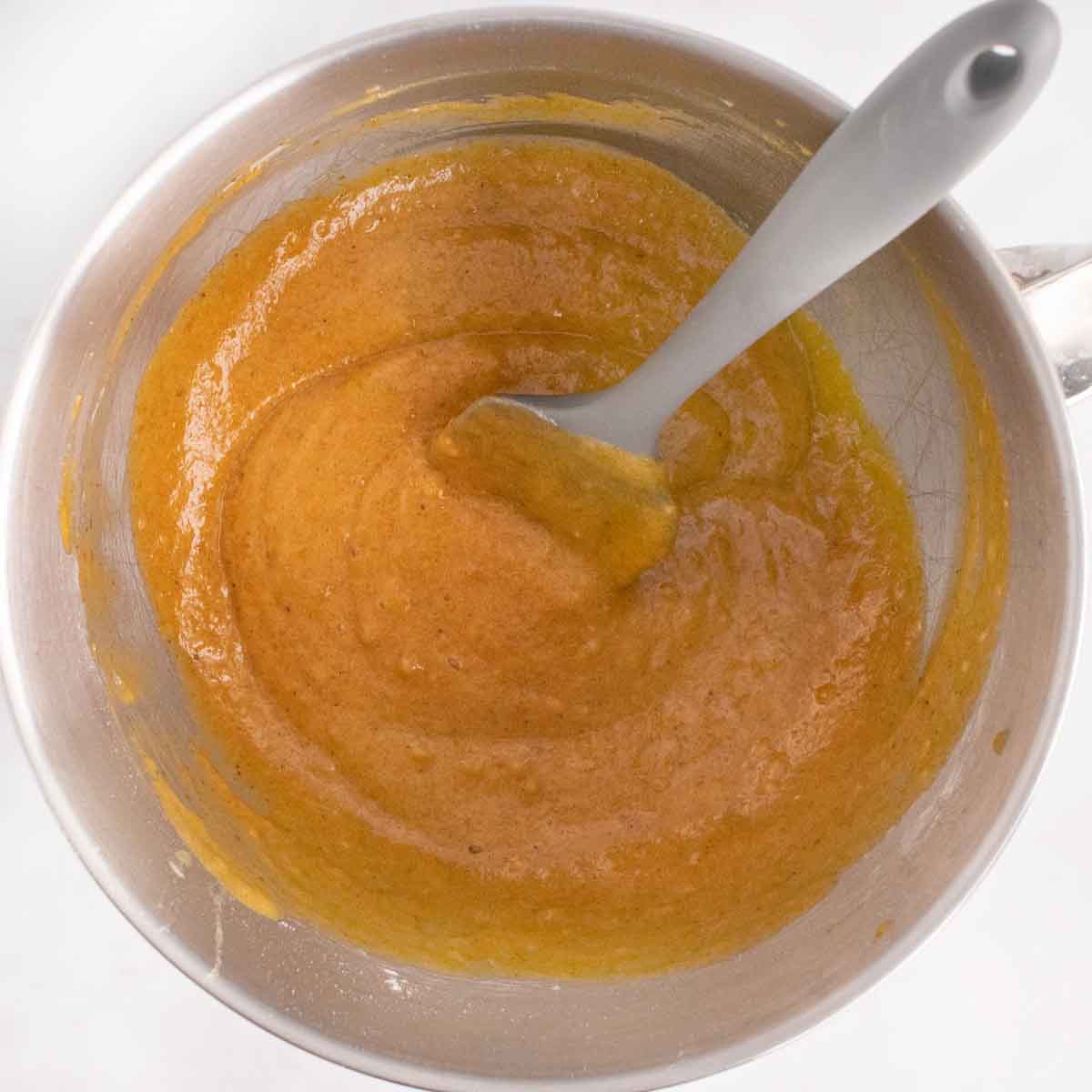 Mix until the flour is just combined. Don't over-mix.
Sprinkle a dish towel with powdered sugar.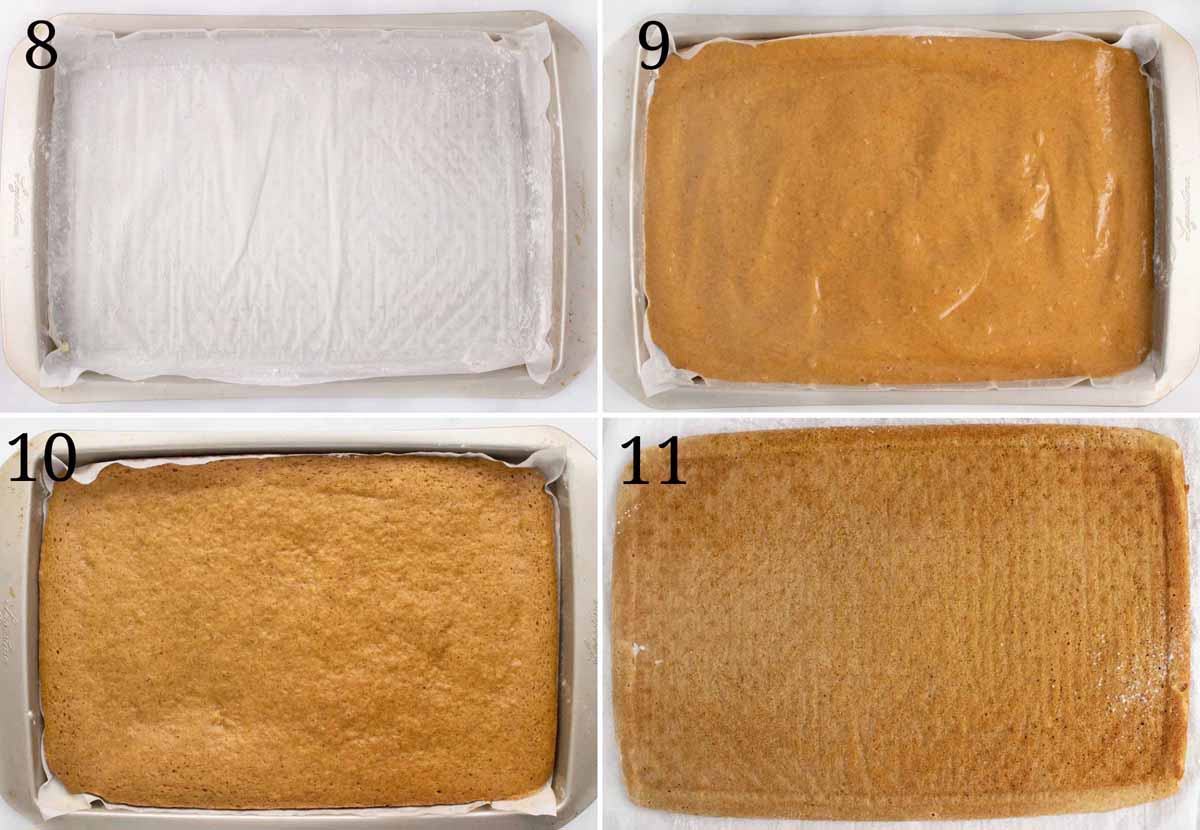 Grease a 15 x 10-inch jelly-roll pan; line the pan with parchment paper. Grease and flour the parchment paper.
Spread the pumpkin cake batter evenly into the prepared pan. *using an offset spatula will make spreading the cake better easy.
Bake for 13 to 15 minutes or until the top of the cake springs back when touched.
Turn out the cake onto the prepared dish towel
*Alternatively you can skip the dish towel step and simply roll up the sponge cake in the parchment paper it was baked in.
Cream Cheese Frosting
While the cake is baking make the cream cheese frosting. I like using part mascarpone cheese (Italian cream cheese) when making cream cheese frosting. I like how it makes the cream cheese frosting extra smooth and silky.
You can use all cream cheese to make the frosting and it will still be delicious!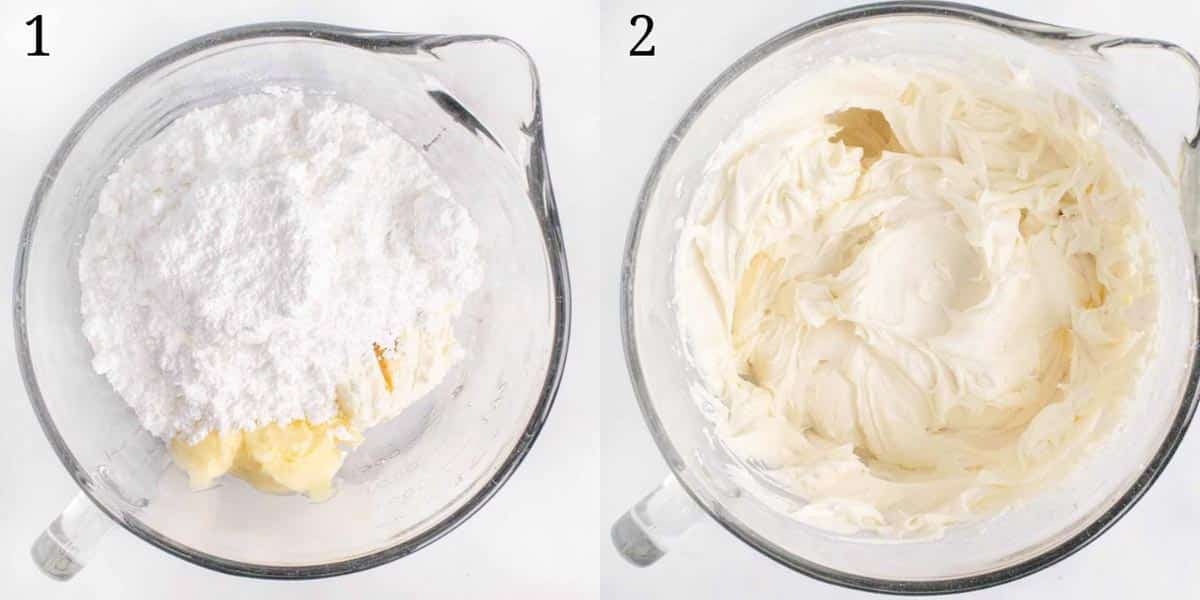 Add the cream cheese, mascarpone, powdered sugar, butter and vanilla extract to a small mixing bowl.
Whip ingredients on high speed until smooth and creamy
Assembling Pumpkin Roll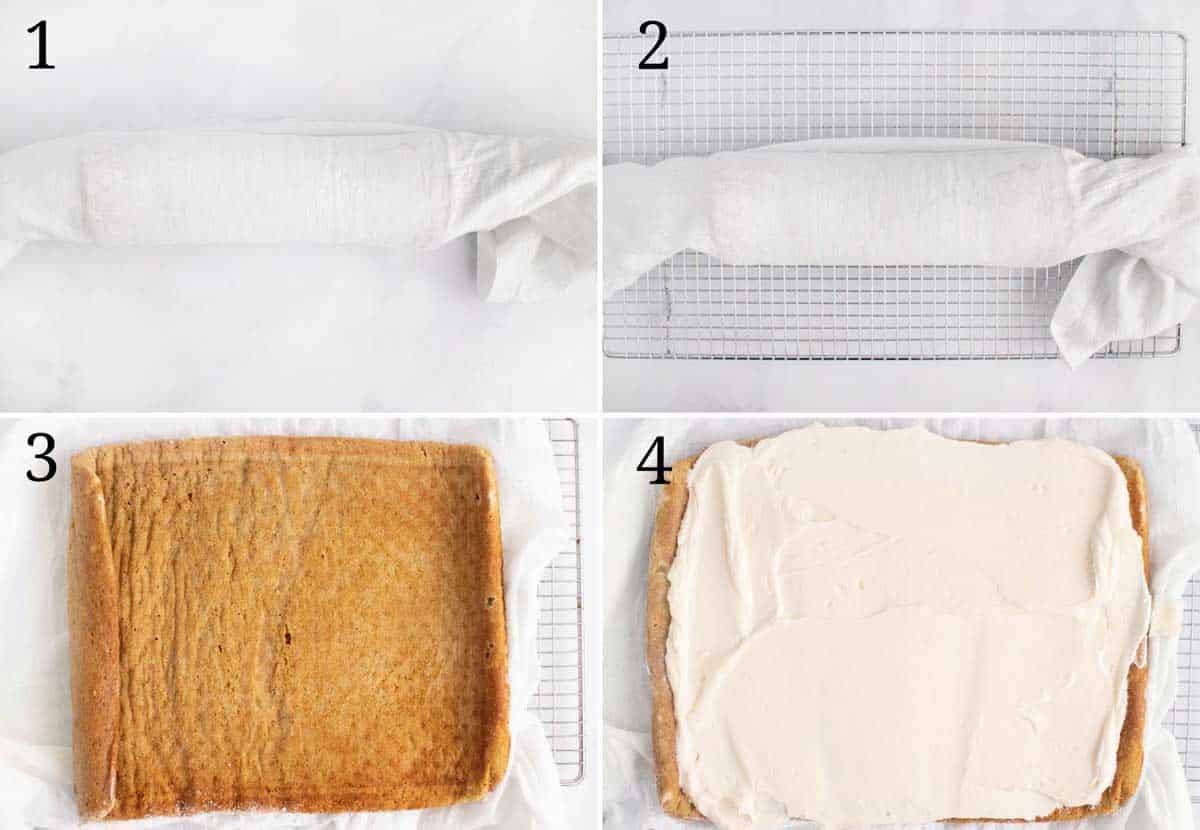 Roll up the cake and towel together, starting with the narrow end. It's important to work quickly once the cake comes out of the oven. You want to get it rolled while it's still hot to prevent any cracking.
Let the wrapped cake cool on a wire rack.
Carefully unroll the cake; remove the towel.
Spread the cream cheese mixture over the cake.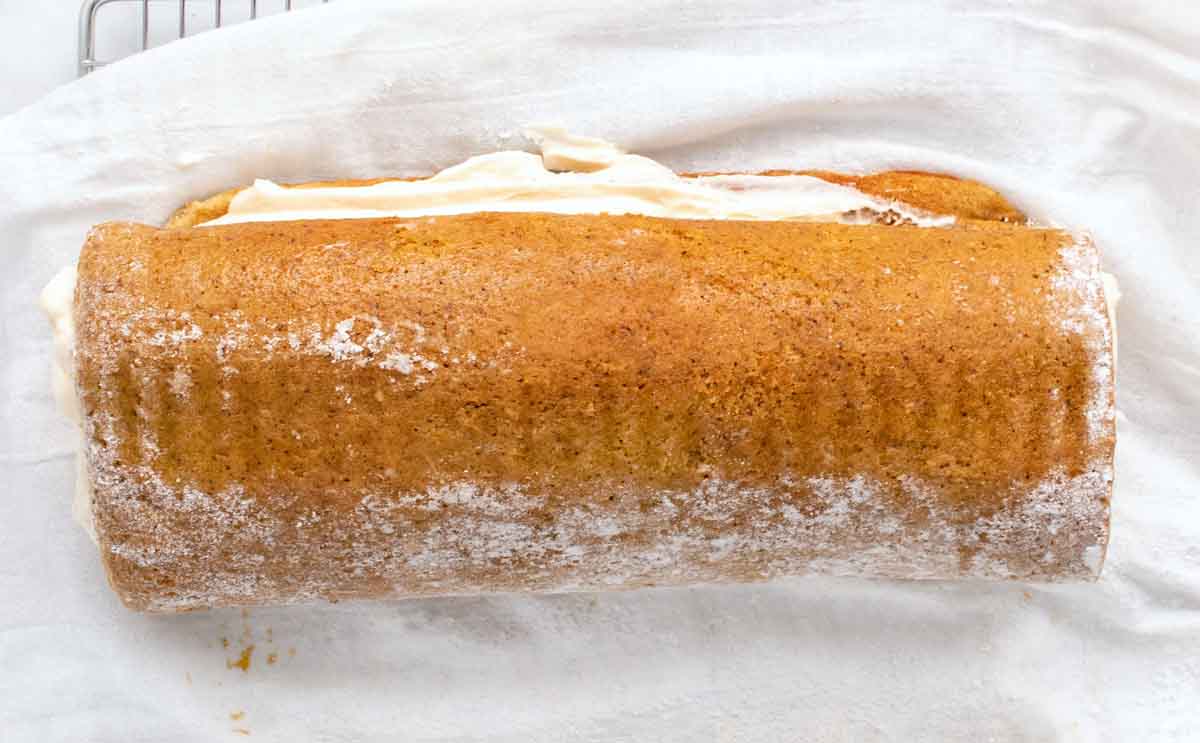 Carefully re-roll the pumpkin cake.
Wrap the pumpkin roll in plastic wrap and refrigerate for at least one hour; overnight is best.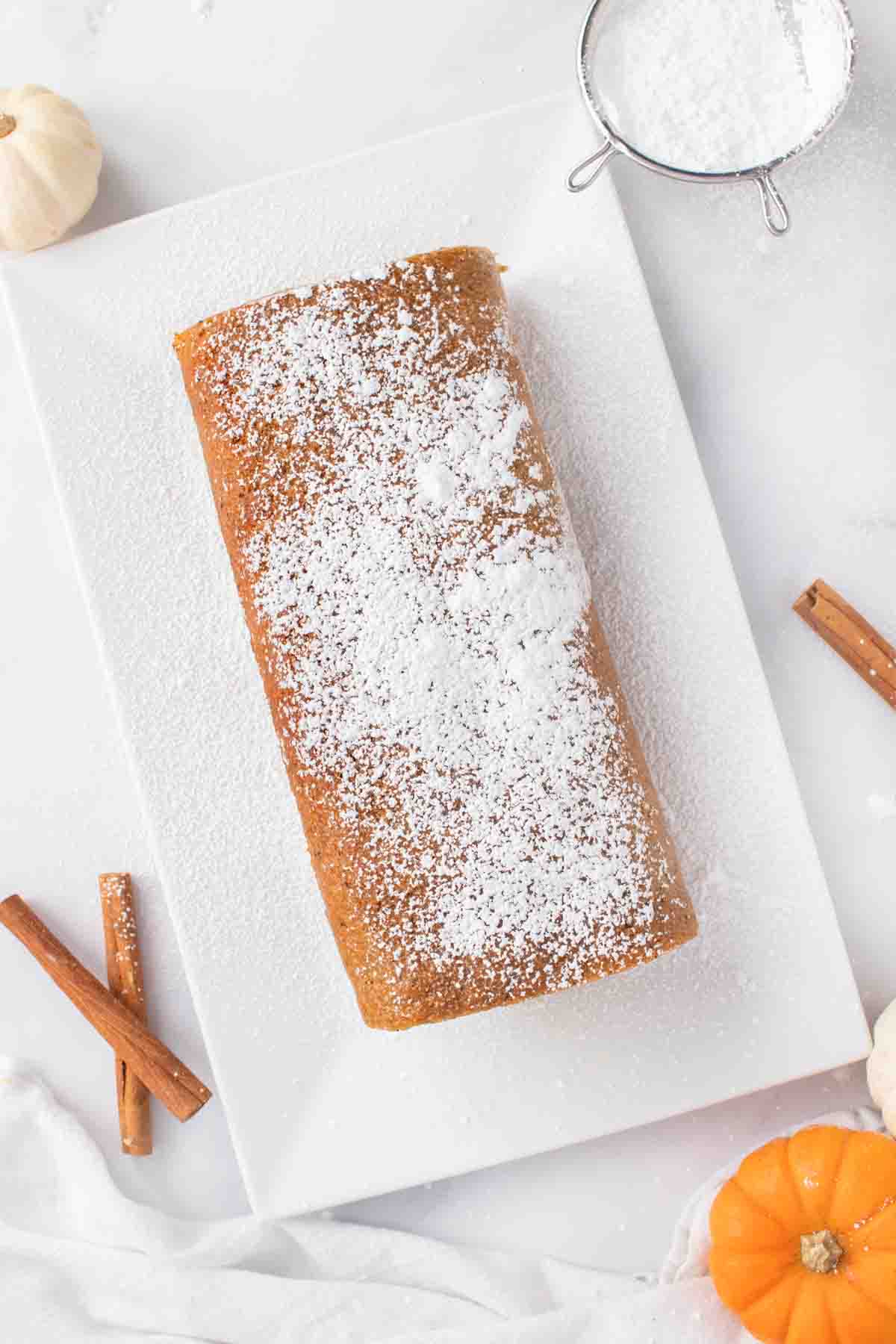 Sprinkle the roll with powdered sugar.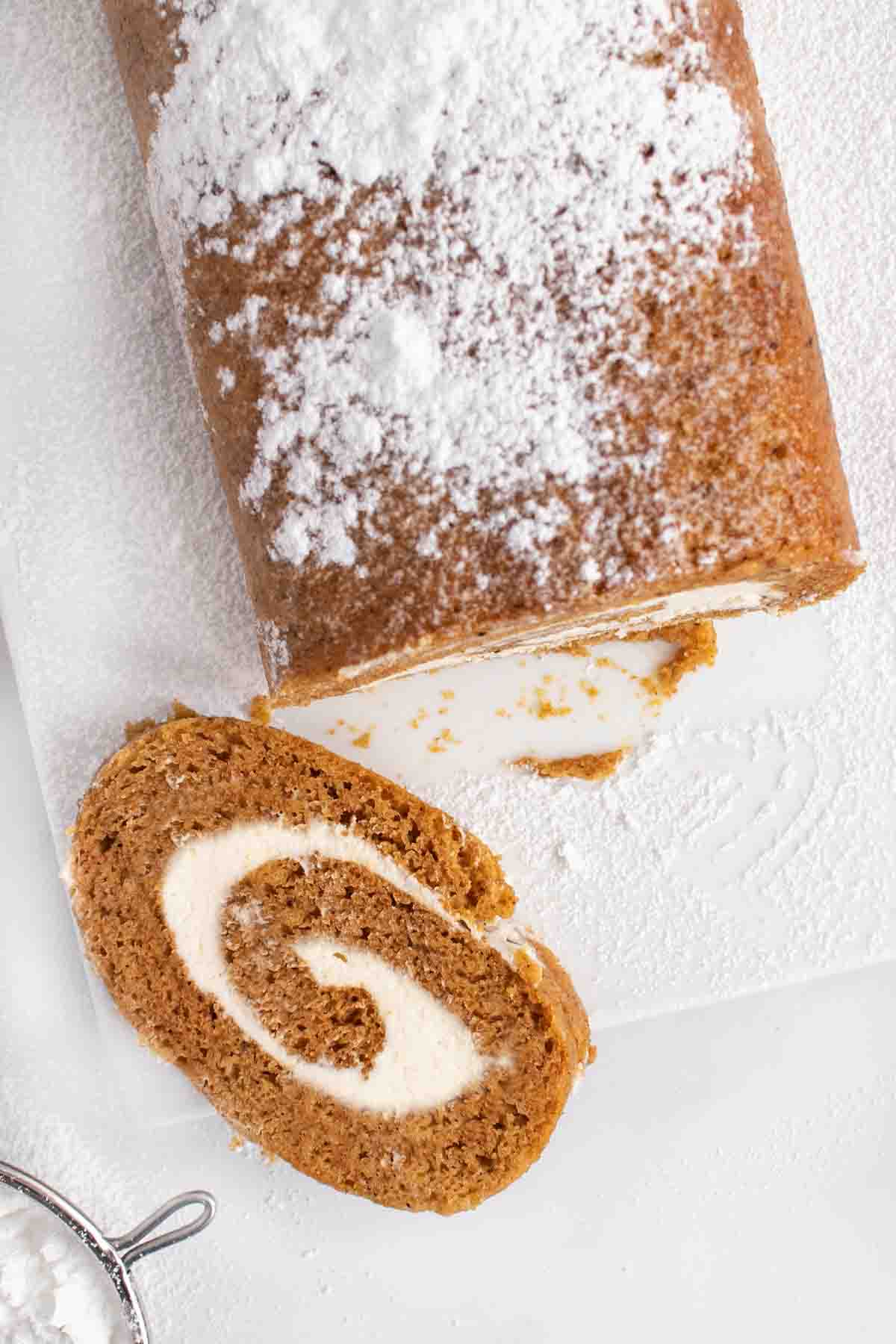 Your friends and family are going to love this classic pumpkin roll, and after one bite you'll agree this is the Best Pumpkin Roll Recipe!
Recipe FAQ's
How do I store a finished pumpkin roll?
Once filled and rolled, wrap the finished pumpkin roll tightly in a piece of plastic wrap and then again in a layer of foil. Make sure that the ends are sealed well; this is important.
After properly wrapping the pumpkin roll you can keep them in the refrigerator for 2-3 days or you can freeze them for up to a month.
When ready to serve the pumpkin roll, remove it from the freezer or refrigerator and allow the roll to come to room temperature before serving.
Do I have to use a towel to roll the pumpkin roll?
No, you don't. The newest technique for an easy and mess-free pumpkin roll is to roll the pumpkin cake up inside the parchment paper that it was baked on. No dish towel is necessary.
Allow the cake to cool in the parchment paper, then unroll the cake and spread the cream cheese frosting over the cake. Re-roll the cake, without the parchment paper, wrap in plastic wrap and refrigerate.
Can I use pumpkin pie mix to make a pumpkin roll?
No, you can't. Don't try it won't come out well, since the pie mix is diluted and not pure pumpkin.
More Holiday Desserts You'll Love!