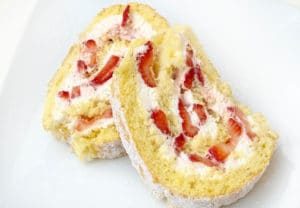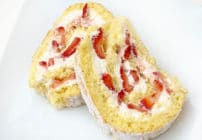 Fresh Strawberries make delicious desserts and my Strawberry Shortcake Roll is an easy and delicious recipe that will bring smiles to your summer table.
This post includes affiliate links. As an Amazon Associate I earn from qualifying purchases.
Fresh local strawberries are plentiful in your local grocery and farmers market and what better way to showcase them than in an easy delicious dessert like my Strawberry Shortcake Roll? Once you get the hang of making this light and delicious sponge cake, the skies the limit.
I have been dreaming about Strawberry Shortcake since I started seeing those plump juicy berries appear at the supermarket and just making a traditional strawberry shortcake didn't seem to do justice to those beautiful strawberries.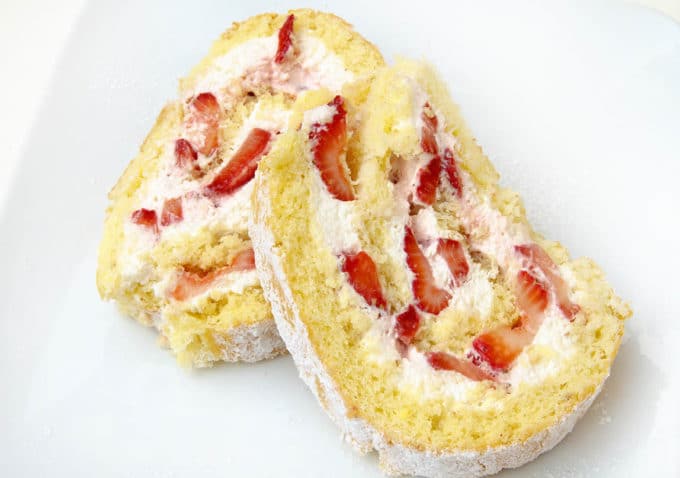 Not being a trained baker, I had shied away from making any type of cake rolls most of my life, but after seeing so many of my friends making these delicious desserts, I thought I'd give it a try.
The roll itself is really not that difficult, it does have its challenges, but nothing to stop you from trying. I think the most difficult part is finding a recipe that is almost foolproof because if the cake isn't good, you can forget about getting it to roll properly.
I went through quite a few of my cookbooks and looked online, and finally decided to place my trust on the recipe from James Peterson's Baking. If you've never seen that book, I highly recommend it, especially if you need help with your baking skills like I do. It's a great resource to have to help with all your baking needs.
Mr. Patterson gives you quite a few choices in the sponge cake section and I settled on a basic Moist Sponge Cake, that was said to have all the texture and flavor of a Genoise, without any of the dryness. I can tell you that it did not disappoint, and I plan on using this recipe for layer cakes in future, the cake was light and airy and very flavorful!
I promise you smiles at your table when you serve this OMG light and delicious strawberry shortcake roll. It's perfect for a weekend get together or just to make a family night special.
If you enjoyed this recipe you may also like these: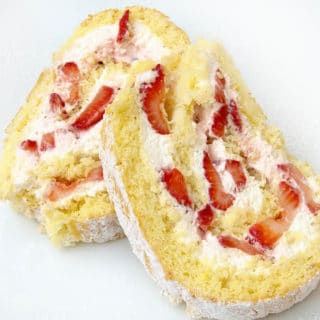 Print Recipe
Strawberry Shortcake Roll
Fresh Strawberries make delicious desserts and my Strawberry Shortcake Roll is an easy and delicious recipe that will bring smiles to your summer table.
Ingredients
Sponge Cake
1

tsp

vanilla

5 ml

1/4

cup

milk (or heavy cream

I used whole milk), 60ml

3

tablespoons

unsalted butter

45gm

3

whole eggs

warmed*

3

egg yolks

warmed*

3/4

cup

plus 2 tablespoons sugar

175 gm

3/4

cup

cake flour *

85 gm
Whipped Cream
2

cups

heavy whipping cream

500 ml

1/4

cup

sugar

50 gm

1

teaspoon

vanilla

15 ml
Strawberries
16

ounces

fresh strawberries

450 gm

1/4

cup

sugar

50 gm
Assembly
1/4

cup

confectioners sugar

30gm, for dusting
Instructions
Sponge Cake
preheat the oven to 400 (204 C) degrees

Line a 13 x 17 inch pan with parchment paper

combine the milk, butter and vanilla in a small pan and heat just enough to melt the butter, set aside

With your stand mixer, whip the eggs, egg yolks, and sugar on high speed for 5-7 minutes or until it forms wide bands of ribbons when the beater is lifted out.

Gently transfer the egg mixture to a bowl large enough to make folding in the other ingredients easy.

Pour in the butter/milk mixture down the side of the bowl and fold this into the egg mixture using a rubber spatula.

Sift the flour over the egg mixture, doing this in three batches. After sifting, gently begin to fold the flour into the mixture. (the flour will settle on the bottom, fold more than you think you should, I still wound up with little flour balls in my cake)

Continue sifting in the flour in the three batches until it has all been folded in. (don't forget to check the bottom of the bowl for more flour)

Pour the mixture into the lined sheet pan and using an offset spatula smooth out the mixture evenly. Use your finger to run down the insides of the pan creating a momentary separation of the cake from the pan.

Place on center rack in the oven and bake for 12 minutes.

Allow the cake to cool for 10 minutes, then turn the cake out onto a clean piece of parchment that has been dusted with 10x sugar. (do this quickly so it does not tear)

Gently peal off the parchment from the bottom of the cake (use a metal spatula if it is hard to remove)
Strawberries
Wash and hull the strawberries, then slice

add sugar to berries and allow to sit until needed
Whipped Cream
add whipping cream to your mixing bowl and starting on a lower speed begin to whip your cream, add in the sugar and vanilla.

gradually increase the speed of the mixer, and continue whipping the cream until it is fully set.
With cake on the new parchment that has been dusted with confectioners sugar, begin your assembly
Spread a nice layer of whipped cream onto the cake, spreading evenly to the ends of the sides, but leaving 1 inch on either end (short sides)

place your sliced strawberries on top of the whip cream. spreading them evenly.

begin rolling your cake using the parchment to hold it with, rolling it gently but firmly along, trying to keep it as tight as possible without having whipped cream come out of the sides.

Continue rolling until it has completely rolled up

Redust the parchment the cake is still on and turning the cake facing the long side of the parchment and roll it up as tightly as possible without losing cream out the ends, twisting the ends of the paper like taffy.

(I rolled my cake in an additional piece of parchment, to make sure it was secure)

Place your rolled and sealed cake in the refrigerator for at least 2 hours to set up, I left mine in overnight and it was fine.

Before serving, trim the ends so they are even and dust with confectioners sugar.
Notes
*warm eggs by placing them in a bowl and covering them with hot tap water and allowing them to sit for 5 minutes. Warm eggs with froth up better. You can also just set your eggs out until they come to room temperature. *You can make cake flour by adding 2 tablespoons (15 gm) of corn starch to 3/4 cup(84 gm) of all purpose flour
Nutrition
Calories:
327
kcal
|
Carbohydrates:
33
g
|
Protein:
4
g
|
Fat:
20
g
|
Saturated Fat:
11
g
|
Cholesterol:
152
mg
|
Sodium:
36
mg
|
Potassium:
122
mg
|
Sugar:
25
g
|
Vitamin A:
810
IU
|
Vitamin C:
22.4
mg
|
Calcium:
52
mg
|
Iron:
0.5
mg