This post includes affiliate links. As an Amazon Associate I earn from qualifying purchases.
Fresh local strawberries are plentiful in your local grocery and farmers market and what better way to showcase them than in an easy delicious dessert like my Strawberry Shortcake Roll? Once you get the hang of making this light and delicious sponge cake, the skies the limit.
I have been dreaming about Strawberry Shortcake since I started seeing those plump juicy berries appear at the supermarket and just making a traditional strawberry shortcake didn't seem to do justice to those beautiful strawberries.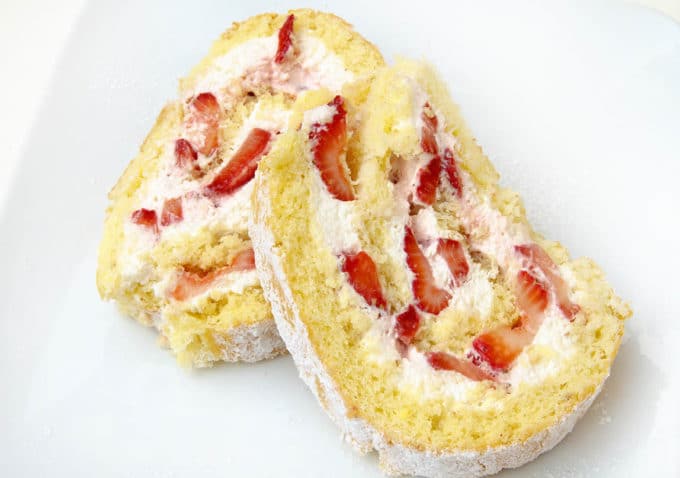 Not being a trained baker, I had shied away from making any type of cake rolls most of my life, but after seeing so many of my friends making these delicious desserts, I thought I'd give it a try.
The roll itself is really not that difficult, it does have its challenges, but nothing to stop you from trying. I think the most difficult part is finding a recipe that is almost foolproof because if the cake isn't good, you can forget about getting it to roll properly.
I went through quite a few of my cookbooks and looked online, and finally decided to place my trust on the recipe from James Peterson's Baking. If you've never seen that book, I highly recommend it, especially if you need help with your baking skills like I do. It's a great resource to have to help with all your baking needs.
Mr. Patterson gives you quite a few choices in the sponge cake section and I settled on a basic Moist Sponge Cake, that was said to have all the texture and flavor of a Genoise, without any of the dryness. I can tell you that it did not disappoint, and I plan on using this recipe for layer cakes in future, the cake was light and airy and very flavorful!
I promise you smiles at your table when you serve this OMG light and delicious strawberry shortcake roll. It's perfect for a weekend get together or just to make a family night special.
If you enjoyed this recipe you may also like these: