One of my favorite comfort foods will always be Chicken Parm.
And when I can't find anything else to order on a menu, I often turn to Chicken Parm.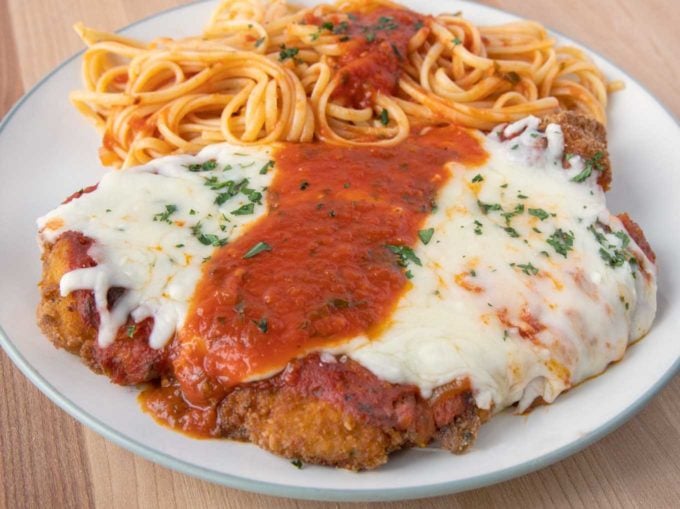 It's such an easy dish to make, that you'd think it's always the perfect meal to get when you order out. Unfortunately, it's not.
I have seen chicken parm done badly more times than I've seen it done right. It's actually how I gauge an (American) Italian restaurant. Because if you can't get this simple dish right, there's a good chance you won't do well with more complicated dishes.
Since it's one of my favorite dishes you can bet that I know the secret to making an OMG ah-mazing Restaurant-Style Chicken Parm and today I'm going share my method with you.
What Ingredients do I need to make a Restaurant-Style Chicken Parm?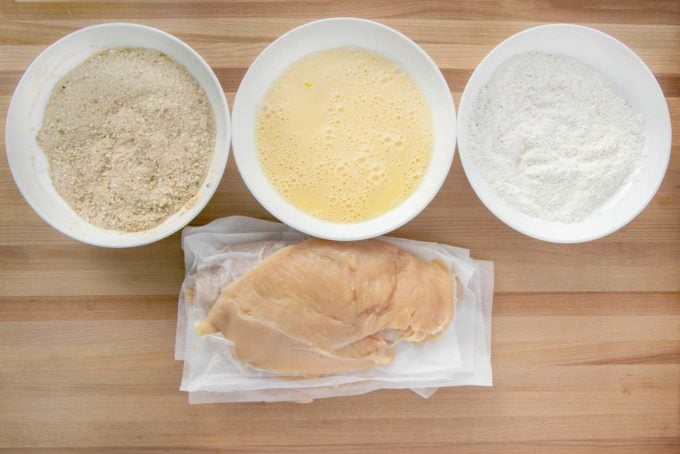 Let's start by gathering the ingredients we need to make my Restaurant Style Chicken Parm. In Chef Speak this is called the "Mise en Place" which translates to "Everything in its Place".
Not only does setting your ingredients up ahead of time speed the up cooking process, but it also helps ensure you have everything you need to make the dish.
How do I make Chicken Parm?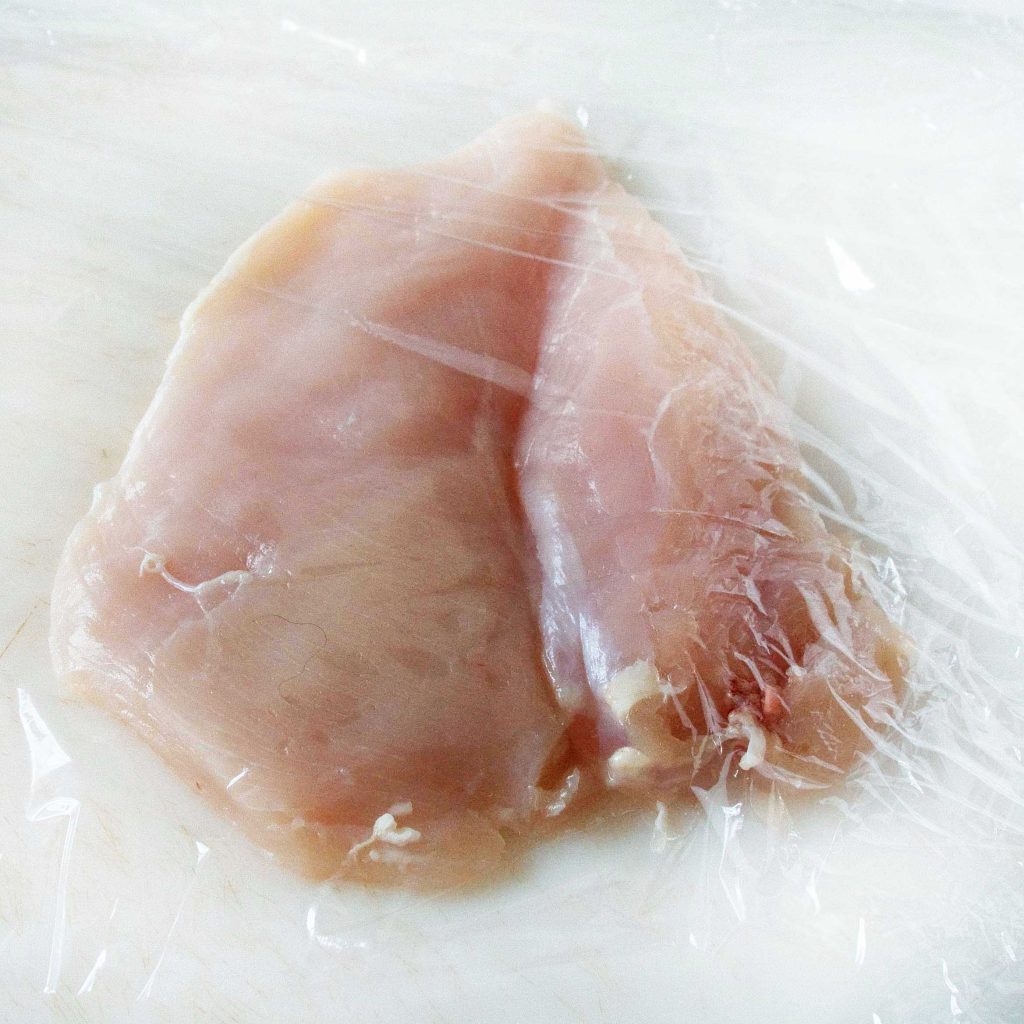 The key to making the perfect chicken parm is in flattening the breast (which also tenderizes it) with a meat hammer. This makes for the perfect bite. Not to thick so the flavors don't carry through and not too chewy.
The chicken breasts should weigh between 5-6 ounces each.
Chef Dennis Tip:
Cover the chicken breasts with plastic wrap before pounding them. It keeps bits of chicken from flying around the room and makes the process easier.
If you don't have a meat hammer a regular hammer (wrapped in plastic) will do. Use the flat side of the hammer not the part you drive nails in with. Just don't go crazy on it, you don't want to tear up the chicken breast.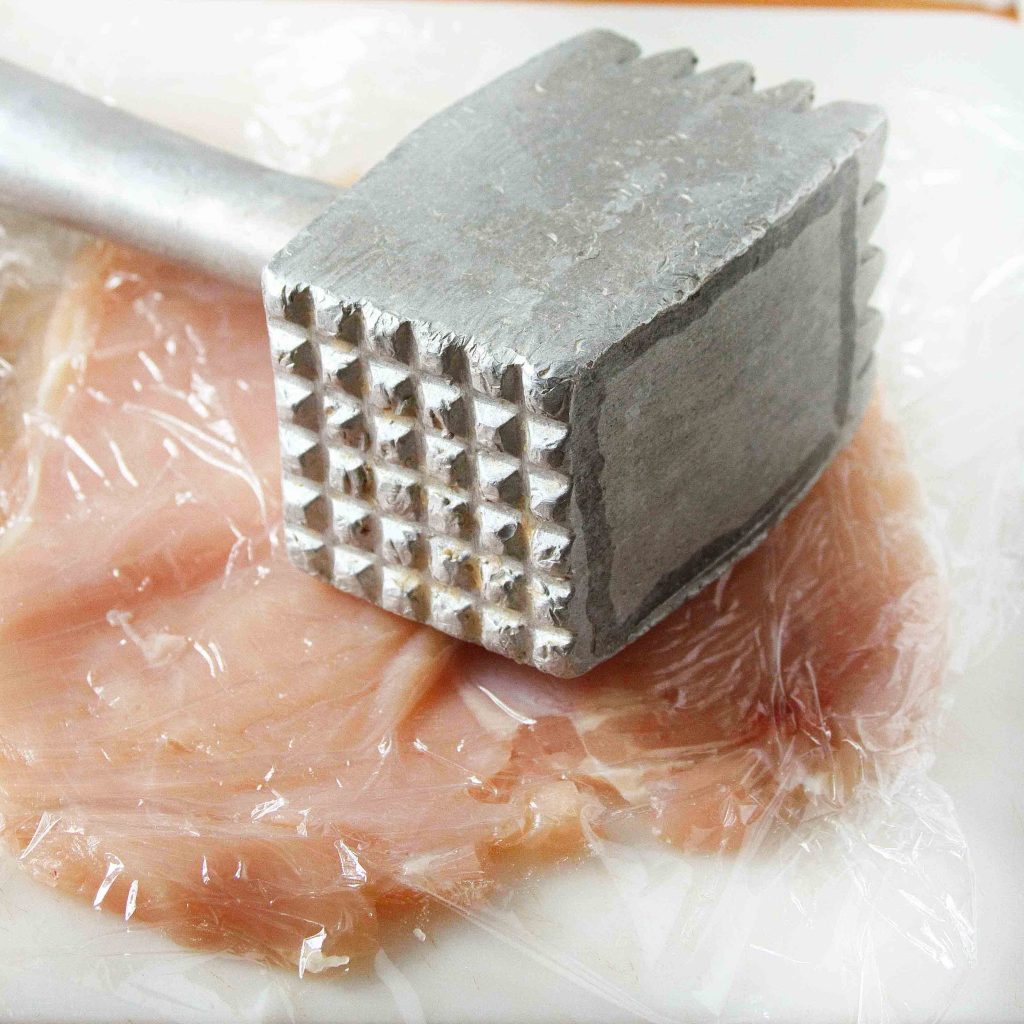 While pounding the chicken breast, don't strike straight down, you want to almost push the meat towards the outer edges while you pound. We want the breast intact and this is the best way gain size without breaking apart the breast.
This is the meat hammer I recommend if you want to work like a chef and get a little medieval with your meats -> Westmark (Robusto-Spezial) Meat Hammer.
Do I have to pound the chicken breasts?
The short answer is no. But trust me, the difference between a pounded chicken breast and a not pounded breast, is night and day. The pounded breast will be more tender and will spread out more allowing you to cover it with more sauce and cheese. And that means more flavor.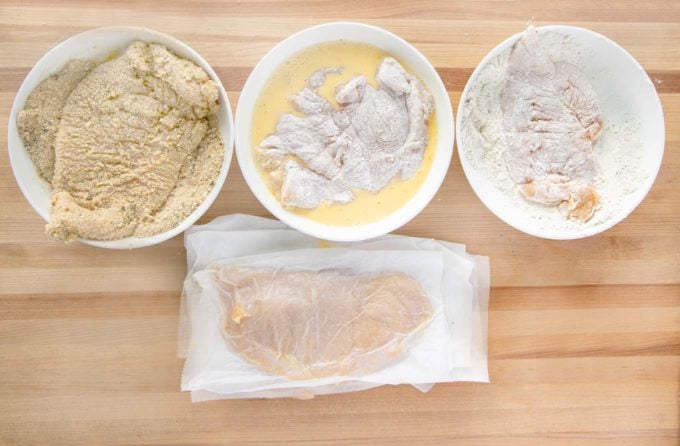 Once the chicken breasts have been prepped it's onto the breading station.
Set up three containers that you are big enough to get the flattened chicken breast in for the breading process.
flour seasoned with sea salt and black pepper
egg wash (eggs whipped with milk or water)
Italian seasoned bread crumbs (or your choice of bread crumbs)
Start by dipping the chicken breast into the seasoned flour. Then into the egg wash, and finally into the seasoned bread crumbs.
**Make sure to get a good coating on the chicken breast at each step of the process.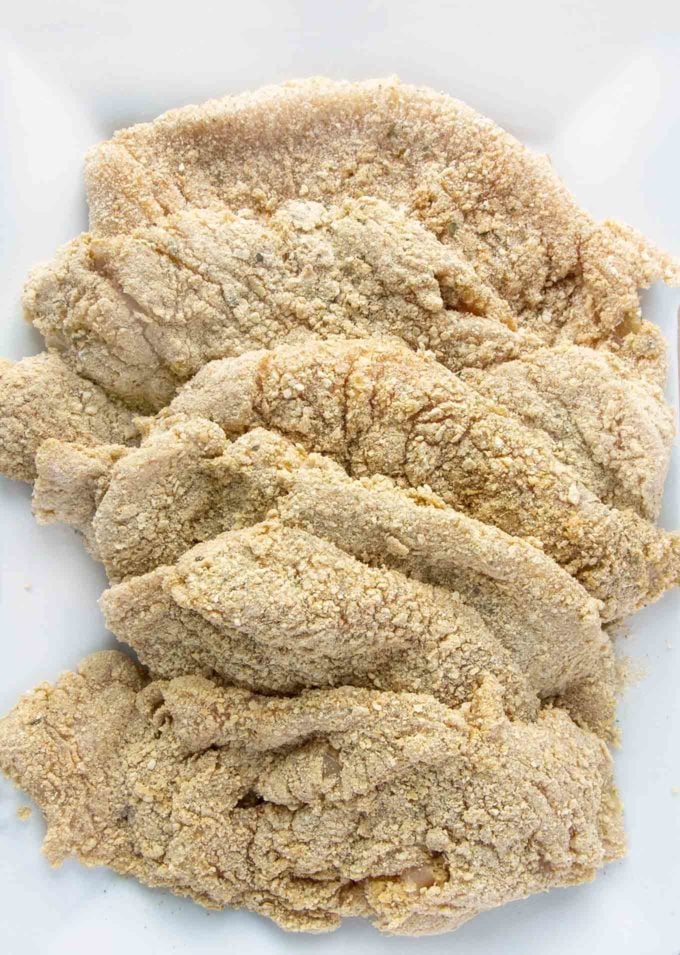 Once all the chicken breasts have been breaded, you're ready to start the frying process.
Chef Dennis Tip:
I hate breading food. It's a messy job and no matter how hard I try I can't do the one dry hand one wet hand process. So when I bread chicken or eggplant I triple the amount I'm making so I don't have to go through the process as often.
Make a large batch, fry them up, freeze them, and store them in ziplock bags. Then on a day, you're too tired to cook you'll have deliciousness waiting for you in the freezer!
When you're done breading the chicken cutlets it's time to fry them up to a golden brown.
Heat a large saute pan on high heat and add about a half an inch of vegetable oil. Carefully place the breaded chicken cutlets into the oil using tongs. Add as many as you can into your pan without crowding them.
Let them saute until they get a nice golden brown color. Using tongs turn them over and saute the other side until golden brown.
Drain the fried chicken cutlets on baking racks over sheet pans (or baking sheets). Allowing fried food to drain removes much of the fat associated with frying. Most of the fat will not penetrate the food, staying only on the outer layer (as long as the oil is hot enough).
This half sheet pan with a wire rack is perfect for draining fried foods.
What else can I make with the fried chicken cutlet?
The skies the limit for the number of toppings you can add to a perfectly breaded and fried chicken cutlet.
Try a few of my favorites:
bacon, tomatoes and Swiss cheese
sauteed broccoli rabe, roasted peppers and provolone cheese
sauteed broccoli and cheese sauce
mushrooms, sauteed spinach and bleu chceese
See how easy it is to create deliciousness? Have fun with the toppings making your own signature chicken dish.
Chef Dennis Tip:
If you're serious about home frying I suggest the T-Fal Deep Fryer. It's the one I use at home for any deep-fried foods.
The secret to making a perfect Chicken Parm is using enough sauce on top of the fried chicken cutlet to completely cover it.
Some restaurants give you a huge order of the chicken cutlets, then don't use enough sauce or cheese to cover them. If I wanted a plain fried chicken cutlet, I'd order one!
It's all about the sauce and the cheese.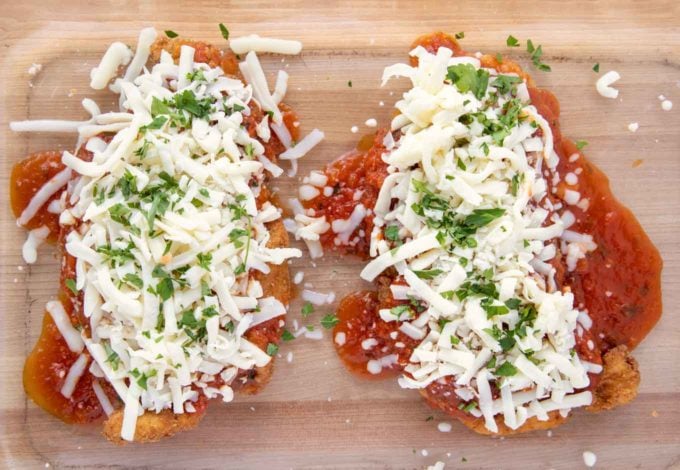 And while you don't want to smother the chicken cutlet with cheese (okay maybe you do). Don't scrimp on the cheese!!
And for that restaurant-style look, sprinkle finely chopped parsley on top of the cheese before putting the chicken parm in the oven to finish cooking.
Can I make Chicken Parm in an Air Fryer?
Yes, you can.
Preheat the air fryer to 375 degrees F.
Place the breaded chicken in a single layer in your air fryer. Depending on how many chicken parms you are cookng you may need to cook the chicken in batches.
Cook the breaded chicken for six minutes, then turn the pieces over. Top the chicken cutlets with tomato sauce, shredded mozzarella cheese and a sprinkle of chopped parsley.
Let the chicken parm cook for an additional 3-5 minutes or until the internal temperature of the chicken has reached 165 degrees F.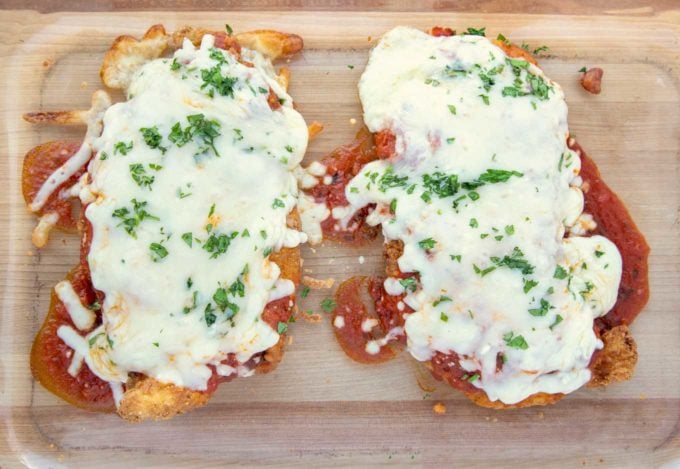 The parsley melts into the cheese, making the Chicken Parm even more tantalizing…..sigh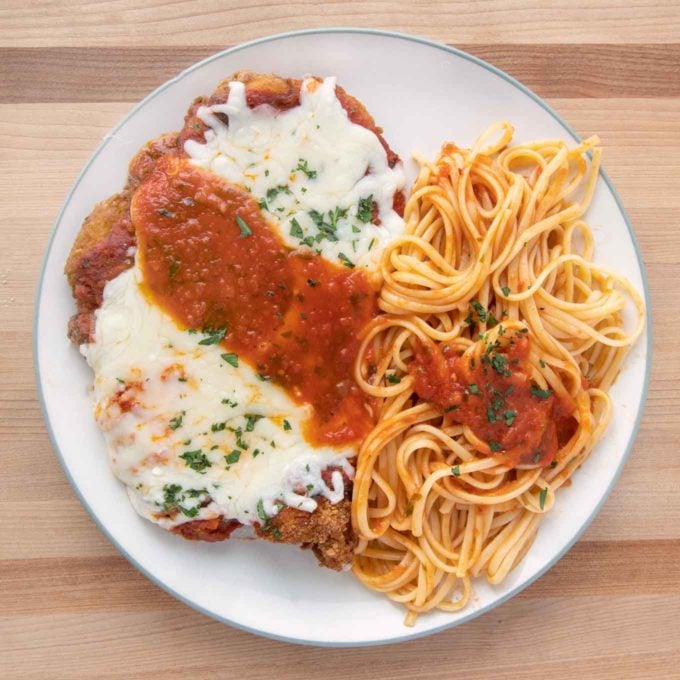 Now, this is a Chicken Parm that you'll love eating! The sauce adds flavor and the cheese adds that ooey-gooey deliciousness that turns that chicken cutlet into a superstar.
More Italian Recipes You'll Love!