When it comes to comfort food, nothing beats my chicken pasta bake. Tender chicken pieces in a creamy sauce studded with mushrooms, peas, and carrots, topped with cheddar cheese, and baked until piping hot!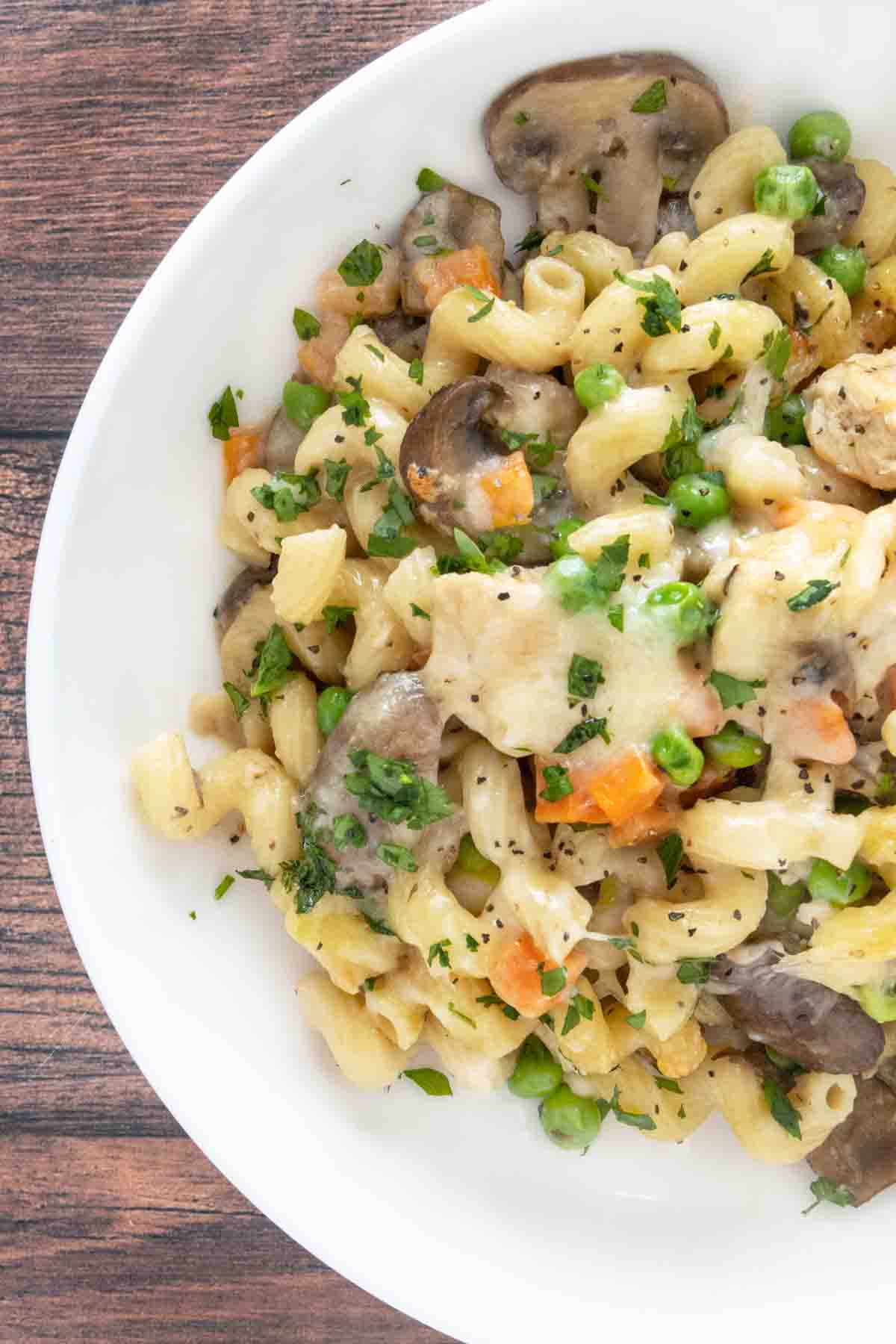 Creating deliciousness in your kitchen is easier than you think and shouldn't take hours to prepare. My chicken pasta bake is a delicious dish you can get on your dinner table in under an hour.
If you love creamy pasta bakes make sure to try my Chicken Cordon Bleu Casserole.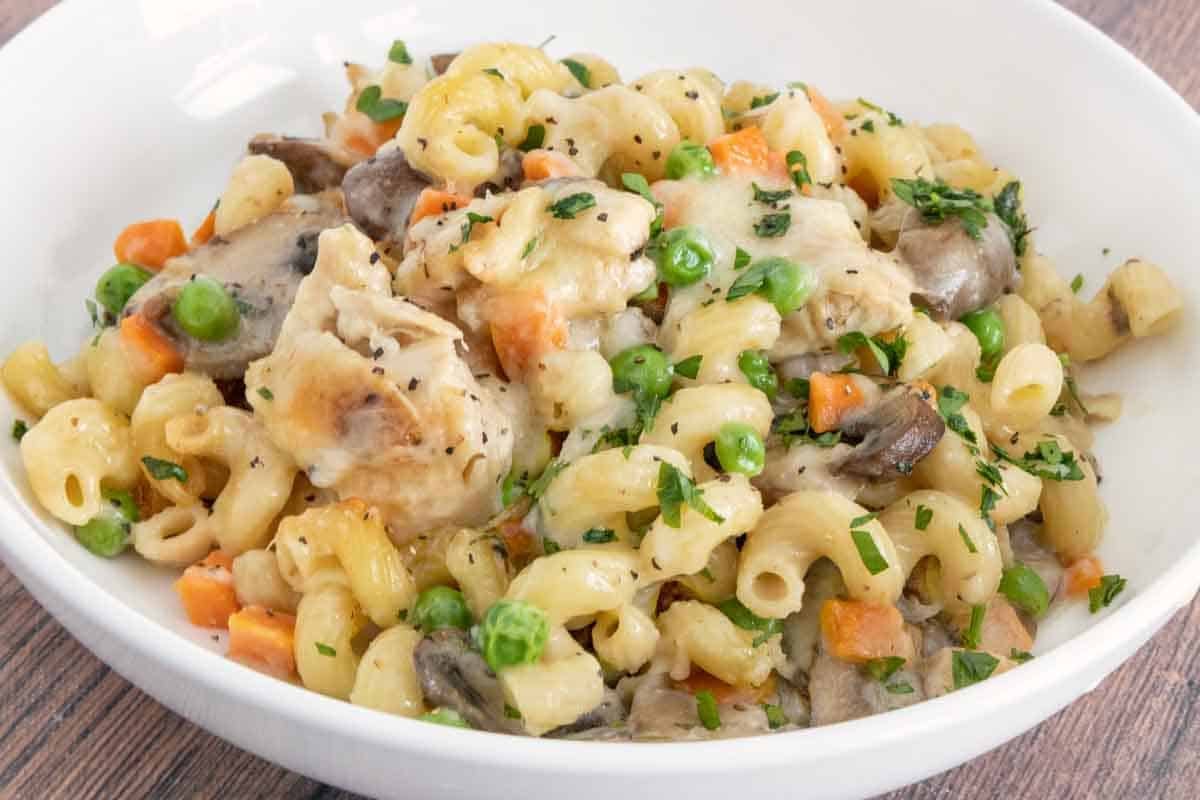 Adding your own flair to a pasta dish turns a quick and easy weeknight meal into a feast.
Ingredients to make Chicken and Mushroom Pasta Bake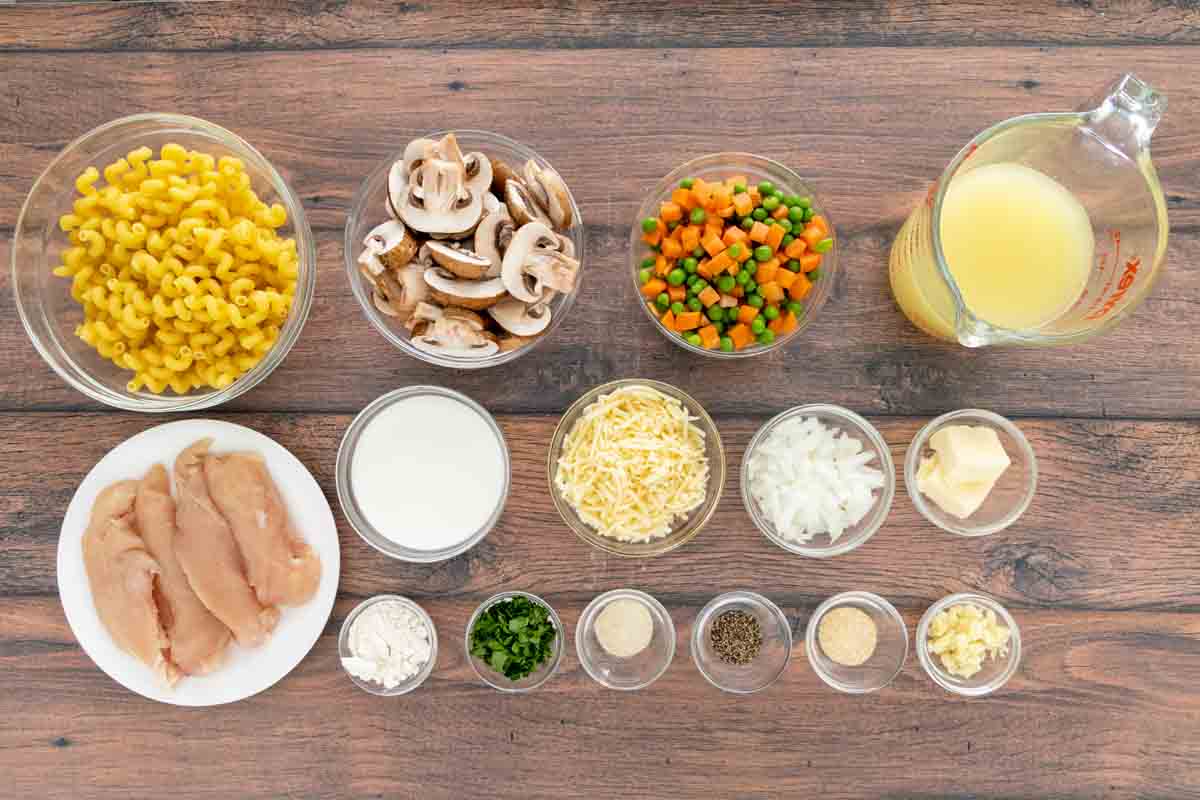 Let's start by gathering the ingredients we need to make my Chicken and Mushroom Pasta Bake Recipe. In Chef Speak, this is called the "Mise en Place," which translates to "Everything in its Place."
Not only does setting up your ingredients ahead of time speed up the cooking process, it also helps ensure you have everything you need to make the dish.
Made with simple ingredients
Boneless chicken tenders or boneless chicken breasts
Mushrooms – baby bella or button
Pasta
Peas and carrots
Sweet onion (white onion or red onion can be substituted)
Chicken broth or vegetable broth
Heavy cream or whole milk
Unsalted butter
Olive oil
All-purpose flour
Fresh garlic cloves
Black pepper
Table salt
Garlic powder
Onion powder
Italian parsley
I used cavatappi to make this recipe, but you could use penne pasta or your favorite pasta shape. If you're not a fan of cheddar cheese, you can use mozzarella cheese, gruyere, swiss, fontina, or a blend of your favorite cheeses.
You can change the vegetables to suit your tastes or what you have on hand. Broccoli, zucchini, and asparagus are a few of my favoritres. For a little heat add a pinch of red pepper flakes to the sauce.
How to make Chicken and Mushroom Pasta Bake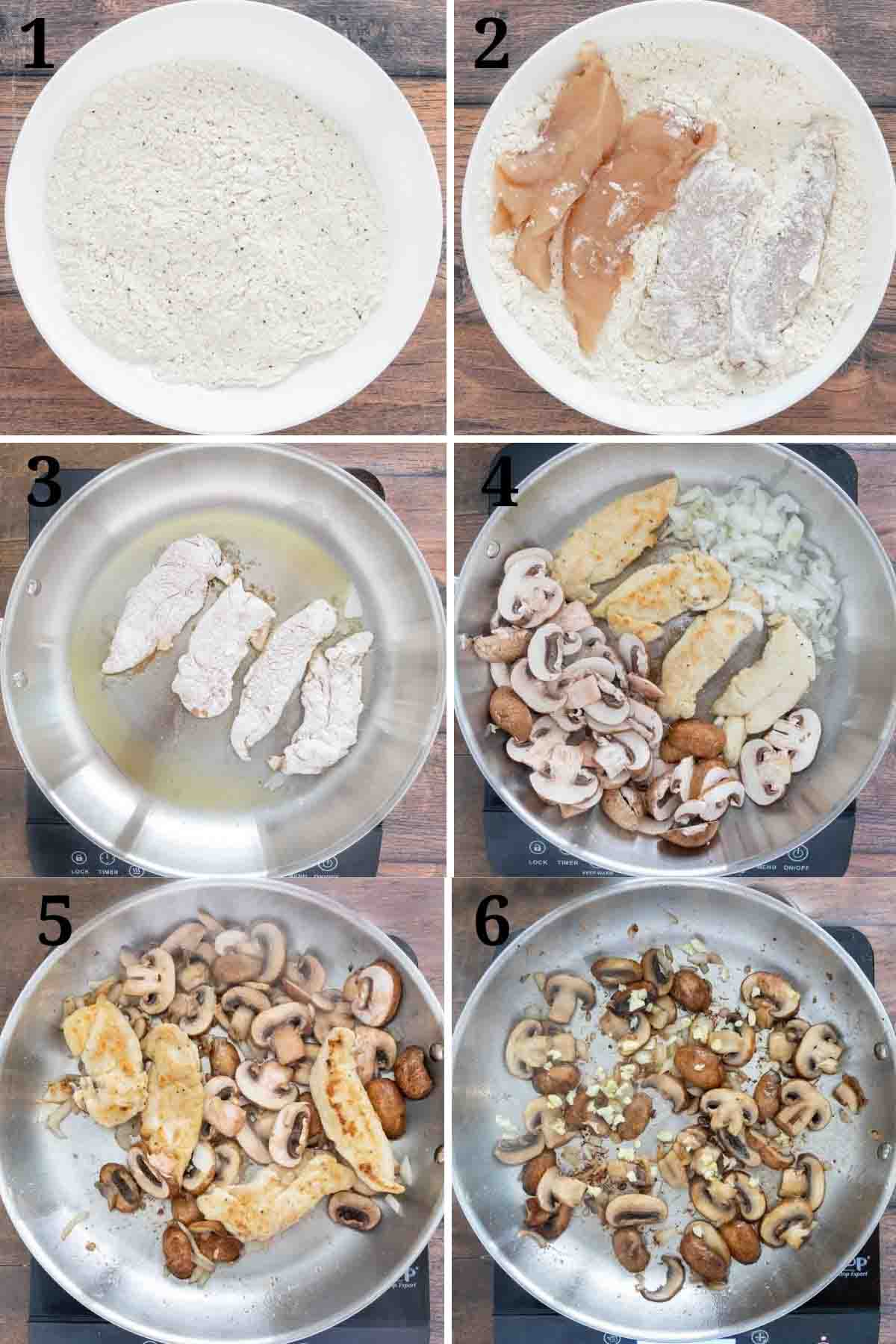 Add sea salt and black pepper to the all-purpose flour and whisk to combine.
Dredge the chicken tenders in the seasoned flour.
in a large skillet over medium-high heat, add 2 tablespoons of olive oil. Place the chicken tenders into the pan and cook on one side for 2-3 minutes.
Turn the chicken tenders over and add the sliced mushrooms and chopped onions to the pan. Continue to cook for 2-3 minutes, then remove the chicken from the pan and set it on a plate to cool. Add more olive oil to the pan as needed.
Reduce the heat to medium and continue to cook the mushrooms and onions for 2-3 minutes or until the mushrooms are cooked and the onions are fragrant.
Add the garlic to the pan (with more oil if needed) and cook the garlic for 1 minute.
While the chicken and sauce are cooking, cook the pasta per the directions on the package for al dente.
Increase the heat to medium-high and add the stock and seasonings to the pan. Scrape the bottom of the pan with a heavy spoon to release all of the tasty browned bits that stuck to the pan. Let the sauce cook to reduce for 3-4 minutes.
Roll two tablespoons of butter in the seasoned flour used coat the chicken, pushing flour into the softened butter. This is a beurre manie and will help thicken the sauce.
Put the beurre manie into the sauce and mix to combine.
When the sauce has slightly thickened add the heavy cream to the pan, stirring to combine.
Add the chicken, cavatappi, peas and carrots to the skillet.
Mix to combine the ingredients.
If you prefer you can dump all the ingredients into a large bowl to mix them.
Pour the mixture into a pasta casserole dish or baking dish.
Top the mixture with shredded cheddar and sprinkle with chopped parsley.
Place the pasta bake on the center rack of a 350-degree preheated oven and bake for 10-12 minutes or until the cheese has fully melted and the internal temperature of the casserole has reached 165 degrees F.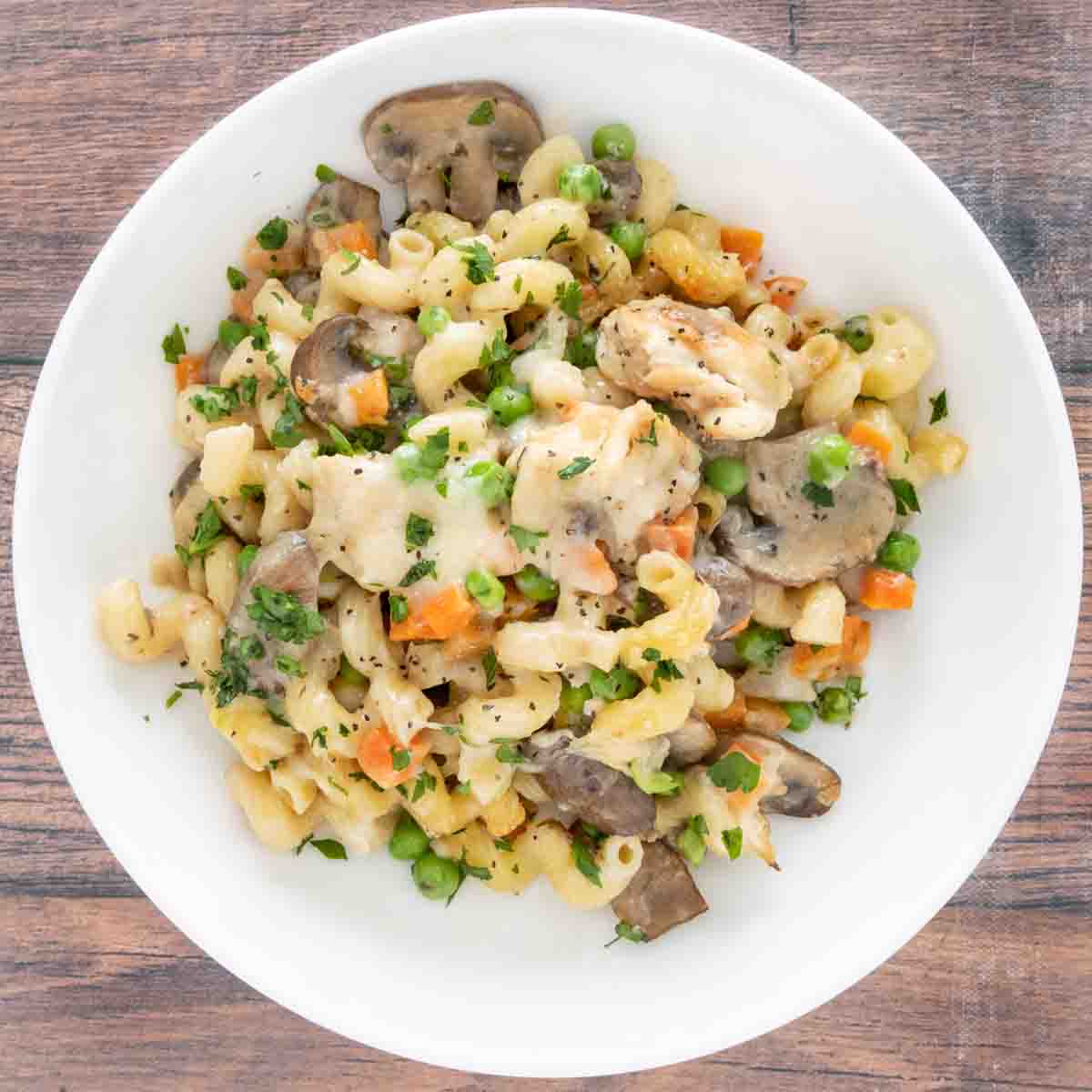 I promise my chicken pasta bake recipe is easy to make and is guaranteed to bring smiles to your dinner table. It's a dish your whole family will love!
Store any leftover chicken casserole refrigerated in an airtight container for 3-4 days. It freezes well, just make sure to store it well-sealed in a freezer-safe container.
Recipe FAQ's
What type of pasta works best for a chicken pasta bake?
Most pasta shapes work well. Penne, ziti, fusilli, and farfalle are popular choices because of their ability to hold onto the sauce.
How can I make my pasta bake creamier?
You can add additional heavy cream, or make a béchamel sauce for the dish. You can also add cream cheese or mascarpone to the sauce if you want a creamier sauce.
Can I add more vegetables to the chicken pasta bake?
Absolutely! You can add bell peppers, spinach, asparagus, and broccoli. Just ensure they are par-cooked before adding to the bake.
More Recipes You'll Love!