The combination of flavors makes this Chicken and Shrimp Pepperoni and dish you'll remember! This spicy sauce with artichokes and mushrooms served over linguine will be a hit with your family and friends!
This post includes affiliate links. As an Amazon Associate I earn from qualifying purchases.
Make my Chicken and Shrimp Pepperoni for your next date night dinner
During my restaurant days, one of my favorite dishes to make was Chicken Pepperoni. Not only was it a delicious dish, but it reminded me of the time I spent with Mama Jeanette, and how she taught me so much about food and about myself.
Chicken was always a favorite in my restaurant, so I did my best to make the dishes special, flavorful and filling. They needed to have sauces that made you want to get every last bit with a piece of crusty bread, and I didn't want you leaving my table hungry! Mama Jeanette would tell me "Sonny Boy, you fill their stomach, and you fill their heart but most importantly you fill their soul. That's how you measure success, Sonny Boy". And Mama Jeanette was always right.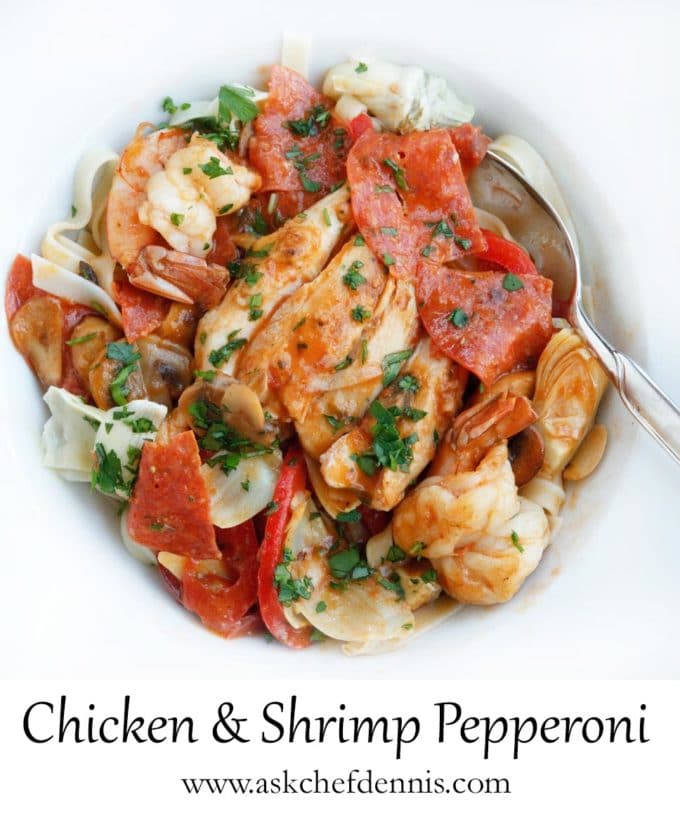 So for my customers that would do me the honor of spending their hard earned money on my food, I gave my all. I would do my best to offer less expensive options that would still make their nights memorable and fill their souls. This is one of those dishes.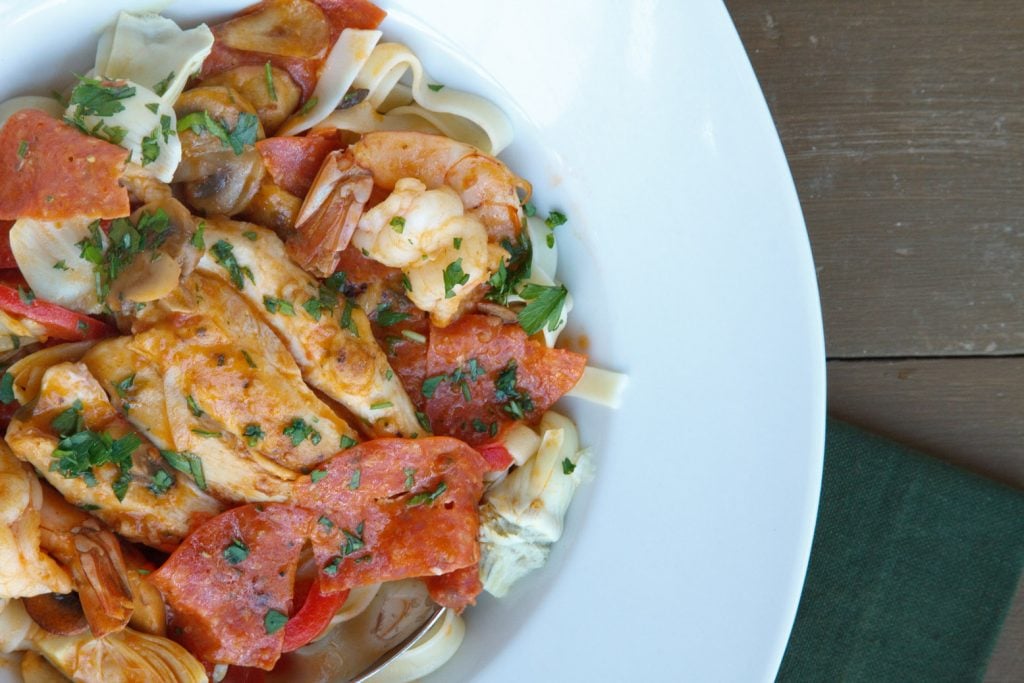 When you make this for your family and friends have more grated Romano cheese available and some good crusty bread. Add a nice tossed salad and glass of wine and you'll be in heaven! Just remember to think of me and drink a toast to Mama Jeanette!
And if you're looking for another delicious date night dinner make sure to check out my Chicken Marsala recipe.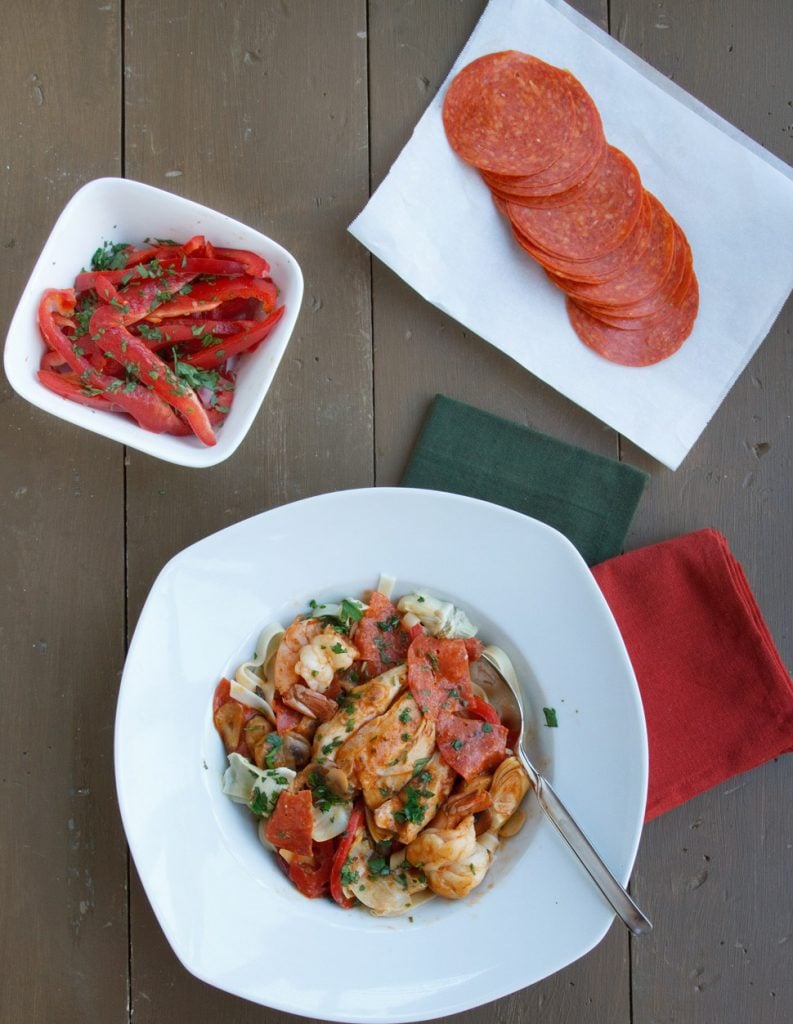 If you enjoy restaurant-style dishes made with poultry, you're going to love these!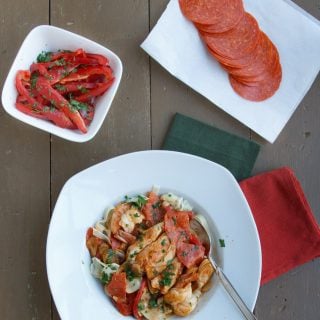 Print Recipe
Chicken and Shrimp Pepperoni
The combination of flavors makes this Chicken and Shrimp Pepperoni and dish you'll remember! This spicy sauce with artichokes and mushrooms served over linguine will be a hit with your family and friends!
Ingredients
1

lb

boneless skinless chicken thighs

1/3

lb

shrimp about

26-30 count

1

small red bell pepper seeded and sliced

8

oz

mushrooms sliced

4

oz

artichoke hearts in brine

sliced plus a little juice from the can, 113 g

2

oz

pepperoni sliced

(quartered if using deli slicing pepperoni), 56 g

1

clove

garlic sliced

8

oz

chicken stock

2

oz

marinara sauce

splash of white wine

1/4

cup

grated Romano cheese

1

tsp

chopped Italian parsley

1

pinch of crushed red pepper flakes

in

seasoned flour to dredge the chicken and for the beurre manie

salt and pepper

1

tbsp

butter

olive oil as needed

1

lb

linguine or spaghetti
Instructions
Heat a large Saute pan, then add Olive oil and garlic slices.

Dredge chicken thighs in seasoned flour and add to hot oil. Let chicken cook for 2 minutes until done on one side and has a little color, then turn over and add sliced peppers, and mushrooms.

Continue to saute for 4 or 5 minutes, mixing ingredients to insure that the peppers and mushrooms start to cook.

Add the shrimp and continue to cook until, shrimp are almost fully cooked.

Add the white wine to deglaze the pan and stop the cooking.

Now add the chicken stock, marinara, artichoke hearts(along with some of the juice), Romano cheese and red pepper flakes. mix well.

Remove the shrimp from the pan and add ther pepperoni slices, and allow ingredients to reduce slightly 3 -5 minutes.

,Remove the pan from the heat and add the shrimp back into the pan

Cook your pasta per instructions on the box. Remember to make it al dente'.

Two minutes before your pasta is done, start to heat your Chicken and Shrimp Pepperoni, roll butter in seasoned flour, and add to pan to thicken sauce

Continue to heat on medium heat as you drain your pasta.

Serve the chicken and shrimp pepperoni on a bed of linguine.

( If your sauce appears to thick or oily, add a little more water to it, this will help assimilate the oil, as well as thinning it out.)
Notes
You will see more oil in this dish then you probably want, but this comes from the pepperoni, once the pepperoni is in the pan, you want to limit the time it cooks, the more it cooks the more the dish will look oily.
The pepperoni adds so much flavor, so you do need to let it spend some time in the pan combining with the other flavors.
Nutrition
Calories:
790
kcal
|
Carbohydrates:
92
g
|
Protein:
53
g
|
Fat:
21
g
|
Saturated Fat:
7
g
|
Cholesterol:
233
mg
|
Sodium:
1018
mg
|
Potassium:
950
mg
|
Fiber:
5
g
|
Sugar:
7
g
|
Vitamin A:
1420
IU
|
Vitamin C:
47.9
mg
|
Calcium:
164
mg
|
Iron:
4.3
mg