Cheese Manicotti is truly comfort food. Tender manicotti noodles stuffed with a blend of three kinds of cheese, baked in a hearty marinara sauce, and topped with melted mozzarella make this dish a delicious meal the whole family will love.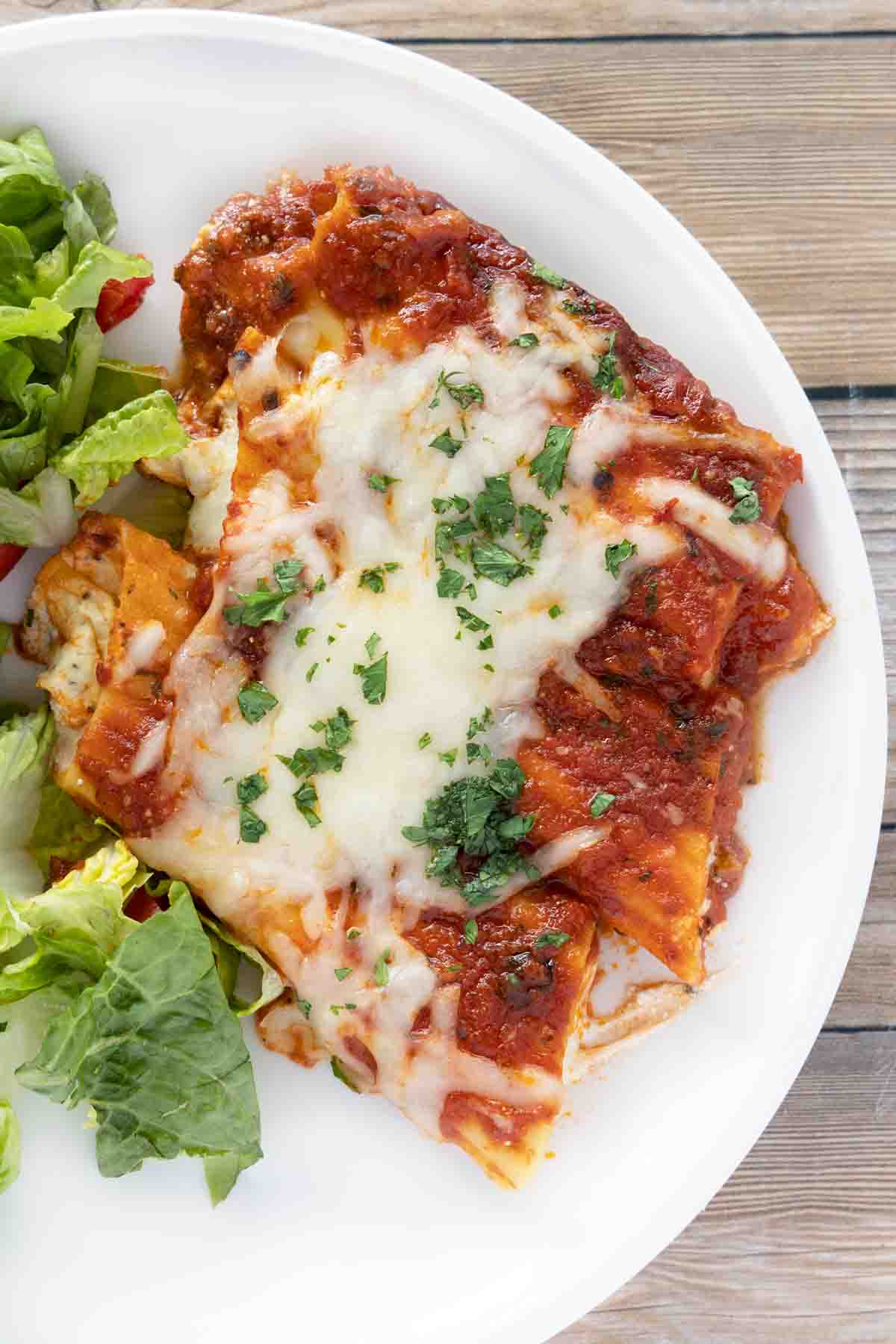 Making pasta dishes like your favorite Italian restaurant is easier than you think. My cheese manicotti recipe uses simple ingredients and can easily be adapted to include Italian sausage, ground beef, fresh spinach, and your favorite Italian seasoning.
If you love Italian comfort food as much as I do, my Lasagna Bolognese is another delicious recipe for you to try.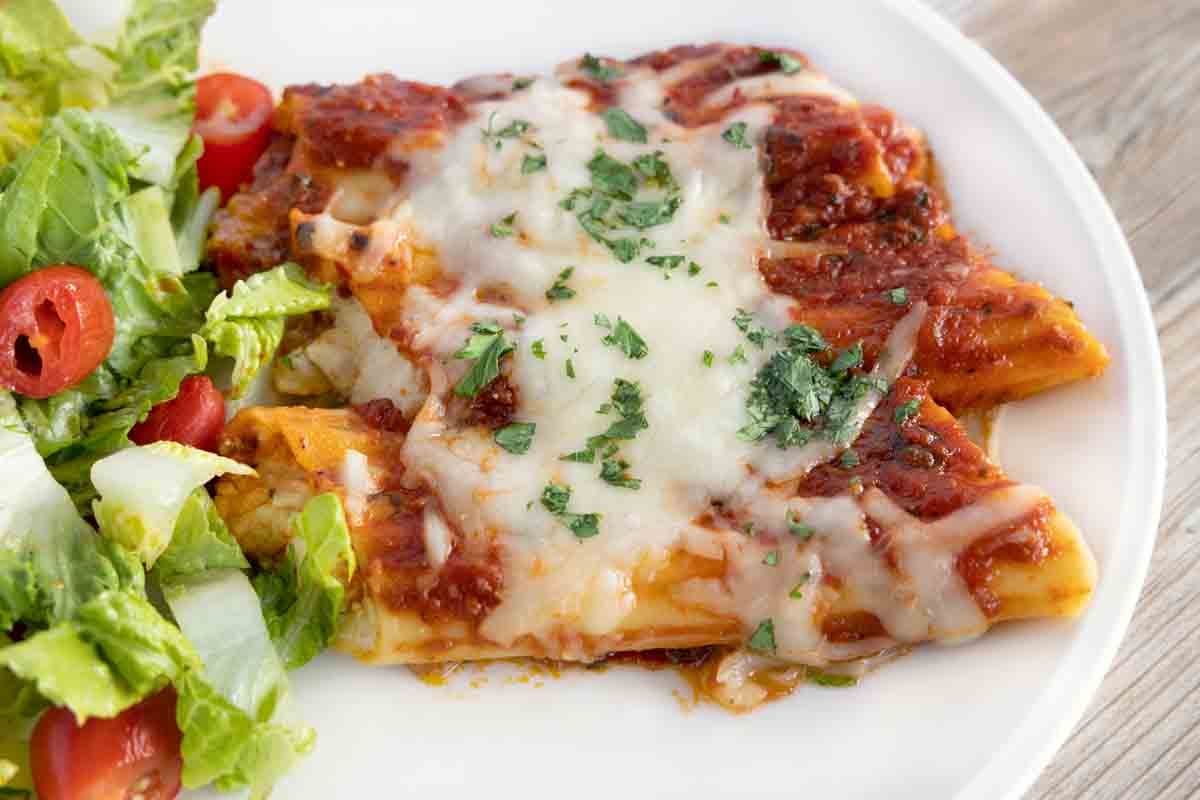 You can make homemade manicotti ahead of time and have them ready for easy weeknight meals. I like to make a double batch and freeze them unbaked for easy weeknight meals for those days I don't have time to make dinner.
Just add the frozen manicotti to a baking dish, topped with your favorite pasta sauce and mozzarella cheese, and dinner will be ready in no time.
Ingredients to make Cheese Manicotti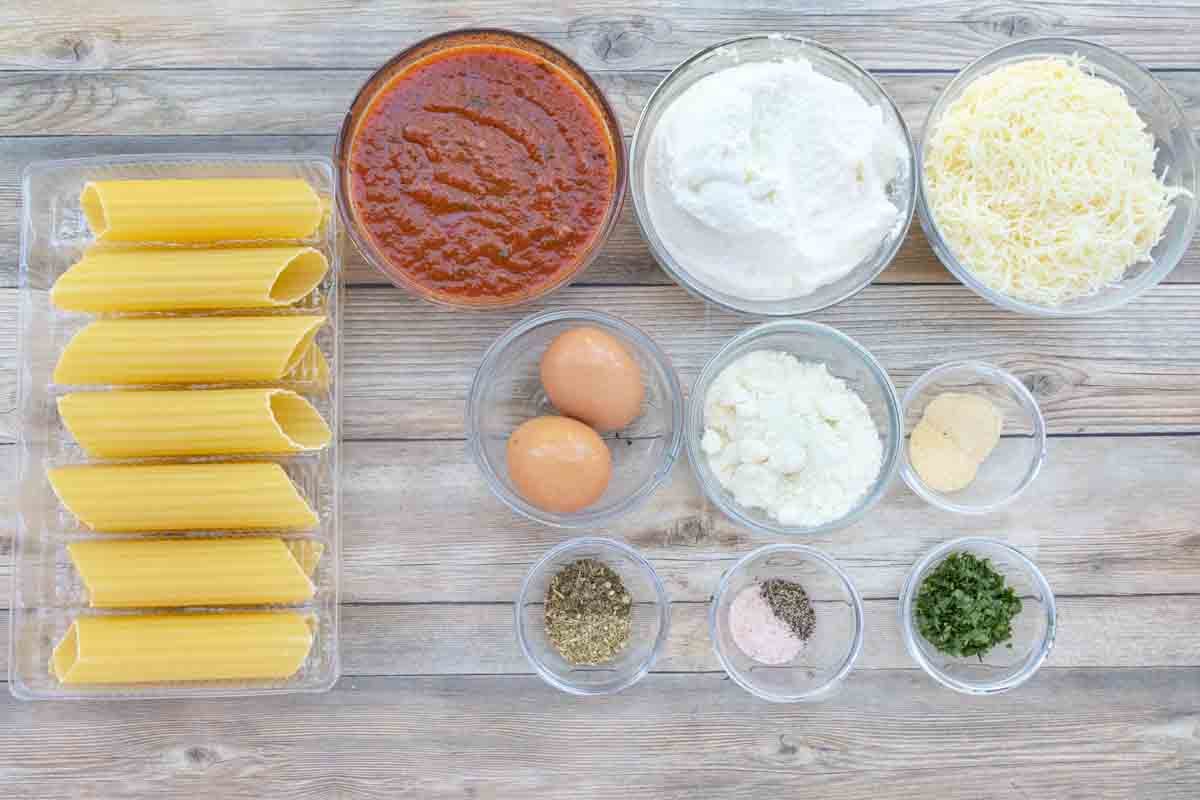 Let's start by gathering the ingredients we need to make the Best Cheese Manicotti. In Chef Speak, this is called the "Mise en Place," which translates to "Everything in its Place."
Not only does setting up your ingredients ahead of time speed up the cooking process, it also helps ensure you have everything you need to make the dish.
Made with simple ingredients
pasta tubes
ricotta cheese
spaghetti sauce (your favorite brand or use my marinara sauce recipe)
part-skim mozzarella cheese
large eggs
grated Romano cheese (or parmesan cheese)
dried basil
dried oregano
garlic powder
onion powder
Italian parsley
salt
black pepper
How to make Cheese Manicotti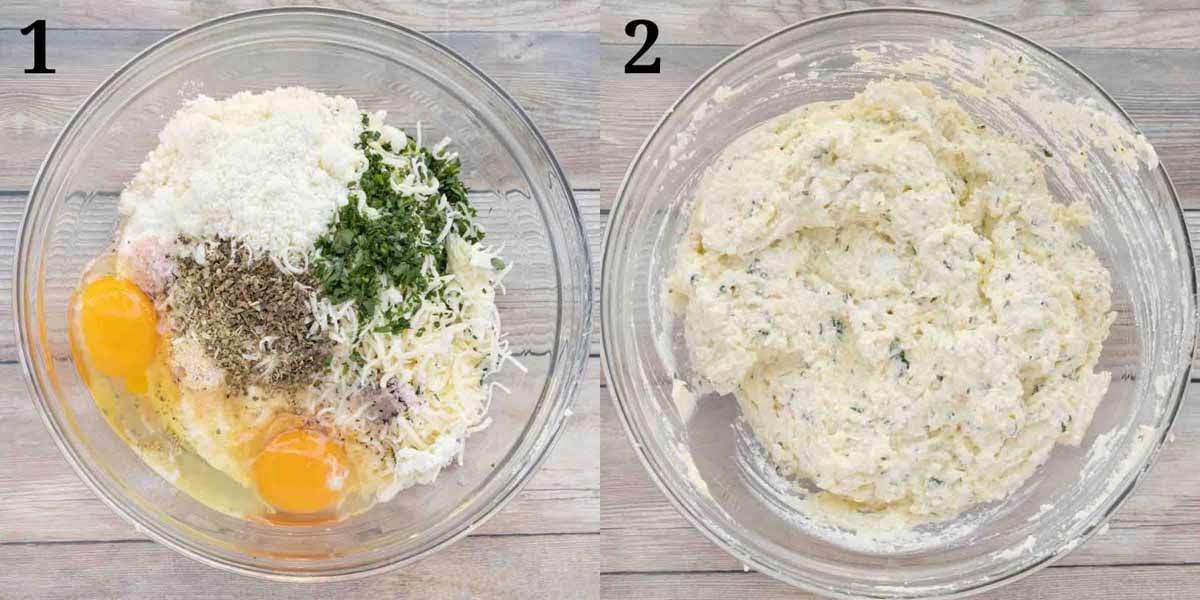 Add the ricotta cheese, shredded mozzarella, grated Romano or parmesan cheese, eggs, and all the seasonings to a large bowl.
Mix well to combine the ingredients.
Add the ricotta mixture to a pastry bag (piping bag) or a large ziplock bag with one end snipped off to fill the manicotti tubes. Refrigerate the cheese mixture until needed.
Place a large pot of cold water over high heat and bring it to a boil. Add ½ teaspoon of salt to the water.
Add the uncooked manicotti shells to the large pot of boiling salted boiling water. Cook al dente per instructions on the box, then drain using a colander and rinse with cold water. *Don't let the noodles get too soft, they will finish cooking in the oven.
Add one-half cup of tomato sauce to the bottom of a baking dish.
Fill the par-cooked pasta shells with the ricotta mixture and place them in the baking dish in a single layer.
Add the remaining sauce on top of the prepared manicotti.
Cover the baking dish with aluminum foil and place it on the center rack of the preheated oven. Bake the manicotti, covered, for 30-35 minutes.
Remove the foil and top the manicotti with shredded mozzarella cheese and chopped parsley.
Place back into the oven and continue cooking for 5-8 minutes or until the cheese is nicely melted.
Let the manicotti sit for five minutes before serving to allow the cheese to set.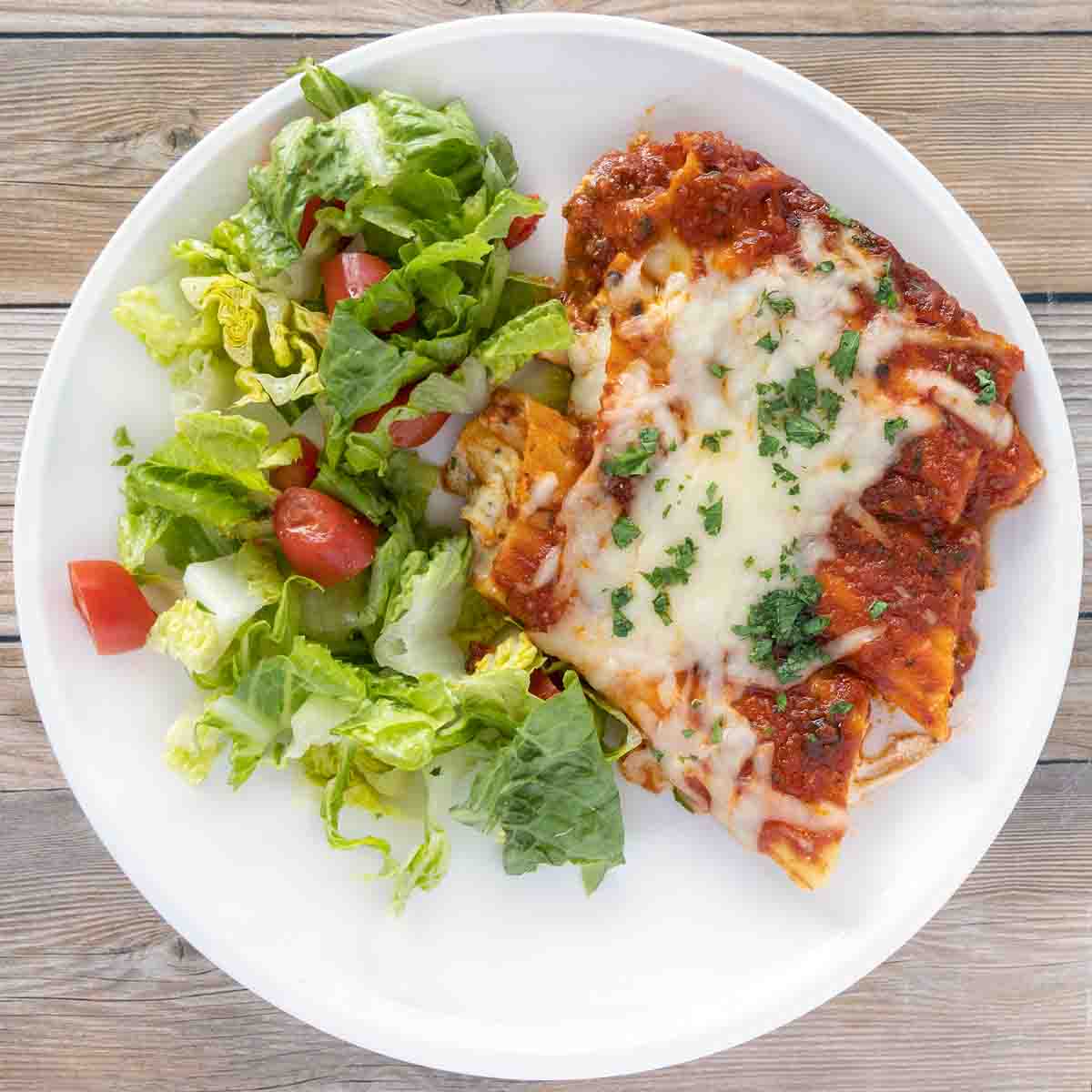 Serve the cheese manicotti with a side salad and garlic bread or your favorite sides. My easy manicotti recipe is perfect for a weeknight family meal and is also a delicious option when you need to a large crowd.
Leftover manicotti should be stored refrigerated in an airtight container, or it can be frozen, baked, or unbaked.
Recipe FAQ's
What is manicotti made with?
Manicotti is made with a blend of three cheeses, ricotta, mozzarella, and parmesan (or romano). The cheese is mixed with Italian seasonings and stuffed into pasta tubes, then baked with tomato sauce. Sometimes ground meat is added to the cheese mixture.
Is manicotti the same as stuffed shells?
Both manicotti use the same cheese filling, but manicotti uses a pasta tube, while stuffed shells are made with conchiglie pasta.
What side dishes should I serve with manicotti?
Some popular options include a simple green salad with vinaigrette dressing, Ceaser salad, garlic bread or breadsticks, and steamed vegetables. You can also serve Italian sausage or meatballs with manicotti.
More Recipes You'll Love!