When it comes to comfort food Lasagna Bolognese is at the top of my list. And making a delicious restaurant-style Lasagna Bolognese is easier than you think.
For me, the difference between a restaurant-style and home-style version of Lasagna Bolognese is how many layers of noodles are used.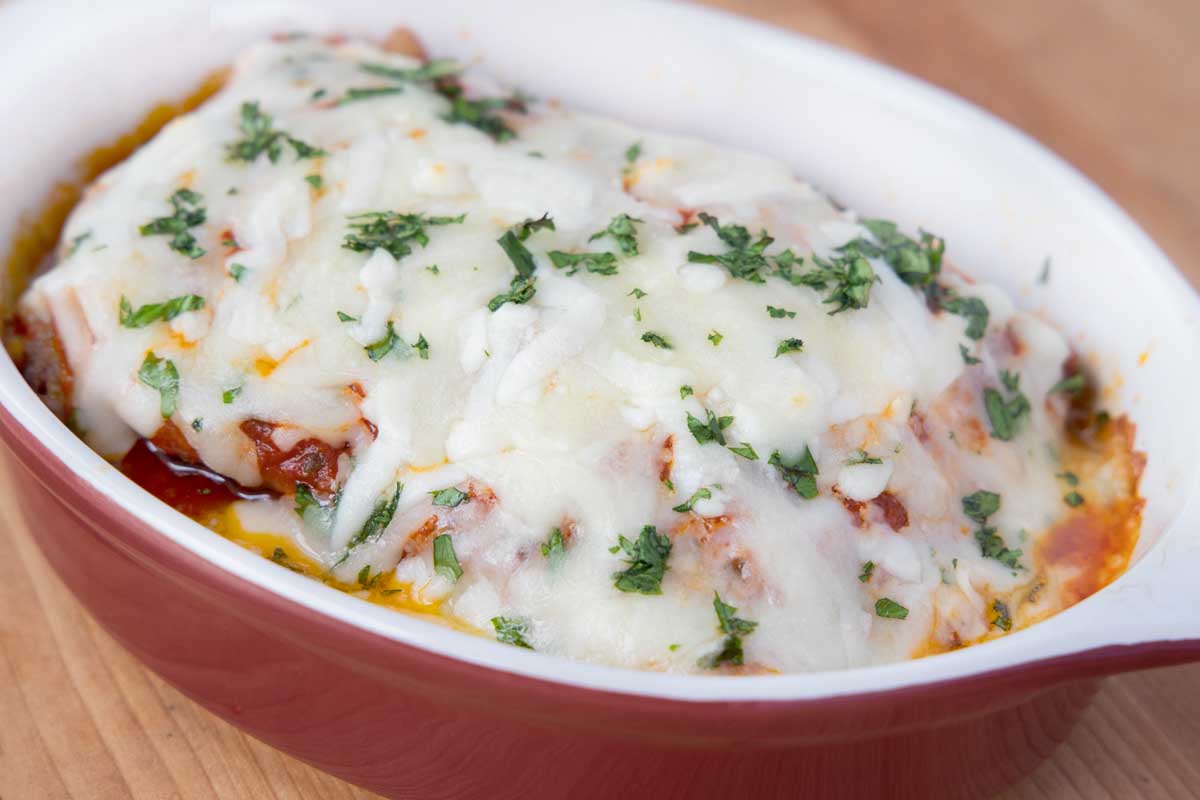 In a homestyle version, most want the slice to stand up on a plate and look pretty. The restaurant version is going to be served in a casserole dish topped with more sauce and cheese.
By using fewer noodles, you're getting more cheese and more meat in your lasagna, which means more flavor!
*Traditionally, Lasagna Bolognese is made with bechamel sauce. It's just not my favorite way to make this classic dish. But feel free to replace the tomato sauce with bechamel.
If you love lasagna, check out my Greek version of this delicious dish.
Ingredients to make Lasagna Bolognese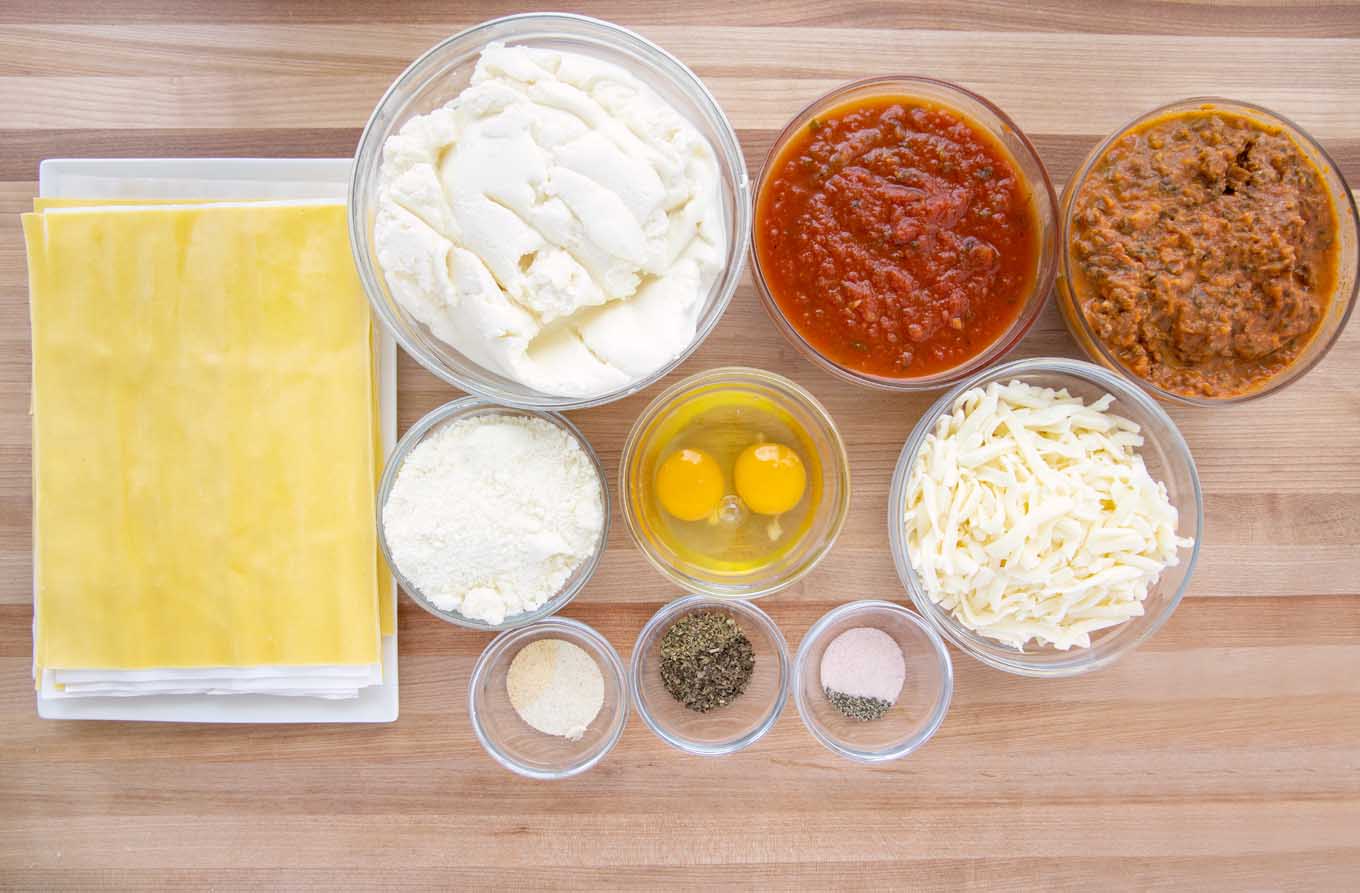 Let's start by gathering the ingredients we need to make a Restaurant Style Lasagna Bolognese. In Chef Speak this is called the Mise en Place which translates into Everything in its Place.
Not only does setting your ingredients up ahead of time speed the cooking process, but it also helps ensure you have everything you need to make the dish.
How do I make Lasagna Bolognese?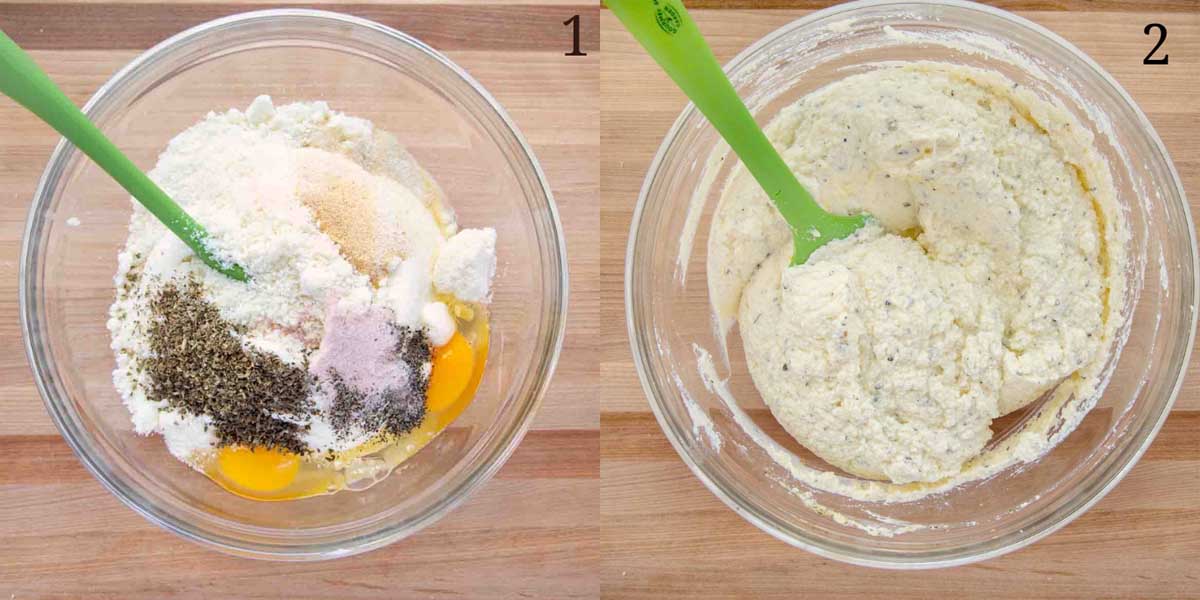 Start by mixing the ingredients for the ricotta portion of this Italian Classic.
*This can be made ahead of time and refrigerated until needed.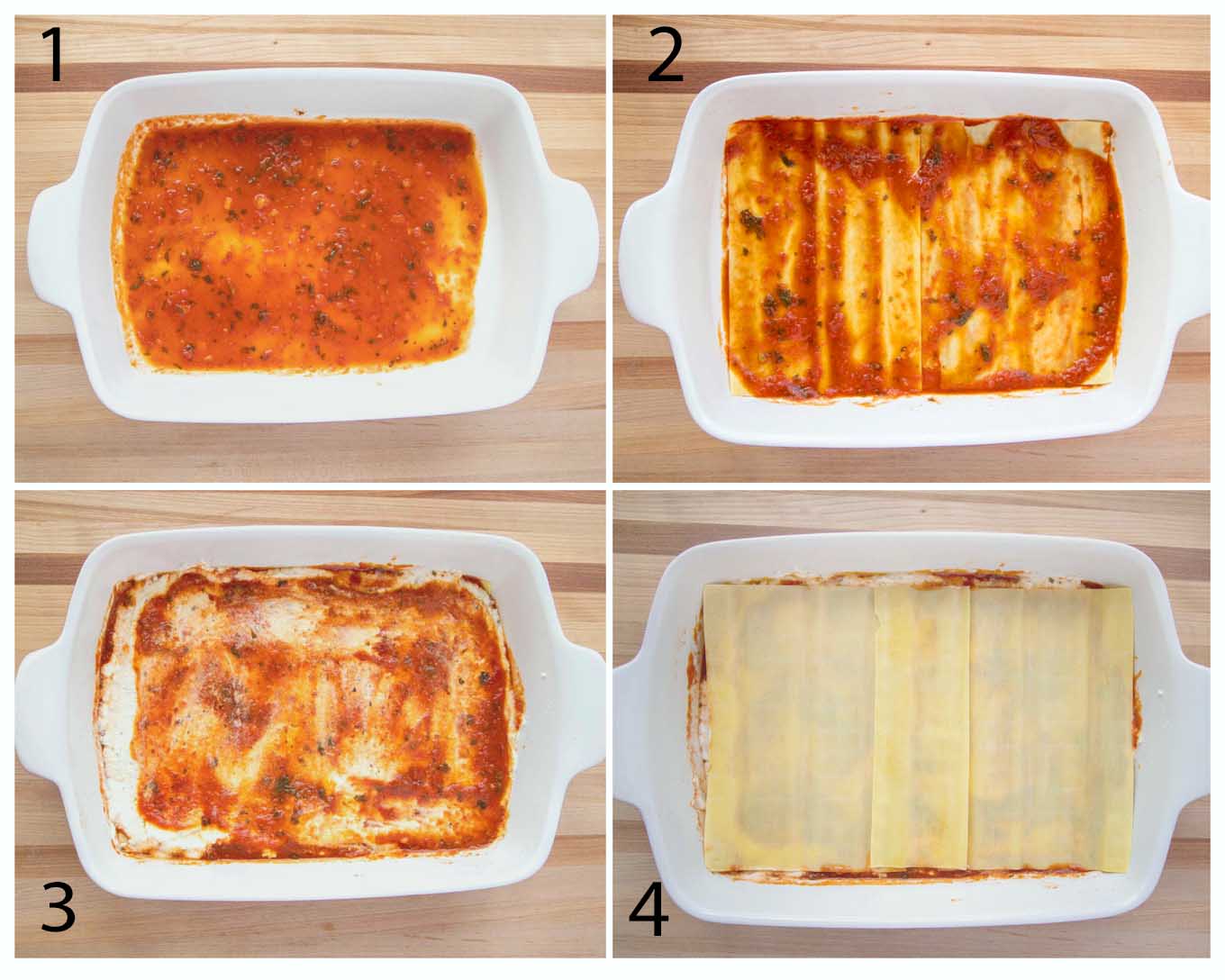 I used a 13 x 9-inch pan for my lasagna.
Add a thin layer of tomato sauce to the bottom of your casserole dish
Add the first layer of noodles, followed by another layer of tomato sauce.
Add the first layer of the ricotta mixture on top of the noodles, adding a light layer of tomato sauce on top of the ricotta.
Add the next layer of noodles.
**If using dry lasagna noodles, don't cook them first. You will need to let the lasagna sit for 12-24 hours before baking if you use dry uncooked noodles but it will come out perfectly!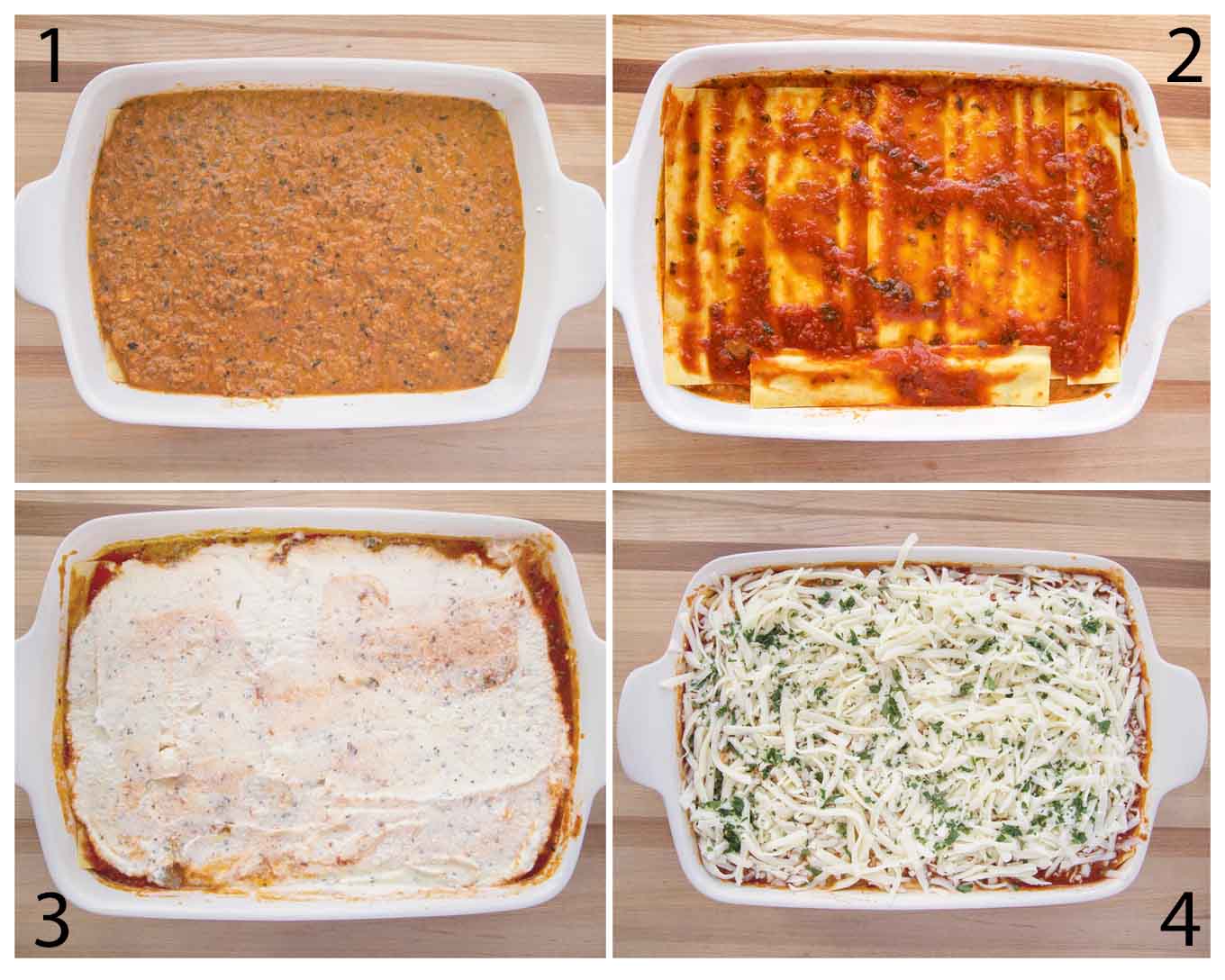 Add the bolognese sauce layer on top of the noodles.
Add the next layer of lasagna noodles, followed with a light layer of tomato suace
Add the final layer of the ricotta mixture,
Top the ricotta mixture with the last layer of lasagna noodles.
Finish the lasagna by adding the shredded mozzarella, grated Romano cheese and a sprinkle of fresh chopped parsley
Cover with non-stick foil and bake at 375 degrees for 60 minutes. Uncover and continue to bake for 7-10 more minutes or until the cheese is nicely melted.
Do I have to use a meat sauce in my lasagna?
No, you don't. If you prefer your lasagna meatless, just replace the meat layer with another layer of cheese or cheese mixed with your vegetables.
You can also make an amazing non-meat version using Impossible Foods or one of the other meat substitutes on the market.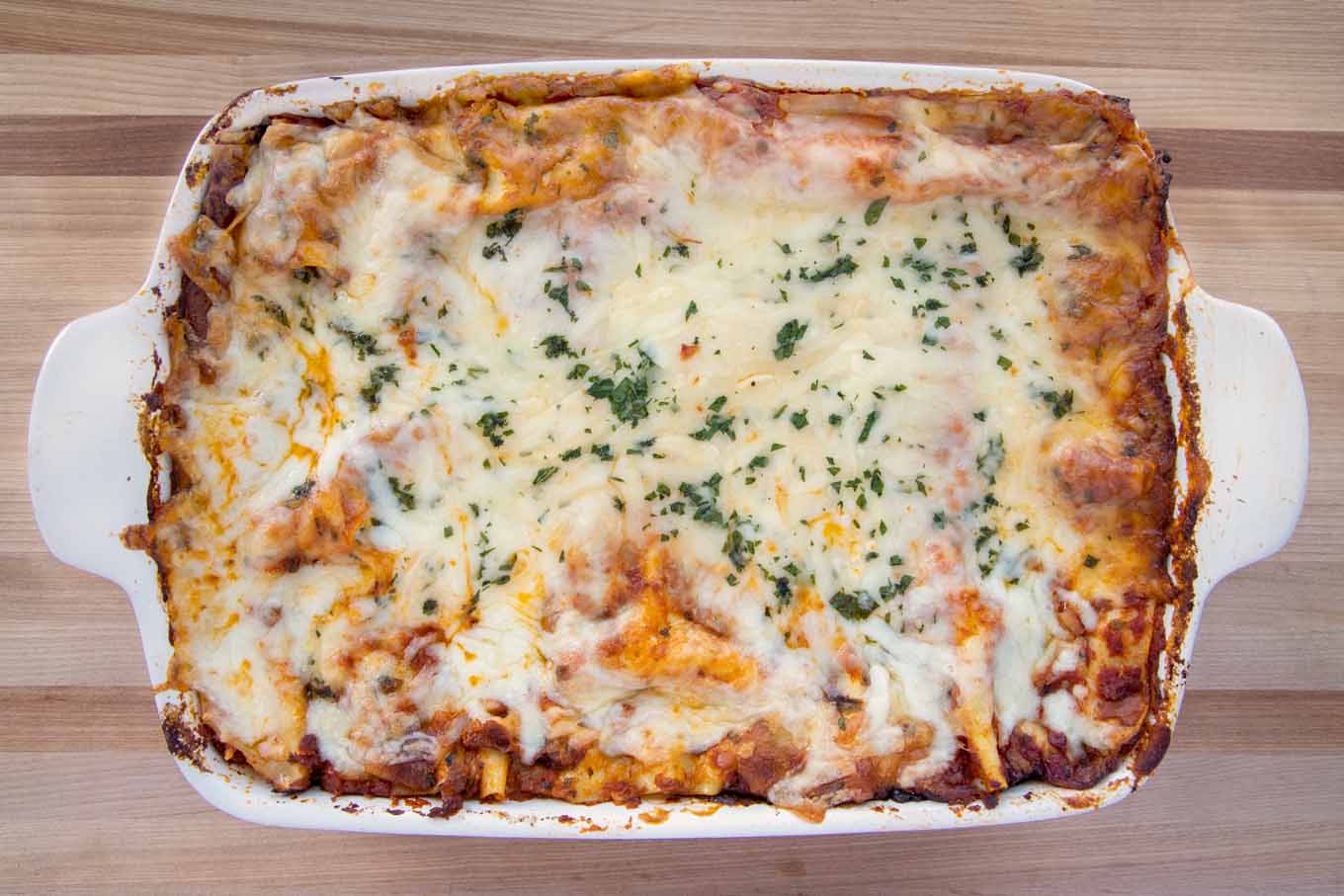 The lasagna should be fairly firm when removed from the oven. If it has too much shake in the middle it's not done.
**Allow Lasagna to rest for 7-10 minutes before cutting, to let it firm up.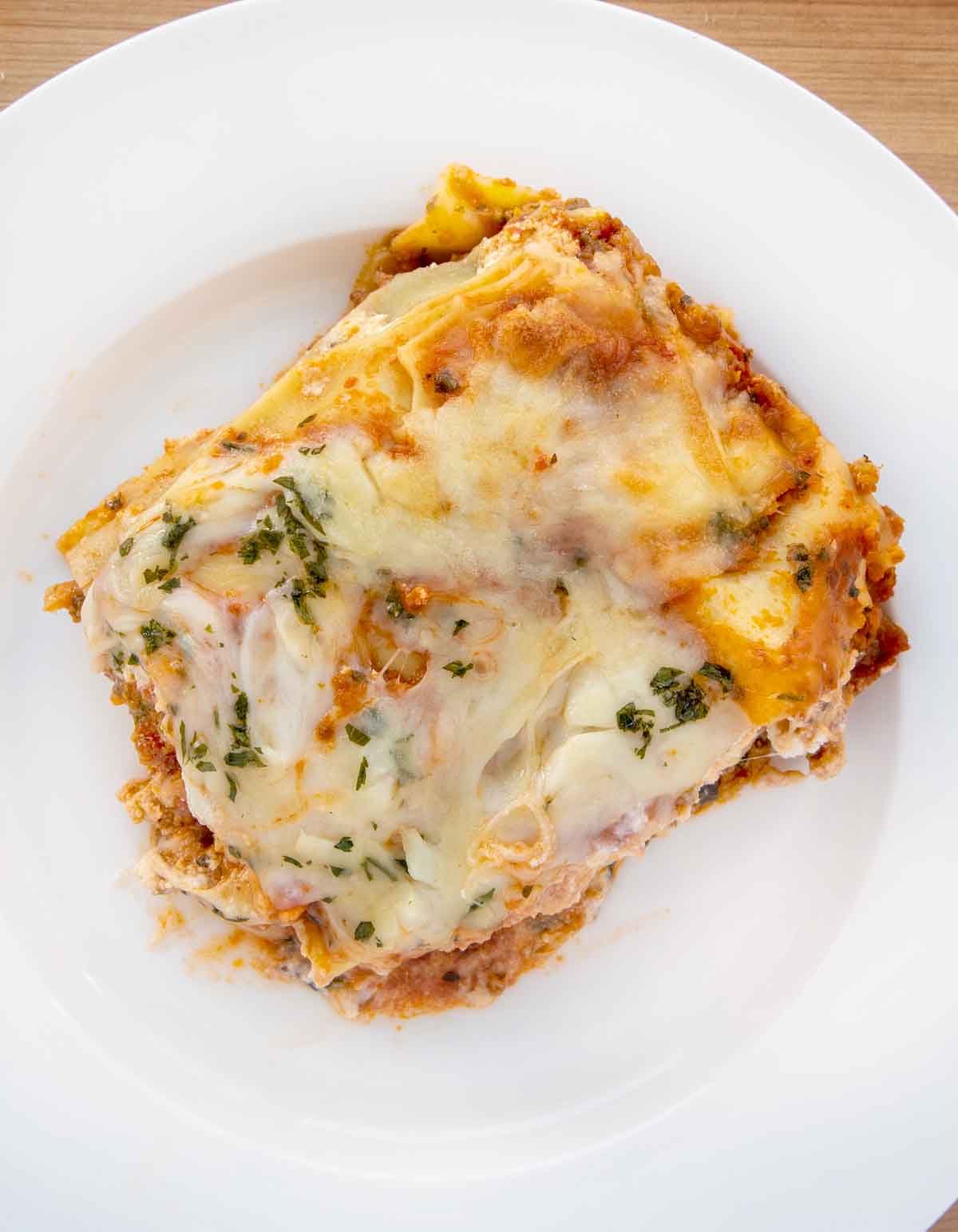 Once the lasagna has set, it's time to slice and enjoy the deliciousness! I always serve a nice tossed salad with my lasagna, it goes so well with this rich comforting dish.
Can I Make Lasagna Bolognese ahead of time?
Yes, you can. It can sit in the fridge until you're ready to serve. When you're ready to serve slice the lasagna into the size you want and place it in a baking dish.
Top with tomato sauce and bake at 375 degrees for 20 minutes. After 20 minutes, top the lasagna with shredded mozzarella and fresh chopped parsley and continue baking for an additional 10 minutes.
Can I freeze Lasagna Bolognese?
Yes, you can. If you want to freeze the entire pan of Lasagna Bolognese, freeze it uncooked.
If you want to cook it and then freeze it, allow it to completely cool overnight in the refrigerator. Then cut slices and wrap them individually in plastic wrap and allow them to freeze. Then place the wrapped slices in a ziplock bag until needed.
This is how I store my lasagna, we can't eat a whole pan of lasagna, but it doesn't make sense to make a small portion when it doesn't much more time to make a whole pan. That way I've another few dinners in the freezer for days I don't want to cook.
More Recipes You'll Love!