When it comes to hearty, delicious stews, Hungarian Goulash is a dish that will satisfy like no other stew. After one bite, you'll understand why this is one of the national dishes of Hungary. The depth and richness of flavor will make this stew one of your go-to comfort foods.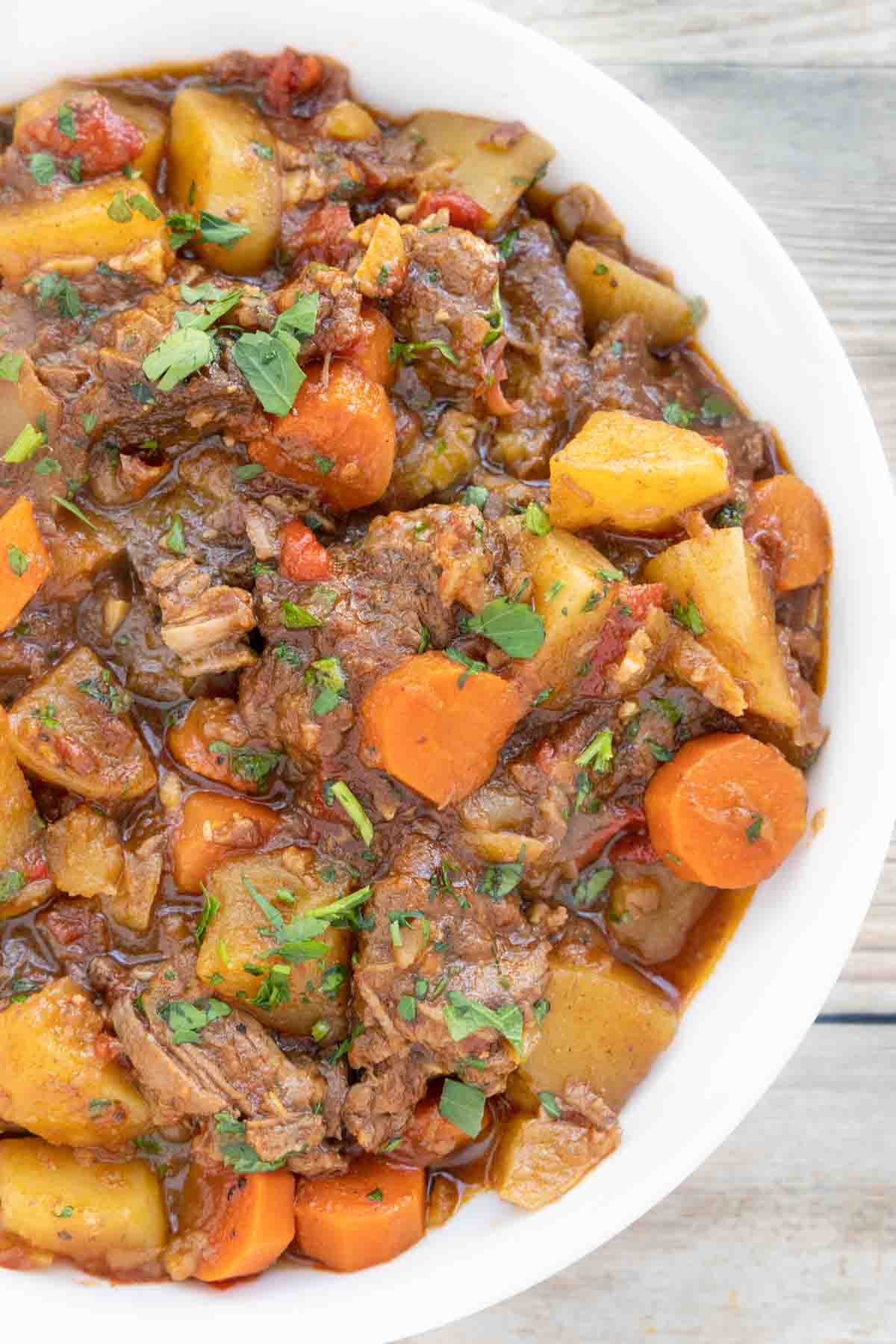 This rich paprika seasoned dish is perfect any time of the year, but especially during the colder months when comfort food like my Hungarian Beef Goulash will not only fill your stomach but soothe your soul.
Tender beef chunks with potatoes, carrots, and turnips, seasoned with garlic, onion, and Hungarian Paprika make this simple peasant dish a meal fit for a king.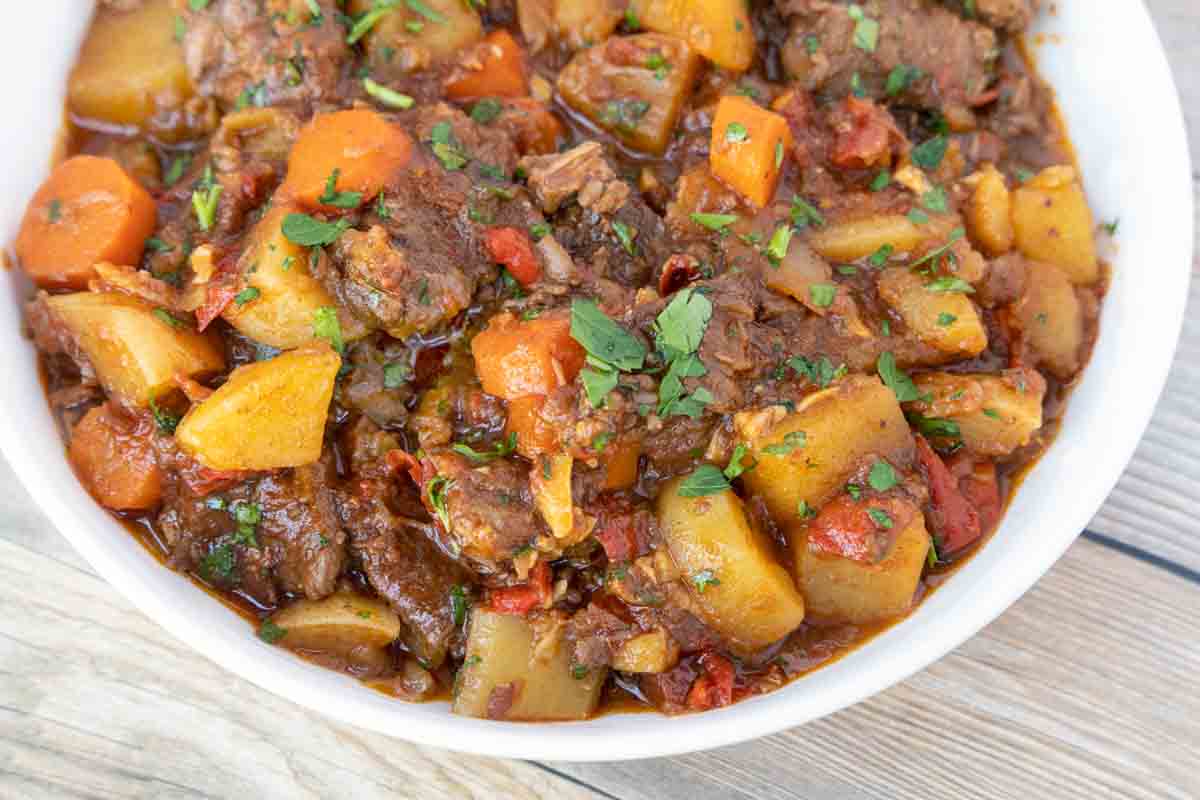 I first sampled this delicious dish on a trip to Budapest, and after a most satisfying dinner, I sat down with the chef to learn the secrets of Authentic Hungarian Goulash. And now I'm happy to share my recipe for this national treasure with you.
Ingredients for Hungarian Goulash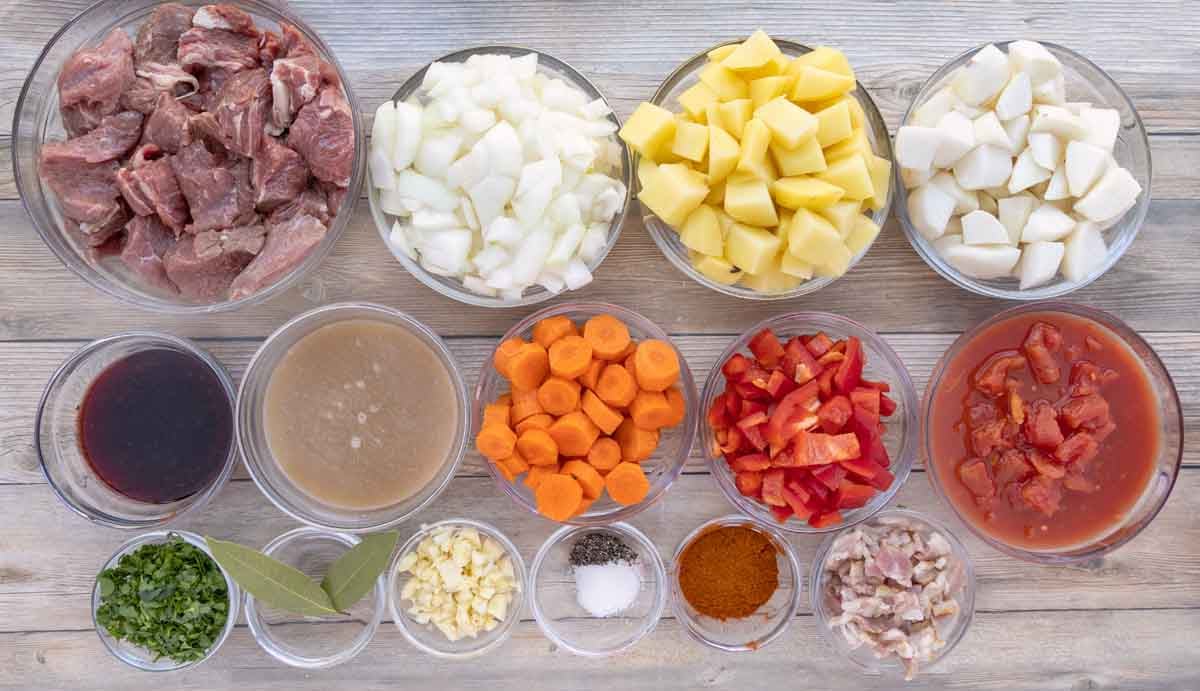 Let's start by gathering the ingredients we need to make Hungarian Goulash. In Chef Speak, this is called the "Mise en Place," which translates to "Everything in its Place."
Not only does setting up your ingredients ahead of time speed up the cooking process, it also helps ensure you have everything you need to make the dish.
Made with simple ingredients, this classic dish features beef chuck, with root vegetables and tomatoes. Some recipes call for tomato paste, but that can sometimes make the dish bitter and really isn't needed to help thicken the sauce.
How to make Hungarian Goulash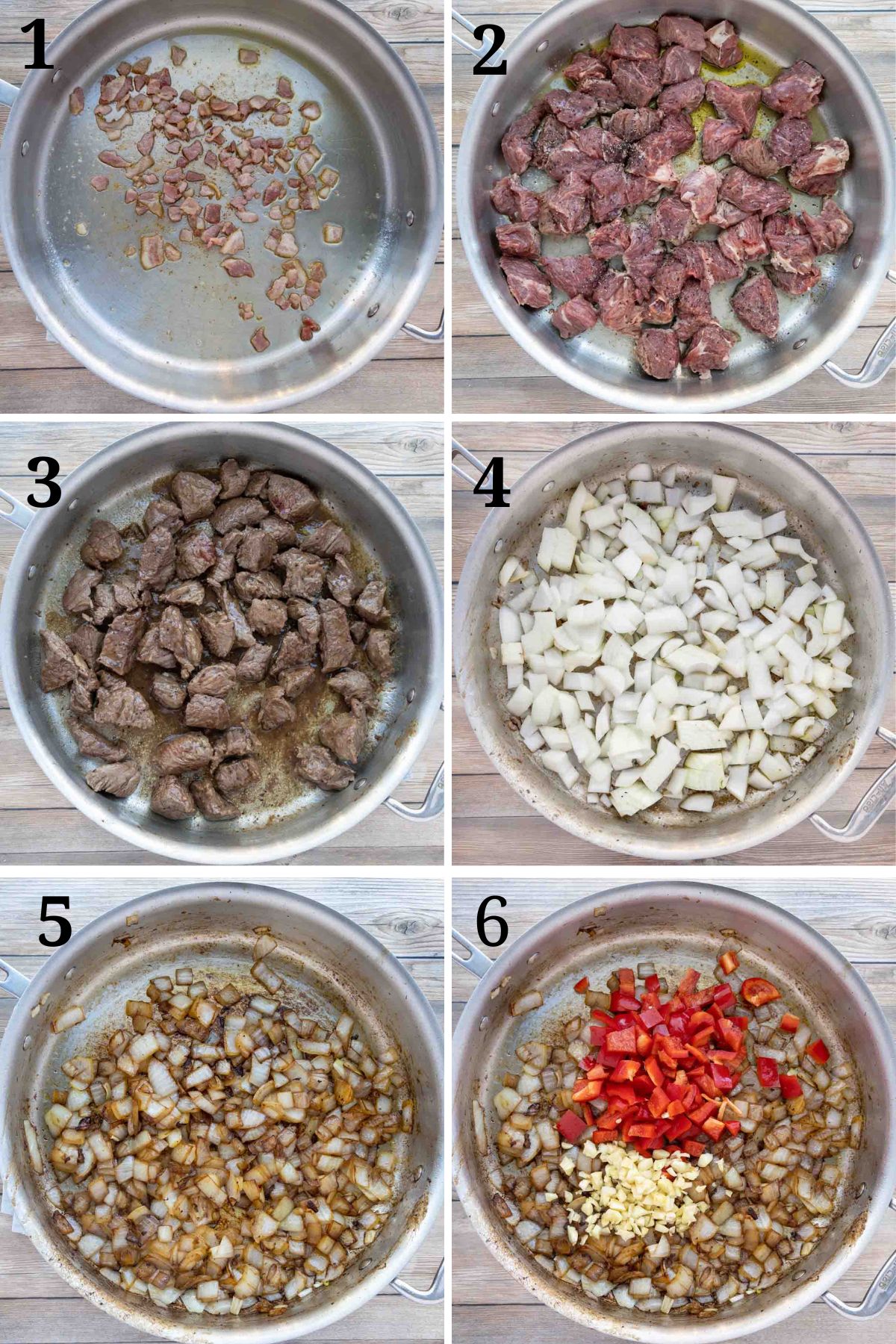 Add the bacon to a large pot or dutch oven and cook over medium heat until browned (3-5 minutes.) Remove the bacon from the pan but leave any bacon fat in the pan. Set aside until needed.
Add 1-2 tablespoons of olive oil to the pan and place the beef cubes in the pan, making one layer—season with salt and black pepper. Place the beef in one layer.
Cook the beef until all sides are browned, and most of the liquid has been cooked off (7-10 minutes). Remove the beef from the pan with any juices and set aside until needed. *Do not crowd the pan. Cook in batches if necessary.
Add the onions to the pan with one tablespoon of olive oil.
Cook over medium heat for 7-10 minutes until caramelized.
Add the bell peppers and chopped garlic cloves to the pan.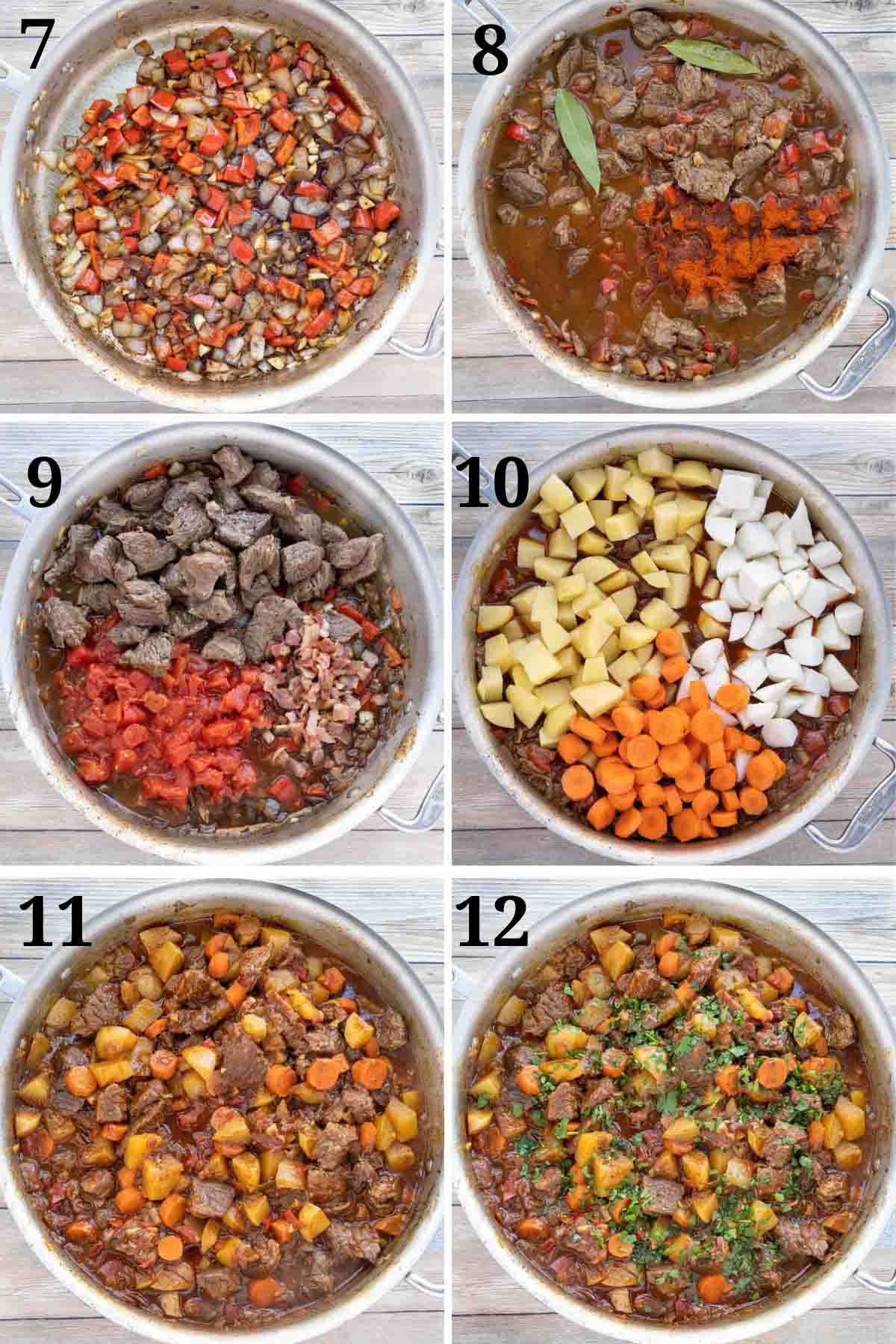 Cook the red peppers and garlic for 3-4 minutes until they have been softened and are aromatic.
Deglaze the pan with the red wine and scrape the bottom of the pan to remove all the tasty bits stuck to the bottom of the pan. Then add the diced tomatoes, Hungarian paprika, and bay leaves to the mixture. Stir until well blended and cook for 3-4 minutes over medium-high heat. *Don't be tempted to use hot paprika or smokey paprika to make this traditional goulash.
Add the beef stock, browned beef cubes, and bacon back to the pot and stir to blend the ingredients together. Bring the mixture to a boil, then reduce heat to low heat and place the lid on the pot and simmer for 60 minutes.
Add the potatoes, carrots, and turnips to the pot.
Continue to simmer for 30 minutes.
Let the goulash soup "rest" for 15 minutes or so. Add chopped parsley and re-season with salt and black pepper to taste if needed.
*If the Hungarian Goulash is too thick, add a little water or more beef broth.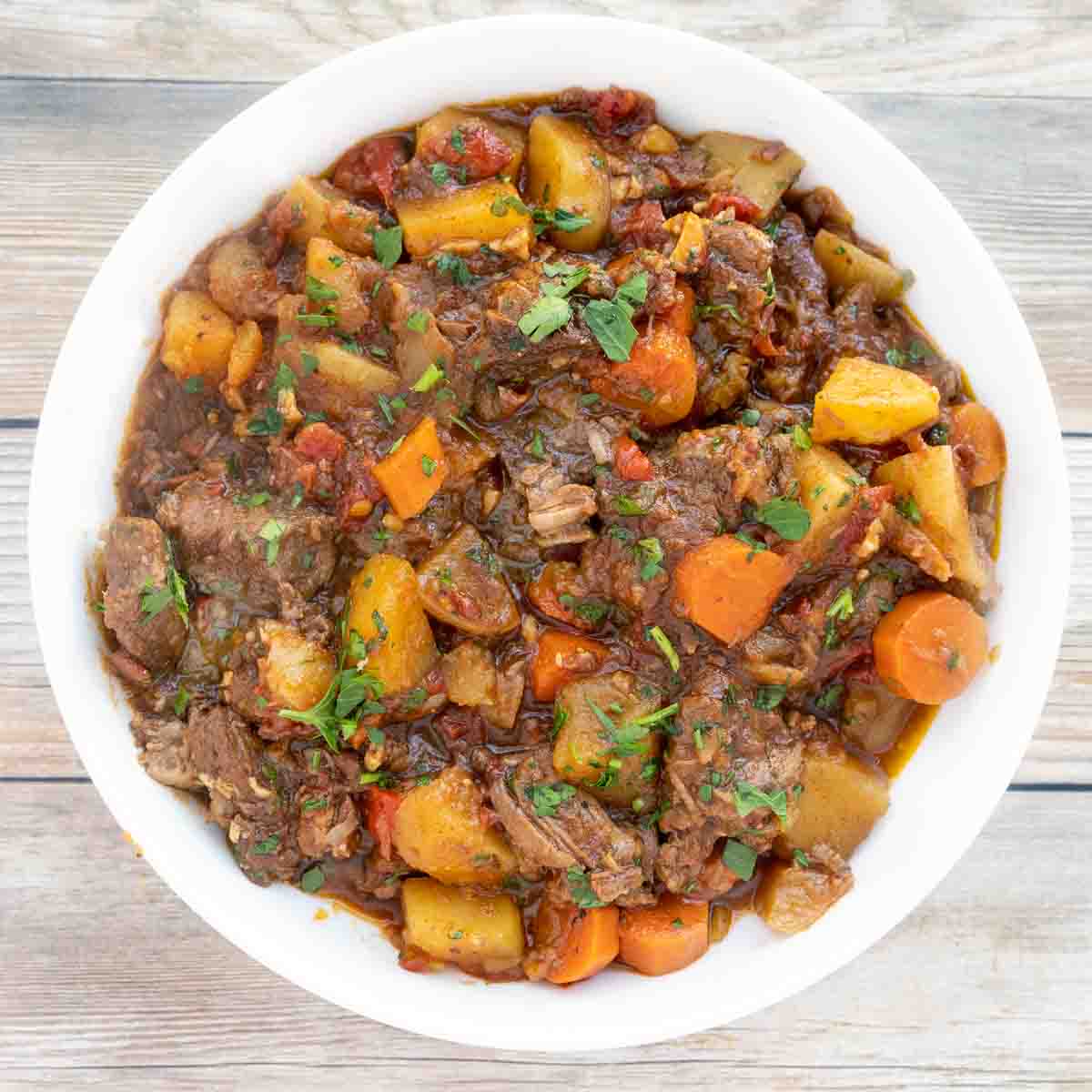 Serve over egg noodles or rice, and if you're feeling a little decadent, top with a dollop of sour cream and a loaf of crusty bread.
I like to make a big batch of Hungarian Goulash and freeze it in an airtight container for those nights I don't feel like cooking dinner. Frozen, it will keep for up to 3 months.
Recipe FAQ's
What's the difference between Hungarian Goulash and American Goulash?
Hungarian Goulash is a dish made with beef stew meat (usually chuck roast). It includes root vegetables in either a soup or stew that is seasoned with Hungarian sweet paprika or hot paprika. American Goulash is the poor man's version of this classic dish that is made with ground beef, tomato sauce, spices, and elbow macaroni. It's a very thick soup, which is just about the only thing it has in common with the Hungarian version.
What cut of beef is best for Hungarian Goulash?
Beef Chuck Roast is the best meat to use for this dish. Buy a small chuck roast, or cut a larger roast in half and freeze the rest for another dish. Don't be tempted to buy precut stew beef; you never really know what part of the animal it came from, and cutting your own is not difficult.
What type of paprika should I use?
That's easy Hungarian Parika is the only paprika you want to use for this dish or any dish calling for paprika. You can use the hotter version of paprika, but the sweet or regular version is best suited for Hungarian Goulash. Smoky Paprikas are usually the Spanish variety and while they offer a nice smoky flavor, it's not what you want for this dish.
Can Hungarian Goulash be made in a slow cooker?
Yes it can. But make sure to sear the beef and caramelize the onions before using the slow cooker method for this dish.
More Recipes You'll Love!