My Banana Crumb Coffee Cake with Pecans and Chocolate Chips is a deliciously moist banana cake loaded with pecans and chocolate chips. It's easy to make and the perfect sweet treat for breakfast, brunch or dessert.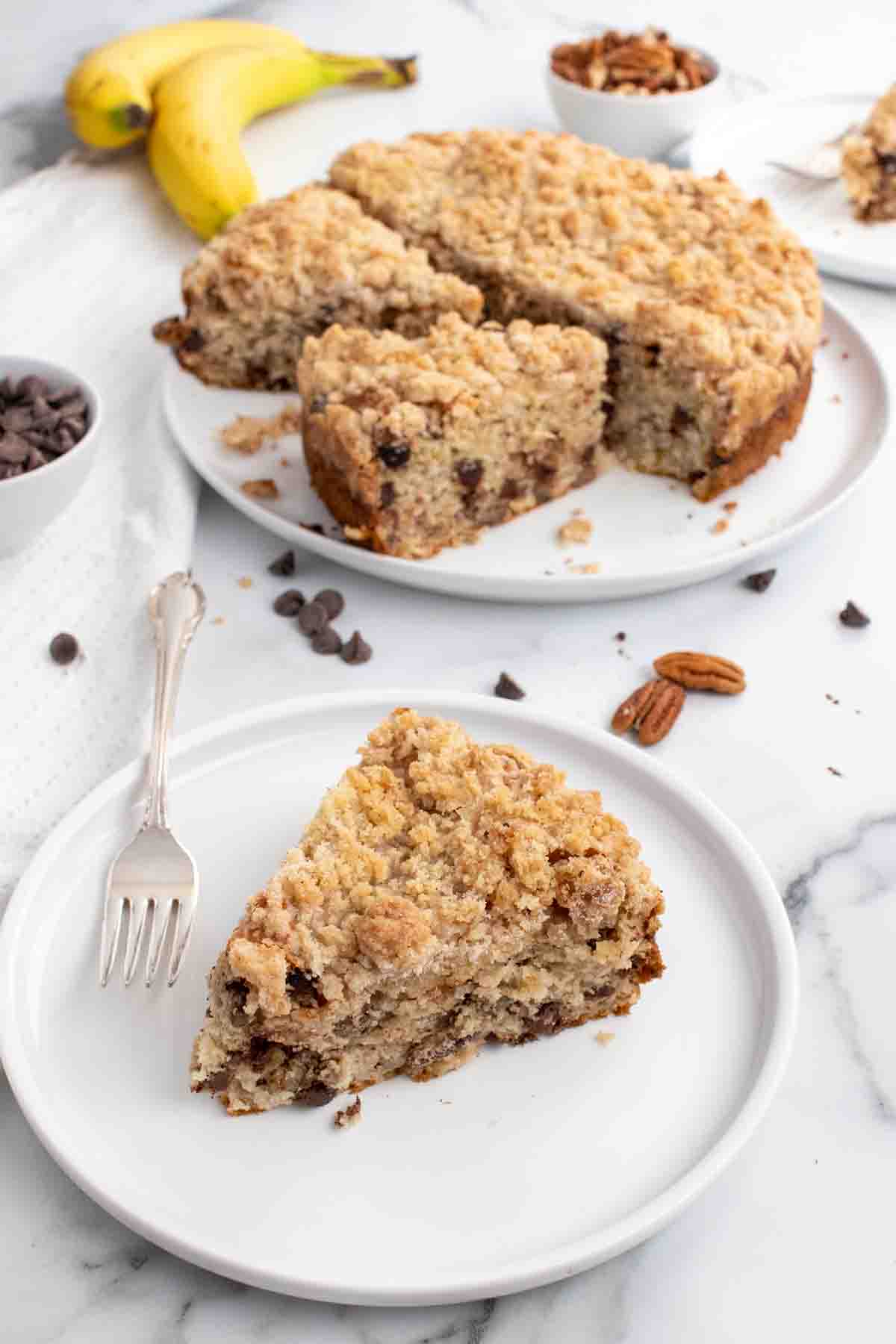 I'm not sure about your house, but it doesn't matter how many bananas I buy, at the end of the week, I always have a few leftover overripe bananas. My Banana Coffee Cake Recipe is a great way to use up those bananas and a nice change from making your favorite banana bread recipe.
Think of my banana crumb coffee cake as a cross between banana bread and cinnamon coffee cake.
Moist and tender, topped with a crunchy sweet crumb topping, my banana crumb cake is one of my favorite banana recipes, and I'm sure it will be one of your favorites too!
Ingredients to make Banana Crumb Coffe Cake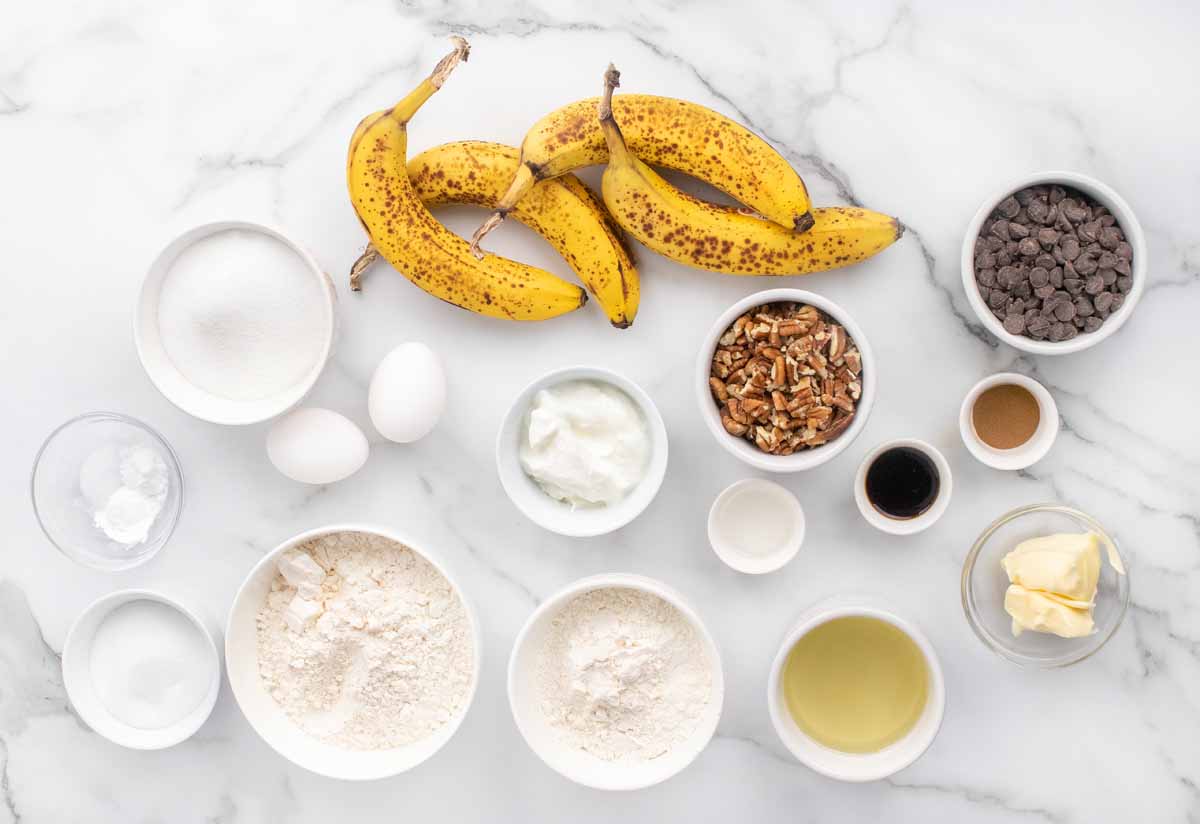 Let's start by gathering the ingredients we need to make a Banana Crumb Coffee Cake. In Chef Speak, this is called the "Mise en Place," which translates to "Everything in its Place."
Not only does setting your ingredients up ahead of time speed up the cooking process, it also helps ensure you have everything you need to make the dish.
How to make Banana Crumb Coffee Cake
Grease and flour a 10-inch springform pan.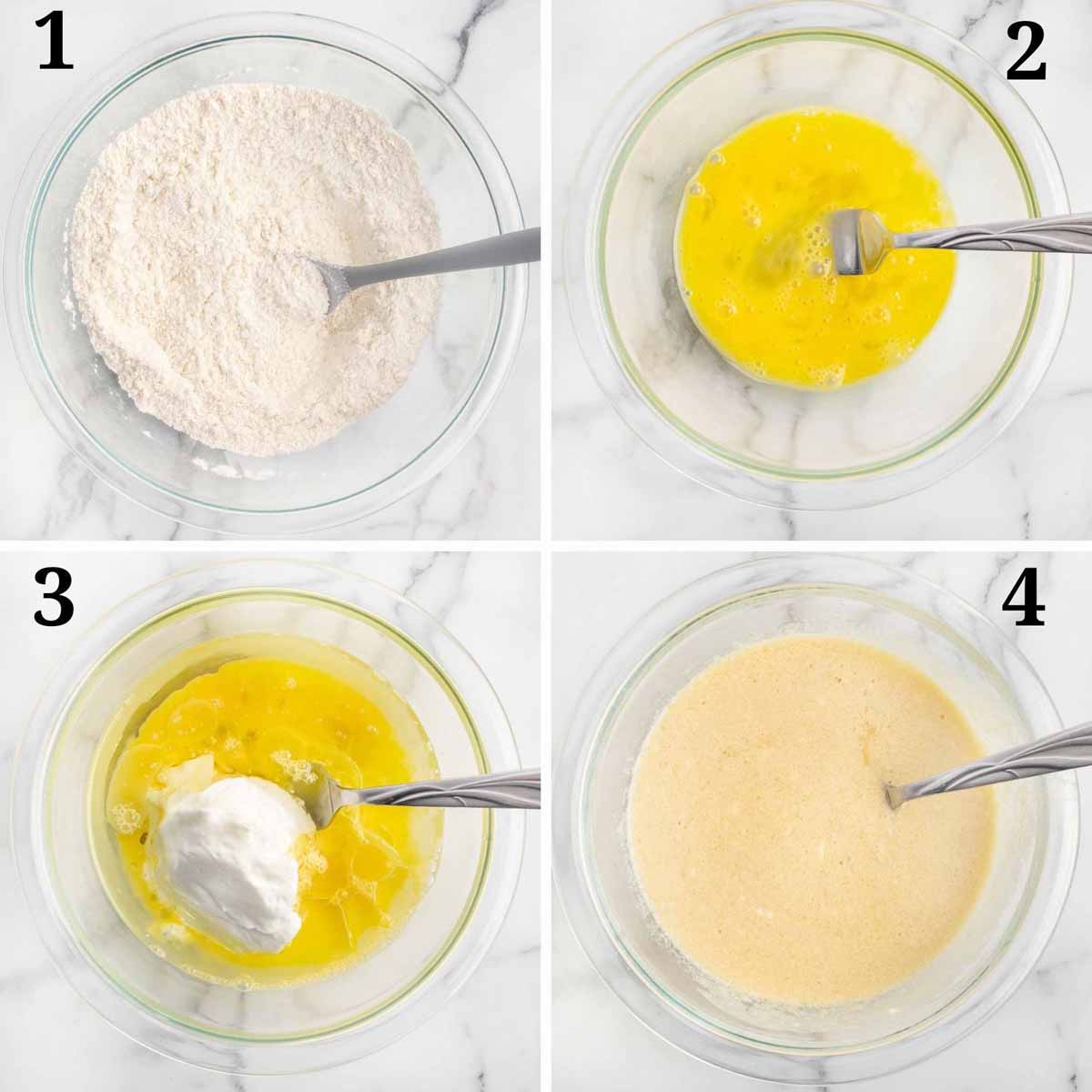 Mix all the dry ingredients together in one bowl.
In a separate bowl, lightly beat the eggs.
Add the Greek yogurt and oil to the eggs.
Mix all the wet ingredients together until well blended.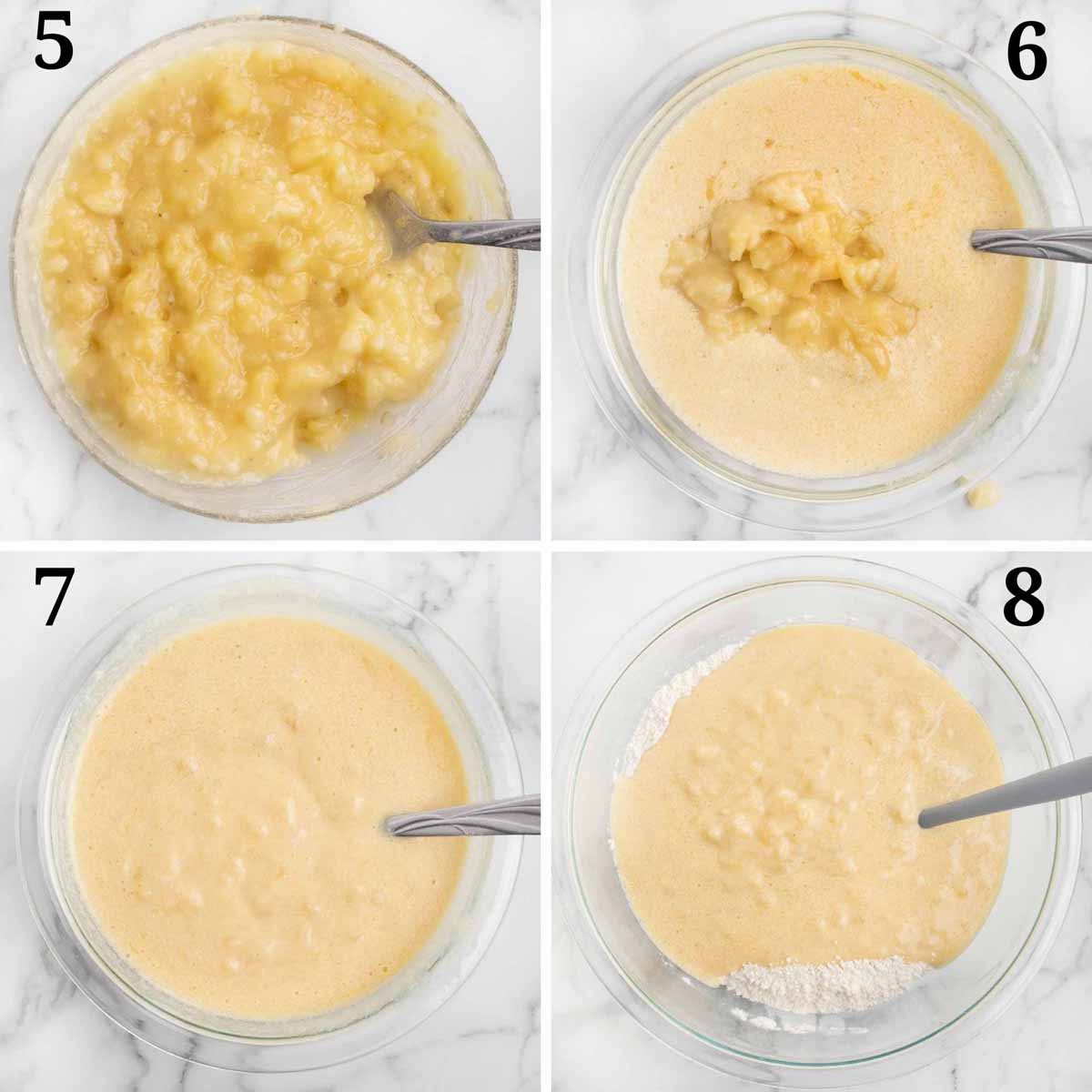 Mash the bananas to a puree consistency.
Add the mashed bananas to the wet ingredients.
Stir until well blended.
Add the banana mixture to the dry ingredients in a large bowl.
*Use overripe bananas to get the best banana flavor.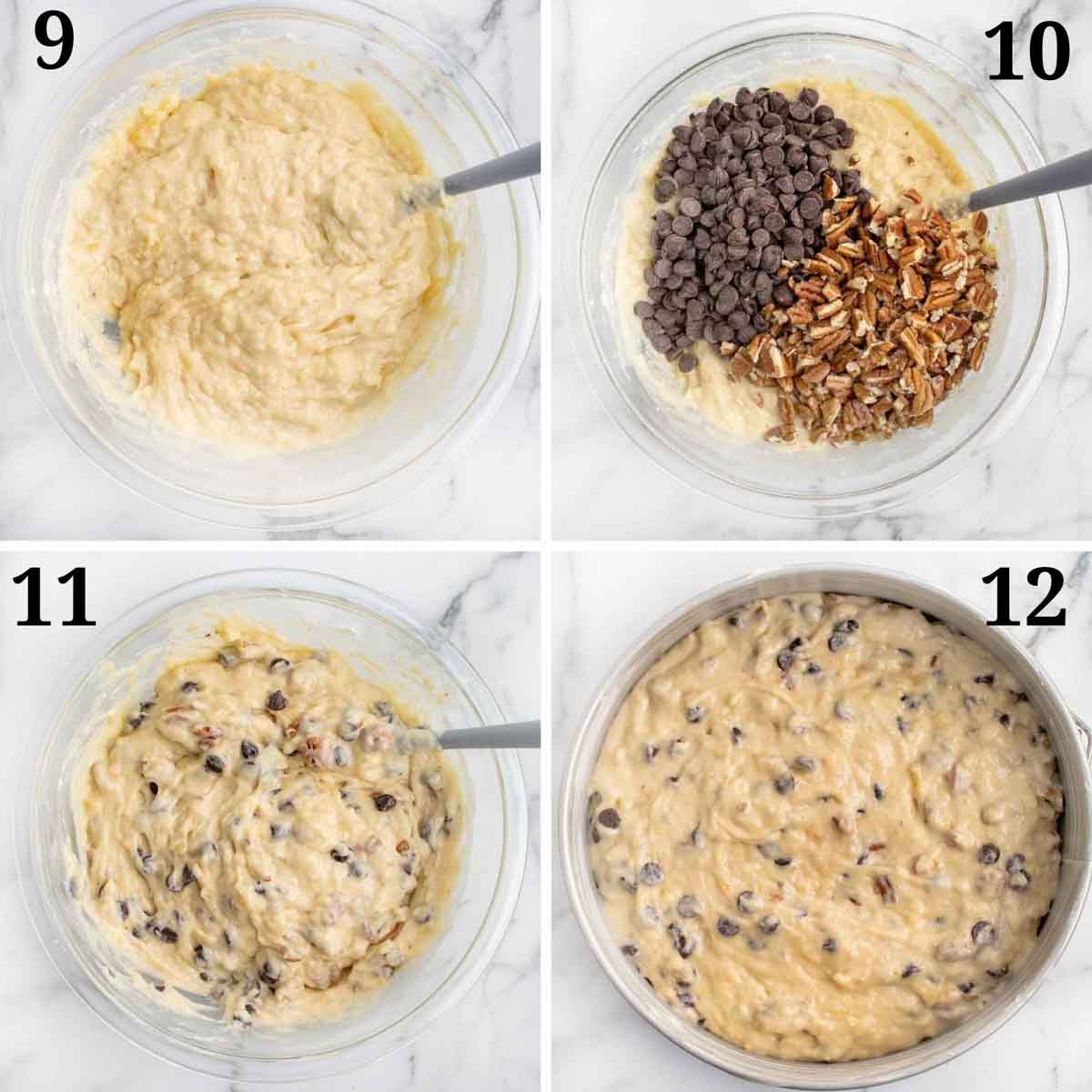 Mix the ingredients together, just enough to blend. Don't overmix!
Add the pecans and chocolate chips to the batter.
Fold in the pecans and chocolate chips into the batter. Again, don't overmix.
Pour cake batter into a prepared pan.
I like using a springform pan because it's easier to get the cake out. But you can also use regular cake pans lined with parchment paper to make this banana cake.
Do I have to use chocolate chips and pecans?
No, you do not. You can make the banana cake without the extra ingredients, or you can swap them out for other types of chips, raisins, craisins, or other dried fruit.
How to a Crumb Topping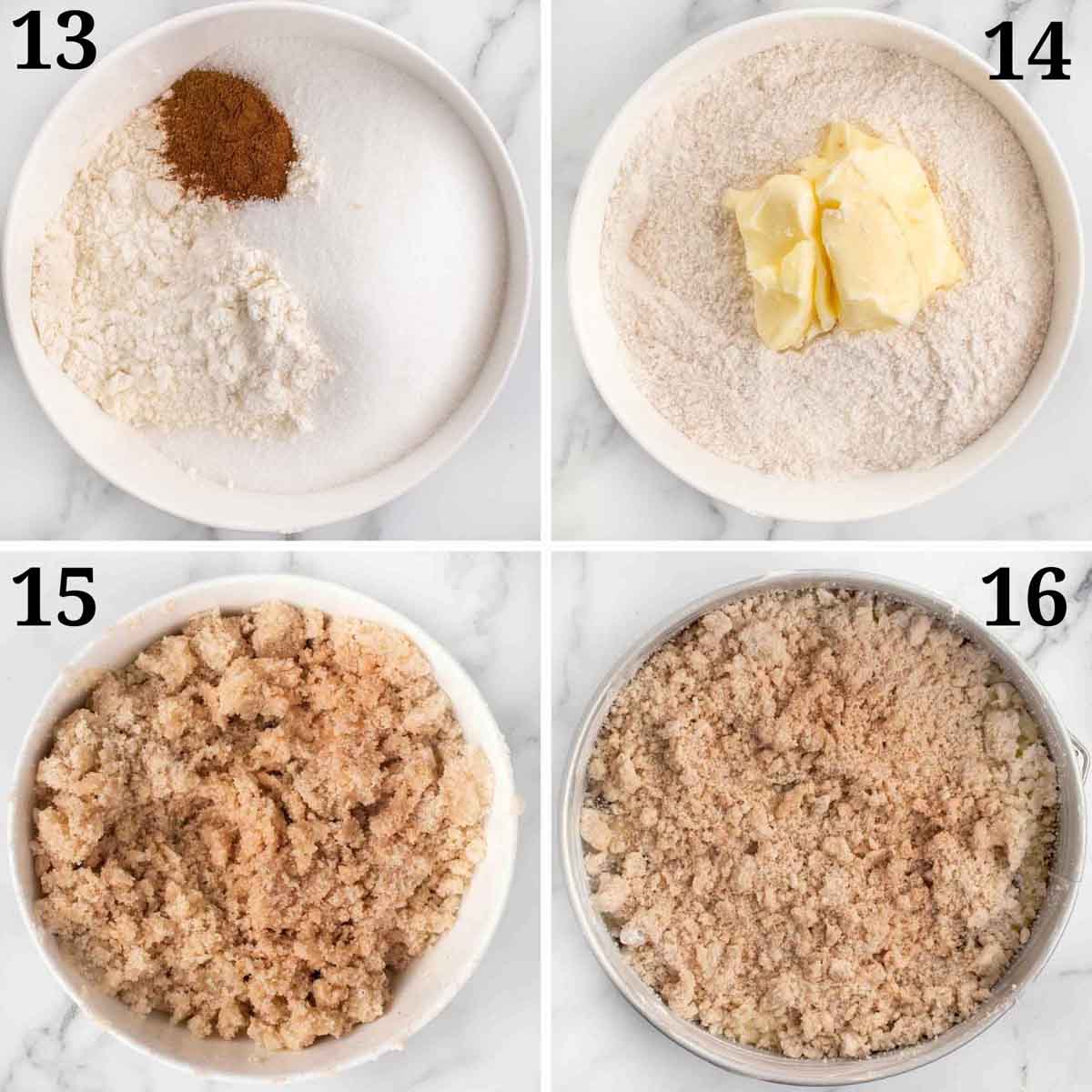 Add the flour, sugar, and cinnamon to a large mixing bowl and blend the ingredients together.
Add the softened butter to the flour mixture. (softened butter makes a better crumb layer than melted butter)
Work the butter into the crumb ingredients until you get a crumb consistency.
Add the crumb topping to the top of the cake batter.
*I use unsalted butter for all my baking.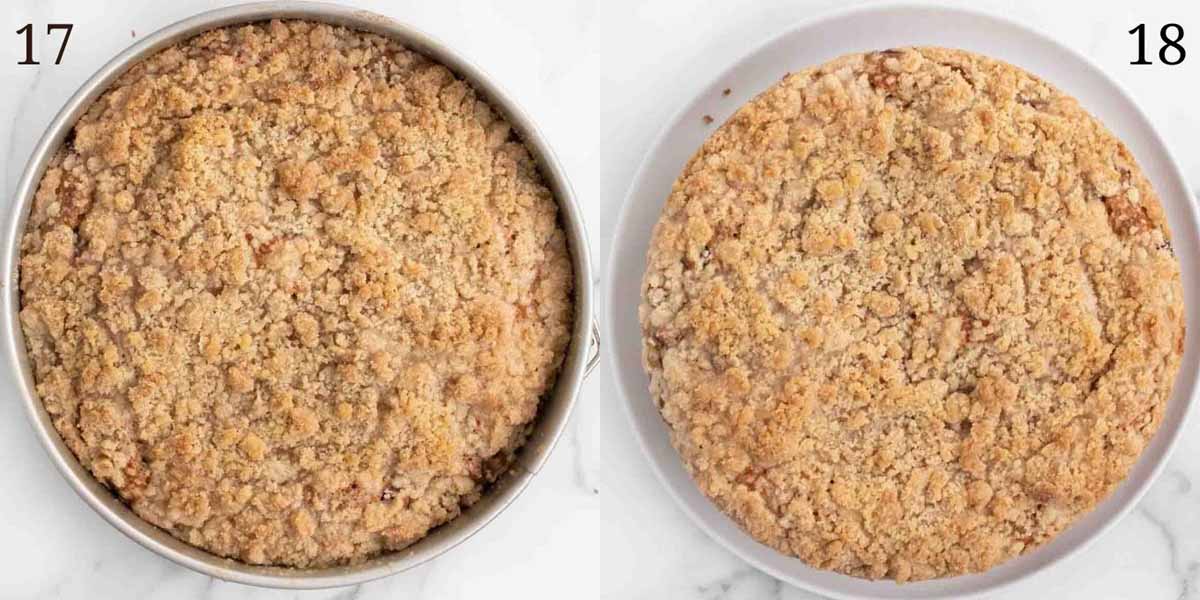 Preheat the oven to 375 degrees F (190 C)
Place the cake on the center rack and bake for 25-30 minutes.
Allow the cake to cool for 5 minutes, then carefully remove the outside of the springform pan.
Let the cake cool for an additional 20 minutes or longer before serving.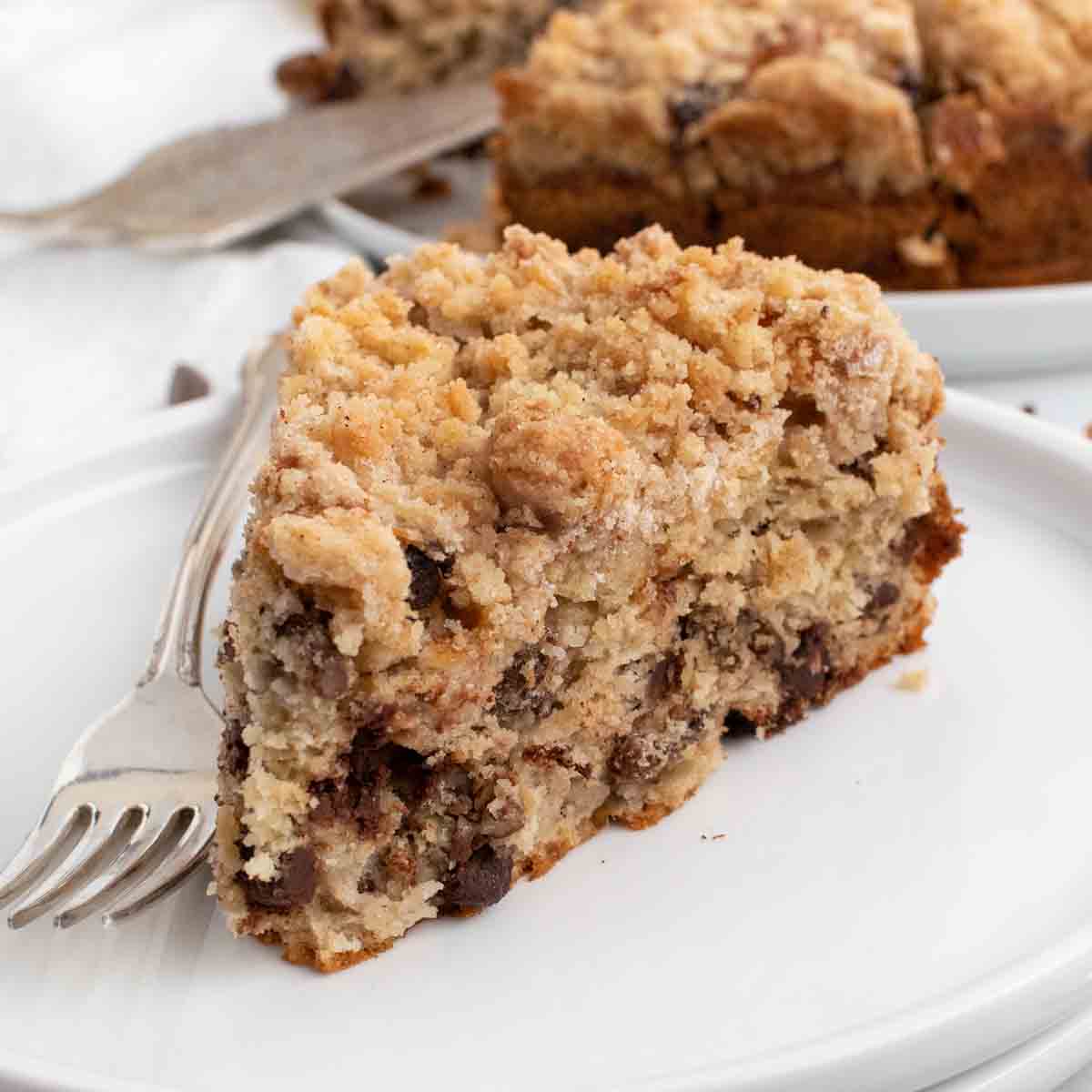 Anytime you get to enjoy a baked treat warm from the oven, it's a good day. And my Banana Crumb Cake is guaranteed to bring smiles to your table. You might even start buying extra bananas, so you have an excuse to make this cake!
Store any leftover cake in an airtight container.
Recipe FAQ's:
What is the difference between crumb cake and coffee cake?
The cakes are very similar. The major difference is the amount of crumb/streusel topping. Coffee cake has less streusel topping and more cake, while a crumb cake has a thicker and chunkier layer of streusel on top.
Why is my cake dry?
There are actually a few reasons your cake turned out dry. The usual reason is baking too long or at too high a temperature The other reason is using the wrong ingredients or making mistakes while mixing the batter. Changing the amounts of ingredients or specific ingredients can lead to a dry cake.
What can I do if my crumble is too dry?
Try adding a little milk to the crumble if it seems to dry. If you have time to put it in the refrigerator for 15 minutes, this will also help the texture of the crumble.
More Recipes You'll Love!