Moist, rich, chocolaty, and delicious, my Double Chocolate Banana Bread with chocolate chips and pecans is a great way to start the morning. It's also perfect for an afternoon snack with coffee or dessert with a cold glass of milk.
If you're like me, you have bananas sitting on the counter, begging to be made into something delicious. And I promise my easy to make Double Chocolate Banana Bread Recipe will soon become a family favorite.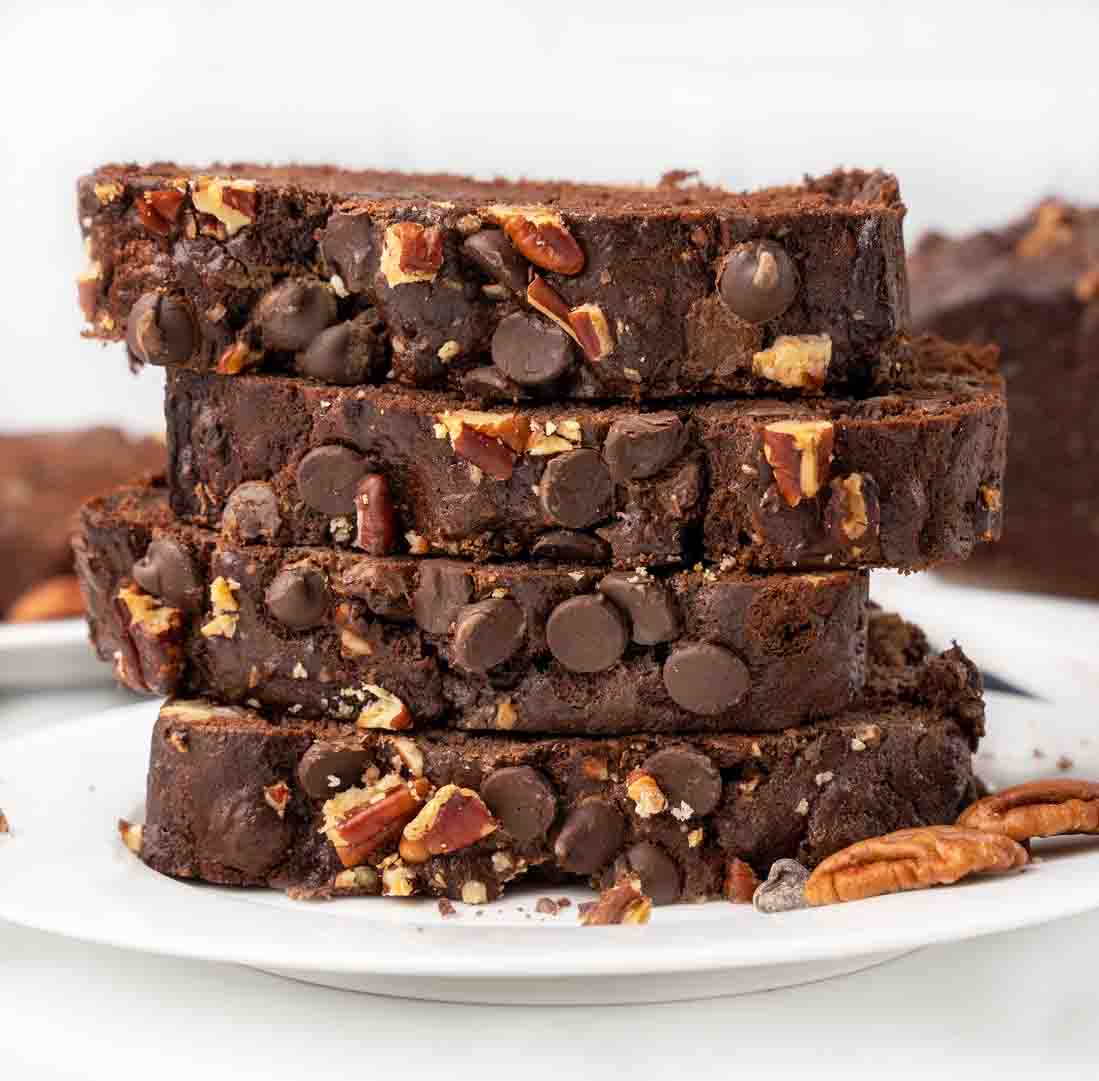 Over the years I've tried a lot of Banana Bread Recipes, and this is definitely one of my favorites. If you're not a fan of chocolate try my Blueberry Oat Banana Bread it's delicious!
Ingredients for Double Chocolate Banana Bread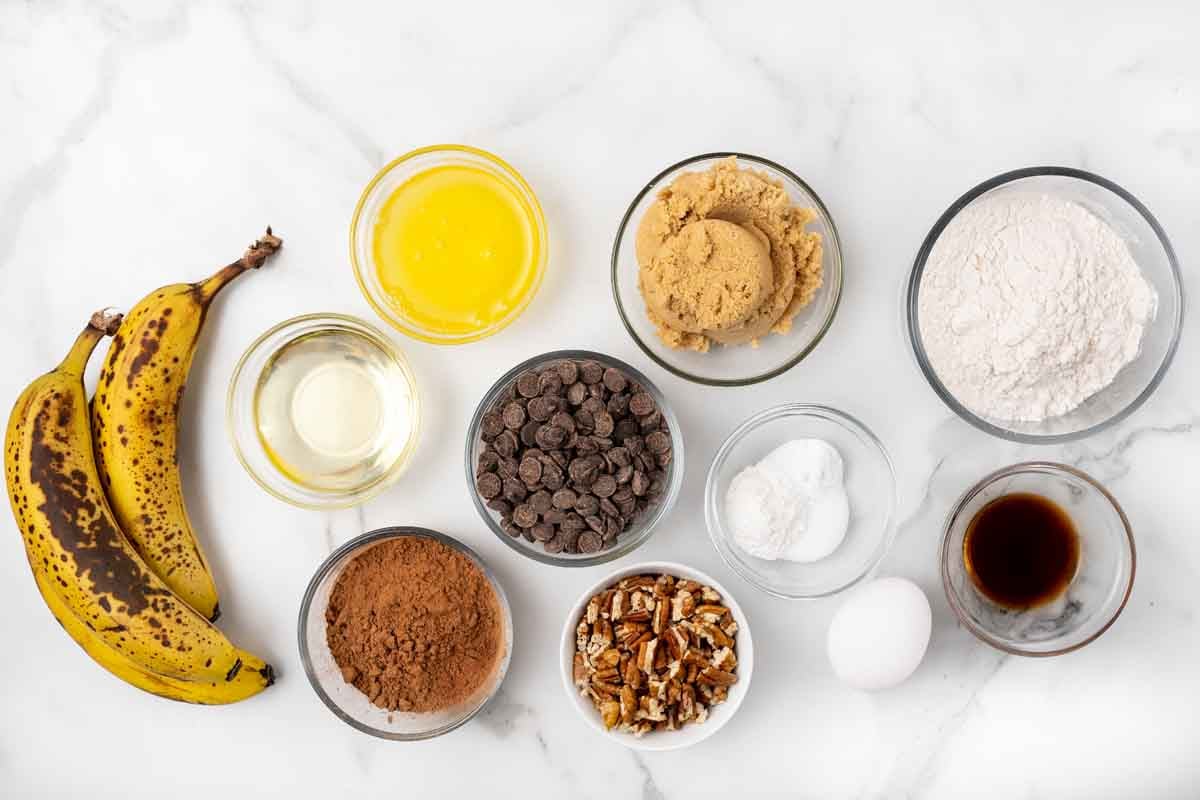 Let's start by gathering the ingredients we need to make Double Chocolate Banana Bread. In Chef Speak, this is called the "Mise en Place," which translates to "Everything in its Place."
Not only does setting up your ingredients ahead of time speed up the cooking process, it also helps ensure you have everything you need to make the dish.
Made with simple ingredients
bananas
unsalted butter
vegetable oil
large egg (room temperature)
vanilla extract
brown sugar
baking powder
baking soda
salt
all-purpose flour
unsweetened cocoa powder
semi-sweet chocolate chips or your favorite chocolate chips
pecans chopped (or walnuts) – optional
How to make Double Chocolate Banana Bread
Preheat oven to 350°F
Grease a 9 x 5-inch loaf pan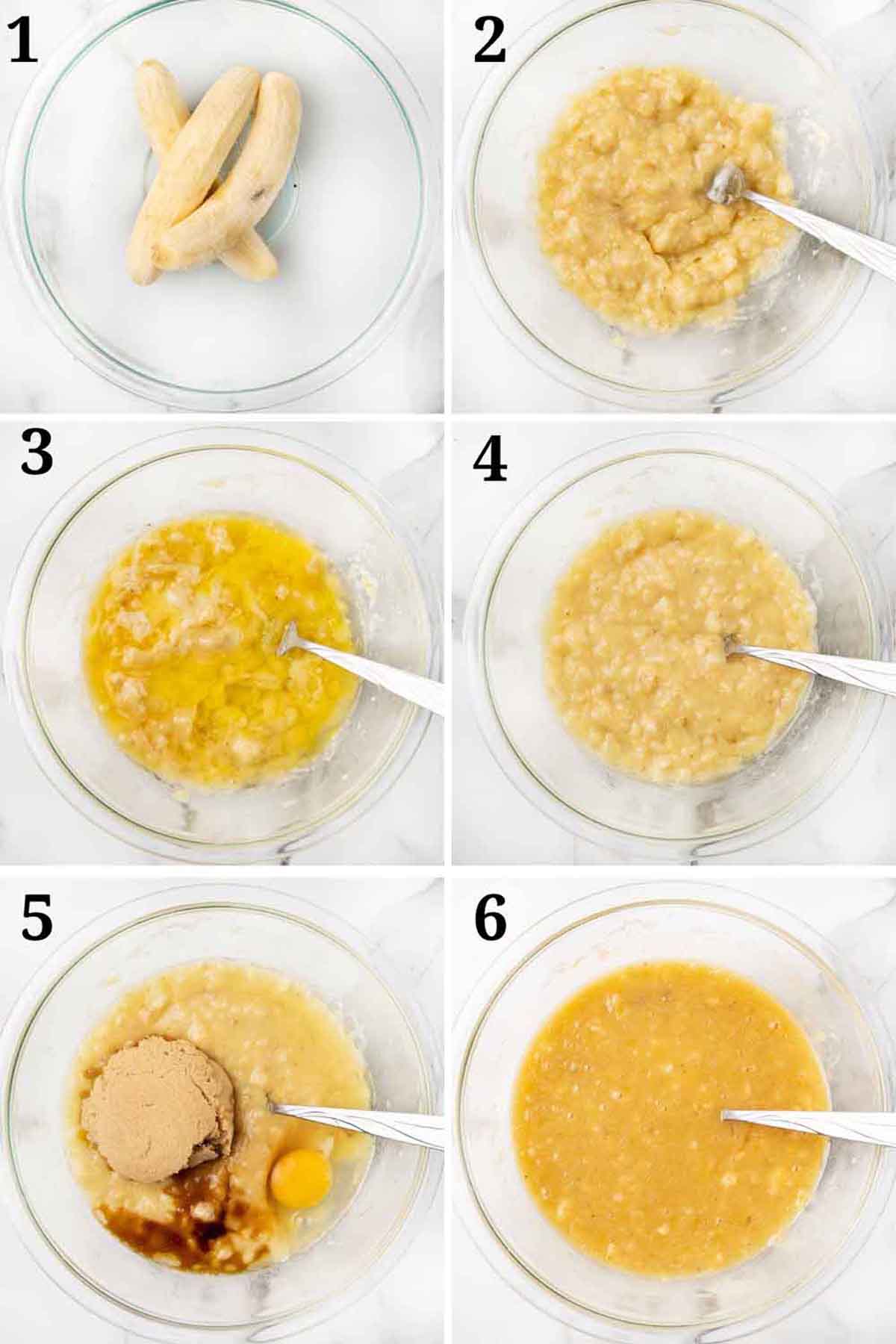 Add very ripe bananas to a large bowl.
Mash the bananas until completely broken up and mushy.
Add the melted butter and vegetable oil to the mashed bananas.
Mix until well combined with the bananas.
Add the brown sugar, egg, and vanilla to the mixture.
Mix in the ingredients until well blended and smooth.
*Brown bananas are the best for this recipe. And don't be tempted to add an extra banana, it will affect the final product.
Add the flour, baking powder, baking soda, salt and cocoa powder to another medium bowl.
Mix the dry ingredients until well blended.
Add the dry ingredients into the wet ingredients.
Mix them together just enough to blend. Do not overmix.
Add the chocolate chips and pecans to the chocolate banana bread mixture.
Stir to combine. Don't overmix.
*This type of quick bread requires very little mixing, so I would not use an electric mixer. To get tender moist crumbs, make sure not to overmix the batter.
Pour the batter into the prepared loaf pan. Place it on the center rack of the preheated oven and bake for 50-55 minutes, or until a toothpick inserted into the center of the banana bread comes out mostly clean.
Let the banana bread cool in the pan for 10 to 15 minutes on a wire rack and then remove the banana bread from the pan and continue to cool on the wire rack.
If you have any of my double chocolate banana bread left, make sure to wrap it with plastic wrap or store it in an airtight container, to help keep it moist.
Recipe FAQ's
Why is my Banana Bread Dry?
When it comes to making moist and tender banana bread, the ratio of flour to bananas is the usual reason for dry banana bread. Too much flour and it comes out dry; too little and you'll end up overbaking to get the bread to set. So adding more bananas than the recipe calls for is not a good thing.
Why is my Banana Bread dense?
When it comes to cakes and quick bread, overmixing will result in a dense, tough cake. The more you mix the batter, the more the gluten is developed, which in bread is a good thing, but not so good when it comes to cakes.
Baking Tools I use
Chef's Choice
Chef's Choice
Chef's Choice
More Recipes You'll Love!