Have you ever had Irish Soda Bread? The taste of this homemade bread is very mild and you might find it similar in flavor to a biscuit. But as with most homemade bread, it's not meant to be eaten without something to compliment the flavor and texture.
You don't have to wait for St. Patrick's Day, it's really easy to make and is even more delicious served warm with butter, jam or marmalade.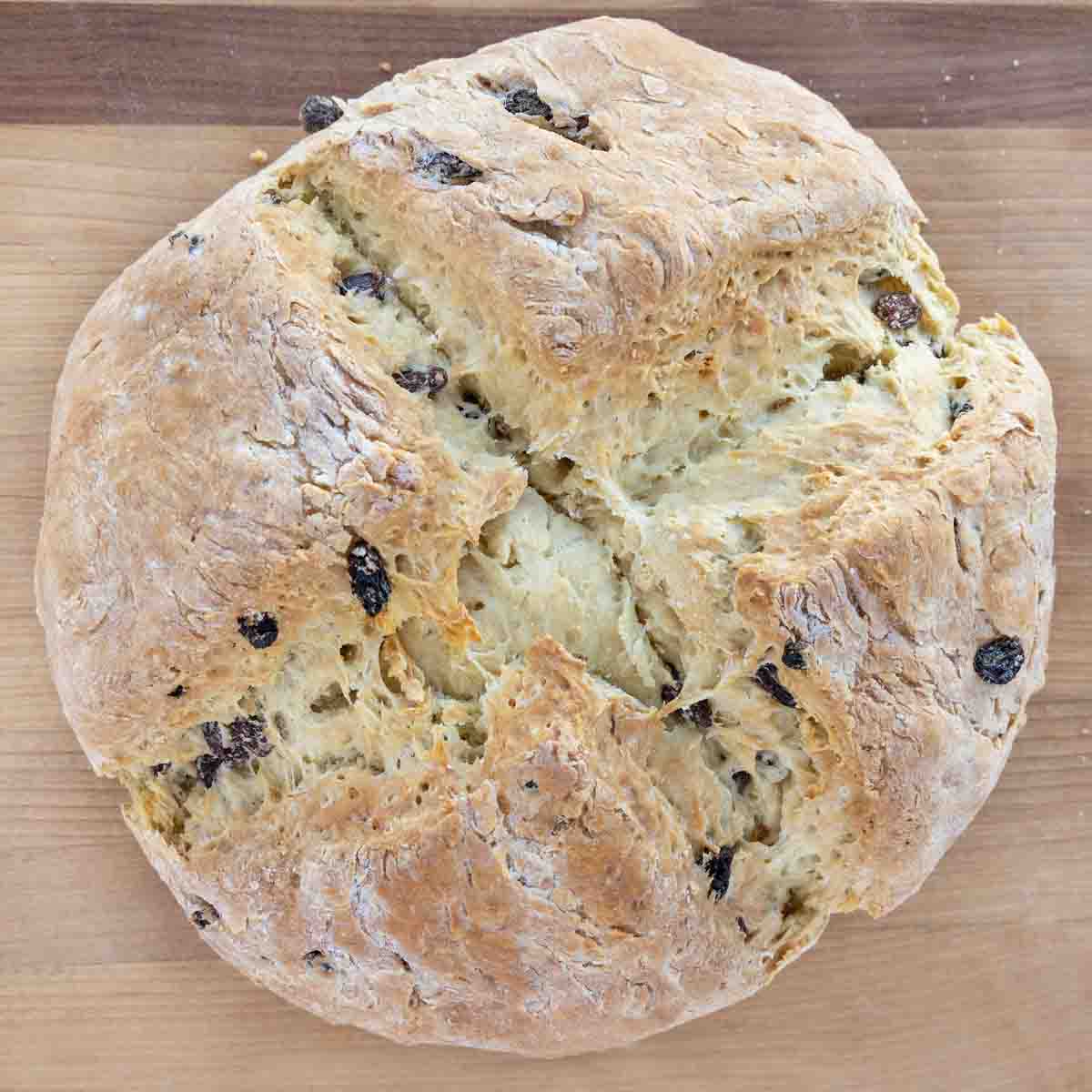 Traditional Irish Soda Bread is made with buttermilk, Irish butter, baking soda (hence the name soda bread) and a few other simple ingredients.
Did I mention how good it would be with softened butter and jam…sigh. It also goes well with a hearty stew (like my Guinness Beef Stew) or soup (like my seafood soup).
What Ingredients do I need to make Irish Soda Bread?
Let's start by gathering the ingredients we need to make traditional soda bread. In Chef Speak this is called the "Mise en Place" which translates to "Everything in its Place".
Not only does setting your ingredients up ahead of time speed up the cooking process, it also helps ensure you have everything you need to make the dish.
Do I have to use buttermilk to make to make Irish Soda Bread?
Yes, you do.
Can I make a buttermilk substitute for the recipe?
You can easily make a buttermilk substitute for the recipe, it won't quite be the same but it will work.
It's best to use whole milk, but 2% milk will work. Add 1 Tablespoon of lemon juice or white vinegar to a large measuring cup, then add enough cold milk to make 1 and ¾ cups total volume. Whisk the ingredients together, and let the milk sit for 5 minutes before using it in the recipe.
Do I have to use raisins when I make soda bread?
No, you don't. I like the added flavor and touch sweetness it adds to the bread, but it's not a make-or-break item for this recipe. And you'll be pleasantly surprised how well it goes with stew or soup.
*You could also add chopped walnuts to the dough for added flavor and texture.
How do I make Irish Soda Bread?
Preheat your oven to 375˚F. Generously grease a 10" (or 12″) cast-iron skillet with ½ tablespoon of butter and set aside until needed.
In a large bowl whisk together the dry ingredients, flour, sugar, salt, and baking soda.
Cut the very cold butter into small pieces and use your fingers to work the butter into the flour until crumbs begin to form.
Mix in the raisins, breaking up any clumps of raisins.
Whisk together the 1 ¾ cups buttermilk and egg in a bowl or large mixing cup.
*I used all-purpose white flour to make my soda bread, but you could substitute half whole-wheat flour (Irish wholemeal flour) for half the white flour for this classic recipe.
Make a well in the center of the flour mixture and add the buttermilk mixture into the well of the flour mixture.
Using a rubber spatula or a wooden spoon mix the buttermilk into the flour mixture until it just comes together. Don't over mix!
Transfer the dough to a floured surface and use well floured hands to shape the dough until it forms into a round loaf. It should be a little rough looking. If it's too sticky to handle, dust lightly with additional flour. *Be careful not to overwork the dough or the soda bread will be tough.
Transfer the formed round loaf to the buttered cast iron pan.
Use a sharp knife to score the top of the bread with a large and deep "X".
Place the pan into a 375 degree F. preheated oven for 50-55min.
When you tap on the bread, it should sound hollow inside, or if you use an instant-read thermometer, the internal temperature should be 180 degrees F.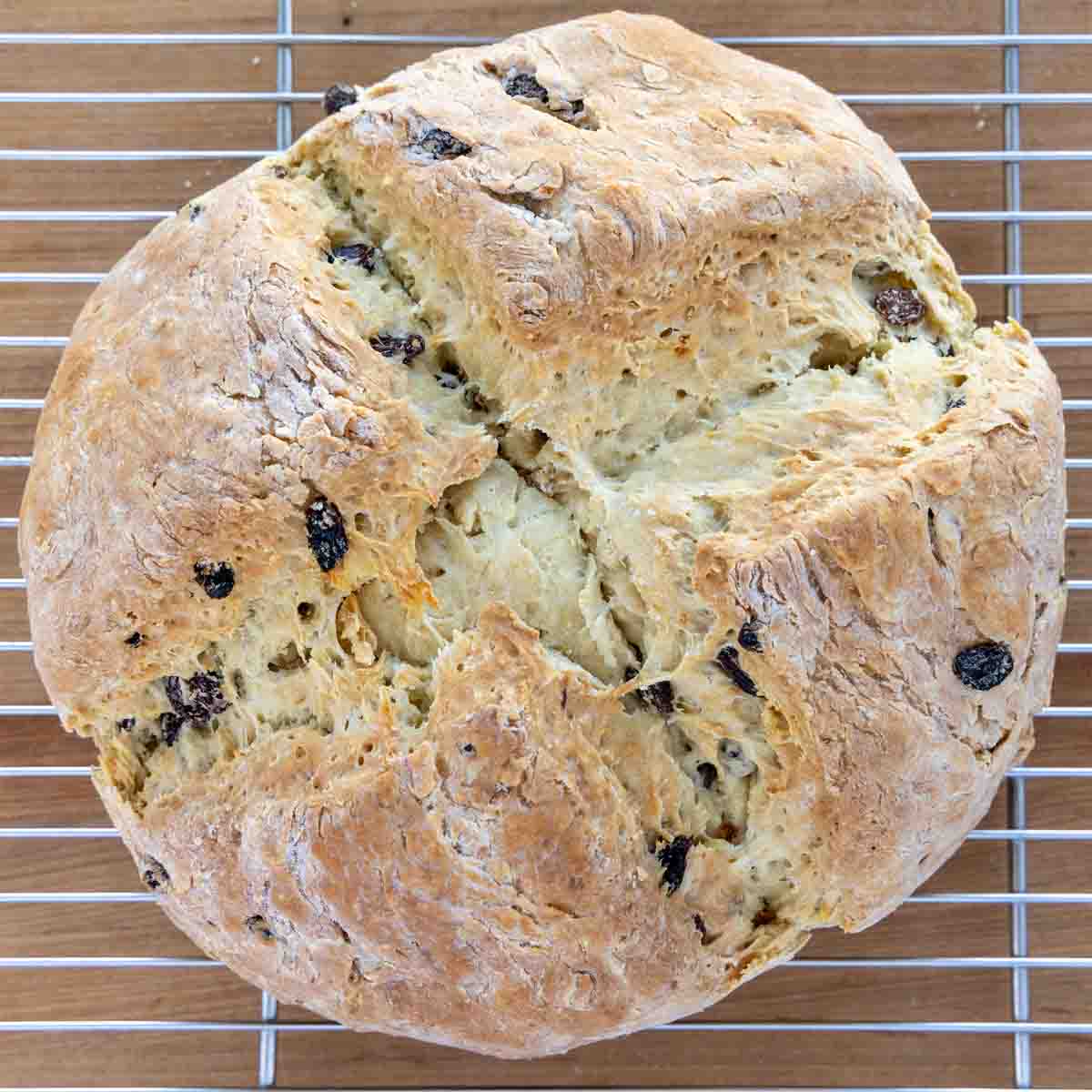 Transfer the soda bread to a wire rack to cool, and is best served while still warm.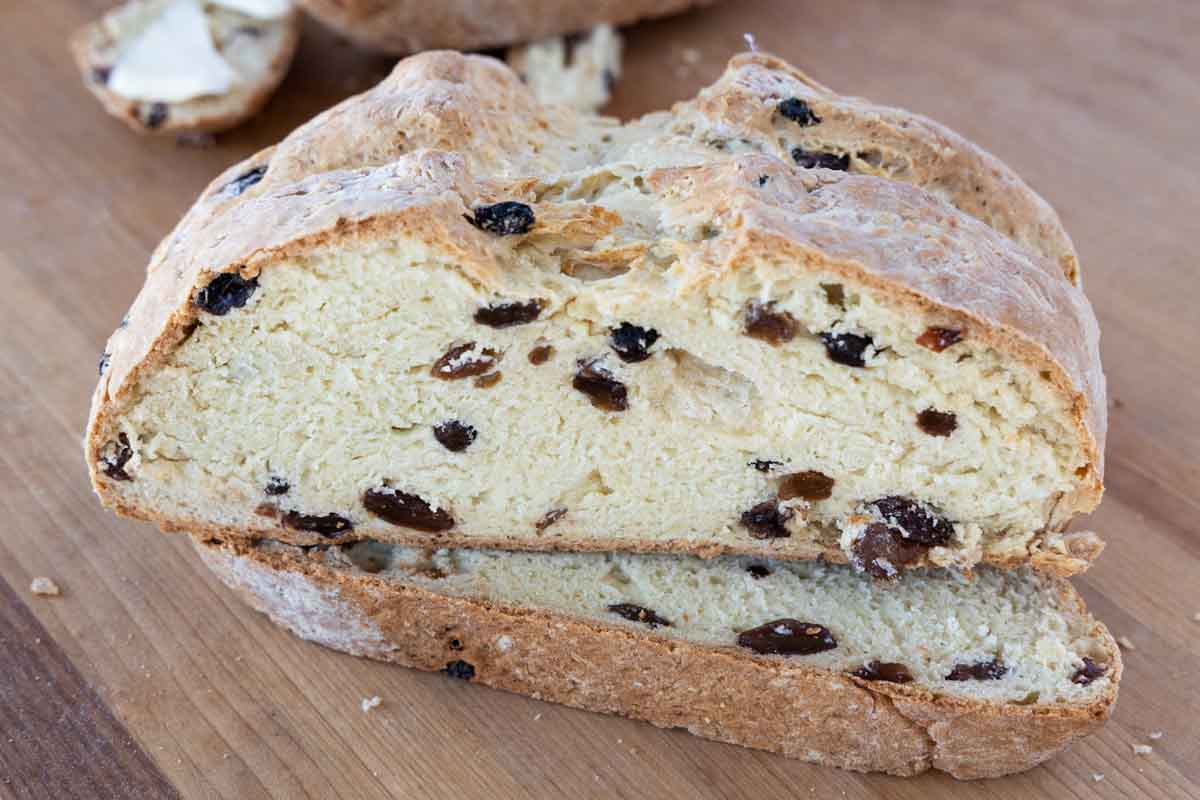 Can you image a slice or two of my Irish soda bread, with butter melting throughout the bread? It was ah-mazingly delicious. And so was the slice slathered with Irish butter and strawberry preserves.
Why not treat your family, with my Irish Soda Bread on the dinner table this week?
Recipe FAQ's:
Do I need yeast to make Irish Soda Bread?
No, you don't. Irish Soda Bread is a quick bread that doesn't require yeast. The leavening comes from baking soda and buttermilk.
Do I have to use a cast-iron skillet to make Irish Soda Bread?
No, you don't. You can use a lined baking sheet, or a greased or lined 9-10 inch cake pan.
*Don't try to squeeze the dough into a loaf pan, it won't bake properly.
Can I freeze Irish Soda Bread?
Yes, you can. Baked and cooled bread freezes well for up to 3 months. You can freeze the whole loaf or individual slices. When ready to serve, let them thaw in the refrigerator or at room temperature, then reheat as desired.
More Irish Recipes You'll Love!