If you've never heard of Dublin Coddle, don't feel bad. It's a traditional Irish dish that was typically served on less affluent dinner tables in Dublin.
Dublin Coddle originated in the 1700's and has been made a variety of ways. You'll see it made with sliced sausage and sliced potatoes, but a Dublin Coddle is a stew, a one pot meal that is rustic in nature.
This stew was invented out of necessity. Created to use up all the leftover sausage and Bacon from the week it would be served on Thursday.
Friday's were typically meatless so it was an excuse to indulge in a grand plate of sausages and potatoes! Leftover coddle was then saved and reheated on Saturday night before or after a night of indulging in the spirits.
My version comes from a pub in Dublin where I enjoyed this delicious dish with a pint of Guinness and a loaf of crusty bread. Well….maybe two pints of Guinness. The only difference between the original and my version is the Chicken Sausage I used instead of the Pork Bangers I was served.
What Ingredients do I need to make Dublin Coddle?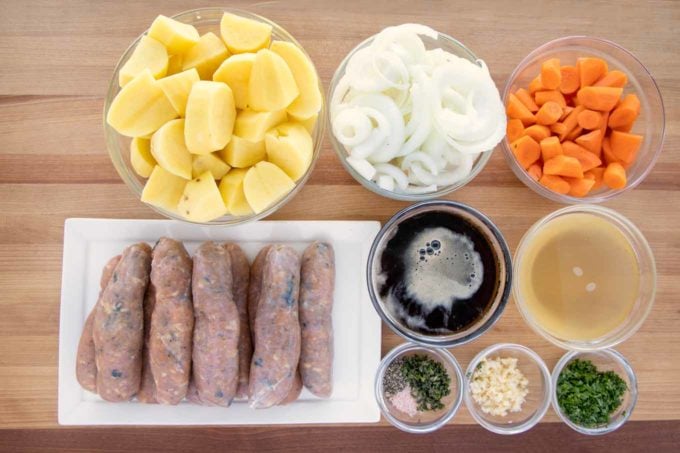 Let's start by gathering the ingredients we need to make a Dublin Coddle with Chicken Sausage. In Chef Speak this is called the "Mise en Place" which translates to "Everything in its Place".
Not only does setting your ingredients up ahead of time speed the up cooking process, but it also helps ensure you have everything you need to make the dish.
Do I have to use Chicken Sausage to make my Coddle?
No, you don't. You can use any type of sausage you enjoy eating. You can even combine a few varieties of your favorite sausage.
What other ingredients can go in a Dublin Coddle?
Originally there were three types of Coddle. White, brown and black, this is a white coddle. A Coddle can include barley or cabbage, traditionally carrots are not added. And when it comes to bacon, it's basically ham in Ireland, lean and meaty. Which is why I cooked it down to crispy fatless pieces.
Brown Coddle would include beef stock, or oxtail soup. Thankfully Black Coddle is not seen anymore. It was made in the poorest tenements and included the soot from the fires. Food could not be wasted, so if soot got in the pot it was simply mixed in.
How Do I make Dublin Coddle?
Place bacon in an oven-proof skillet or Dutch oven and cook over medium-high heat until the bacon is well cooked and crispy about 5 minutes. Using a slotted spoon, transfer the bacon to a paper towel-lined plate until needed.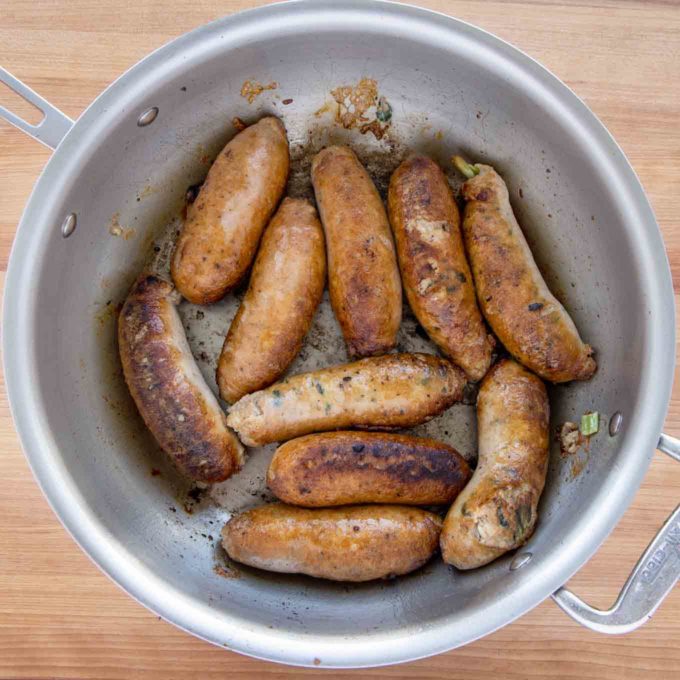 Add the sausages to the skillet and sear for 3 to 4 minutes on both sides. When the sausages have good color, turn off the stove and remove them from the skillet.
Should I cut the sausage for this dish?
Originally this dish would contain chunks, slices and whole sausage. Whatever was leftover. Most people cut their sausage in slices but I prefer the rustic look of whole seared sausages.
That and slice sausage will tend to dry out, the whole sausage stays moist and juicy.
After removing the sausage, deglaze the pan with the Guinness (or chicken stock), scraping all the tasty bits off the bottom of the pan.
*You can use stock instead of Guinness if you'd rather not add any alcohol to the dish.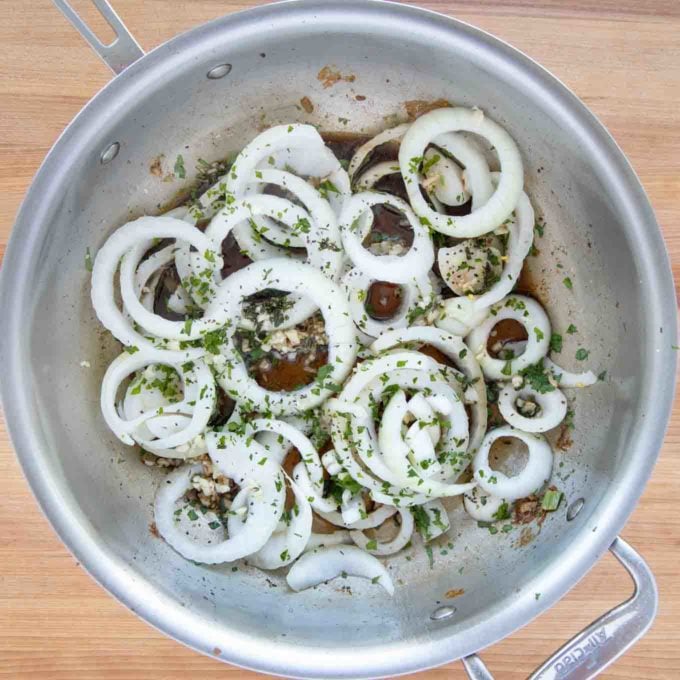 With the pan off the burner add the sliced onions and garlic to the bottom of the skillet. Season with half of the sea salt, black pepper, thyme and parsley.
Sliced onion is my preference, but you can make a rough cut if you prefer. You can also sear the onions before adding the sausage if you like.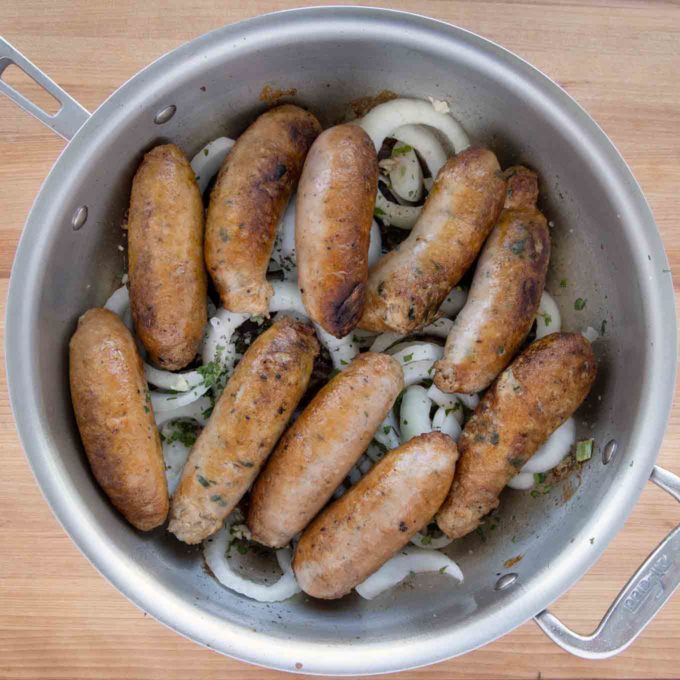 Add the chicken sausage and chicken stock to the pan.
Add a layer of potatoes, carrots and bacon on top of the sausages.
Add the remaining seasonings, cover the pot and place it in a 350 degree preheated oven for 1 hour and 15 minutes.
Carefully remove the Coddle from the oven.
*The potatoes should be fork tender.
Serve this hearty Irish Classic with crusty bread and a pint of Guinness and watch the faces light up around the table as they devour this Irish Classic.
My Irish Soda Bread would be a great accompaniment to this dish!
More Irish Recipes You'll Love!