The Anytime Sandwich
Everybody has a few particular dishes that they can eat at any given time day or night. Breakfast, lunch, dinner or a midnight snack….it just doesn't matter what time it is. A breakfast sandwich made with a fried egg, bacon and cheese on a bagel, muffin, croissant, kaiser roll or even white bread if that's all you have on hand.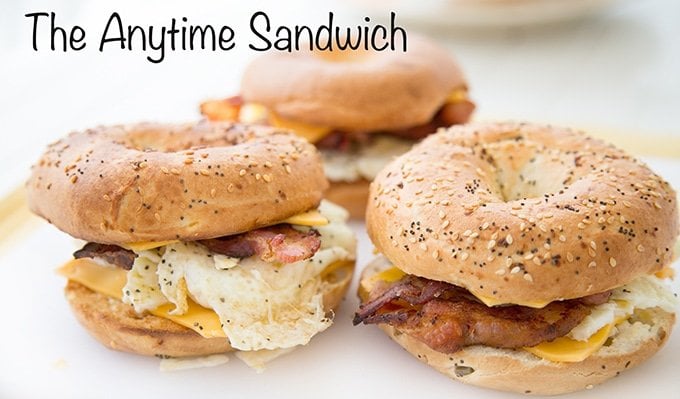 The sandwich is easy enough to make and it can be modified to your tastes. Of course, I love bacon and will take any opportunity to enjoy it, but a sausage patty (especially chorizo) will find its way onto a sandwich from time to time.
I'll also admit to using precooked bacon on occasion. I do cook my bacon in the oven which makes the task easier and less messy. It's also a great way to cook a lot bacon quickly! If you've never tried using the oven, just set the temp to 400 degrees and place your bacon on a cookie sheet with a lip and 20 minutes later your bacon is ready.
*Make sure not to use a flat cookie sheet without the lip, the grease will spill into your oven and may cause a fire. Oven grease fires can be put out easily using salt or milk.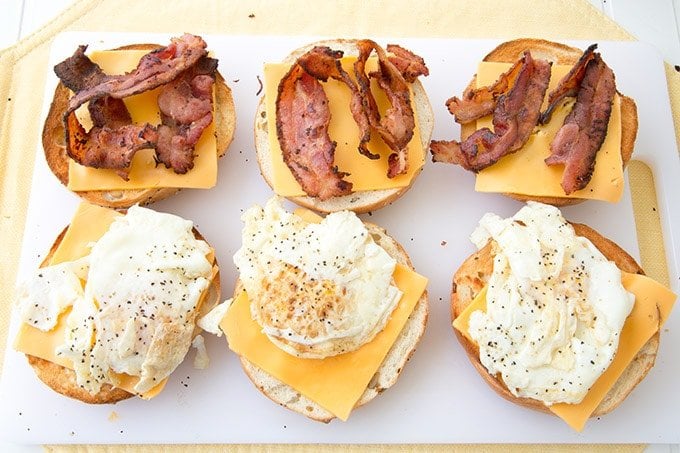 I love cooking for other people but when its just me at home, I'm not too picky about what I eat. The Anytime Sandwich is easy to make and oh so delicious.
I guess that's why it's my go to breakfast, lunch or dinner when I'm hungry and Lisa's not around.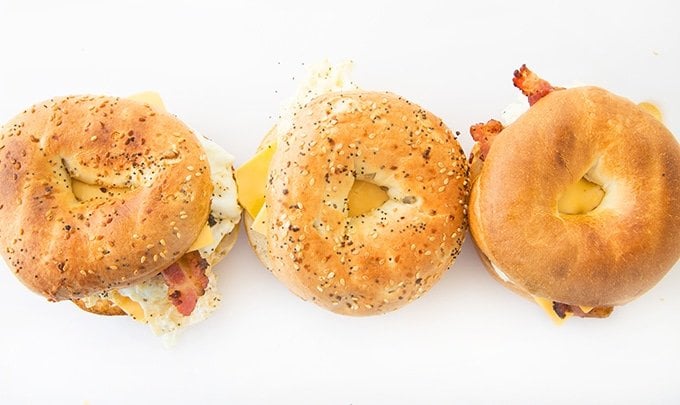 Lisa does enjoy a good breakfast sandwich, breakfast being the key word. But for me, it will always be an Anytime Sandwich.
If I'm home alone it's not unusual for me to enjoy these sandwiches for dinner. Do you ever eat breakfast for dinner or lunch?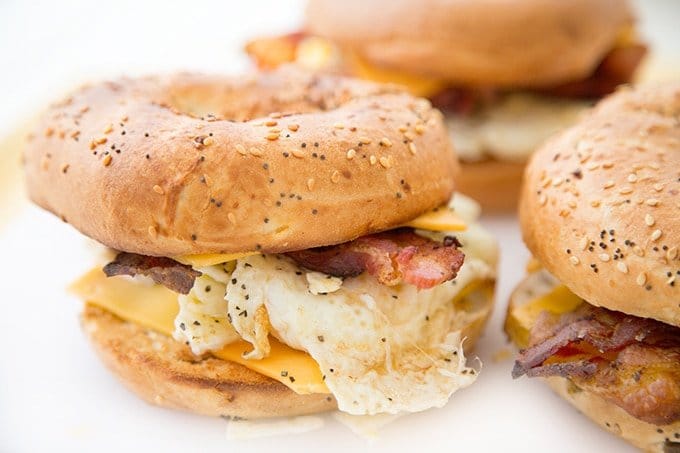 So when you're in the mood for some deliciousness, whatever time of day, try my Anytime Sandwich. What's on your favorite breakfast sandwich?
If you love breakfast you're gonna love these recipes: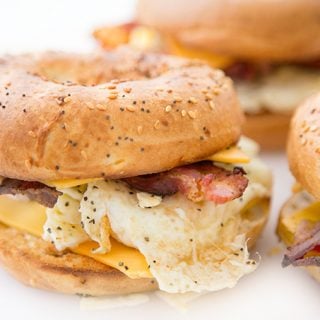 Print Recipe
Breakfast Sandwiches aka Anytime Sandwich
Ingredients
4

Bagels of your choice

4

large eggs

8

slices

of smoked bacon

2

tablespoons

butter

8

slices

of American Cheese

sea salt and black pepper to taste
Instructions
cook the bacon in the oven at 400 degrees for 20 minutes or until crispy. Remove from pan and allow to drain on rack or paper towels

Lightly toast bagels and set aside

Place 1 tablespoon of butter in non stick pan and fry eggs over easy 2 at a time. Make sure to leave the center of the yolk runny. Season eggs with sea salt and black pepper to taste

Make the sandwich by placing one slice of cheese on the bottom of the bagel, add 2 slices of bacon, the fried egg, another slice of cheese and the bagel top.

Serve and enjoy!