Sunday mornings are about relaxing and enjoying life. And my Sunday Morning Apple Pie Fold-Overs are a delicious way to enjoy your Sunday mornings!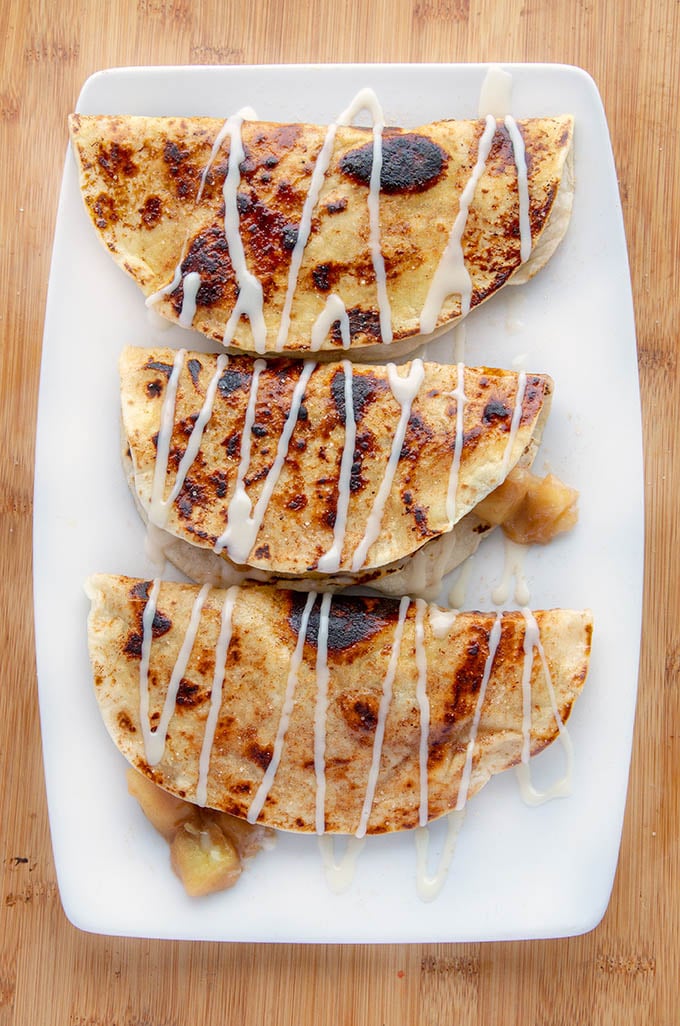 One of my great memories of my childhood was when my mother would cook something special for me. She was not a great cook and never really enjoyed cooking until later in her life. However, there were a few things she made really well! Those were always the treats I looked forward to.
My mom worked night shifts so she could be home to take us to school and pick us up which is one of the reasons I learned to cook. I loved to eat and didn't want to wake her so I ended up making my own lunches. But every now and then my mom would make flour tortillas and her extra special treat was always apple turnovers.
Coming from Texas at an early age one of the things I missed most of all were tortillas. They were plentiful in our grocery stores in Texas but it wasn't something people in New Jersey used or could even pronounce correctly. Although my mom couldn't make corn tortillas, she could make some darn good flour tortillas and I know she would have loved this recipe, combining two of my favorites in one delicious dish.
What ingredients do you need to make Apple Pie Fold-Overs?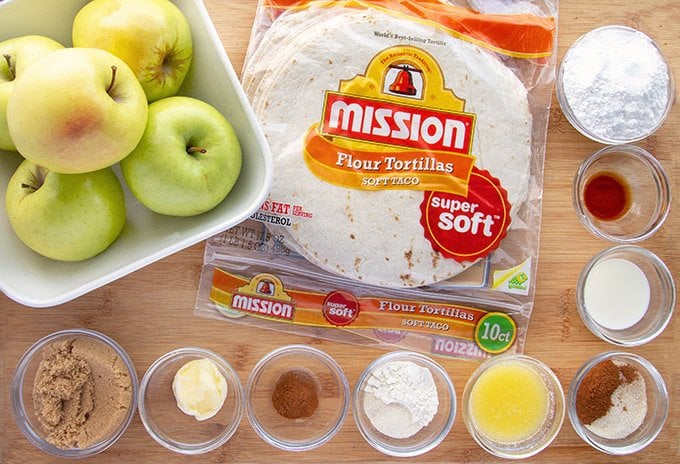 Let's start by gathering our ingredients for this dish which in chef speak is known as the mise en place (everything in its place).
What Kind of Apples are best for Cooking and Baking?
It's important to use the right kind of apple for cooking or baking and for my Apple Pie Fold-Overs I used Golden Delicious apples. You could also use Granny Smiths, Honeycrisp, Jonagold, and Braeburn to name a few. You want a firm crisp apple for baking, one that will hold its shape and some firmness.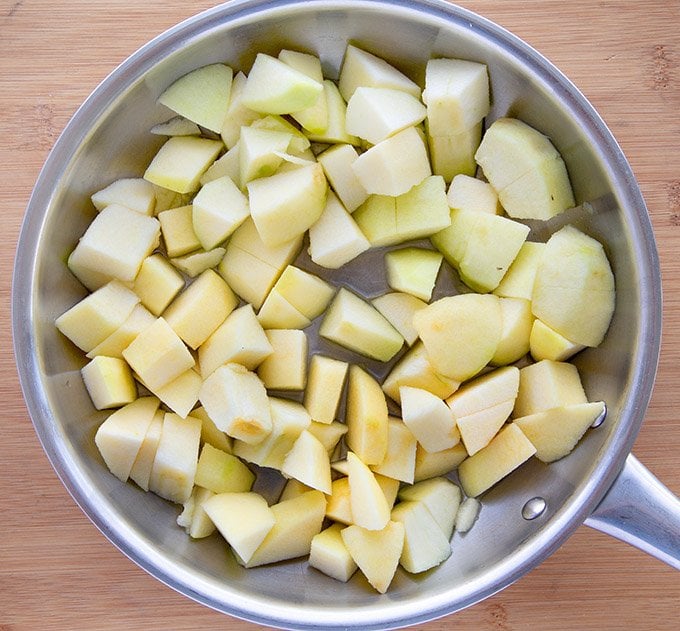 The first step after peeling and cutting the apples into chunks is to simmer them with water for five minutes to release some of the juices and make the apples softer.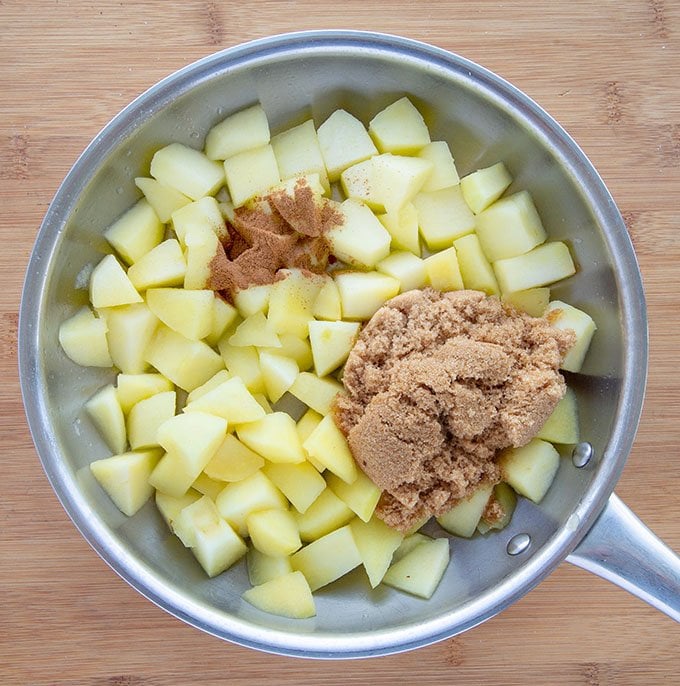 The next step is adding the brown sugar, cinnamon and a pinch of sea salt. Mix well and simmer for an additional five minutes.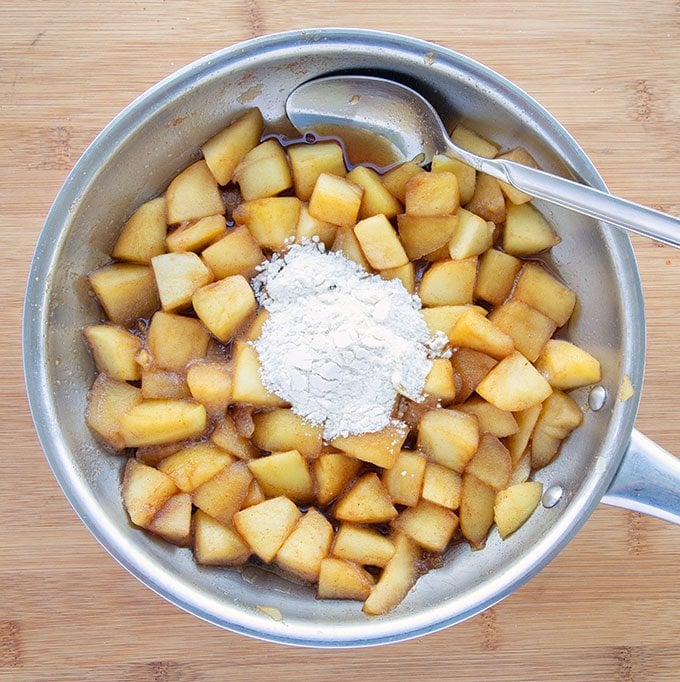 Now it's time to thicken up the apples and juices by adding some flour and sugar to the pan. Mix the flour into the apples completely and bring to a boil. This will cook the flour and help in the thickening process.
Chef Dennis Tip-
If the apple mixture starts to look gummy or too thick, add more water or apple juice to the pan. The mixture should be thick but still somewhat liquid.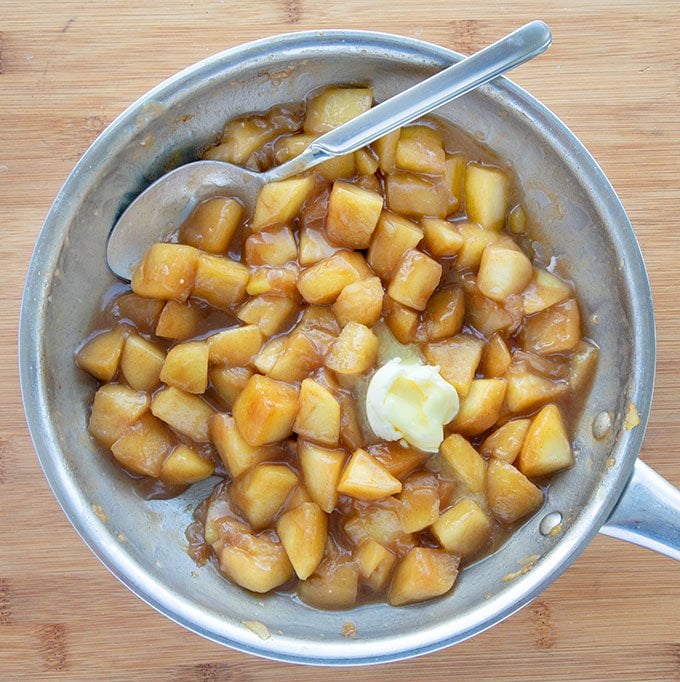 The last step in making this apple pie mixture is adding in a tablespoon of butter. Set aside the apples while you finish the dish. Keep the apples warm or reheat them when ready to serve your fold-overs.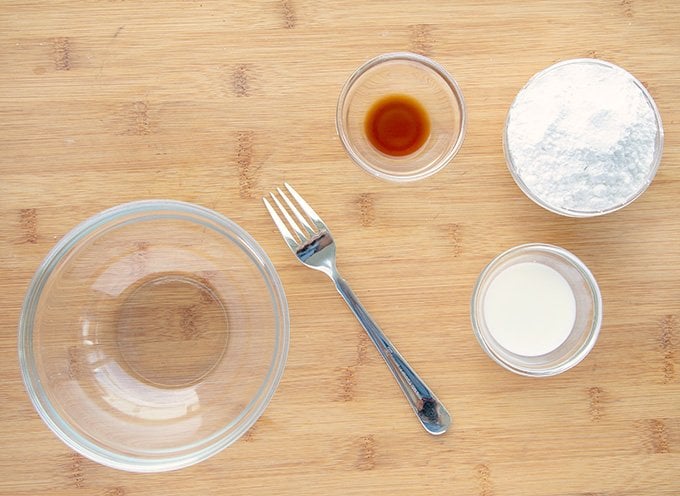 Before you start the tortillas make sure to make your glaze for the fold-overs. Powdered sugar, milk and vanilla are all you need to make the glaze.
Chef Dennis Tip-
Adding a squeeze of lemon juice or lime juice to the glaze is a nice way to add additional flavor to the fold-overs. You can even add in a little finely grated zest.
Mission Super Soft Flour Tortillas are the perfect size for my Apple Pie Fold-Overs.
Always heat your flour tortillas before using. It brings out more of the flavor of the tortilla and adds color. Use a griddle or large sauté pan for best results.
After you have browned all of the tortillas, brush a little butter on one side of the tortilla and sprinkle with cinnamon sugar.
Place the tortillas sugar side down on a heated griddle to caramelize the sugar and add a beautiful rich color to the tortilla. Be careful when taking the tortillas off the griddle. The heated sugar can burn you!
Chef Dennis Tip-
I found that moving the tortillas around while browning helped keep them from burning.
Then it's just a matter of putting your Apple Pie Fold-Overs together.
Chef Dennis Tip-
Put the glaze in a small plastic bag, and snip a very small piece of the end of the bag to add the drizzle to the fold-overs.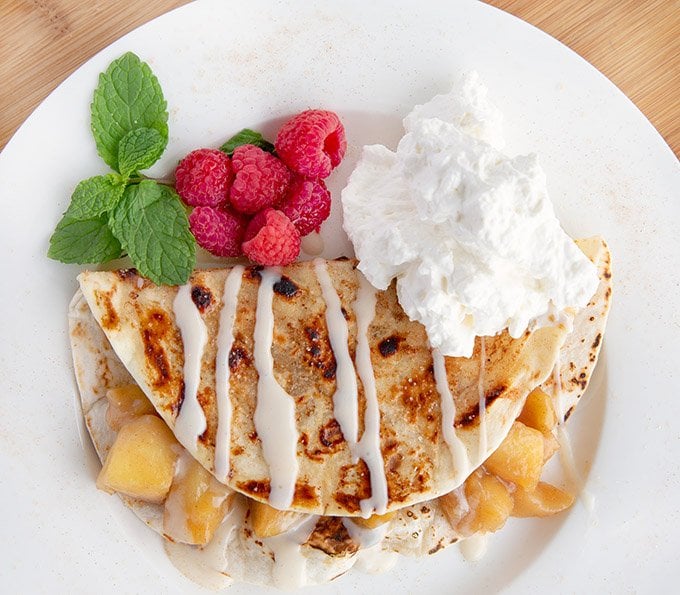 Although they're great all by themselves, add a little fresh whipped cream and fruit to the plate with your Apple Pie Fold-Over and you've got so much more for breakfast. You've created a culinary masterpiece!
Chef Dennis Tip-
Any canned pie filling can be used in place of the fresh apples. Add pecans or walnuts to the apples for added crunch, or sprinkle on top of the fold-overs.
If you love apples you're going to love these recipes: