This post includes affiliate links. As an Amazon Associate I earn from qualifying purchases.
When I first mentioned taking an Adventure Cruise on the Sea of Cortez, my wife thought I was a little crazy. We're older and not really the adventure type people. But after experiencing the joy of an UnCruise Adventure you can be sure we'll be taking more of these small ship cruises.
This post is sponsored by Uncruise. All Opinions, text and images are my own.
When we first boarded the Safari Endeavour I got a good feeling about the ship and UnCruise. It was my first time on an expedition ship and it's hard to explain but the ship felt good. Like I belonged onboard.
The cabins were basic, almost like crew quarters but the rest of the ship was set up for the passengers to enjoy. There was plenty of space in the common areas as well as the bow and the stern.
The surprise of the trip was the absence of the internet. After the initial shock of being disconnected, it was actually pretty nice. We had time to talk and get to know our fellow travelers and play the board games that were available on the ship. They also had a library and video library for passengers to use.
It was nice to see families playing board games and enjoying time away from their phones and tablets.
The biggest surprise was the quality of the food we were served on our Adventure Cruise! The ship had a chef, pastry chef, and 2 cooks on board to make sure our meals were perfectly prepared. We enjoyed fresh local seafood every night.
This Achiote Rubbed Mahi with Chayote Salsa was one of my favorites. I had the chef add on one of his vegetarian options – a stuffed squash blossom with a tamarind onion jam and a jalapeno lime. My shipmates were as happy as I was with the deliciousness we enjoyed.
One of the meat options we enjoyed was a Tomahawk Chop with a demi-glace.
We enjoyed exceptional lunches and breakfast as well as cocktail hour and snacks each night. The Mexican Egg Scramble was my favorite breakfast and the Cuban Sandwich was exceptional!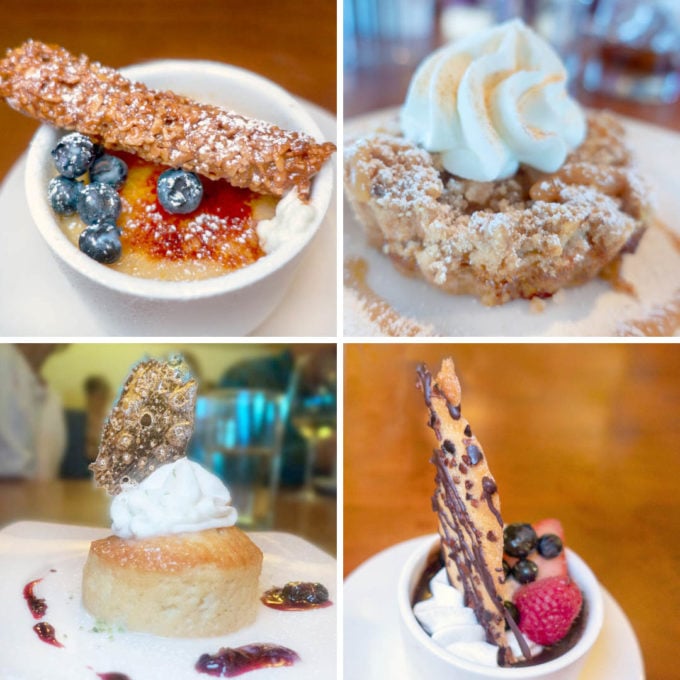 And the pastry chef seemed to outdo herself with every meal. She baked the bread we enjoyed at dinner as well.
But dinner was definitely the star of the culinary experience onboard the Safari Endeavour. Everything on board was made from local products whenever possible and we certainly enjoyed the local veggies and seafood.
Each day we had adventure options beginning with snorkeling 101 and kayaking 101. The more advanced adventurers had their own outings so every skill level could enjoy the Sea of Cortez.
Not into water activities? There were daily hikes with different levels of difficulty. Lisa enjoyed a few of the easier hikes that didn't involve climbing.
The desert was alive with plant life from all the recent rain they had before we arrived on the Baja Peninsula. When you think of a desert, lush and green isn't what you expect. We were really lucky to get to see the beauty of the Baja desert.
My favorite option were the skiff tours we took daily to see the local wildlife up close and personal.
We didn't see any whales on our trip, it was a little too early in the season but we did see sea lions, dolphins and some pretty amazing birds, including the blue-footed boobie.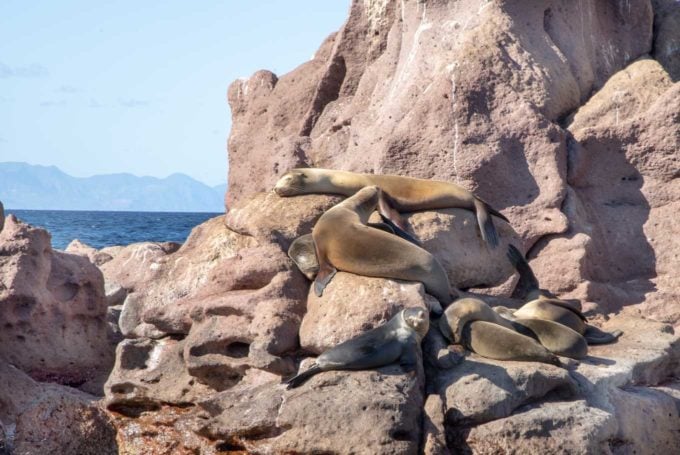 The young sea lions were playful and came close to the skiff. While the older sea lions enjoyed time sleeping on the rocks.
And our guides were a wealth of knowledge. Splitting their time between Alaska and Mexico it was easy to see how much the guides loved what they did. They were always there to lend a helping hand and were happy to answer any questions we had about the local wildlife and fauna.
I loved watching the skiffs being lowered to the sea. The precision and ease in which the crew did their daily tasks was impressive.
On a few of the days during our cruise, we were treated to a beach party. There were boat drinks and other beverages and time to explore the beach or just relax.
And one of the highlights for some of our adventurous group was a burro ride through the desert. Local rancheros made the trip across the Baja with their burros and horses to offer a unique cruise experience.
The weather on our cruise was perfect. It was the end of December / January and it was a little cooler some days, but we enjoyed perfect sunny days throughout the cruise.
Our skiffs brought us to shallower waters where the color of the sea was simply breathtaking. You can see our ship in the background on this shot.
And I did mention bird watching. I love pelicans and they were diving for their lunch every day we were out on the water. Here we find them enjoying the sun as they drive off after fishing.
As for me, I felt like an explorer. The Safari Endeavour has lived up to its name and UnCruise had shown me a whole new way to travel.
I even found time for an afternoon nap on the sun deck. It's amazing how much you can relax without the internet!
So if you're asking if I would recommend this cruise? In a heartbeat. Especially if you fall into one of these categories.
Family Travel – it's a great way to reconnect without having the internet be everyone's focus.
Senior Travel – UnCruise has this down pat. They make it easy for those of us less mobile to get on and off the skiffs. Even kayaking or snorkeling is possible at the pace you feel comfortable with.
Adventure Travel– are you ready to climb a mountain, snorkel down to seafloor or kayak with your new friends? You'll be talking about this trip for a long time.
Culinary Travel – if you love good food, then an UnCruise will make you very happy. The chefs are very capable and trained to work onboard ships. They will amaze you with their culinary expertise!
Nature Travel – if you want to totally unplug and enjoy nature, the Sea of Cortez is the perfect spot to do this.
Cruise to Alaska, Hawaii, Mexico, Galapagos and other beautiful locations with UnCruise.
If you enjoyed this post you may like my other cruise posts: