If you've never traveled on a Luxury Barge, you don't know what your missing. Cruising the Seine on a 20 passenger ship will give you a whole new perspective on travel.
This post was sponsored by France Cruises and CroisiEurope. All opinions, text and images are my own.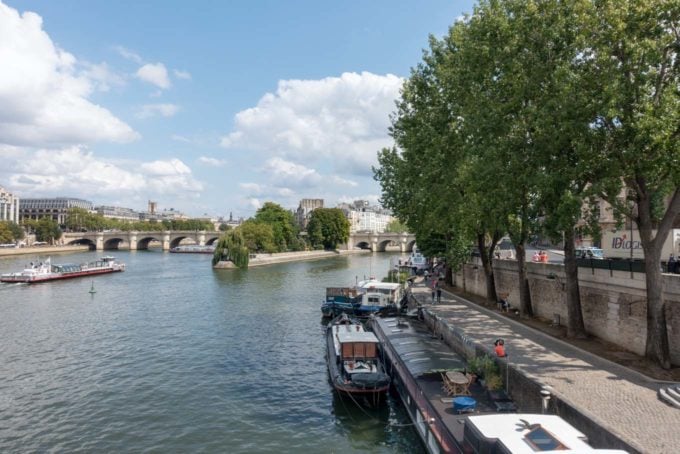 What could be better than starting a cruise in Paris…sigh. The city of lights was the first European destination we ever traveled to and it will always hold a special place in our hearts. Seeing Paris from the deck of our CroisiEurope ship the Deborah was definitely a wonderful experience.
This view never gets old, and seeing the Eiffel Tower from the deck of our ship was a magical experience. Our friends at France Cruises arranged this delightful cruise and I couldn't thank them enough for the opportunity to see France from the Seine River. This truly was a relaxing way to travel!
And when you're in France on a French Cruise Line you can expect amazing French cuisine. And our chef didn't disappoint. This duck breast was exceptional and the sauce to die for!
The chef created masterful dishes some of which he prepared in the dining room, like his Classic Coulibiac of Salmon.
This tender filet of salmon with rice wrapped in puff pastry and served with a dill sauce was ah-mazing!
Not only did we enjoy amazing dinners but lunches were just as delicious. We enjoyed a variety of salads and cheese plates.
At dinner, we were served artfully crafted appetizers that were every bit as delicious as they were beautiful.
But the entrees were the stars of the daily offerings.
And of course, there were desserts..sigh. From classic creme brulee to poached pears, we enjoyed perfectly prepared French desserts. We were cruising the Seine and life was good.
Traveling on a barge or river ship gives you opportunities to see an area that you wouldn't have access to on a large cruise ship. Since we were on a barge we could pretty much dock anywhere and that brought us into small towns and villages on the river.
The village of Barbizon on the edge of the Fontainebleau forest owes its fame to the 19th-century landscape painters Théodore Rousseau, Jean-Baptiste Corot, Charles-Francois Daubigny and Jean-François Millet. Their artistic movement, the Barbizon School (1830 to 1875), was considered a precursor of Impressionism.
One of our stops was The Château de Vaux-le-Vicomte located in Maincy, France about 55 km southeast of Paris. Built between 1658 to 1661 for Nicolas Fouquet, Marquis de Belle Île, Viscount of Melun and Vaux, the superintendent of finances for Louis XIV aka The Sun King. When the king saw the opulence of the chateau and gardens, the King began to wonder where Fouquet got the funds to build the palace. Things didn't go well for Fouquet after that.
And life on the Canal du Loing is easy and very relaxing. It's hard to stress when you have views like this.
And when you come upon a small town on the weekend during the summer months, everyone heads to the canal for a picnic or refreshing swim. The town of Moret sur Loing was a wonderful look into French country life.
We even took a bike ride down to the town along the canal bank in the town of Moret sur Loing, I could have stayed there all day! The foldable bikes onboard the Deborah were easy to use and a great way to see more of the area. We loved the folding bikes so much we got two for our US travels and around where we live in Florida.
Small town life in France is a different way of life and much better than the normal tourist experience.
Did I mention we ate out on the back deck a few of the nights we cruised?
In fact, the Chef grilled one night on the back deck. That was a pretty awesome experience on a cruise.
And every afternoon we enjoyed a delightful cocktail hour. I could get used to living like this!
So when its time to plan your vacation, think of taking a Luxury Barge Cruise, I promise you'll enjoy a relaxing, delicious cruise through France or one of their other destinations. Learn more about CroisiEurope Cruises.
My friends at France Cruises can help you make your travel plans with CroisiEurope and other cruise companies in France.
You could even celebrate our birthday onboard like one of our new Swiss friends. And most small cruise lines allow you to charter the entire ship (6-10 cabins), wouldn't that be an amazing experience for family and friends?
If you enjoyed this post you may like my other cruise posts: