When people tell you it doesn't matter what they drive it's because they've never experienced the Mazda CX-5. On a recent trip to Denver and the Rocky Mountains I got to experience the comfort and security you get with a Mazda……… Because Driving Matters!
This is a sponsored post on behalf of Mazda USA and DriveShop. All opinion and images are 100% my own and honest.
Lisa and I recently got to spend a few days in Colorado. Driving in the mountains can be difficult and having a well-equipped vehicle makes all the difference. Thanks to my friends at Mazda and DriveShop I got to see the sights in style, comfort and safety in a 2017 Gran Touring Soul Red Mazda CX-5. You can also read my review of the Mazda CX-9.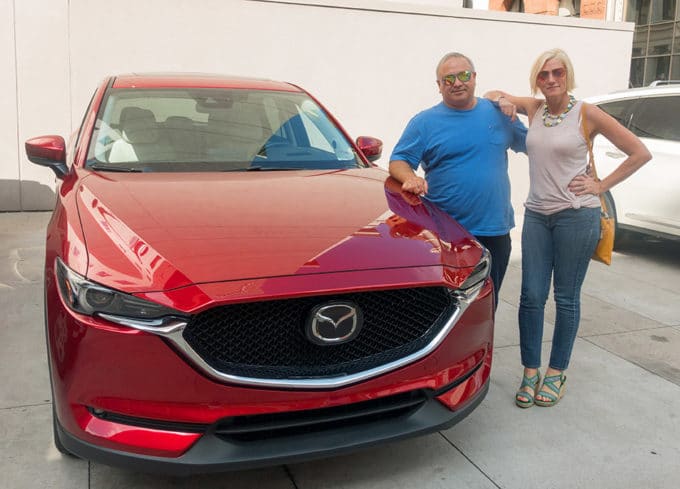 We started our tip in Denver where I got to meet my friend Mia Voss. Mia is an amazing online personality that I've known since my Google+ days, who is now having a blast as a Travel Blogger. Make sure to check out her adventures at Mia on the Go.
And Mazda has developed some amazing features that will help keep you safe as well as comfortable. When you don't have to think about driving, you can just enjoy the ride.
PREDICTIVE I-ACTIV AWD®
Weather and road conditions can change in an instant. That's why available i-ACTIV AWD® predicts when the all-wheel drive might be needed, monitoring everything from outside temperature to throttle input and braking patterns. It then preemptively optimizes torque distribution to help curb traction loss. You may never even notice the change. Which is exactly what Mazda intended.
ACTIVE DRIVING DISPLAY
With the available intuitive Active Driving Display, vital information such as vehicle status, current speed, and route guidance is projected onto the windshield. Pertinent data is positioned in your line of sight and allows you to better adjust your focus—ultimately minimizing distractions while driving. Is it possible for something to transport you without moving? It
It is when it's designed for you, the driver
TRAFFIC SIGN RECOGNITION
Based on front camera identification in conjunction with navigation data, Traffic Sign Recognition3recognizes and displays traffic signs such as Stop, Speed Limit and Do Not Enter. Alerts are easily viewable at driver's eye level in the Active Driving Display.
MAZDA RADAR CRUISE CONTROL
Available Mazda Radar Cruise Control with Stop & Go function works within a set speed range to help maintain a safe following distance from the car ahead, alerting you when it senses your vehicle fast approaching. If the vehicle ahead stops, your vehicle will automatically stop and hold in a standing start until you resume driving. An alert function lets you know when the car ahead has pulled away.
SMART CITY BRAKE SUPPORT
When traveling at low speeds, this system detects objects ahead. If an impact is predicted, the system will adjust the brake pads closer to the disc for faster braking or apply the brakes if you're unable to.
OVER 250 IMPROVEMENTS