Enjoy my tribute to Autumn with my Apple Butter Pizza. You'll love the combination of flavors. A crisp pizza crust, Gorgonzola cheese, baby arugula leaves, and toasted pine nuts will make you happy it's getting colder outside.
Try my Apple Butter Pizza when fall is in the air.
Spending most of my life in the New Jersey, I've been spoiled by all of the wonderful produce we have available, and this time of year as we see the last of the summer crop at the market, the fall selections are taking their place. Winter squash in so many shapes, and colors, pumpkins of all sizes, sweet potatoes, pears and my favorite apples….sigh
Spending my early childhood in Texas, I grew up loving apple butter and lately it's been finding it's way into different dishes, and Lisa jokingly suggested I use it for a pizza, and the more I thought about it the better it started to sound!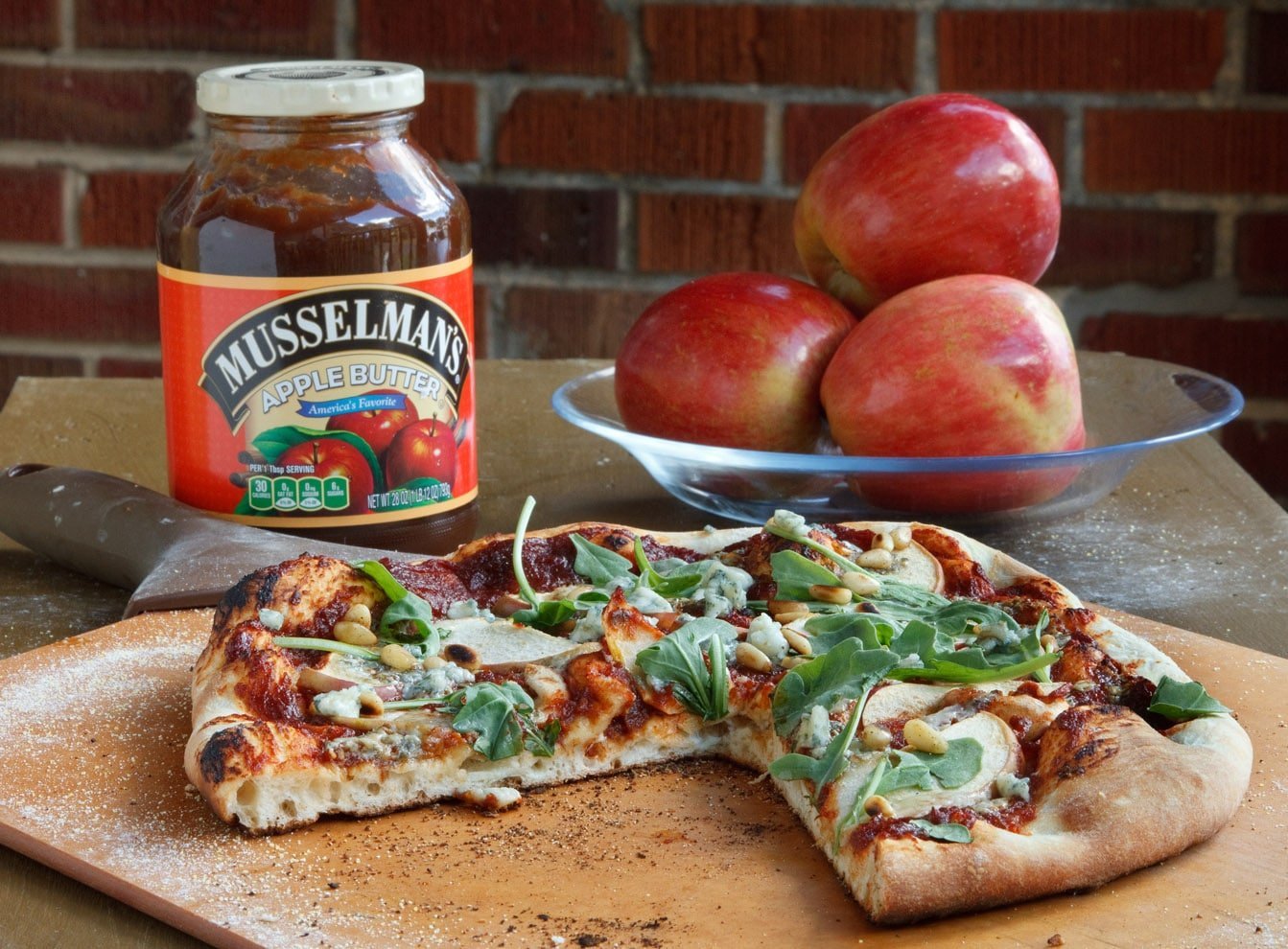 I didn't want to make a dessert pizza, I wanted a savory pizza , one with a blend of complex flavors…..a tribute to fall and everything I love about it. So I started testing.
I went through a variety of tomato products trying to find just the right one, but it was worth it. If you're expecting a traditional style pizza, you're not going to be happy. But for that fall afternoon, when the weather has turned a little cool and you need a sweater, my apple butter pizza will be a just what the doctor ordered, as you celebrate the season!
If you love pizza you might also like my Southern Style Pizza with pimento cheese, fried green tomatoes and bacon.
If you've tried my Apple Butter Pizza or any other recipe on askchefdennis.com please don't forget to rate the recipe and let me know where you found it in the comments below, I love hearing from you! You can also FOLLOW ME  on Instagram @chefdenniseats and @chefdennistravels,  Twitter and Facebook.
Apple Butter Pizza
Enjoy my tribute to Autumn with my Apple Butter Pizza. You'll love the combination of flavors. A crisp pizza crust, Gorgonzola cheese, baby arugula leaves, and toasted pine nuts will make you happy it's getting colder outside.
Nutrition Facts
Apple Butter Pizza
Amount Per Serving
Calories 623
Calories from Fat 108
% Daily Value*
Fat 12g18%
Cholesterol 10mg3%
Sodium 1486mg62%
Potassium 597mg17%
Carbohydrates 110g37%
Protein 17g34%
Vitamin A 665IU13%
Vitamin C 8.8mg11%
Calcium 112mg11%
Iron 6.4mg36%
* Percent Daily Values are based on a 2000 calorie diet.
Ingredients
Pizza Dough
3 ½

cup

all-purpose flour

1 ¼

cup

water

1 ¾

tsp

active dry yeast

1 ¼

tsp

sugar

1 ¾

tsp

sea salt

1

tbsp

olive oil
Pizza Topping
½

cup

apple butter

½

cup

tomato paste

½

tart apple –sliced thin

½

cup

gorgonzola cheese

½

cup

baby arugula leaves

2

tbsp

toasted pine nuts
Instructions
Pizza Dough
In your stand mixer bowl, add 1 ¼ cups of warm water (100 -105 degrees F or 38-40 C)

Sprinkle dry active yeast and sugar on top of water, allow to sit for 10 minutes until yeast gets creamy

In another bowl, mix flour with sea salt

Add flour to yeast mixture and using a dough hook, mix until a coarse ball has formed on the dough hook (approx., 2-3 minutes)

Allow dough to rest in bowl, with a damp towel covering the bowl, for 5 minutes.

Continue to mix using dough hook on medium to low speed for about 2 more minutes

(if the dough is too sticky to hold its shape add more flour 1 tablespoon at a time until its firm enough. If the dough is too dry add water one tablespoon at a time until moist enough)

Coat a bowl with extra virgin olive oil and place the dough into the bowl and coat dough with olive oil, place a damp kitchen towel over the bowl and allow to rise for 40 minutes or until doubled in size.

Divide dough into 2 dough balls and place on a floured surface and cover with a damp kitchen towel (not terry) and allow to rise until doubled in size (about 2 hours)

Form dough into 12-14 inch pizza (free form) placing on pizza peel or cookie sheet .

I used a pizza stone on my grill (my grill goes to 650 degrees when closed), you can make the pizza in a household oven if you like, just increase the time and set your oven to 450. Preheat your oven 20 minutes before you are ready to use it

Mix apple butter and tomato paste together to make your pizza sauce
Pizza Topping
Spread apple butter pizza sauce on your formed dough

Place sliced apples randomly on top of sauce

Use ½ of gorgonzola cheese, sprinkle on top of your pizza (try to hit the apples with some of the cheese)

Bake until bottom of pizza crust is browned 5-6 minutes in a grill 11-14 in your oven

Remove pizza from oven and top with baby arugula leaves and the remainder of the gorgonzola crumbles, and toasted pine nuts.

Cut into slices and serve immediately with a drizzle of extra virgin olive oil and crushed red peppers if you like a little heat on your pizza.
Recipe Notes
I used my grill for this pizza, it cooks at 650 F degrees (343 C) If you use a conventional oven at 450 degrees F, (232 C) increase your cooking time to between 10-14 minutes depending upon your oven.