With temperatures soaring into triple digits, turning on the oven is not something I look forward to. But it's summertime. I complained all winter about the cold, and when the heat finally arrives I'm still not happy…..sigh. I guess there's just no pleasing some people!
But I can honestly say that I'm actually thankful for the heat in this case, because not only has it given me a reason to spend more time outdoor grilling, it also got me using my grill for pizza. And I'm happy to say I'm loving the results–the crust of my pizza has never been better!
So when I was invited to celebrate 30 Days of Outdoor Dining with Kitchen PLAY and LAND O LAKES® 4 Cheese Italian Blend, I knew exactly what I was going to make with Land O'Lakes' newest addition to their cheese line up! Pizza was definitely making an appearance. I toyed with the idea of a few different types of pizza, but as I snacked on the cheese slices I kept thinking how good this 4 Cheese Italian Blend cheese would be on a hoagie, or a pressed panini. The perfect complement to Italian Deli meats!
I wanted to think outside the box a little bit, and a sandwich just seemed a little too easy……but those flavors kept screaming to me. Hoagie!
And then it hit me, an Italian Hoagie Pizza!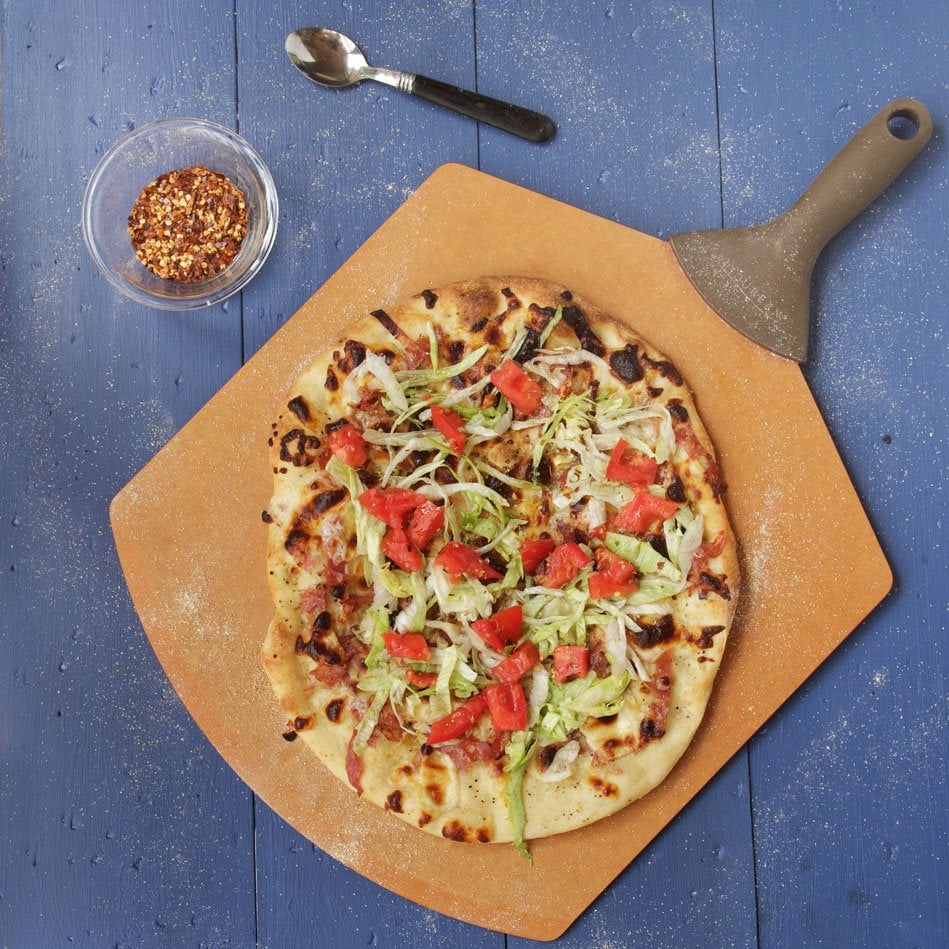 Can you say "Delicioso?" OMG, this pizza did not disappoint! The cheese melted perfectly into the crust , the flavors being even more dramatic where it had browned into that crunchy, cheesy topping everyone always fights over. I'm thinking cheesy flatbread for my next attempt!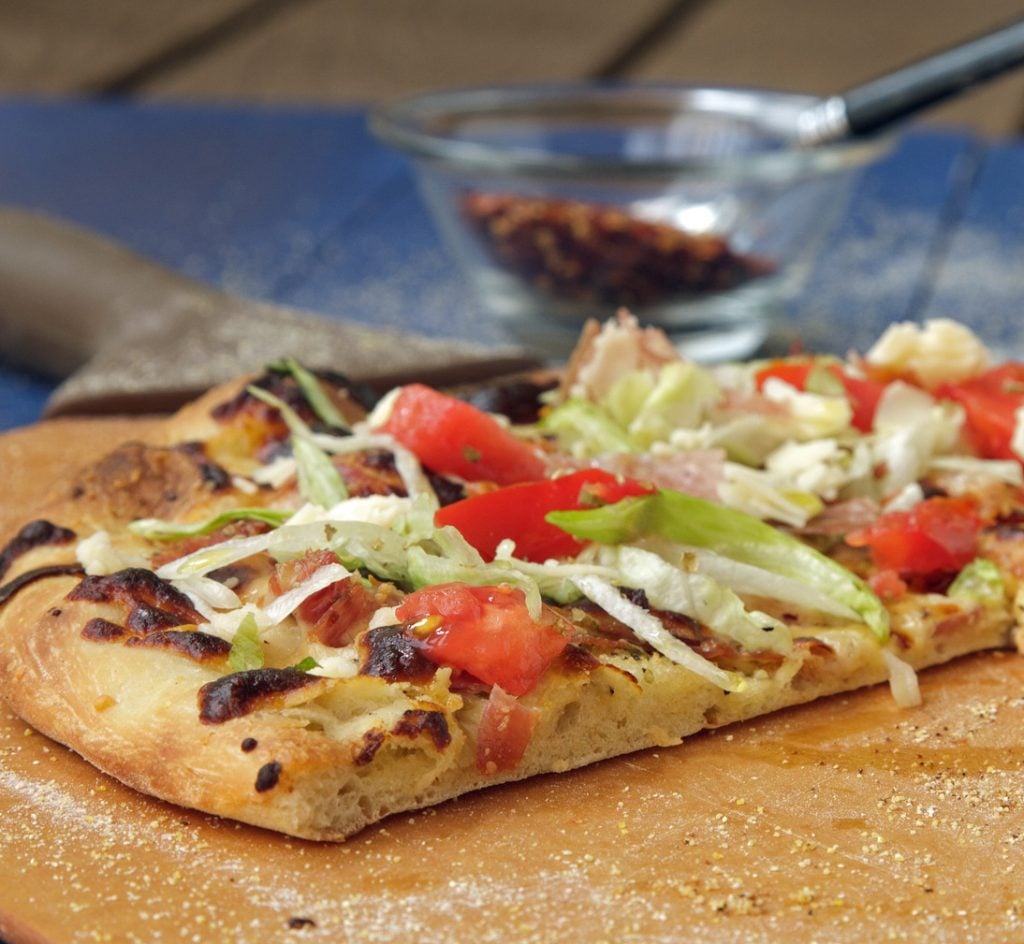 I'm going to admit that I love American Cheese, and nothing reminds me more of my childhood than asking for a slice or two at the deli counter as they slice it. Even when I'm making sandwiches I sneak a few slices, and I have to tell you, if you haven't tried this cheese yet, get some soon. You're going to love it! Land O Lakes®4 Cheese Italian Blend combines their classic creamy American deli cheese with the rich flavors of Asiago, Romano and Parmesan cheeses. I know you'll find a lot of uses for this delicious cheese!
Ingredients
Pizza Dough
2

cups

all purpose flour

240 gm

1 1/2

tsp

yeast

8 gm

1

tsp

sea salt

5 gm

1 1/4

cup

warm water

300 ml

2

Tbs

extra virgin olive oil

30 ml
Topping
1

Tbs

extra virgin olive oil

15 ml

1/2

tsp

oregano

3 gm

2

oz

Genoa salami cut into strips

56 gm

2

oz

sopressata cut into strips

56 gm

4

oz

Land O Lakes® 4 Cheese Italian Blend -crumbled

113 gm

1/4

cup

diced fresh tomatoes

110 gm

1/4

cup

shredded lettuce

60 gm

sprinkle of sea salt

sprinkle of black pepper

1

Tbs

extra virgin olive oil to drizzle after baking

15ml
Instructions
Pizza Dough
Place the water, olive oil and yeast in the bowl of your mixer and allow yeast to sit for a few minutes. (Water should be about body temperature)

Using your dough hook, add the flour and the salt and begin mixing.

Mix for about two minutes, then turn out the dough onto a floured work area and knead the dough for a few minutes.

The dough should be fairly dry and elastic when finished kneading.

Divide dough into two balls, and allow to rest for at least four hours before using it.*

Dough will rise slightly but you won't see a dramatic change.

If you are using a grill to bake the pizza, have your stone in the grill heating up before you begin making the pizza.

When ready to make your pizza, flour your work area and flatten the dough ball**

As the dough spreads out, make the outer circle of the crust , using your fingers to make the indentations around the circle.

Begin stretching the dough out until you have about a 12-14 inch circle.

It's okay if the dough isn't perfectly round. Its rustic!

Sprinkle some corn meal on your pizza peel and lay the formed dough on the peel.

Brush the dough liberally with olive oil and sprinkle with oregano, sea salt and black pepper.

Spread one half of the salami, and sopressata on the pizza dough, then crumble the Land O Lakes® 4 Cheese Italian Blend on top of the pizza. Reserve half of your meats and cheese for after the pizza is baked.

Place the pizza on the stone in the grill, and close the grill.

Bake the pizza until the dough has gotten a nice brown color, and the bottom of the pizza is fully cooked.***

Remove pizza from grill, and top with shredded lettuce, chopped tomato, and the remaining Italian meats.

Crumble the rest of the Land O Lakes® 4 Cheese Italian Blend on top of the pizza, sprinkle with oregano and drizzle with extra virgin olive oil.

Slice pizza into 6 slices and enjoy!
Recipe Notes
*If you have the time, allow your dough to rest overnight in the refrigerator. It will be more pliable.
If you do refrigerate the dough, when you are ready to make your pizza, place one dough ball in a bowl and cover with plastic wrap loosely and allow to warm up and rise for about 45 minutes. You won't see much rise.
** You can use a rolling pin to roll out the dough if you don't want to stretch it out by hand
***Each grill is different but I found that if I get the stone very hot, then turn the burners under the stone down to half heat, while leaving the rest of the grill on high, allowing the pizza bakes a little more slowly and evenly.
Be sure to check Kitchen PLAY every day for the next fabulous recipe featuring new LAND O LAKES® 4 Cheese Italian Blend or LAND O LAKES® Deli American Cheese. Then, get in on the fun by leaving a comment with your own "30 Days of Outdoor Dining" tip for dining al fresco this summer. When you do, you'll be entered to win a Great Grilling Prize Pack, including one grilling spatula, one marinade brush, one set of tongs and one grill scraper. Kitchen PLAY will be giving away four prizes total, one each week. Just click on the link below. to visit  Kitchen PLAY for sweepstakes guidelines and to enter!
*Disclosure: This post was sponsored by Land O'Lakes as part of the Kitchen PLAY SideCar series. All opinions given are my own.