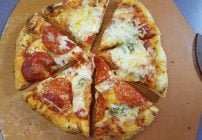 It's easier than you think to make homemade pizza! With my Very Easy dough recipe. Just add your favorite toppings and enjoy for a fraction of ordering out
This post includes affiliate links. As an Amazon Associate I earn from qualifying purchases.
Everybody loves homemade pizza and making your own is a lot easier than you think! If you're not up to making your own dough, most supermarkets carry pizza dough so you can still have the fun of making your own pizza without most of the work.
Once you've gone through the process of making your dough (or buying your dough) give your dough one last rise and you can start shaping your dough.
Forming your crust and shaping your pizza is the next step. If you don't get it perfectly round, don't worry. Just tell everyone your it's rustic!
Use your favorite pizza sauce, using a ladle or spoon to spread the sauce. The biggest mistake most people make is putting too much sauce on their dough.
Then add a nice layer of shredded mozzarella to your pizza.
If you're using topping you can place them on the pizza now. *Chef's Tip: If you use a lot of toppings only place a few on initially, then after the pizza has baked for 4-5 minutes remove it from the oven and place your additional toppings on with a sprinkle of mozzarella to top it all off. If you start off with all of the toppings your crust might get soggy, or it will be harder to get it off the pizza peel onto your baking surface.
*Chef's Tip: making your pizza on parchment paper will make it much easier to slide it in the oven. Don't worry about the parchment paper, it will only turn brown.
Remove your homemade pizza from the oven and let it cool for a few minutes.
Slice your pizza using a pizza cutter or chef's knife and serve up some deliciousness!
I added a little bleu cheese before cooking, making my pizza extra flavorful!
Before placing my pizza into the oven I brush the exposed crust with olive oil and sprinkle a seasoning mixture of garlic, salt, black pepper and oregano to give the crust extra flavor. I had extra dough from my batch so I shaped it and baked it, seasoning the entire crust before baking. I then froze my parbaked crust in an extra large ziplock bag saving it for another time.
*Chef's Tip: double your dough recipe and make up extra pizza shells to use when you don't have time to make the fresh dough.
If you love homemade pizza you might want to try these recipes:
Print Recipe
Homemade Pizza
It's easier than you think to make homemade pizza! With my Very Easy dough recipe. Just add your favorite toppings and enjoy for a fraction of ordering out
Servings:
3
- 9 inch pizzas
Ingredients
Dough
1 1/3

cups

warm water

320ml, 105-115F degrees

3 1/2

cups

unbleached all-purpose flour

plus more as needed, 440g

2 1/4

teaspoons

dry yeast

1 normal sized packet active dry yeast

2

Tablespoons

olive oil

30ml

3/4

teaspoon

salt

1

Tablespoon

granulated sugar

13g

cornmeal

for dusting pan

Your favorite pizza sauce

as needed

shredded mozzarella cheese

as needed

your favorite toppings
Crust Seasoning
olive oil

to brush edges

sea salt

black pepper

granulated garlic

oregano
Instructions
In a large mixing bowl or the bowl of your stand mixer fitted with a hook attachment, combine the yeast and warm water. Stir it around and let sit for 5 minutes of until the yeast is foamy and dissolved. This is called "proofing" the yeast. If the yeast doesn't dissolve, your yeast is dead. Start again with active yeast. Add flour, olive oil, salt, and sugar. Mix by hand or with the dough hook on low speed for 1 minute.

Once all of the ingredients are mixed, knead for 5 minutes by hand or with your dough hook on low-medium speed. You can add up to 1/4 cup more flour, if your dough appears to be too wet

The dough should be smooth and elastic when finished kneading. Poke the dough with your finger - if it slowly bounces back, your dough is ready to rise. If not, keep kneading.

Shape the dough into a ball and place in a large mixing bowl that has been coated lightly with olive oil. Turn it over to coat all sides. Cover tightly with plastic wrap and allow to rise in a warm environment (about 75F-80F)

The dough will have doubled in size in about 1 - 2 hours.

Punch the dough down to release the air.

Divide the dough into three. Roll each piece into a ball and let rest in separate bowls lightly covered for 15 minutes.

Preheat oven to 475F degrees. preheat for 30 minutes

Prepare your favorite toppings.

After 15 minutes, flatten each ball of dough 1 at a time on a lightly floured surface or on parchment paper.

Work the dough into a circle and create the rim of the crust.

Work the dough into a larger circle getting the crust as thin as possible without tearing

Add your favorite sauce using a spoon or ladle to spread it thinly on the crust

Top with a good amount of shredded mozzarella. (if you like extra cheese, let it cook for a bit then add more)

Brush the edges of the dough with olive oil and sprinkle with the spice mix of sea salt, black pepper, garlic and oregano

Top with your favorite toppings and slide the dough into your oven still on the parchment paper

Bake for 10-12 minutes.

Slice while hot and serve immediately.
Nutrition
Calories:
628
kcal
|
Carbohydrates:
115
g
|
Protein:
15
g
|
Fat:
10
g
|
Saturated Fat:
1
g
|
Sodium:
590
mg
|
Potassium:
156
mg
|
Fiber:
3
g
|
Sugar:
4
g
|
Calcium:
22
mg
|
Iron:
6.8
mg