Have you ever heard of the Trentino region of Italy or its capital Trento? If you haven't keep reading because it's one of Italy's best-kept secrets!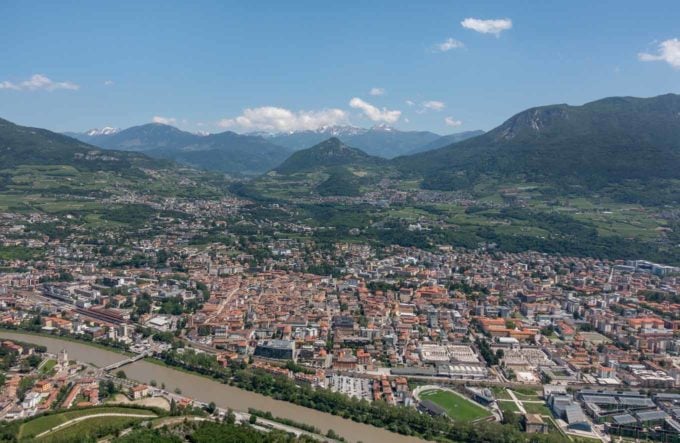 I have traveled throughout Italy and enjoyed all the major destinations that are picked as must-see destinations in Italy. And as more people travel, these destinations get overcrowded and touristy. The Real Italy has been lost as once epic sites are now jam-packed with tourists taking selfies.
But there are still undiscovered gems in Italy and the Trentino region is my top pick as Italy's undiscovered country, with Trento as my favorite town.
Where is Trento Italy?
You'll find Trento in the Trentino region of Northern Italy. Bordering Switzerland and Austria, It's known for medieval castles and the Dolomite Mountain Range (a section of the Italian Alps known for sawtooth limestone peaks). About 3 hours east of Milan and 1 hour north of Verona you'll find the capital city of Trento. It's easily accessible by train and bus and within driving range from Milan.
Trento is home to Renaissance palaces and the Buonconsiglio Castle, where you'll find some of the area's best frescoes.
What can I do when I Visit Trento?
The weekly market held every Thursday is a lively event where you can pick up everything you need for dinner or a new outfit for a night on the town.
The fountain of Neptune was a focal point in the Piazza Duomo. Restaurants are plentiful in this area and its nice spot for lunch to people watch with a glass of wine or espresso.
If you'd like to get a little exercise there's a very scenic walking and biking path along the Adige river.
The city of Trento also runs guided tours free of charge from their Discover Trento Tourism office at Via Torre Verde, 7 across from the public gardens. Make sure to visit their website to see what events will be going on during your visit.
What type of food will I find in Trento?
During our stay in Trento, we got to try quite a few of the local restaurants and enjoyed a nice variety of dishes. One of the restaurants we enjoyed in Trento was the Green Tower where we sampled their clams and linguine.
Another favorite was this Blueberry Pappardelle with a Duck Ragout at Ristorante Patelli.
You'll also find a German influence in the region with its proximity to Austria. Huge pretzels and steins of beer at Forsterbräu Trento are a relaxing way to enjoy the late afternoon. And right around the corner, you'll find Ristorante Pizzeria Chistè Trento where I found this amazing grilled seafood platter!
And of course, there are plenty of options for pizza when you visit Trento.
What would a trip to Italy be without desserts? Everyone knows about gelato and tiramisu but you'll also find delicious local pastries like this Blueberry Strudel. They love blueberries in Trento and you'll find them showing up in dishes around the area.
Most people have learned about the joy of Prosecco. During our time in Trento, I was introduced to the Nectar of the Gods, TrentoDOC.
My favorite variety of the spumante aka sparkling wine (please don't compare it to Asti Spumante) was the Ferarri brand. This was the best Italian sparkling wine I've ever had!
But the best part about going to conferences is being able to reconnect with old friends and make new ones. We got to spend time with our friends Betti and Nazim of Casa Chiesi which was the highlight of our trip!
Click on the link to learn more about Trento and the Trentino Region and all the wonderful things you can see and do when you visit Trento.
If you enjoyed this post you may also like these: