It was once said that "a gentle cruise on a hotel barge is the perfect way to discover the very soul of Europe". And I couldn't agree more.
This post has been sponsored by European Waterways. All opinions, text and images are honest and my own.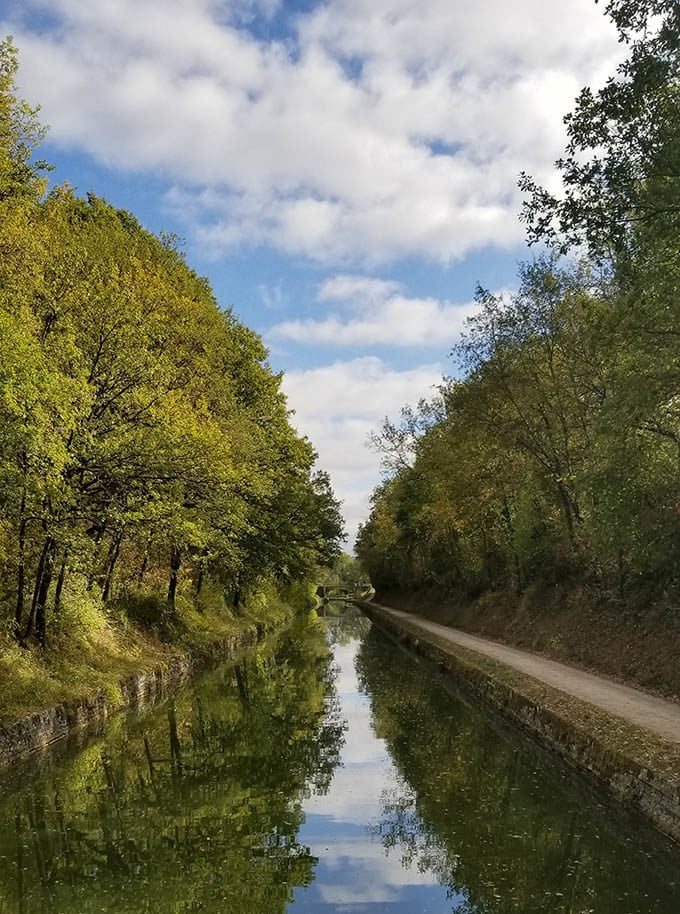 Our journey through Northern Burgundy on European Waterways La Belle Epoque was indeed a magical experience. We saw a side of European life we generally don't see on our tours of major ports and cities across the continent.
With our European Waterways cruise, it's a slower pace where you can disconnect and actually take time to smell the roses. Travel on canals that have been in use for more than 300 years and enjoy the peace and tranquility you'll find on the road less traveled.
What is the Difference Between a Canal Cruise and a River Cruise?
River cruise ships are longer to accommodate more passengers and usually have 4 decks. Luxury Hotel Barge cruise ships are older boats, that have been repurposed and restored to a luxury hotel status.
Staterooms are generally smaller than on a river cruise ship, due to the overall smaller size of the ship. The Staterooms on la Belle Epoque were large enough for sleeping (which is all you really need them for). Each room has a private bath.
The purpose of a barge cruise is not to rush from Point A to Point B, but to relax in a stress-free environment with fine food and wine, enjoy the delights of the countryside you are passing through, and get to know the "soul of the country." The hotel barges travel neither far or fast.
Chef Dennis Travel Tip-
If you're traveling as a double, opt for single beds rather than putting them together as a King. You will have more room with the beds used as singles.
Barge Cruises will cover 50 miles or less on a six-day cruise of a specific region. They also move very slowly (you can walk faster). River cruises travel faster and cover greater distances (some including multiple countries).
European Waterways ships accommodate 6- 20 guests depending upon the cruise you take. River cruises will usually have 100 or more guests on board. While I do enjoy river cruises, there was something really special about being part of such a small group. Everything seemed more personal and definitely more peaceful.
What will I be able to do on a Canal Cruise?
The first thing you'll notice when you board a European Waterways barge cruise are the bicycles. There are enough for every passenger and you can get off and on with a bike when the boat transitions through the locks. There is also a hot tub for the guests to use (if the weather cooperates).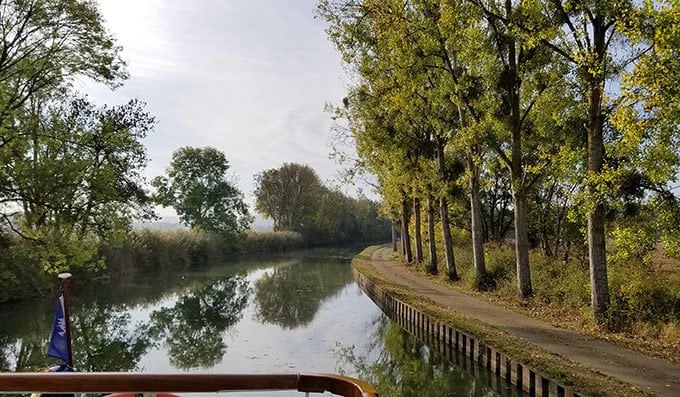 There are towpaths on the side of the canal that are perfect for walking and biking. There are small towns along the way if you want to buy a freshly baked baguette or do a little sightseeing. These towns are not tourist attractions, but you will get a glimpse of how the locals live.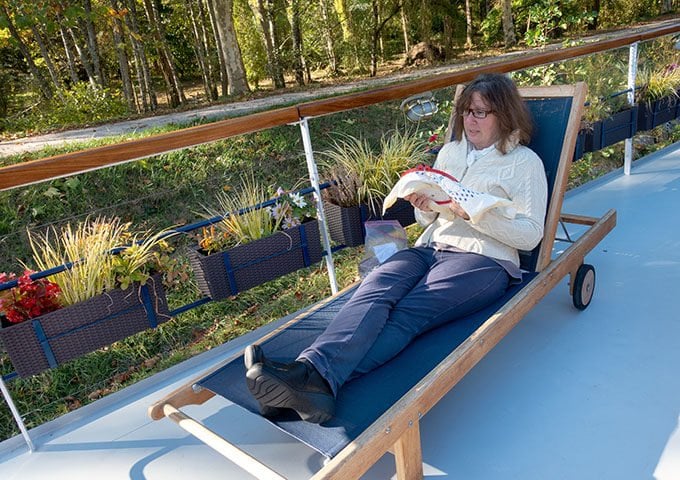 You'll be able to relax in a way you can't do at home. It's like a weight has been lifted off your shoulders.
What are the meals like on a Barge Cruise?
Since there are only a few guests on board, you will all eat together. After the first night it was like dining with old friends.
At breakfast, we had a continental style set every day with a choice of a specialty item from the kitchen. And you could always get eggs any way you wanted.
Lunch was a simpler meal in name only. This salmon and potato cake was one of my favorites.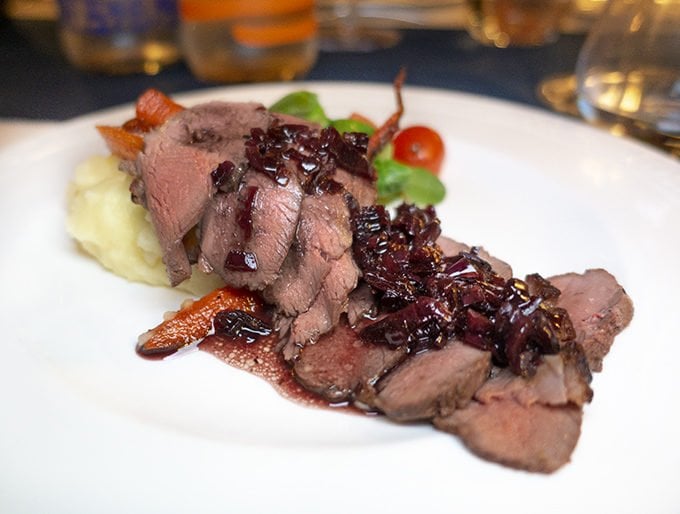 Dinner on European Waterways la Belle Epoque was an event! This perfectly cooked duck breast with cherries was one of the entree's we enjoyed. My wife won't eat any meats that aren't well done and the chef was happy to accommodate and made sure her entrees were prepared to her liking.
With every dinner on board La Belle Epoque, there was a cheese plate….sigh. Every night we enjoyed different local wines and a different selection of cheese.
Desserts were simply amazing! We even had a cheesecake made out of local French Cheese (not Philadelphia brand) and it was OMG delicious!
Do you pay for drinks on a Barge Cruise?
On European Waterways, they stock an extensive bar and the local wines are poured freely! There was no additional charge on the barge cruise, whereas on river cruises wine and beer is only served at meals and restricted to house choices. You can order just about anything you want on a river cruise but it will cost extra.
Where Can I Travel on a Canal Barge Cruise?
With its extensive network of preserved manmade canals from the 17th and 18th centuries, France is the most popular destination for a barge cruise. European Waterways also offers cruises to nine countries, including barge cruises to the Scottish Highlands, Ireland and Venice. So there are enough destinations that keep you cruising for years to come.
What will I Do in Northern Burgundy?
Each afternoon guided tours to historic and cultural sites of the region provide guests many interesting choices from visiting chateaux, famous vineyards, country market towns, private gardens to museums celebrating art, weapons, textiles or bread!
Each hotel barge has a designated crew member guide and an air-conditioned van or bus that travels with it, for daily excursions to places of interest such as nearby chateaux, colorful local markets, ancient monasteries, or fascinating specialty museums.
One of my favorites was having lunch with the Baron and Baroness de Taisne. We spent a lovely afternoon touring their Chateaux, sampling their champagnes and enjoying a special lunch created exclusively for European Waterways.
We got quite the lesson and a delicious tour of Maison Alexander Bonnet. We sampled quite a few of their premier champagnes and Crémant.
Here is Lisa strolling through the small town of Chablis on a fall afternoon. This is the type of rural French life you'll get to experience.
And there are certainly plenty of historic landmarks to visit. Touring the 12th Century World Heritage Site of Fontenay Abbey was another highlight of the trip.
The Abbey Church of Fontenay is one of the oldest Cistercian churches in the world. Built between 1139 and 1147, it is also one of the few Cistercian churches of the twelfth century to have survived intact until today.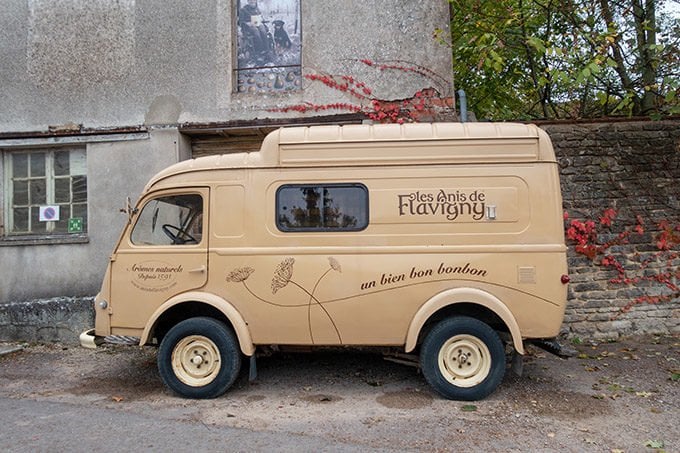 You'll get to visit places like the medieval town of Flavigny where the local candy store Les Anis de Flavigny has been open since 1591. *The movie Chocolat was filmed in Flavigny
Strolling through the ancient towns where countless others have walked over the centuries.
You'll sip champagne and eat macarons in places you've only dreamed of visiting.
And the simple joy of biking along the canal bank is an experience you'll never forget.
Is there Entertainment on a Hotel Barge Cruise?
After an afternoon of touring a local town, we came back to the ship to find a Jazz duo to entertain us. They were amazingly talented musicians and provided us with an unforgettable evening in the Burgundy Region of France.
Our last night on board we were treated to a concert by our very talented chef Arnis and deckhand Luke.
This type of personalized service is another reason to cruise on a Luxury Hotel Barge with European Waterways. You don't get lost in the throngs of passengers and everyone remembers your name.
But no matter what you do or where you travel on your Cruise with European Waterways, you can be sure you'll bring home memories to last a lifetime!
If you enjoyed my post about my European Waterways cruise please leave a comment, I love hearing from you!
Click on this link to learn more about
European Waterways.