Stuffed zucchini blossoms and grilled tomato ricotta pIzza are two great ways to celebrate the summer and the harvest of fresh veggies at your local market.
This post includes affiliate links. As an Amazon Associate I earn from qualifying purchases.
I love Stuffed Zucchini Blossoms!
I got out early Saturday morning to beat the heat and the crowds at our farmers market, but it seems I wasn't the only one with the idea, it was packed! The market was full of fresh local fruit and vegetables, (we're still waiting for field grown Jersey tomatoes)  it was a glorious sight!
Along with the produce, we also have a nice assortment of other culinary delights, with a free-range meat and egg vendor, and a clam truck, selling little necks and top neck clams. Normally I buy our clams at Wegman's every week, and for farm-raised clams they're pretty darn good and very consistent. I bought a bag of little necks and it's been so long since I've had wild caught clams that I'd forgotten just how good they were! Needless to say, I'll be buying clams at the farmers market for the rest of the summer!
But of course, the highlight of my day was finally finding my precious at our farmer's market! The first blossoms of the year are always a special treat, and we savored each and every bite! If you'd like the recipe for my blossoms, click on this link, Stuffed Zucchini Blossoms. I'm sure we'll be seeing more of my precious in weeks to come!
 I've seen grilled pizza here and there, but not being a master griller, I thought I would try my hand at a more conventional approach using my pizza stone. I heated my grill using all four burners and then shut down the middle two to use a more indirect method of heating. Well, that didn't work as well as I hoped, after 12 minutes the pizza still wasn't done, so I cranked up the other two burners and that did the trick. I got some great color on the pie, and the bottom of the pizza was almost perfect.
You might also like my recipes for ten delicious appetizers.
If you've tried my Pizza or Zucchini Blossom recipe or any other recipe on askchefdennis.com please don't forget to rate the recipe and let me know where you found it in the comments below, I love hearing from you! You can also FOLLOW ME  on Instagram @chefdenniseats and @chefdennistravels,  Twitter and Facebook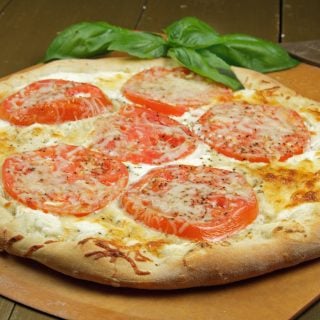 Print Recipe
Stuffed zucchini blossoms and grilled pizza
Stuffed zucchini blossoms and grilled tomato ricotta pIzza are two great ways to celebrate the summer and the harvest of fresh veggies at your local market.
Ingredients
Pizza Dough
2

cups

all-purpose flour

240 gm

1 1/2

tsp

yeast

8 gm

1

tsp

sea salt

5 gm

1 1/4

cup

warm water

300 ml

2

Tbs

extra virgin olive oil

30 ml
Topping
1

cup

ricotta cheese

sprinkle of sea salt

sprinkle of black pepper

2

Tbs

grated romano cheese

30 gm

1

large tomato sliced

1

cup

shredded mozzarella cheese

110 gm
Instructions
place the water, olive oil and yeast in the bowl of your mixer and allow yeas to sit for a few minutes. (water should be about body temperature)

Using your dough hook, add the flour and the salt and begin mixing.

mix for about two minutes, then turn out the dough onto a floured work area and knead the dough for a few minutes.

The dough should be fairly dry and elastic when finished kneading.

Divide dough into two balls, and allow to rest for about two hours (or overnight in the fridge)

dough will rise slightly but you won't see a dramatic change.

When ready to make your pizza, flour your work area and flatten one of the dough balls*

As the dough spreads out, make the outer circle of the crust , using your fingers to make the indentations around the circle.

begin stretching the dough out until you have about a 12-14 inch circle.

It's okay if the dough isn't perfectly round, its rustic!

sprinkle some corn meal on your pizza peel and lay the formed dough on the peel

spread the ricotta cheese on the dough, then season with salt, pepper, and grated romano cheese.

Add tomato slices then top with shredded mozzarella.

Bake in a 450 degree oven or your closed grill until the dough has gotten nice brown color, and the bottom of the pizza is fully cooked.

Slice into 6 slices, top with chopped fresh basil and serve!
Notes
* you can use a rolling pin to roll your pizza dough out if that works better for you.
Nutrition
Calories:
500
kcal
|
Carbohydrates:
52
g
|
Protein:
21
g
|
Fat:
22
g
|
Saturated Fat:
10
g
|
Cholesterol:
56
mg
|
Sodium:
846
mg
|
Potassium:
239
mg
|
Fiber:
2
g
|
Sugar:
1
g
|
Vitamin A:
720
IU
|
Vitamin C:
4.2
mg
|
Calcium:
308
mg
|
Iron:
3.3
mg