If you've never had an old-fashioned Toll House Cookie Pie, you have no idea what you're missing! Gooey, chocolaty, and warm from the oven is a taste sensation that will just about bring you to your knees.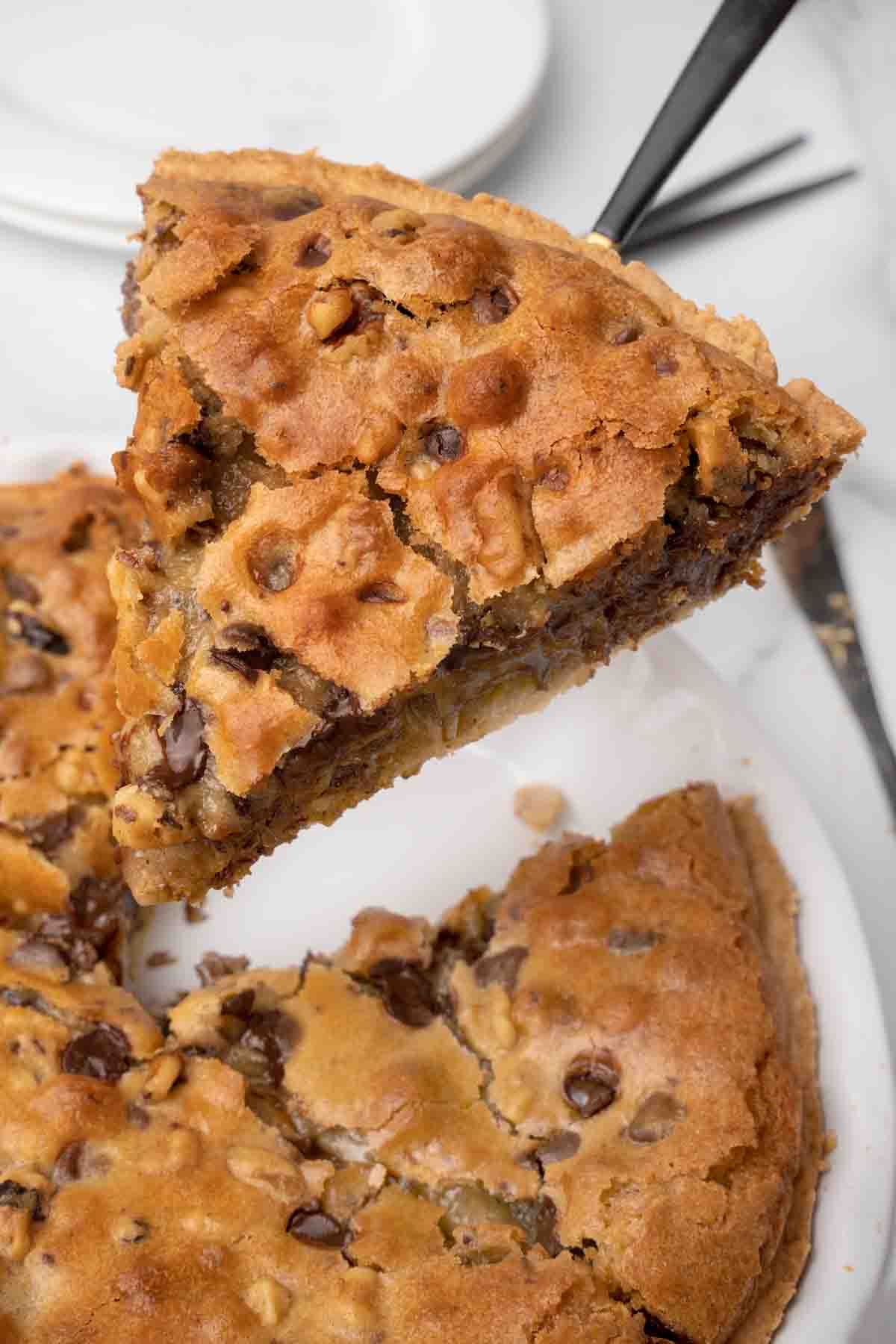 And wait until your kitchen fills with the aroma of my original toll house pie. You'll be counting down the minutes until you can devour a piece or two of this delicious tollhouse pie.
You'll find many versions of my chocolate chip cookie pie recipe on the internet, but my recipe is time-tested and has been customer-approved for decades.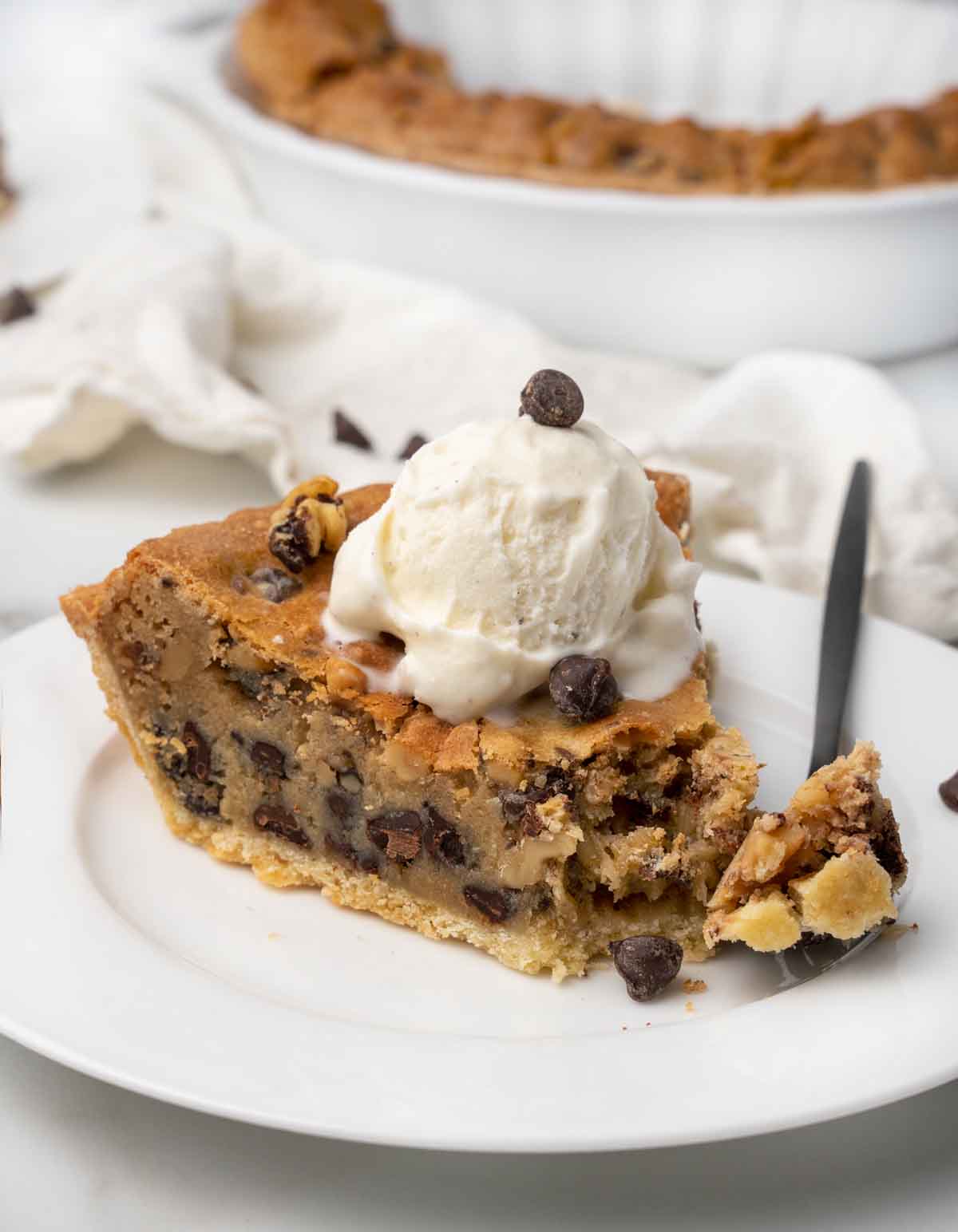 If you really want to be decadent serve my toll house chocolate chip pie, with a scoop of vanilla ice cream for the ultimate dessert!
My easy pie recipe is guarunteed to satisfy the sweet tooth in your household and will easily become a family favorite, it really is a great recipe.
What Ingredients do I need to make Tollhouse Cookie Pie?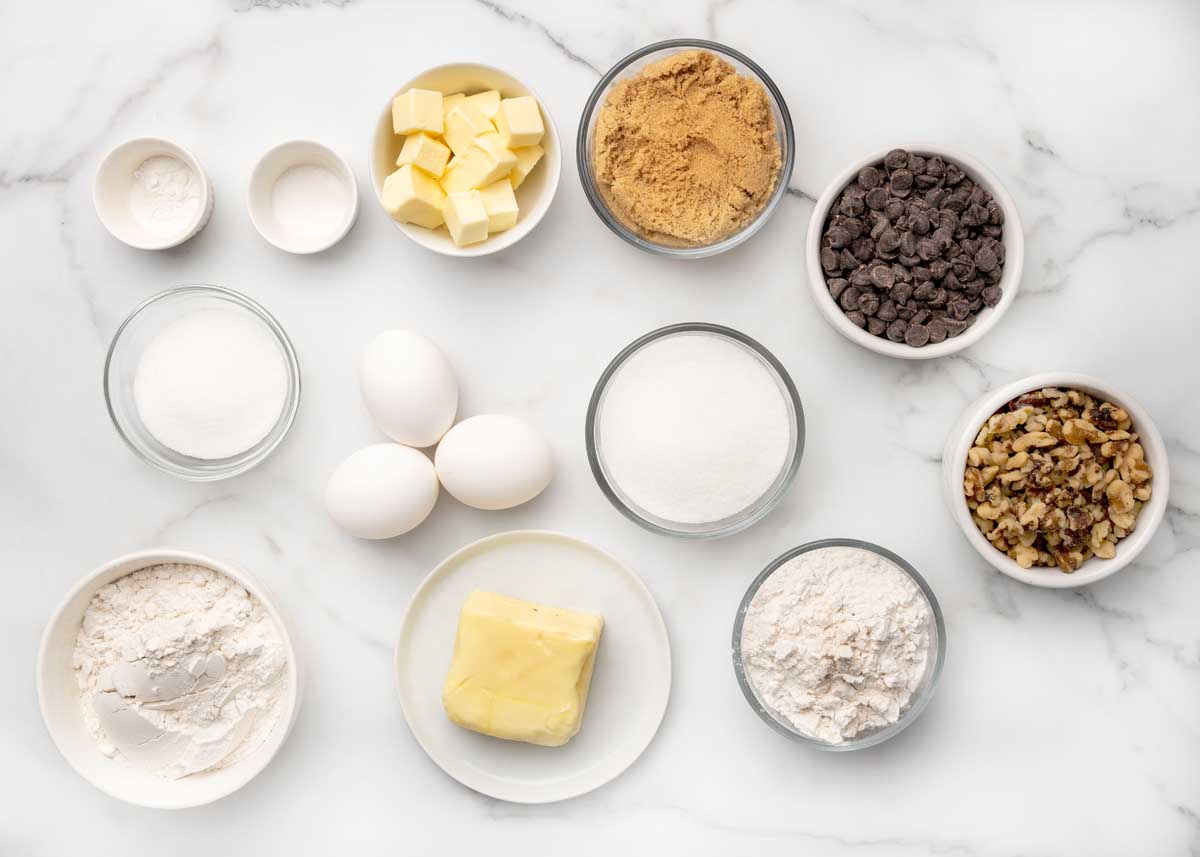 Let's start by gathering the ingredients we need to make Toll House Cookie Pie. In Chef Speak this is called the "Mise en Place" which translates to "Everything in its Place".
Not only does setting your ingredients up ahead of time speed up the cooking process, it also helps ensure you have everything you need to make the dish.
This is one of my favorite chocolate chip dessets along with my insanely delicious triple chocolate brownies and my chocolate chip cheesecake bars.
Do I have to use walnuts in the cookie pie?
No, you do not. You can use pecans instead of walnuts or you can leave the walnuts out and add another type of chip. If you do omit the nuts completey add and additional one-quarter cup of flour to the mix, bringing the flour total to one cup.
The nuts do add stabilty to the toll house cookie pie, and if you leave them out you will definitley need to chill it to let it set up.
How do I make a sweet pastry pie crust?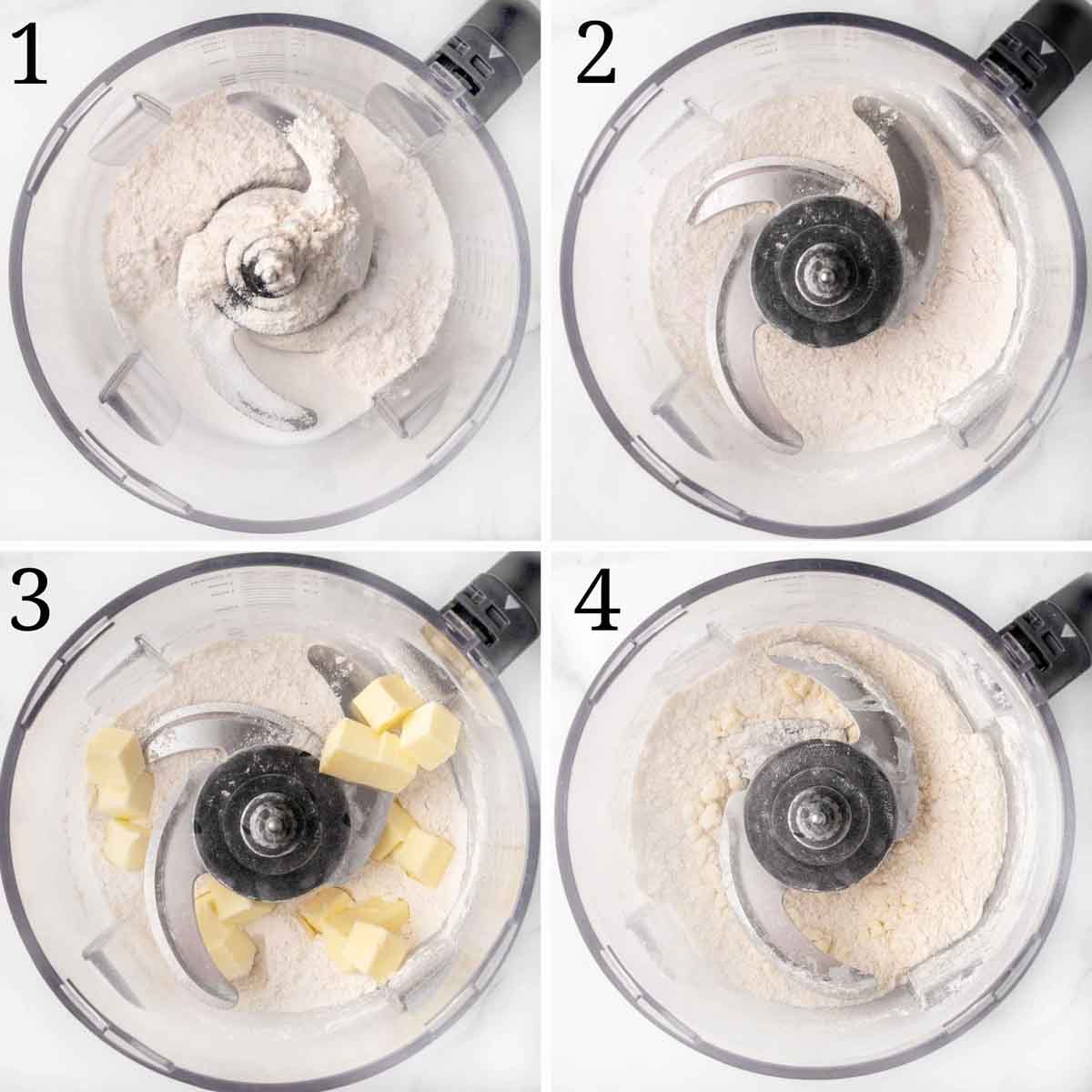 Add the flour, sugar, baking powder and salt to the bowl of a food processor.
Pulse the ingredients 3 times to mix.
Add the very cold butter pieces to the flour mixture.
Pulse at one-second intervals until the butter is mixed in.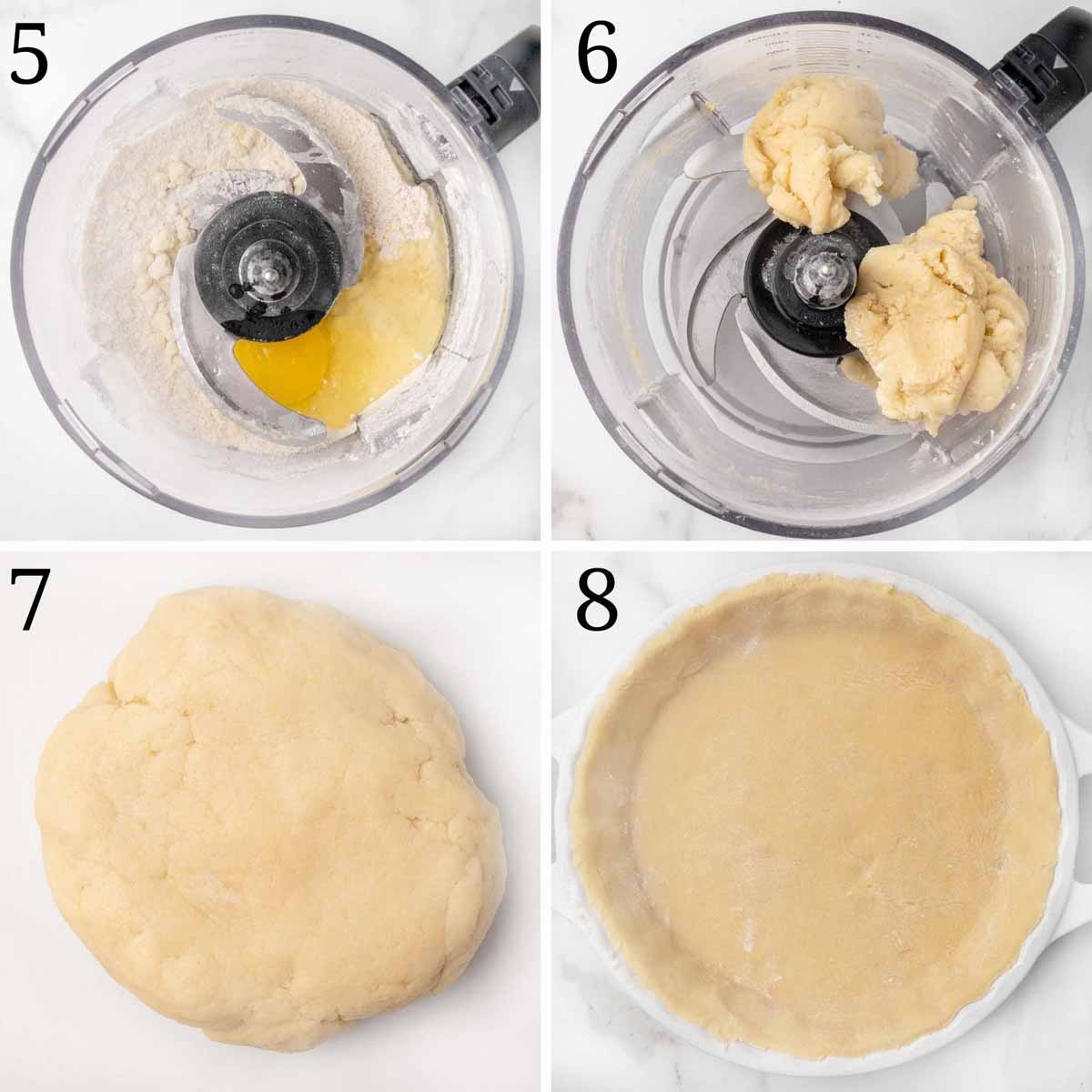 Add the egg to flour butter mixture.
Pulse the mixture until the dough forms a ball on the blade of the processor
Turn the dough out of the food processor onto a floured surface, and carefully remove the blade.
Flatten the dough into a disc. Wrap with plastic wrap and chill for 15-20 minutes.
Roll out pie dough and place it into your pie baking pan.Refrigerate until needed.
How do I make a tollhouse cookie pie?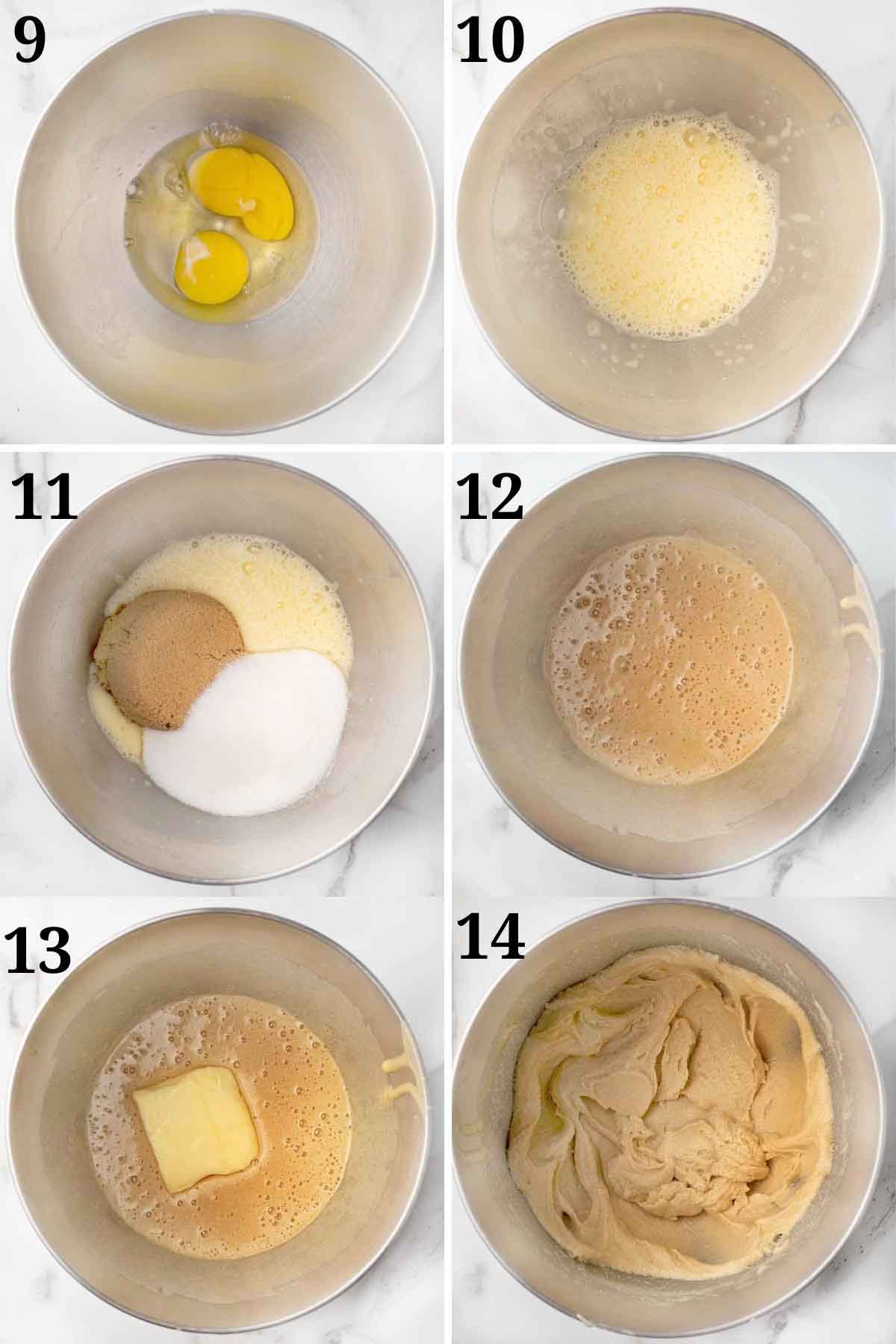 Add the eggs to the bowl of your stand mixer or a large mixing bowl.
Whip the eggs for 3 minutes until foamy.
Add the brown sugar and white sugar to the eggs.
Mix the sugars into the egg mixture.
Add the room temperature butter to the mixture.
Mix the butter into the mixture until very well blended.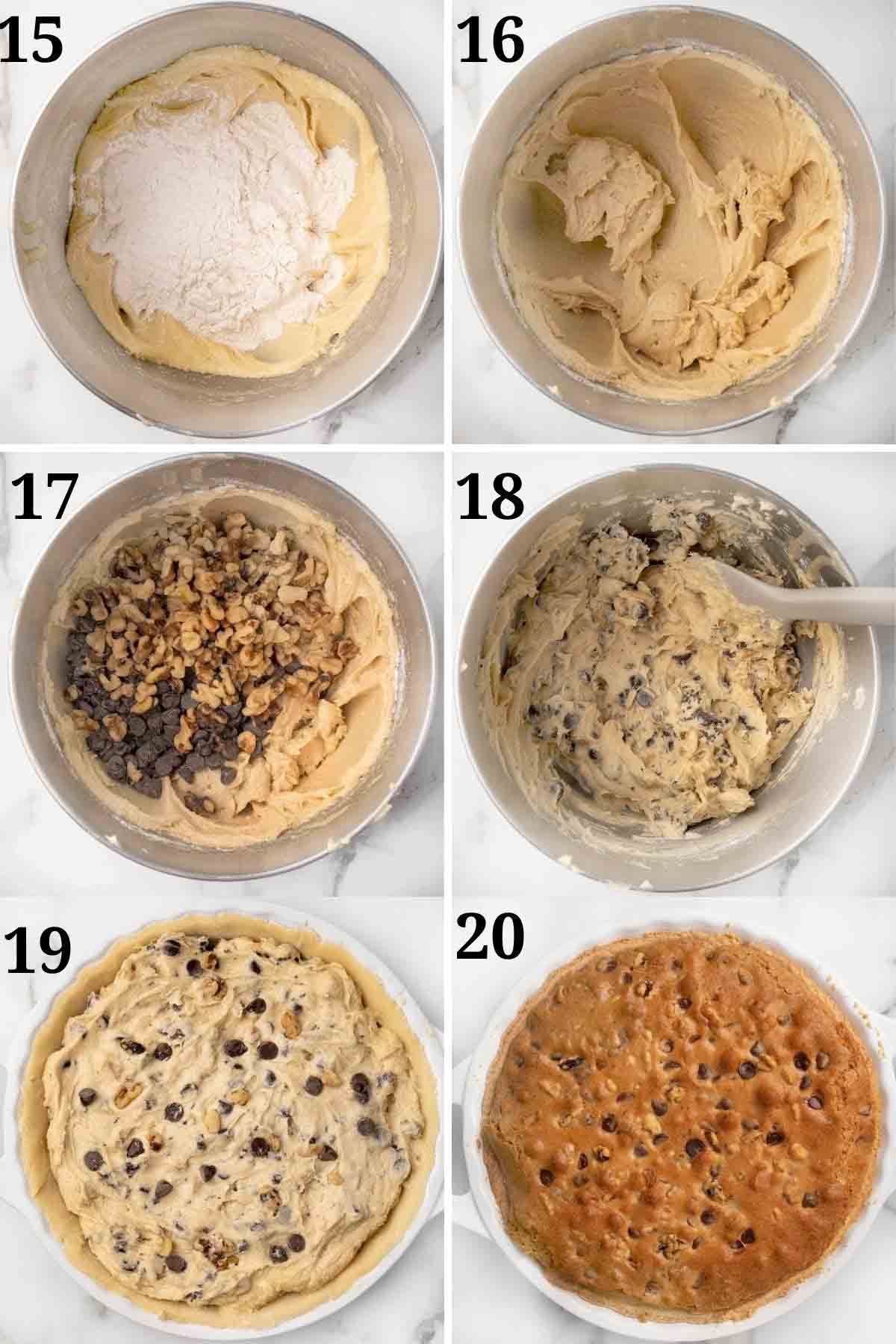 Add the flour to the mixing bowl.
Mix the flour into the mixture using the beater bar of the mixer. Mix just until incorporated.
Add the walnuts and chocolate chips to the batter.
Mix just enough to blend in the chips and nuts.
Pour the batter into the pie shell. Smooth the filling with a rubber spatula.
Bake for 50-55 minutes or until firm in the center. *Don't worry it will look like it is getting too dark, its just the top crisping up. If you prefer a lighter top, cover it with foil when it begins to darken.
When finished baking, let the pie cool for 30 minutes on a wire rack (or for as long as you can wait) and top with ice cream or whipped cream and enjoy!
I promise not to tell if you sample a little of the chocolate chip cookie dough, the creamy richness of a brown sugar base makes it's OMG delicious.
I like using semi-sweet chocolate chips, but feel free to use your favorite chip or combination of chocolate chips.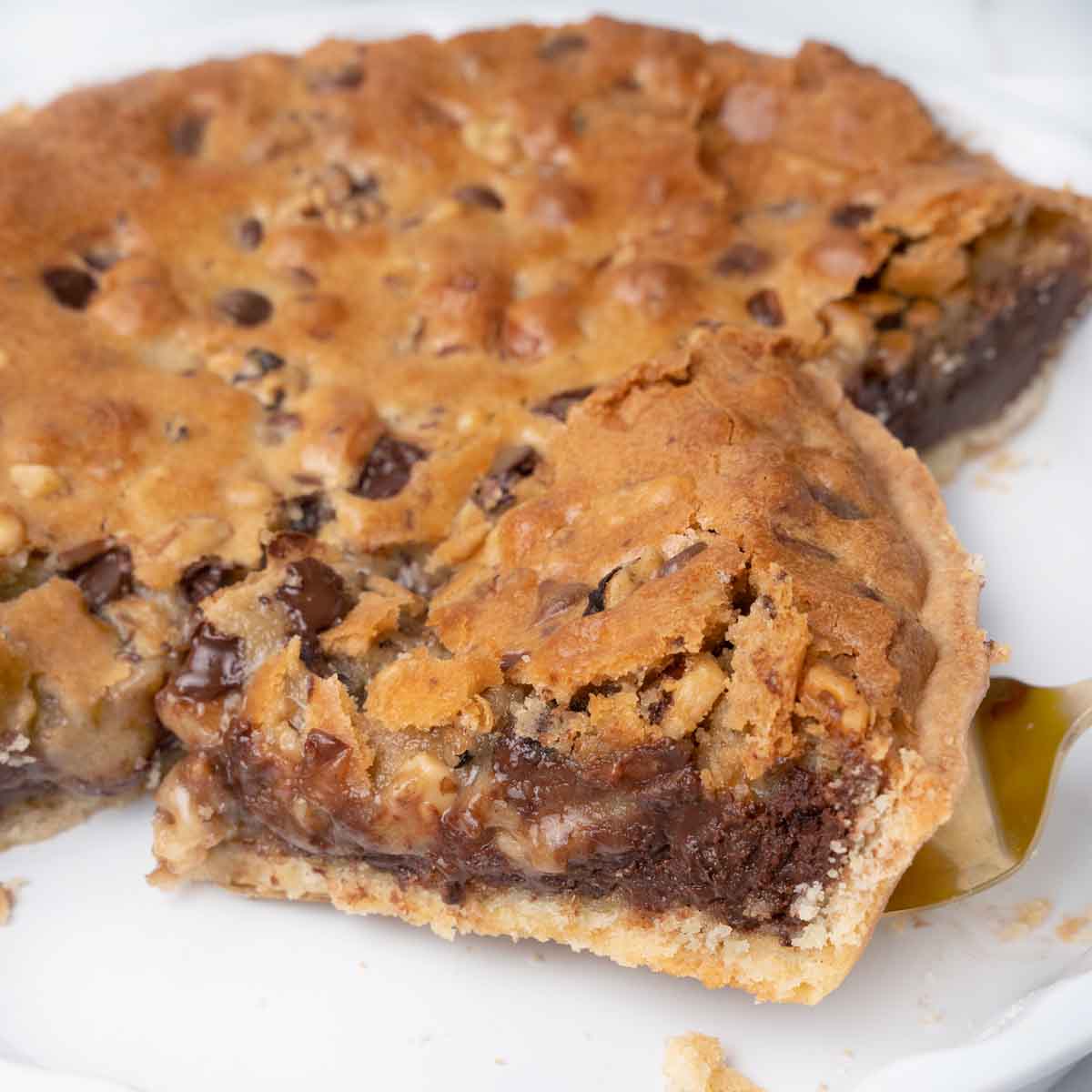 Wouldn't you love to sit down to a slice of this ah-mazingly delicious Toll house Pie? Whether you make it for a special occasion or to treat your family It will soon become one of your favorite pies.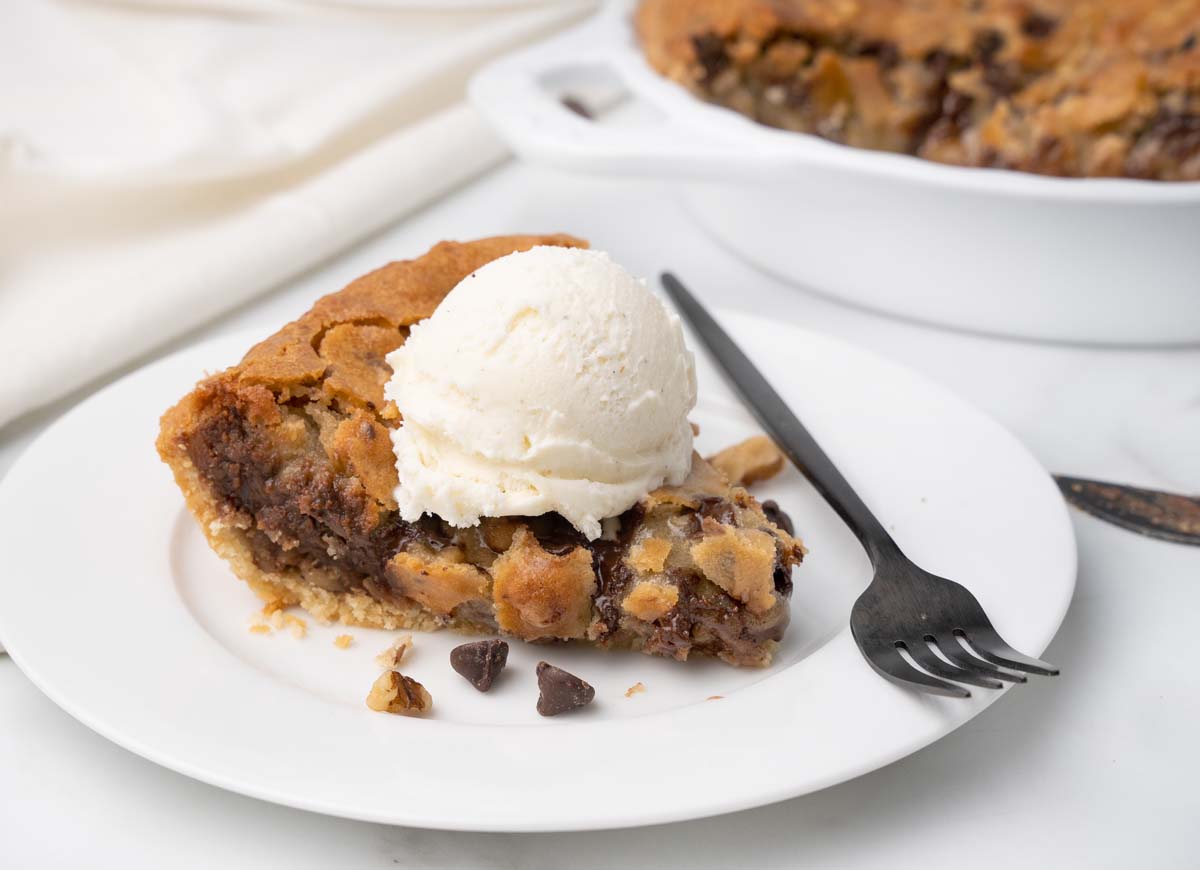 And if you can't wait, the toll house cookie pie warm from the oven with a scoop of ice cream is gaurunteed to bring smiles to your dinner table, and possibly a few moans of delight!
Recipe FAQ's:
How long is a toll house cookie pie good for?
You can make Toll House pie 1 to 2 days ahead before you plan on serving it. It will last up to 7 days covered in the refrigerator. You can serve it at room temperature or reheat it in the oven before serving.
Can you freeze a toll house cookie pie?
Yes, you can. It freezes very well, just make sure to double wrap it in plastic wrap. You can also freeze the cookie pie, slice it and wrap the slices individually. That way you can enjoy a slice of this delicious pie when ever you want.
Should a toll house cookie pie be refrigerated?
Yes, it should. It's okay to let it sit out to come to room temperature before serving, but keep it refrigerated to maintain its freshness when not being served.
More Dessert Recipes You'll Love!