If you're looking for a show stopper to serve your guests or family this year look no further than my Stuffed Lobster, Stuffed Shrimp or Stuffed Mushrooms.  The great part about these delicious creations is just how easy they are to make, and that's something to celebrate!
The crab imperial I use for those delicious creations is really the star of the show and although it's a little more expensive than most dishes you'll make, it's well worth the cost.   So if you want to turn your next gathering into an event or just want to spoil the family, think about using one or all of these taste sensations.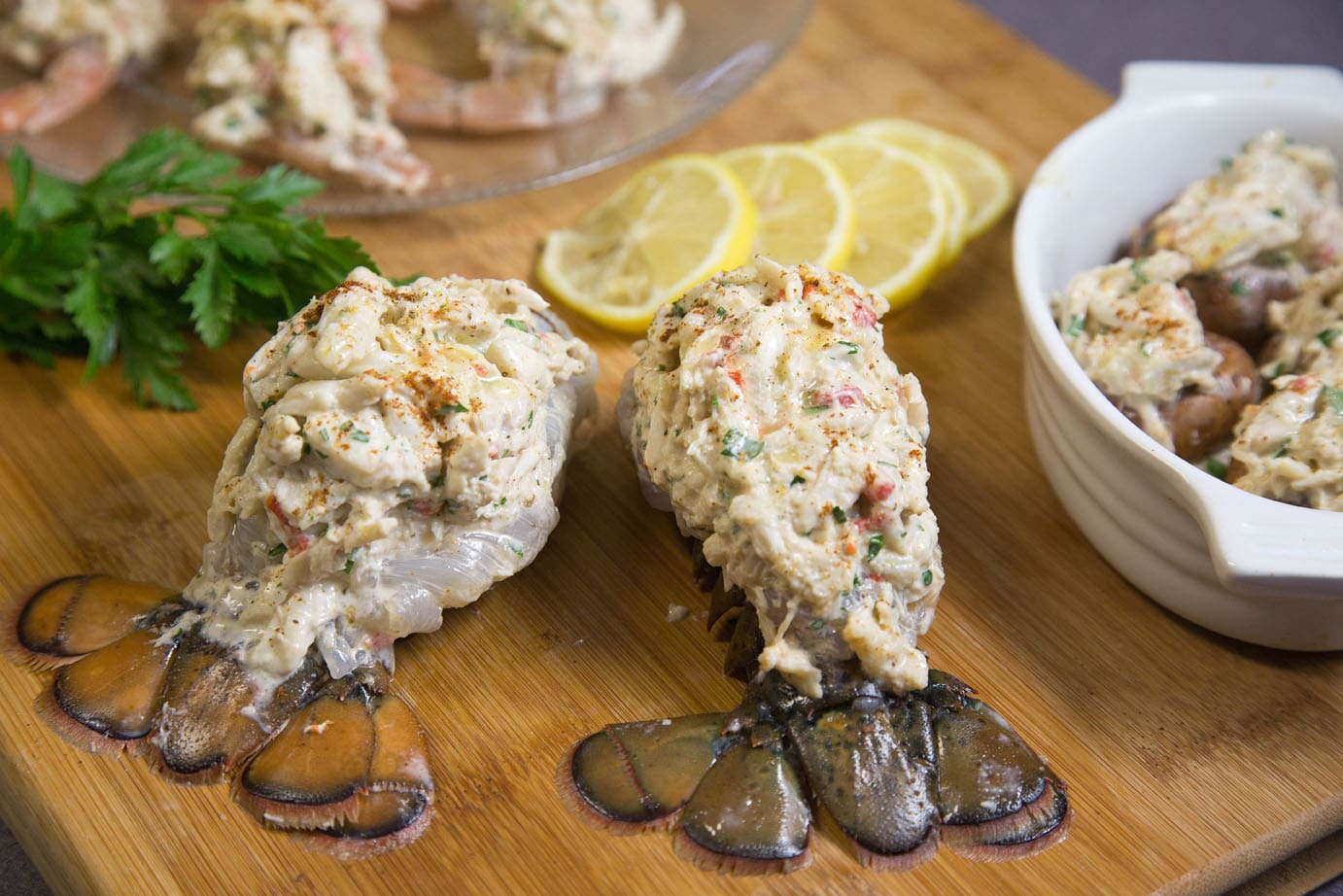 Most supermarkets carry 4 oz lobster tails and that's the perfect size for stuffing, look for Maine or Canadian lobster.    Make sure to look for wild caught (preferably gulf) shrimp for your stuffed shrimp (look at Costco, Bj's or Sams club).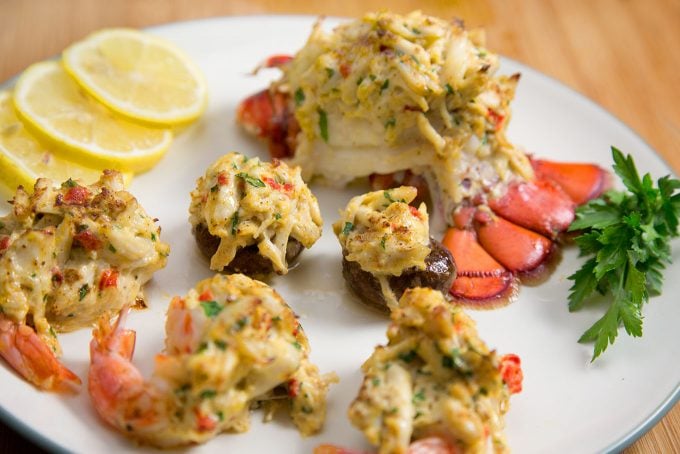 They bake up to a nice golden brown and are oh so delicious!
Don't forget to add a little water to the pan when baking the shrimp and lobster.    My Crab stuffing has other delicious uses as too.  Think about using it as a stuffing for your favorite fish, add some bread crumbs for crab cakes or simply as Crab Imperial.
Stuffed Lobster, Stuffed Shrimp and Stuffed Mushrooms for the Holidays!
Ingredients
Crab Imperial for stuffing
1

lb

lump crabmeat

cup

½ Hellman's Mayonnaise

1

tsp

sugar

1

tsp

old bay

1

tsp

finely chopped Italian parsley

1

large egg lightly beaten

squeeze of lemon juice

4

oz

lobster tails

16- 20

count shrimp peeled and deveined with tail on

or Mushroom caps
Instructions
Crab Imperial Mix for stuffing
Mix mayonnaise, egg, sugar, old bay, lemon juice and parsley together and blend well, this is your imperial sauce.

Gently fold crabmeat into imperial sauce, being careful not to break up crab meat.
Stuffed Lobster Tail
Spit the tail down the middle and pull the meat out without detaching it

Fold the shell together and lay the meat back on top of the shell. Easy Peasy!

You can fan the tail out to make it look pretty and then add about 2 ounces of the crab imperial to the top of the tail.

Sprinkle with a little old bay and if you're really feeling decadent drizzle a little melted butter over the top of the crabmeat, then bake at 350 degrees for 20-25 minutes.
Stuffed Shrimp
Peel and devien shrimp leaving the tail on

split shrimp almost all the way through, then flatten out fanning the tail to the side

top each shrimp with a tablespoon of crabmeat mix.

lb of crabmeat should stuff close to 20 shrimp

bake at 350 degrees for 20 minutes.
Stuffed Mushrooms
use white mushroom caps or baby bellas

pull out stem carefully so as not to break the mushroom cap.

cut a little bit off the bottom of the cap so its will sit flat

place a teaspoon of crabmeat mixture into the mushroom and arrange mushrooms in a large enough baking dish to accomidate all of the mushrooms.

This should make about 40 stuffed mushrooms

add marsala or your favorite wine to the bottom of the dish so the mushrooms have a liquid to soak up while their cooking. You can also use vegetable stock.

bake at 350 for 20 minutes.
If you'd like to follow along and see step by step how I created each dish, check out the video from this weeks Around the Kitchen Table!