How to make Ligurian Seafood Stew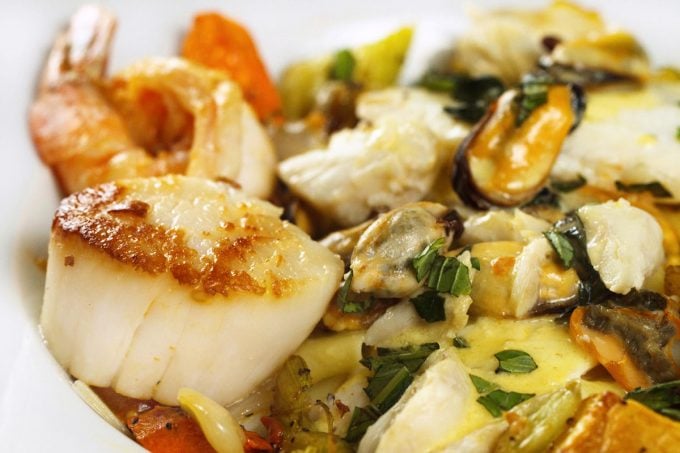 As a Chef running a restaurant kitchen, you have many jobs to do throughout the day.  And of course, whether the restaurant succeeds or fails always rests upon your shoulders.   During the course of the day, your responsibilities run from creating your menu, procuring the foods you need to make the dishes on your menu, and then deciding on the best method and how the finished product will look.   A working chef is never done!
One of the biggest factors in running a successful restaurant is planning your menu to use as many of the ingredients that you have on hand in different dishes.   You can't afford to waste product or let product go bad, so it's essential to come up with creative, distinctive dishes by adding a different twist to each one.  Finding multiple uses for what you have on hand is not only efficient but keeps your costs down.
You'll find Seafood dishes are always big sellers in any restaurant, the cost of seafood and its shorter shelf life keep many home cooks from creating restaurant style seafood dishes in their own home, but effective planning can help you overcome those challenges.   It use to be hard to find quality seafood for home use, but with the emergence of the newer style full-service grocery stores, and discount clubs,  fresh and fresh frozen seafood is readily available.   While still a high ticket item seafood dishes made at home can save you over 50% of the cost of going out for the similar dinner.
Now I'm not advocating making all your meals at home, because there is something to be said for the occasional dinner out, relaxing while someone else cooks, serves and cleans.  Not only is the night out good for your mental health, but it's also good for your relationship, I think sometimes we forget how much we enjoy each others company without the stress of daily activities bogging us down, and there's no better way to rekindle romance than sharing a good meal, and a bottle of wine in a stress free environment with the one you love.
So it's a win-win situation, you make delicious cost saving seafood dishes at home, which saves money for those times when you want or need to spoil yourselves with an evening out.   The key to making this successful at home is planning, just like we would at the restaurant.   By planning how you're going to use your seafood,  and how many different dishes you can make out of it, your higher priced items split over 2 or 3 different dinners have just become more affordable.
Let's talk about buying seafood.    First of all, let me tell you I always buy shrimp frozen,  shrimp that you see out in grocery stores and even seafood markets has almost always started out frozen, you just don't see fresh shrimp.  You may from time to time see fresh prawns but those times are few and far between.   Depending upon the season you may find fresh scallops, but again frozen is often the way to go.   Now I'll let you in on my secret,  I buy all my shrimp ( wild caught) at Sam's club, there IQF frozen which makes them easy to use and the price is great!  When fresh scallops aren't available I buy frozen scallops there as well.
Now here's where the planning comes in, what else can I buy to supplement the seafood to create different dishes using the same products?   This again is where planning comes into play.  When I buy fish, I often buy just a little extra and freeze it immediately (wrap in plastic and place in a zip lock back to protect it from freezer burn), now I have another ingredient to add to the frozen seafood I already have on hand to create another seafood dinner.    Little neck clams and mussels are now available year round and a bag of clams is more than enough for a wonderful dinner of Linguine and Clams for two, even if you pull a dozen out to use in another dish later in the week.   Mussels will be your least expensive option in seafood, and holding back a dozen will still leave enough mussels to serve over pasta or just as an appetizer served in their own juices with crusty bread.    I often buy a bag of each and use them in different dishes during the week, and here's another secret, if you want to lower the price of the dish, shrimp, lobster, clams, mussels and crabmeat go so well with chicken!  In a restaurant the easiest way to help keep the cost down was to use chicken with the seafood, you create a larger portion and still give the customer seafood with their chicken and the perceived value is greater.    While many people don't even want to think about chicken when they go out to dinner, at home served with shrimp or crabmeat makes a midweek dinner at home, oh so special!
Another great filler in seafood dishes are vegetables, in the last restaurant I ran many of the sauteed seafood dishes had mushrooms and artichoke hearts, they added flavor and helped fill the plate.    For my Ligurian Seafood Stew, I had flounder, scallops, crabmeat, and mussels left over from our New Years Eve feast, and I wanted to make something a bit more adventurous with what I had left to work with.   My first thought had been to make a hearty chowder, but the seafood was too good to bury in a heavy sauce or soup.  I started thinking of how I wanted the dish to present and how I wanted the flavors to come together…… Since I originally had thought of soup, I decided to stay with the typical chowder vegetable and to keep the integrity of each individual vegetable I  roasted them.   I also added fennel and whole garlic cloves to help blend and intensify the flavors.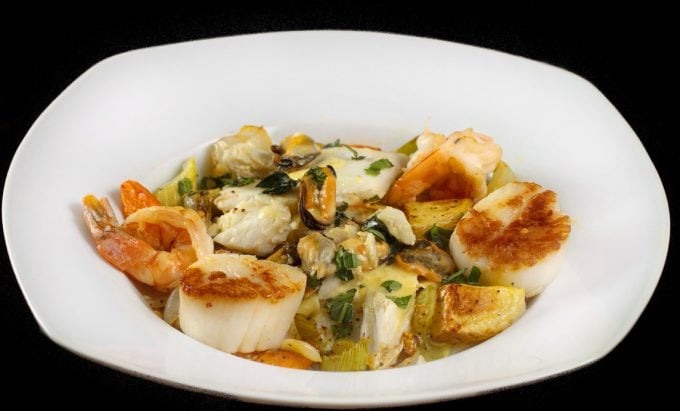 For the seafood, I seared the scallops, and shrimp broiled the flounder,  steamed the mussels with a little olive oil, and heated the jumbo lump crabmeat in butter, every item retained its flavor!   The sauce started with the juices left from cooking the mussels, and basil and saffron seemed like a good choice to bring the flavors together.
I have to tell you, it's hard to surprise myself with something I cooked, but this dish was incredible if I do say so myself, the only thing I would have changed would have been my choice of pasta,  I used pappardelle, and a thinner noodle would have gone better with this dish, the pappardelle was just too long and too thick for seafood served in this style.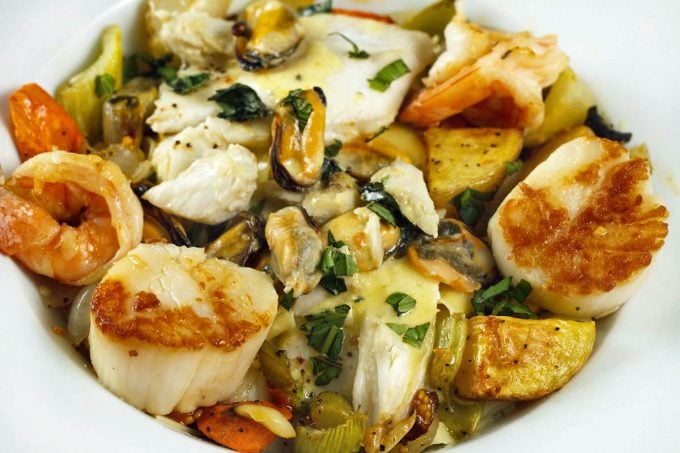 Ingredients
Seafood
4

oz

flounder or fish of your choice

4

Jumbo shrimp peeled and deveined

16-20 cnt

4

Large Sea Scallops

1/2

bag mussels

25-30

1/4

lb

jumbo lump or lump crabmeat
Roasted Vegetables
1

bulb fennel sliced

2

slice

stalks celery large

stew cut

2

slice

carrots large

stew cut

2

in

potatoes cut chunks

stew cut

4

cloves

garlic whole

1

in

medium onion cut chunks

stew cut

1

tbsp

olive oil

sea salt and black pepper
Basil -saffron cream sauce
1

tbsp

chopped basil

pinch of saffron threads

1

cup

heavy cream

1

tbsp

butter

1

tbsp

flour

1/2

pound

of linguine or spaghetti
Instructions
preheat oven to 350 degrees

Cook pasta al dente per instruction on box, then set aside
Roasted Vegetables
cut vegetables and place in roasting pan with olive oil, salt and pepper to taste and toss to coat with oil and seasonings

roast for 20-25 minutes
Seafood
place flounder on baking pan drizzle with olive oil, sea salt and pepper, add a little water to the pan and bake for 20 minutes

add mussels to saute pan with 2 tbsp of olive oil, cover with lid or another pan and allow to steam open (about 8 minutes)

let mussels cool then remove from shells and place in a bowl, and discard shells, but save the juices in the pan!

add heavy cream, 3/4 of the basil, and the saffron to the mussels juices, bring to a boil then reduce heat to a simmer, allow sauce to reduce by 1/3

get a saute pan very hot with a little oil and sear the scallops until you get some crusting for color, cook on each side and remove from pan.

Sear shrimp until almost done, remove from pan

In another saute pan, gently heat the crabmeat
Bring it all together
timing is everything with this dish, vegetables, and flounder should be done.

reheat pasta in a pan with a little olive oil or return to boiling water briefly, which ever method you prefer.

Place scallops, shrimp, and mussels in saute pan and reheat gently but quickly, in just a little oil or water.

take the butter and roll it in the flour to make a beurre manie and place in the sauce to finish thickening*
Assemble
Place pasta in a mound at the bottom of a bowl or center of a plate

place roasted vegetables around outside pasta

place flounder in center of pasta

pour sauce over flounder, splitting it evenly between the two dishes

place scallops and shrimp around the flounder

sprinkle with remaining basil and serve immediately!
Recipe Notes
*if sauce is too thick skip the flour and just add the butter, if its still too thick add additional cream or a little white wine or chicken stock.
This truly was an exceptional dish, and although it has a few extra steps, the results will blow you away.   This can be done on a larger scale, but make sure you have extra hands to help assemble the dish so it can be served hot.
If you're looking for additional ways to get the most out of your seafood check out my Frutti de Mare,  Bouillabaisse, and Paella!  
It's all about planning In My Restaurant Kitchen!
Thanks for stopping by today, stay warm, stay full and have a happy week!