Summer is calling, and my Smoked Chicken Legs is a delicious way to celebrate the season. Smoky, juicy, and tender, seasoned with a simple dry rub that makes the dark meat of these smoked chicken drumsticks irresistibly delicious.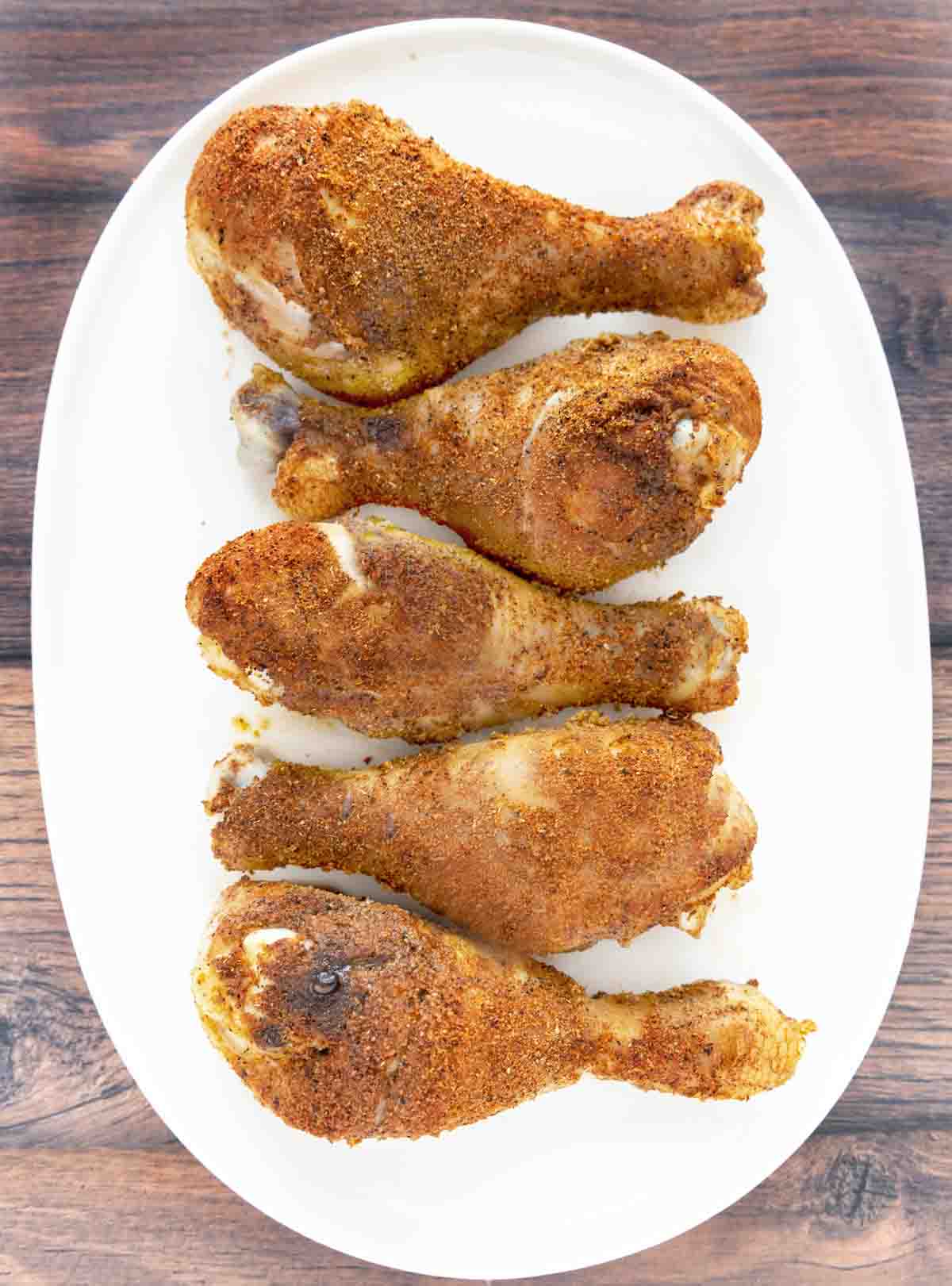 You don't have to be a grill master to make my smoked chicken legs. I used an electric smoker to make my chicken drumstick recipe, but you can use a charcoal grill or pellet smoker to add delicious smoky flavor to chicken quarters, wings, thighs, or a whole chicken.
I used cherry wood for my chicken leg recipe, but you can use your favorite wood chips or wood chunks to make this simple recipe. My simple recipe uses a spice rub to compliment the smokiness of the chicken, making it a delicious option for any event.
If you love chicken legs, you have to try my Baked Chicken Legs recipe.
Ingredients to make Smoked Chicken Legs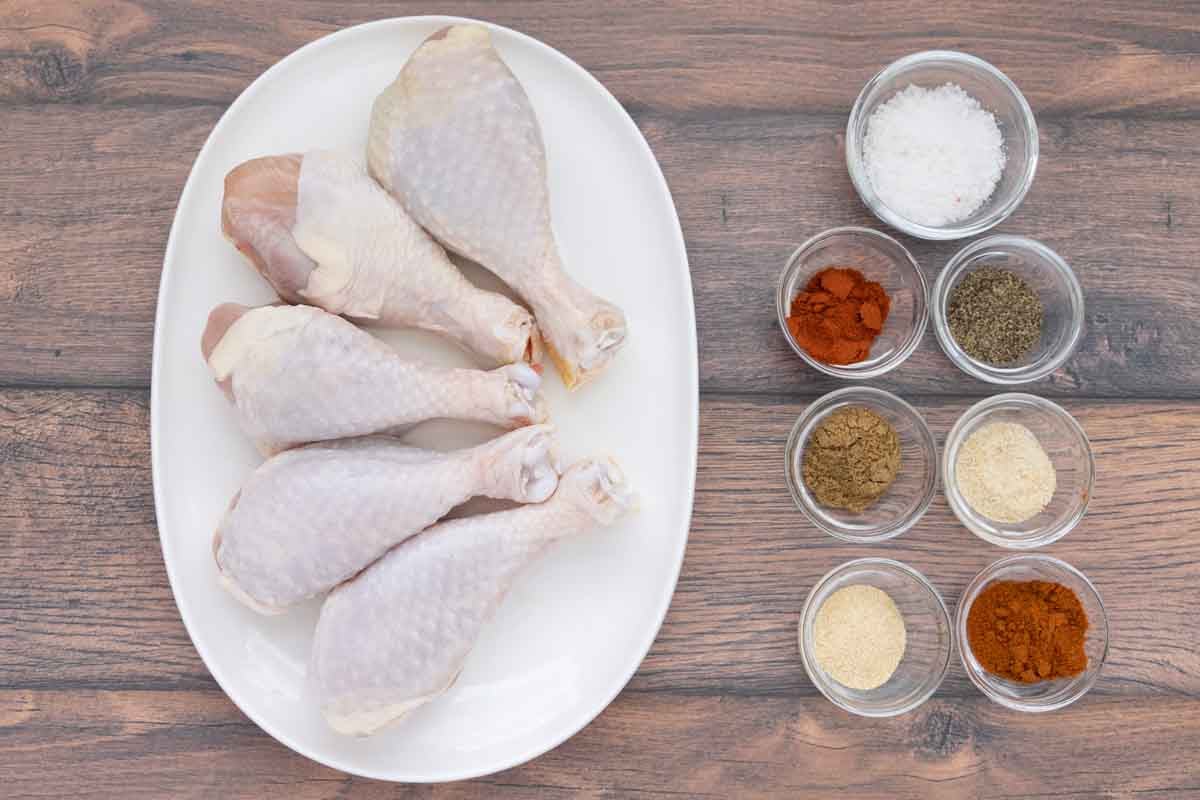 Let's start by gathering the ingredients we need to make Smoked Chicken Legs. In Chef Speak, this is called the "Mise en Place," which translates to "Everything in its Place."
Not only does setting up your ingredients ahead of time speed up the cooking process, it also helps ensure you have everything you need to make the dish.
Made with simple ingredients
chicken legs
kosher salt
smoked paprika
cumin
garlic powder
onion powder
black pepper
cayenne pepper (optional)
Can I use other spices in my dry rub?
Yes, you can. The key to making delicious smoked chicken that you and your family will love is to use seasonings that you enjoy eating. Changing up the spices in this simple dry rub is easy and definitely something you can do each time you prepare smoked chicken.
Other seasonings you could add are cumin, chili powder, dry oregano, ground ginger, turmeric, and coriander.
You can also use your favorite seasoning blend. Cajun seasoning, Jerk seasoning, Barbecue seasoning, and Old Bay can be used instead of making your own dry rub.
Brown sugar to the seasonings to make a sweet rub.
For heat, cayenne pepper is usually the best way to kick up the flavor of your smoked chicken legs. But be careful because a little can go a long way.
How to make Smoked Chicken Legs
Add your favorite wood chips to the smoker and preheat it to 250 degrees F.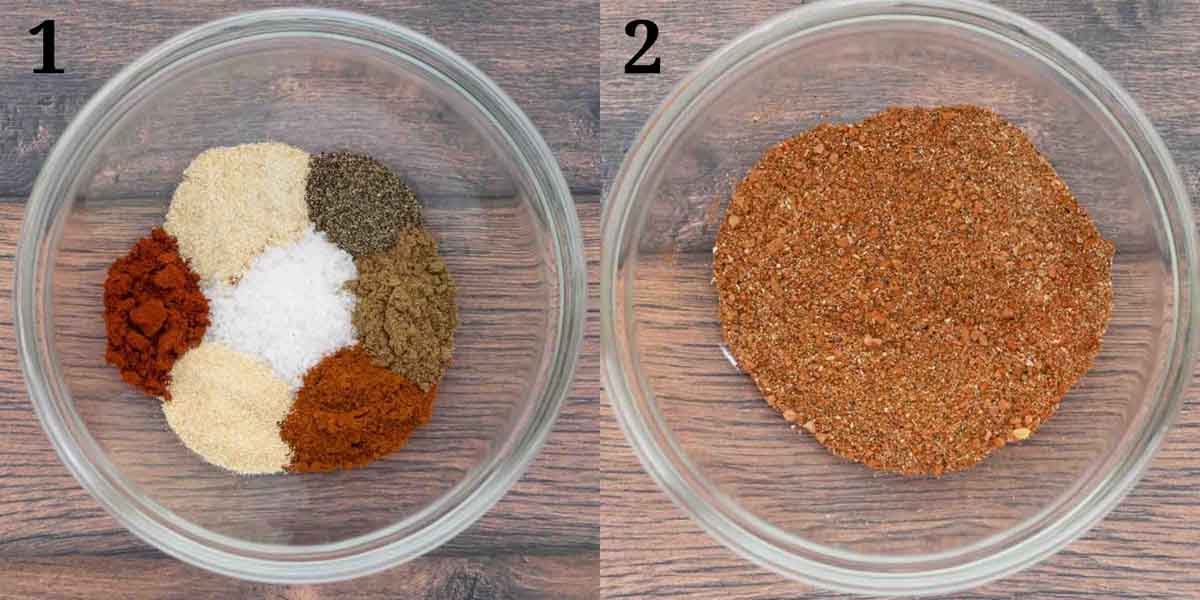 Add the seasonings to a small bowl.
Mix seasonings thoroughly to combine fully.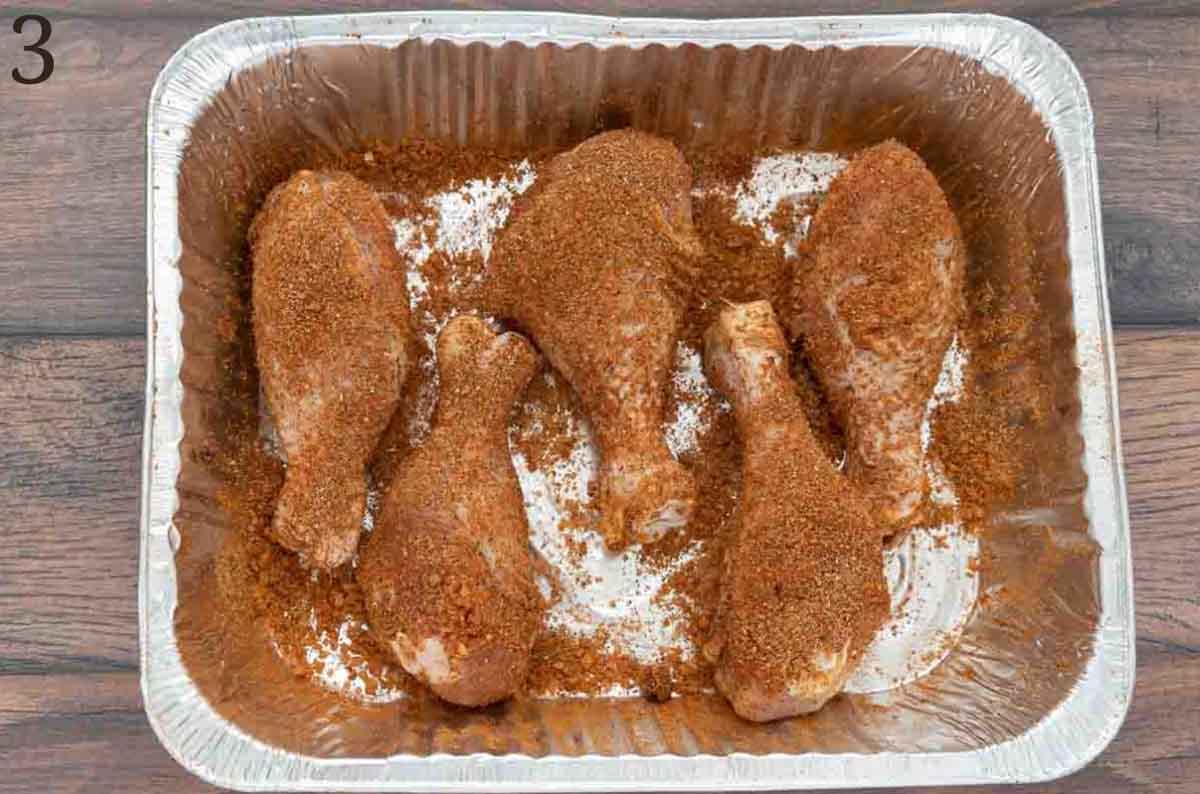 Pat the chicken legs dry with a paper towel.
Spread the dry rub generously over the chicken, making sure to season all sides of the chicken leg for a well-balanced flavor.
For maximum flavor, let the seasoned chicken set for 30 minutes to give the seasonings time to penetrate the chicken and marinate it with the flavors. This also gives the chicken legs time to come to room temperature prior to putting it in the smoker.
*This step gives the rub time to soak into the skin and meat, but if you're in a hurry, it can be skipped.
When you're cooking with a smoker, you're relying on low heat to do its job to make the best smoked chicken legs — avoid using a higher temperature. Using high heat will not result in the same juicy meat.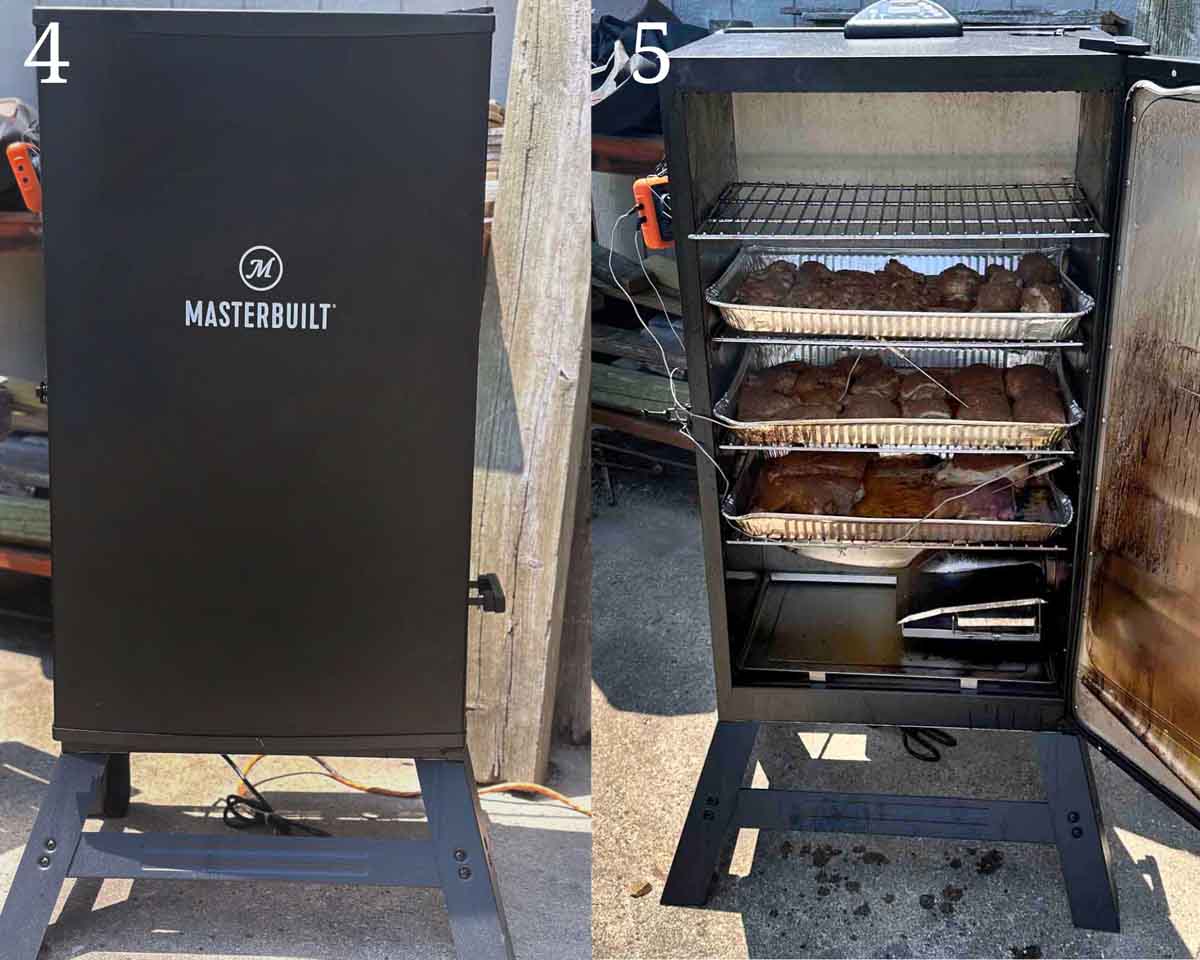 Place the seasoned chicken in a shallow foil pan and place the pan on a smoker rack in the preheated smoker. Cook the chicken legs for 90 minutes or until an internal temperature of at least 165 degrees is reached. *Alternatively, you can place the chicken directly on the rack in the smoker, placing a drip pan on the rack below the chicken.
For crispier skin, sear in the oven at 450 degrees for 10 minutes.
*Use a digital meat thermometer inserted in the thickest part of the drumstick to make sure the internal temperature of the chicken legs is at least 165 degrees Fahrenheit.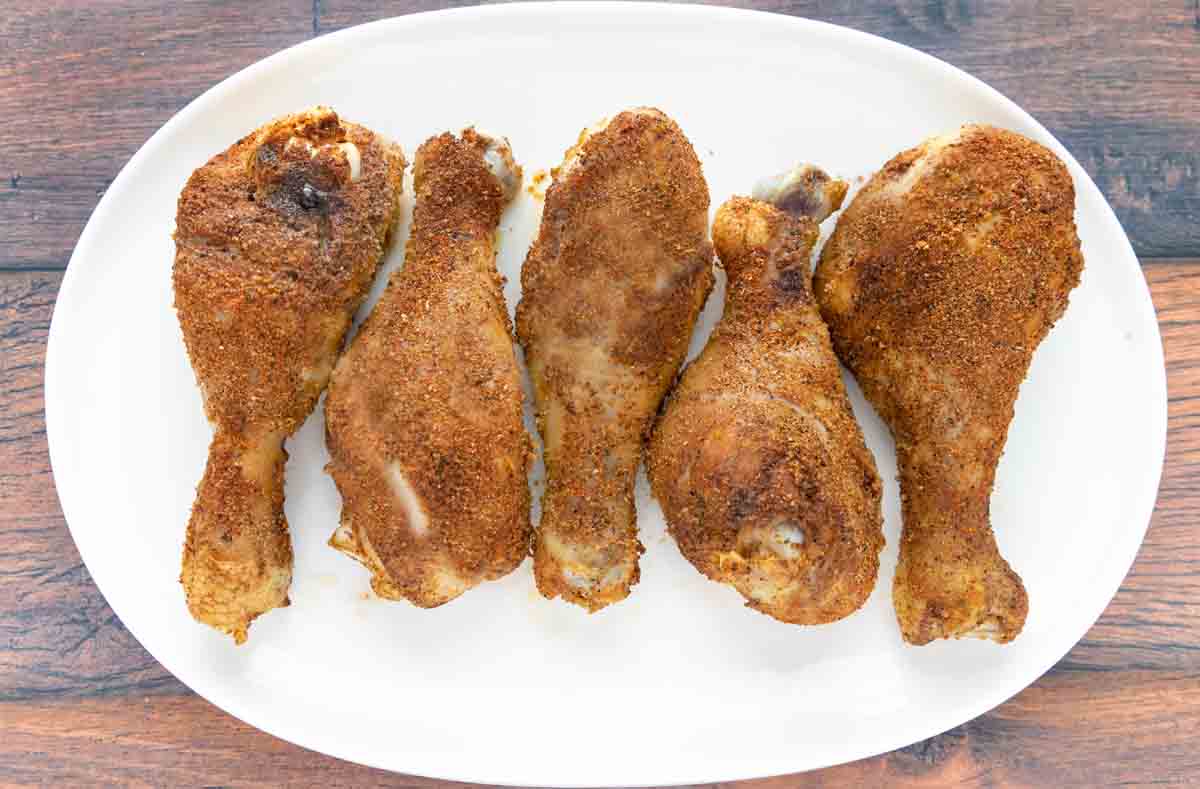 Making delicious smoked chicken legs for your friends and family couldn't be easier, and my easily adaptable dry rub lets you adjust the flavors to suit your taste, making chicken your whole family will love.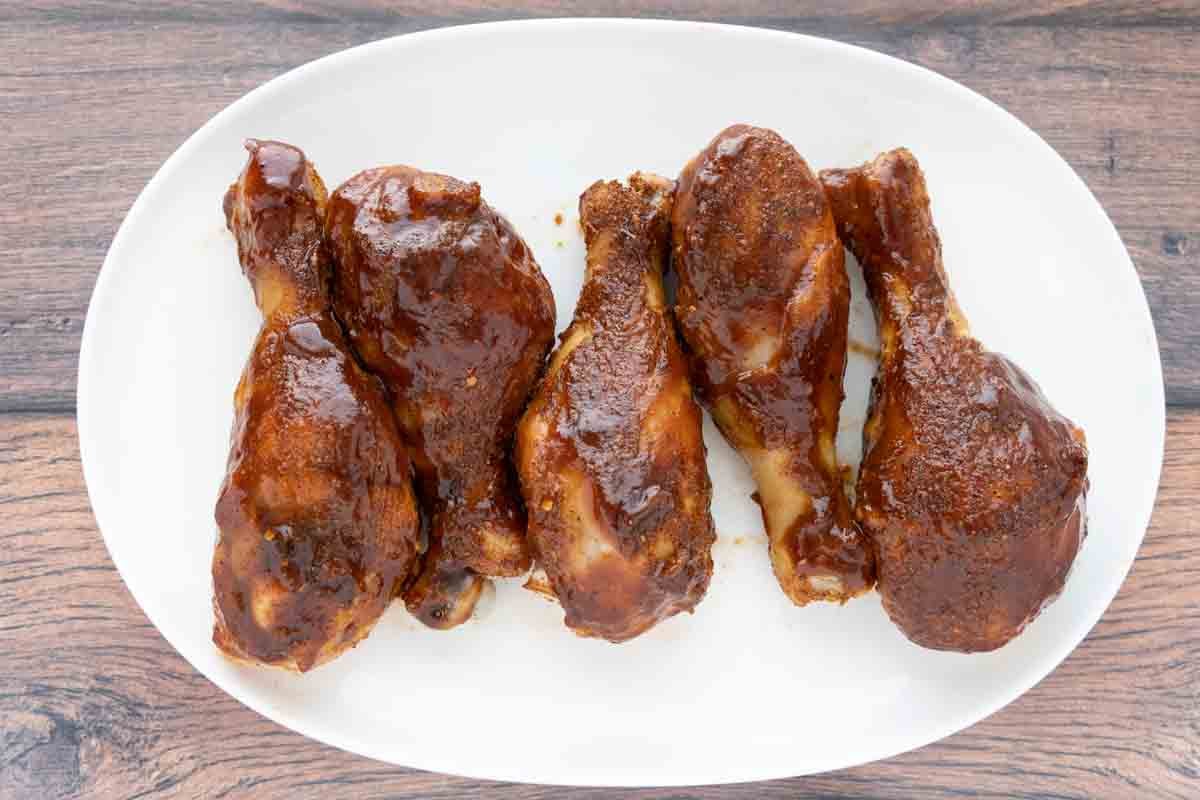 The smoking process adds a lot of flavor to the meat, but you can't beat a good barbecue sauce. Using your favorite barbecue sauce and adding a few ingredients allows you to create your own signature bbq sauce, elevating the chicken legs to the next level of deliciousness.
Use a basting brush to coat your crispy chicken legs with the bbq sauce and serve with your favorite side dishes.
Store leftover chicken legs in an airtight container in the refrigerator for 2-3 days or in the freezer for up to 3 months.
If you're a fan of these chicken legs, you might also love my other smoked chicken recipes like Smoked Chicken Wings, Smoked Chicken Leg Quarters, or Smoked Chicken Thighs.
Chef's Choice
Masterbuilt 30-inch Digital Electric Smoker
An electric smoker takes all the work out of smoking your favorite meats and seafood. This is the smoker I use for all my recipes.
Buy On Amazon
This post includes affiliate links. As an Amazon Associate, I earn from qualifying purchases.
09/28/2023 03:58 pm GMT
Chef's Choice
ThermoPro Twin Wireless Meat Thermometer
I love the ThermoPro wireless meat thermometers. The easy to use app makes it easy to track the temperatures of the meats and seafood your cooking.
Buy On Amazon
This post includes affiliate links. As an Amazon Associate, I earn from qualifying purchases.
09/28/2023 04:18 pm GMT
Top Choice
Western BBQ Smoking Wood Chips Variety Pack
You get a great variety of wood chips with this starter pack. You get one bag of apple, cheery, mesquite, and hickory wood chips in each variety pack.
Buy On Amazon
This post includes affiliate links. As an Amazon Associate, I earn from qualifying purchases.
09/28/2023 04:08 pm GMT
Chef's Choice
Heat Resistant Oven Gloves & Grilling Gloves
These gloves take all the worry out of handling hot foods. These are perfect for grilling, smoking or removing pans from the oven.
Buy On Amazon
This post includes affiliate links. As an Amazon Associate, I earn from qualifying purchases.
09/28/2023 04:23 pm GMT
Recipe FAQ'S
How do I get crispy skin on the chicken legs?
Cooking at low temperatures makes getting crispy skin on chicken virtually impossible without seriously overcooking it. To get crispy chicken skin, you need to finish the chicken in the oven, in an air fryer, or on a grill at high temperatures. The higher temperatures will cook off the moisture from the skin and give you the crisp skin everyone loves.
Does smoked chicken need to rest?
Most cooked meats can benefit from a short resting period. Chicken pieces are smaller and don't require as much time as larger pieces of meat. Let the chicken legs rest for 5 -10 minutes before serving to allow the juices to flow back into the meat.
Does smoked chicken have to reach 165 degrees to be fully cooked?
Yes, it does. For cooked chicken to be considered safe to eat, it must reach a minimum internal temperature of 165 degrees. That doesn't mean that you should overcook the chicken. Always use an instant-read thermometer to ensure the chicken reaches the right temperature.
How long to smoke chicken legs at 250?
Chicken legs take at least 90 minutes to cook at 250 degrees Fahrenheit. Depending on size, the cook time could be longer, so be sure to check that the internal temperature is at least 165 degrees Fahrenheit before removing them from the smoker.
More Recipes You'll Love!