Have you ever had Wild Boar?
Over the course of the last year, I've done my best to eat healthier. That means reading labels and switching over some of the foods I've been eating all my life to healthier versions.
There's a lot of confusion over labeling, especially when it comes to the meat industry. Phrases like Cage Free, Free Range, All Vegetarian Diet, and even the word Natural rarely tell the true story. Even the certification labels that the self-governing divisions of the meat industry uses are simply meant to confuse us and are nothing more than decorations on the packaging. And the importance of the food we eat is paramount.
It seems these days that the only distinction used by the meat industry that hasn't been perverted is Pastured. Pastured animals graze for their food the way nature intended and responsible ranchers know when to add grains to their animal diets to supplement their food supply.
So when I found out about Wild Boar and Bison as an alternative to traditional meat supplies, I thought I'd give it a try and give my honest opinion on the product.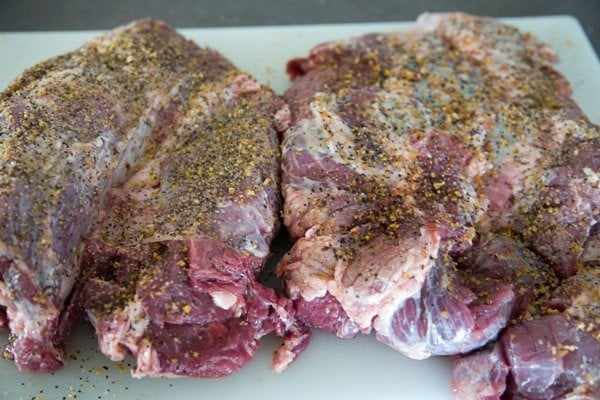 I started out with a wild boar shoulder roast, un-netting the roast and splitting it into two pieces that would fit into my slow cooker. Then I coated the roast with a little olive oil and a liberal amount of Montreal Steak Seasoning (Sea Salt and Black Pepper would work also) and seared on both sides in a large frying pan.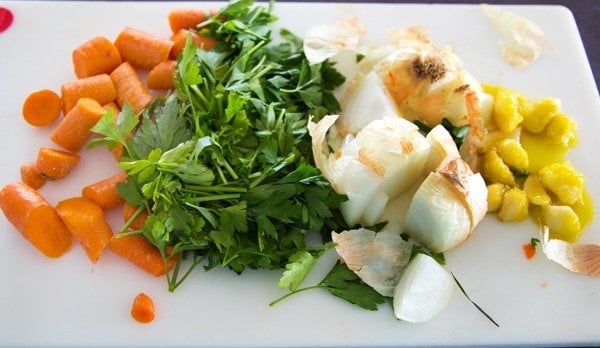 The Mire Poix that went into my slow cooker before the roast was simply, carrots, parsley, onions and garlic cloves. If my garlic looks a little funny I clean my cloves then store them in Olive Oil in a jar until needed (when I feel inspired enough to clean a bunch of garlic) and real olive oil will always solidify when refrigerated.
I added a few additional ingredients and set the timer to slow heat cooking, with a time of 7 hours and went about my day.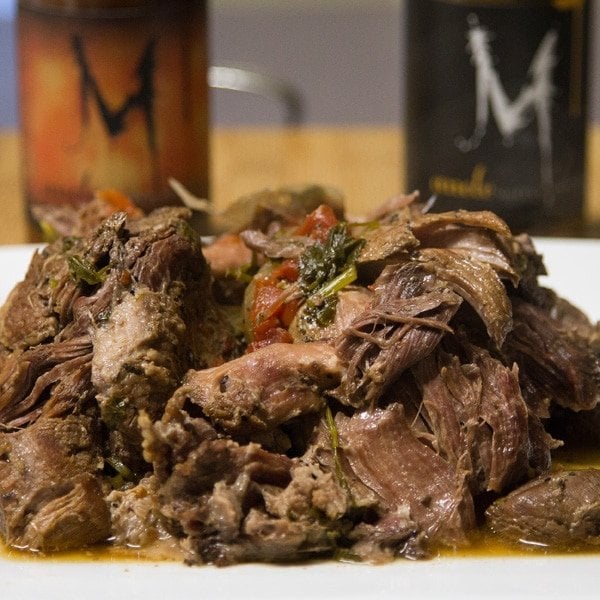 I was rewarded with fork-tender meat that tasted like pork should taste. No gaminess, no unusual flavors…… just pure unadulterated pork. To make the meal even better I broke out two bottles of my favorite BBQ sauces, try your favorites or make your own for even more deliciousness.
All I could think about was using that delicious wild boar in pasta sauces and mouthwatering sandwiches.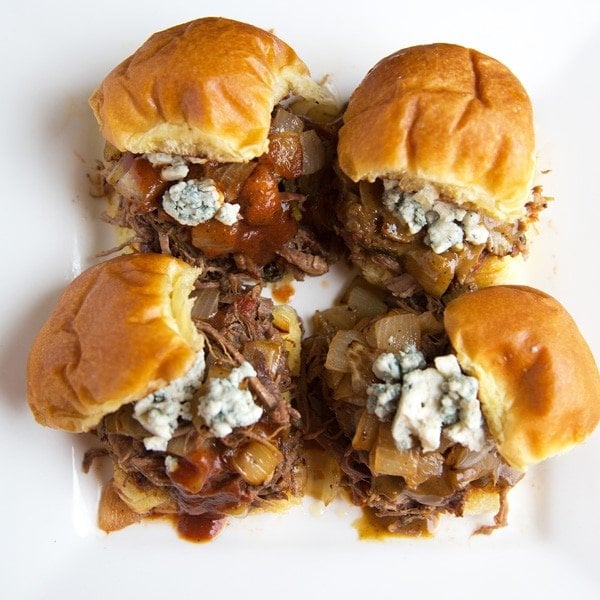 I didn't have long to wait and lunch the following day was glorious! I made wild boar sliders with caramelized onions, bleu cheese and Uncle Matty's Sauces. And yes I ate all four of them……. I loved responding to friends asking what restaurant I was at so they could partake in those sammies! I see a restaurant meet up at the Chef's House!
If you've never used a slow cooker, it's a lot easier than you think. I cooked the whole shoulder roast (about 6 lbs) without any worry or having the oven heat up the house all day. Since the roast was more than Lisa and I could eat at one time, I broke it up into manageable pieces and froze them in ziplock bags. Now I've got gorgeous tender pulled pork, ready to use whenever the craving hits…. I see a Wild Boar Ragout in my near future!
If you enjoyed this recipe you may also like these:
[Social Full]