My easy to make Slow Cooker Red Wine Braised Short Rib Recipe makes beef short ribs that are melt-in-your-mouth tender. 
And the best part is it only takes a few minutes of prep and simple ingredients that will make any night a special occasion!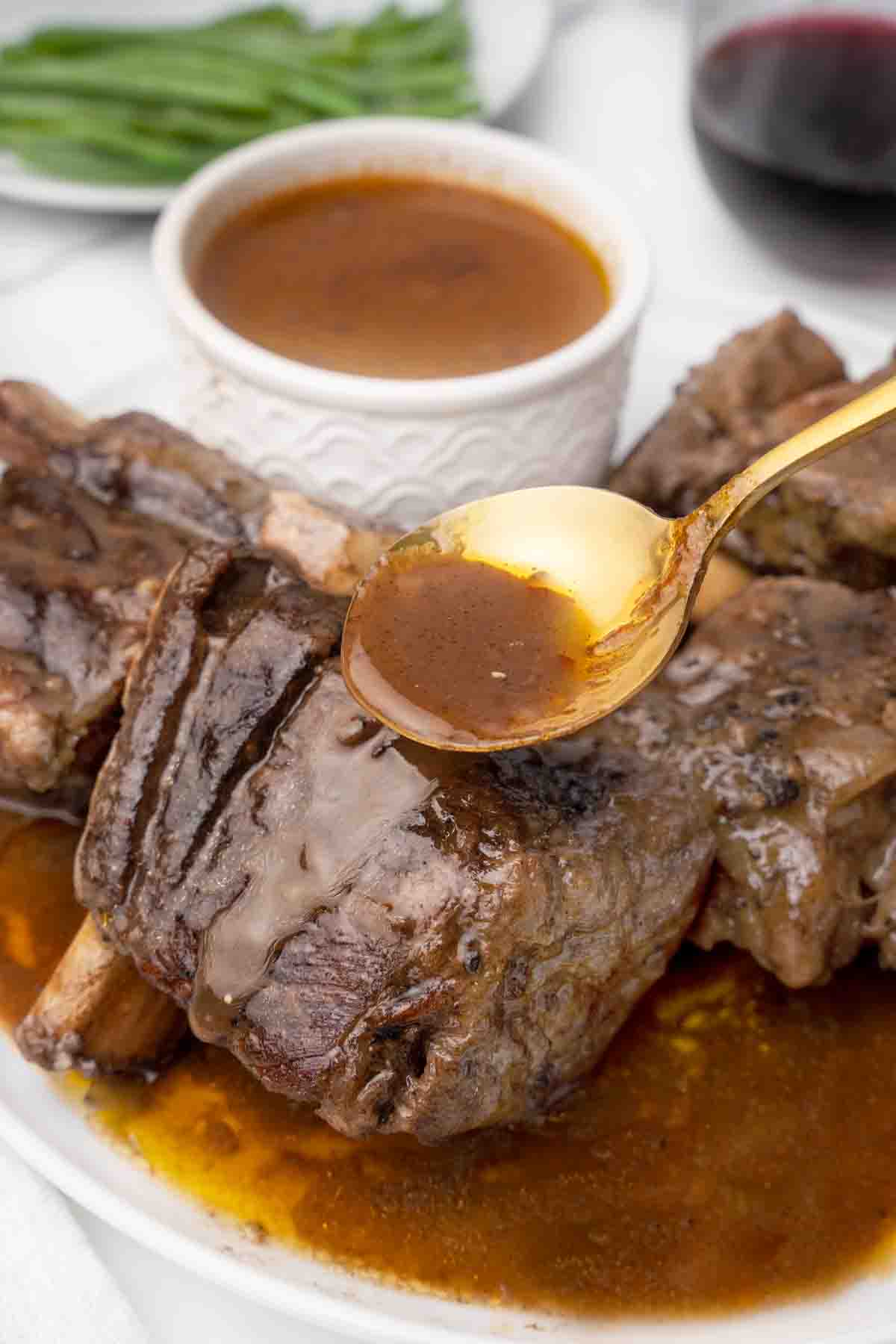 Beef Shortribs are the ultimate comfort food. The fall of the bone texture comes from hours of braising in your slow cooker (or dutch oven). And my red wine/coffee sauce makes these ribs tender and juicy ribs even more delicious!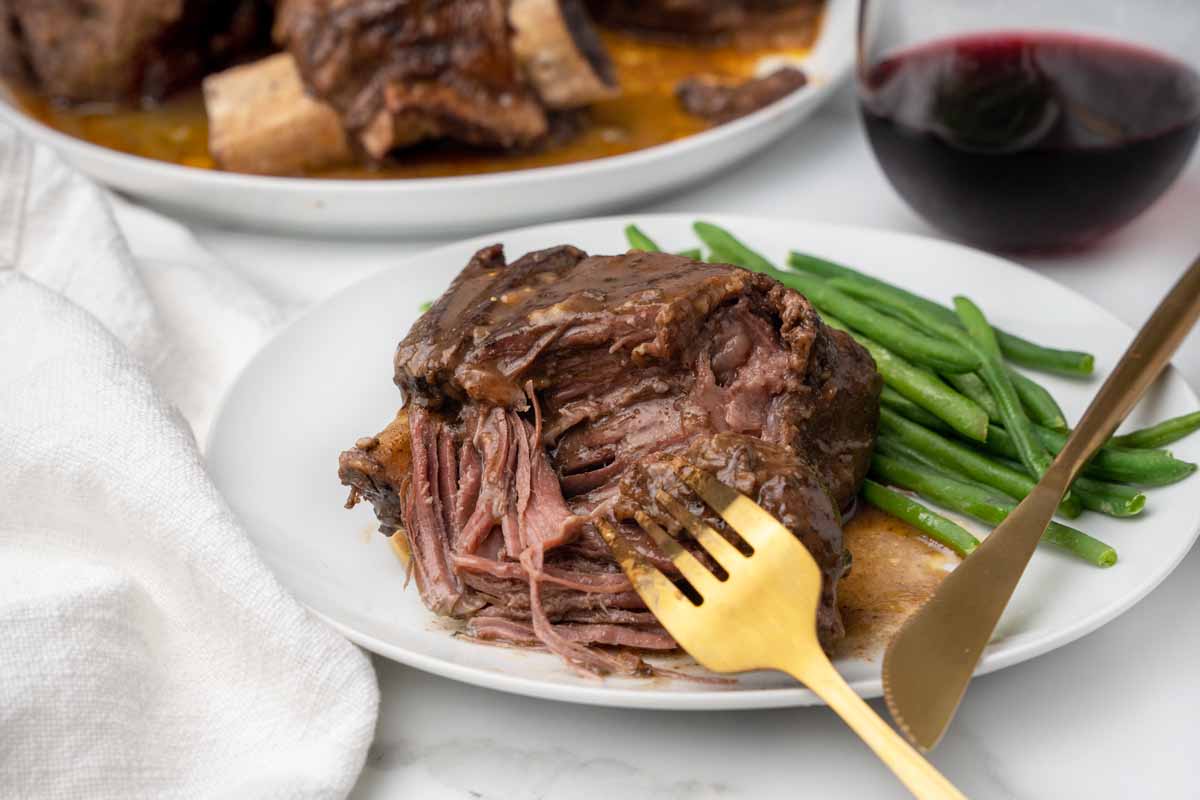 Slow cooking (braising) beef ribs is an easy way to get a tougher cut of meat, fall off the bone tender. It's also an easy way to add additional flavors to the dish. My
Guinness Short Ribs is another delicious recipe to try.
What ingredients do I need to make Braised Beef Short Ribs?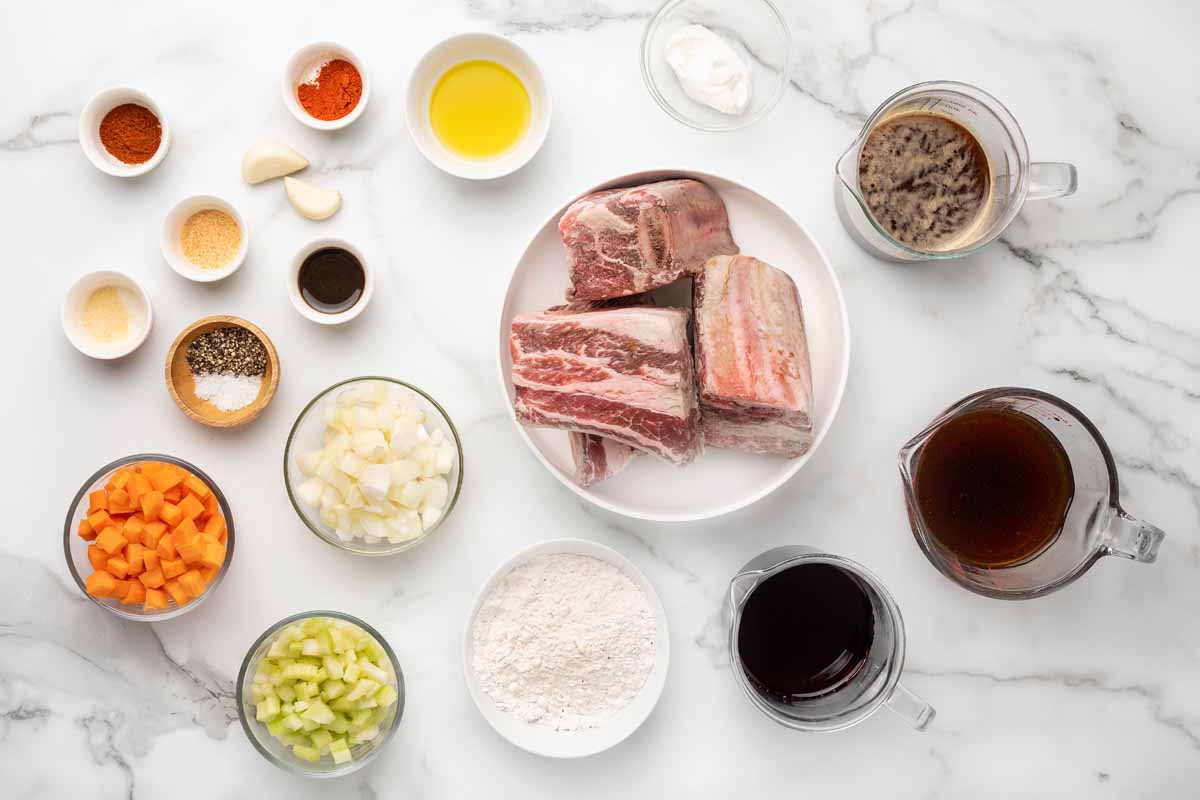 Let's start by gathering the ingredients we need to make my Beef Short Ribs with red wine coffee sauce. In Chef Speak this is called the "Mise en Place" which translates to "Everything in its Place".
Not only does setting your ingredients up ahead of time speed up the cooking process, it also helps ensure you have everything you need to make the dish.
There are a lot of great slow cookers on the market but I love my Ninja 9-1, it does everything!
How do I make Braised Short Ribs of Beef?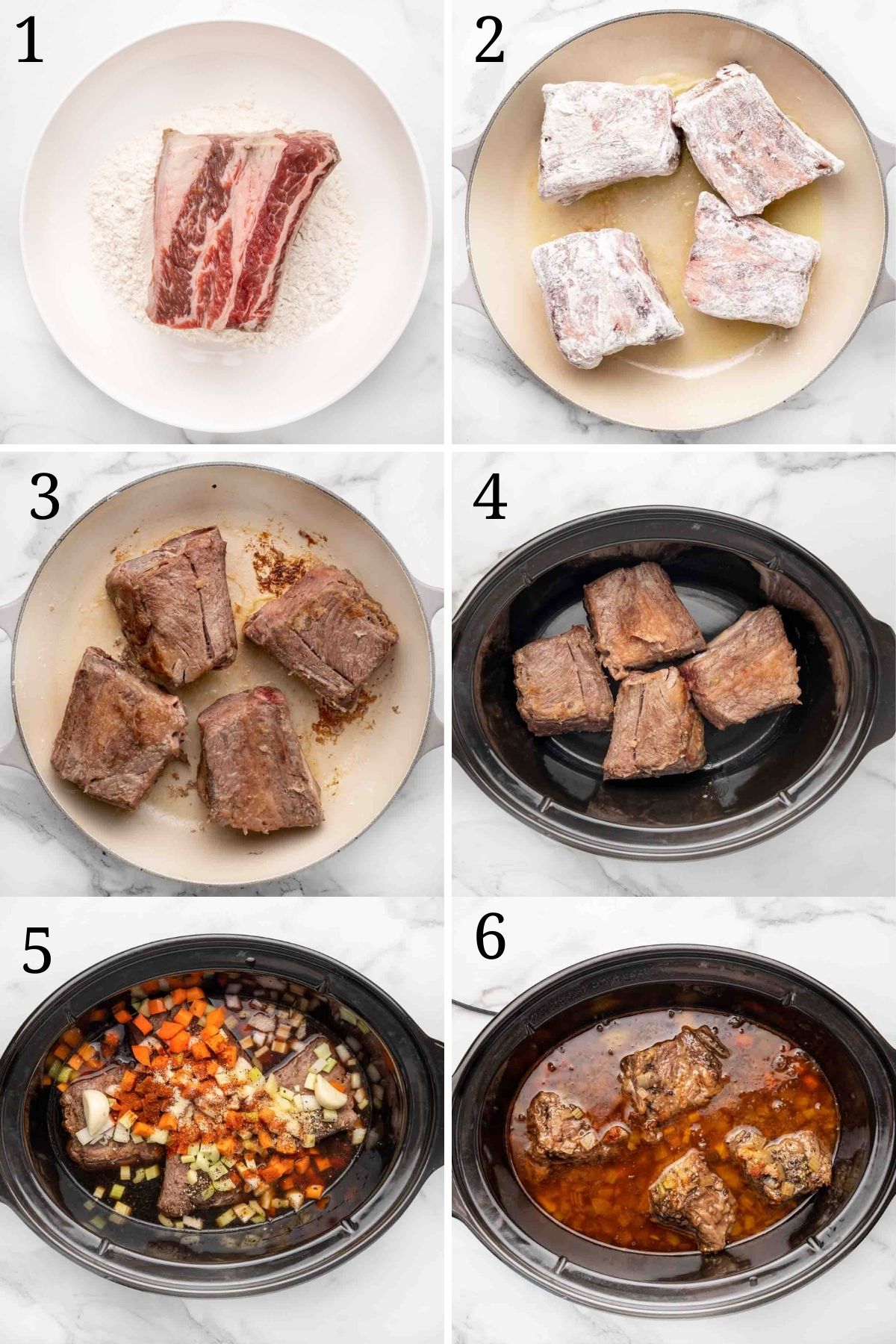 Place the short ribs in a large bowl and toss with flour seasoned with salt and black pepper.
Place the olive oil in a large pot or dutch oven over medium-high heat.
Once hot, place the short ribs in the pot and sear until browned on each side.
Transfer the browned short-ribs to the slow cooker.
Add the carrots, onions, celery and garlic to the slow cooker.
Add the remaining ingredients to the slow cooker and cook on low for 6-7 hour
This can also be done on stove top with a dutch oven or heavy pot with a lid. Cook time would be 3-3.5 hours on simmer.
How do I make a Red Wine Coffee Sauce?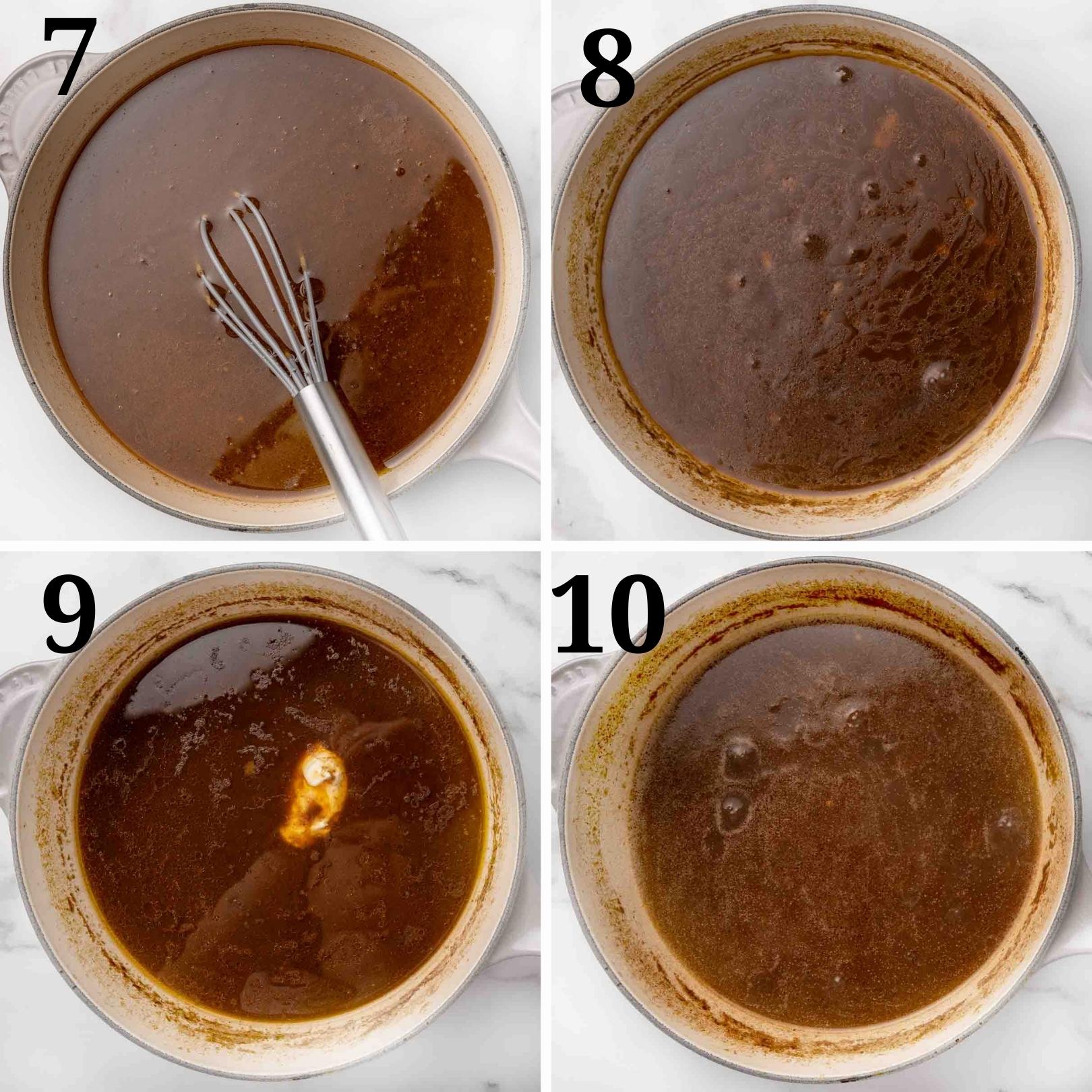 Drain the the liquid from the slow cooker and place into a saucepan. Turn off the slow cooker and leave the ribs covered until your sauce is complete.
Add one tablespoon of flour into the sauce and mix well with a wire whip. When liquid begins to boil, reduce heat and allow to simmer. Your reduction should begin to thicken and when its thick enough its done.
Add in the sour cream and mix well.
Skim any extra fat off the top of the sauce and remove from the heat.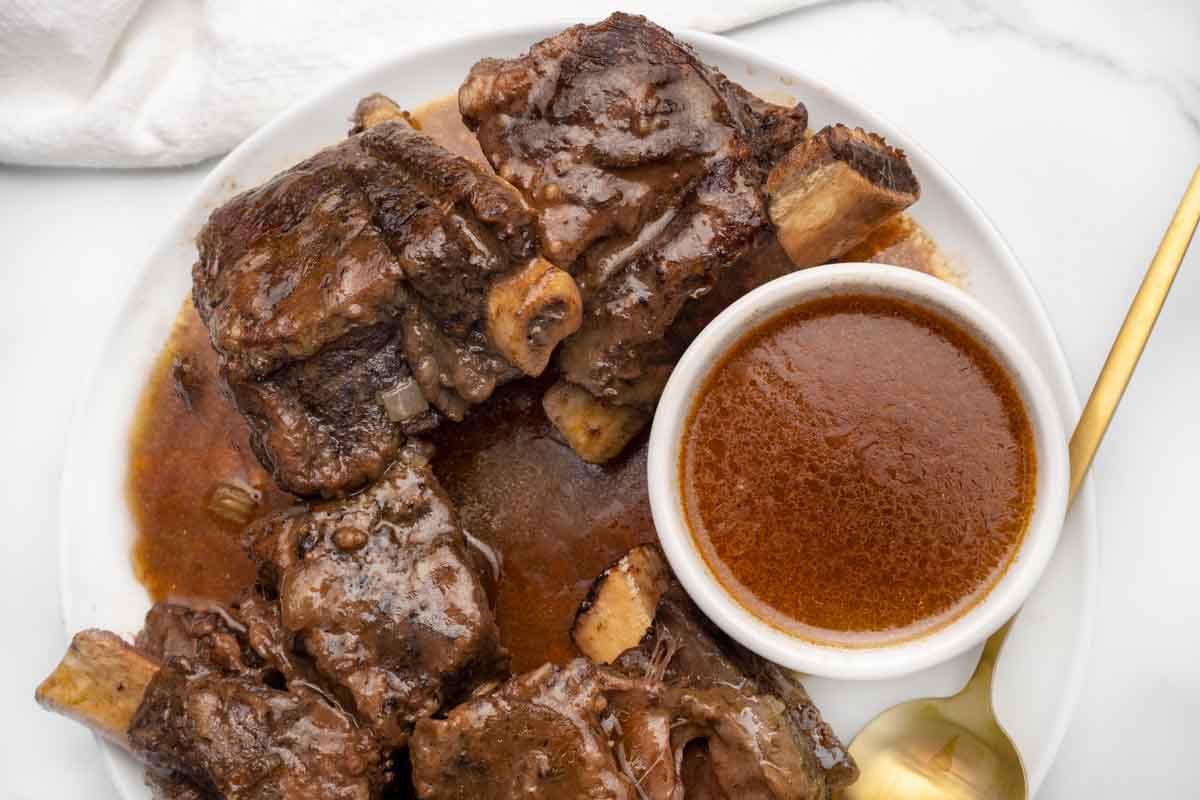 The unique blend of red wine and coffee added a rich and robust flavor to my ribs. And depending upon the heartiness of the red wine you use, could be even more flavorful. My seasonings were pretty basic and my mirepoix, a standard blend of celery, carrots and onions with a few garlic cloves thrown in for good measure.
The smoked paprika and chili powder added another level of flavors that combine perfectly with other ingredients. But if those aren't you're favorite seasonings, you can leave them out.
My simple reduction of the juices in the slow cooker made for a delightful sauce and a change from the typical tomato-based barbecue. But feel free to take these delicious ribs in any direction you choose. It's all about what you enjoy eating.
Recipe FAQ's
What are short ribs of beef?
Beef chuck short ribs are flavorful and one of the tastiest cuts of beef and are made for slow cooking. They come from the front section of the backbone and are beautifully marbled which makes these ribs fall off the bone tender.
What are the different cuts of short ribs?
There are two cuts of beef short ribs. flanken and English-style.
Flanken translates to "flank" in German, and it refers to ribs that are located along the back towards the belly of the cow. These are cut across the bones into short ½ inch lengths. Sometimes, a few cross-sections of ribs are left in a strip.
The English-style of short rib is cut between each rib which separates them. This leaves a thick piece of meat sitting on top of the bone. English ribs can be left in one long piece or cut into smaller, 2-inch pieces. These are the preferred style of short ribs.
You can sometimes find boneless short ribs, but remember the bone adds flavor.

Do you have to pan sear short ribs before slow cooking?
Some recipes will tell you it's not necessary, but searing the short ribs (or any meat) before slow cooking truly adds to the flavor and finished dish. It only takes a few minutes and is well worth the effort.
When you sear the short ribs, the outside of the meat caramelizes slightly and that adds flavor to the meat. That flavor releases as the beef cooks and makes for a very flavorful dish.
MoreSlow Cooker Recipes You'll Love!