One bite, and you'll agree this is the Best Creamy Tuscan Chicken you'll ever make! Made with tender chicken breast, baby Tuscan kale, sun-dried tomatoes, and red bliss potatoes in a luxurious cream sauce. This delicious restaurant-quality dish is perfect for weeknights, date nights, or your next dinner party.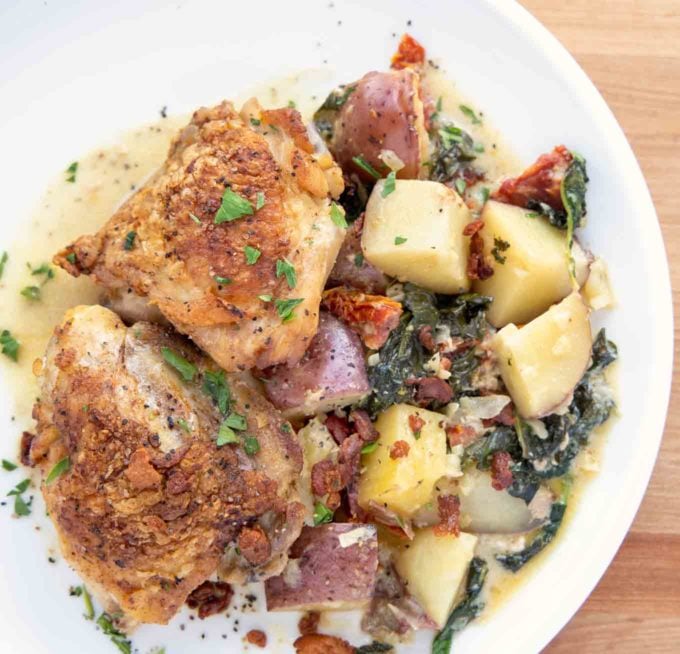 This is a take on an old Olive Garden recipe with a few tweaks to make it even more delicious! The flavorful, creamy sauce makes my Creamy Tuscan Chicken of my favorite chicken recipes.
When it comes to creating delicious recipes, you can always count on Italy to come up with delicious dishes.
Ingredients for Creamy Tuscan Chicken
Let's start by gathering the ingredients we need to make my Skillet Chicken Gumbo. In Chef Speak, this is called the "Mise en Place," which translates to "Everything in its Place."
Not only does setting your ingredients up ahead of time speed up the cooking process, but it also helps ensure you have everything you need to make the dish.
Made with Simple Ingredients
chicken breasts
baby Tuscan kale (or baby spinach)
red bliss potatoes
sun-dried tomatoes
bacon
heavy cream
fresh garlic cloves
shallots
grated Parmesan cheese (or Romano cheese)
chicken broth
sweet Hungarian paprika
salt and black pepper
olive oil
I've seen recipes add tomato paste, but that is not an ingredient I would add to this dish.
Do I have to use Chicken Thighs to make Creamy Tuscan Chicken?
No, you don't. You can use boneless skinless chicken breasts or a whole cut-up chicken instead of just thighs. The process is the same as long as you leave the skin on. Either way, you make it, my creamy Tuscan chicken recipe is a keeper!
**if you go with skinless breasts or thighs, you don't have to sear the chicken for as long since there isn't any skin to crisp up.
Can I make substitutions in this dish?
You sure can! If you can't find baby kale or prefer using fresh spinach (or any other green), feel free to make the change. I like using baby kale because it's more tender than the larger leaves.
You can leave out the sun-dried tomatoes if you don't like them or can't find them. Or you can swap them out for cherry tomatoes. If you use cherry or grape tomatoes, cut them in half and use them more as a garnish. You can cook them, but raw, they will add a nice fresh pop to the dish.
The bacon garnish is optional, or you can cook it with the shallots and garlic adding it directly to the sauce. You could also use chopped prosciutto as a garnish instead of bacon.
If you like mushrooms, they will make an excellent addition to the dish. Quartered or cut in half would work well in the sauce; sauté them right before adding the shallots and garlic. No fresh garlic on hand? You can use garlic powder instead.
You can also use any type of potato that you like or have on hand. If you don't have any shallots, use chopped onion instead or onion powder.
How to make Creamy Tuscan Chicken
The first step is to preheat your oven to 375 F. Then season the chicken thighs on both sides with sea salt, black pepper, and sweet paprika.
*you can also use your favorite Italian seasoning.
Add olive oil to a large skillet on the stovetop over medium-high heat.
Place the seasoned chicken skin side down into the hot skillet (be careful) and cook until nicely browned, about 4-5 minutes. Turn the chicken over once it has browned, and cook the other side for 2 minutes.
Remove the chicken from the skillet and set aside until needed. Discard all but one tablespoon of the oil from the skillet, then add fresh garlic and shallots to the oil. Let them cook for about one minute.
*If you'd like to add a little white wine to the sauce, this is the time to add it, deglazing the pan.
Next, add the heavy cream and chicken stock to the pan. Bring the mixture to a light boil, reduce the heat to medium-low, and allow the sauce to reduce for about five minutes until thickened.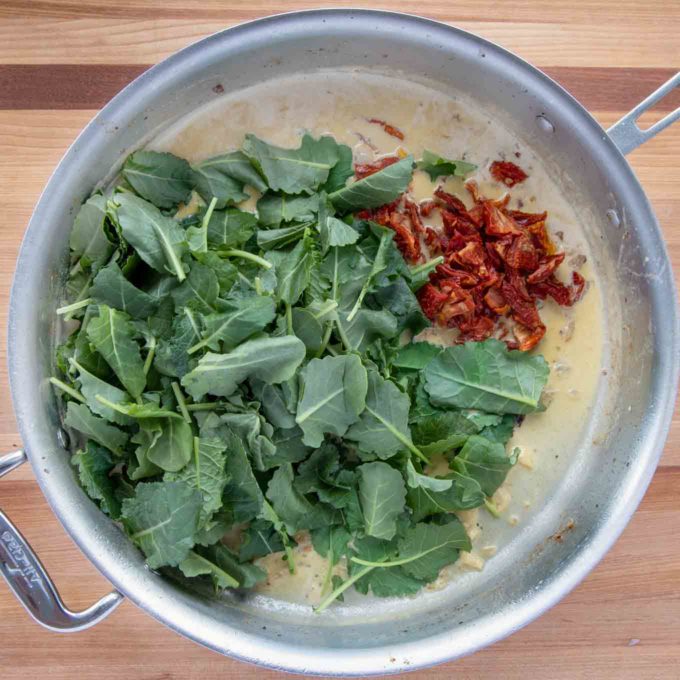 Add the spinach and sun-dried tomatoes to the sauce. Mix into the sauce and allow to cook for 2-3 minutes over medium heat.
Remove the pan from the heat and add in the grated Romano or parmesan cheese. Taste the sauce and re-season as needed.
Pour the sauce over the potatoes into the baking dish. I used a 10-inch square baking dish.
If you'd rather use pasta instead of potatoes, you can easily make the switch and turn it into a Creamy Tuscan Chicken Pasta dish.
Place the seared chicken thighs on top of the potato mixture. Place the baking dish in the 375-degree preheated oven and bake for 50-60 minutes until the potatoes are fork tender and the chicken is fully cooked.
Garnish the chicken with the crispy bacon and chopped parsley and this great recipe is finished!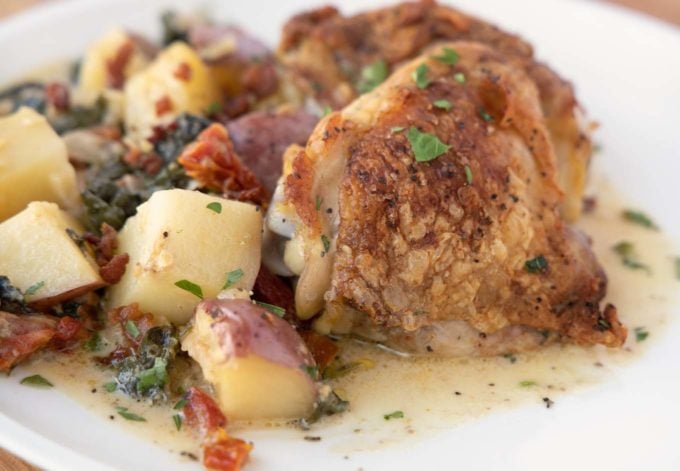 Wouldn't your family love to sit down to this delicious meal? I promise you won't hear anyone say, "Chicken Again?".
Recipe FAQ's
What goes with creamy Tuscan chicken?
I like to serve a side salad and crusty bread (or garlic bread) with this dish. But if you don't mind the extra carbs, it can be served over rice or pasta, making this a very filling meal.
Where did Tuscan chicken originate?
The Tuscany region of Italy is where the first recipes for Tuscan chicken were developed. Of course, in Tuscany, it was just referred to as a chicken recipe. You will find that recipes from the Tuscan region use mushrooms, sun-dried tomatoes, local fresh greens like kale, and grated hard cheese such as Romano or parmesan.
More Chicken Recipes You'll Love!