When it comes to pure comfort food Chicken Cacciatore is an Italian Classic with a rich and rustic sauce that will have the entire family begging for more.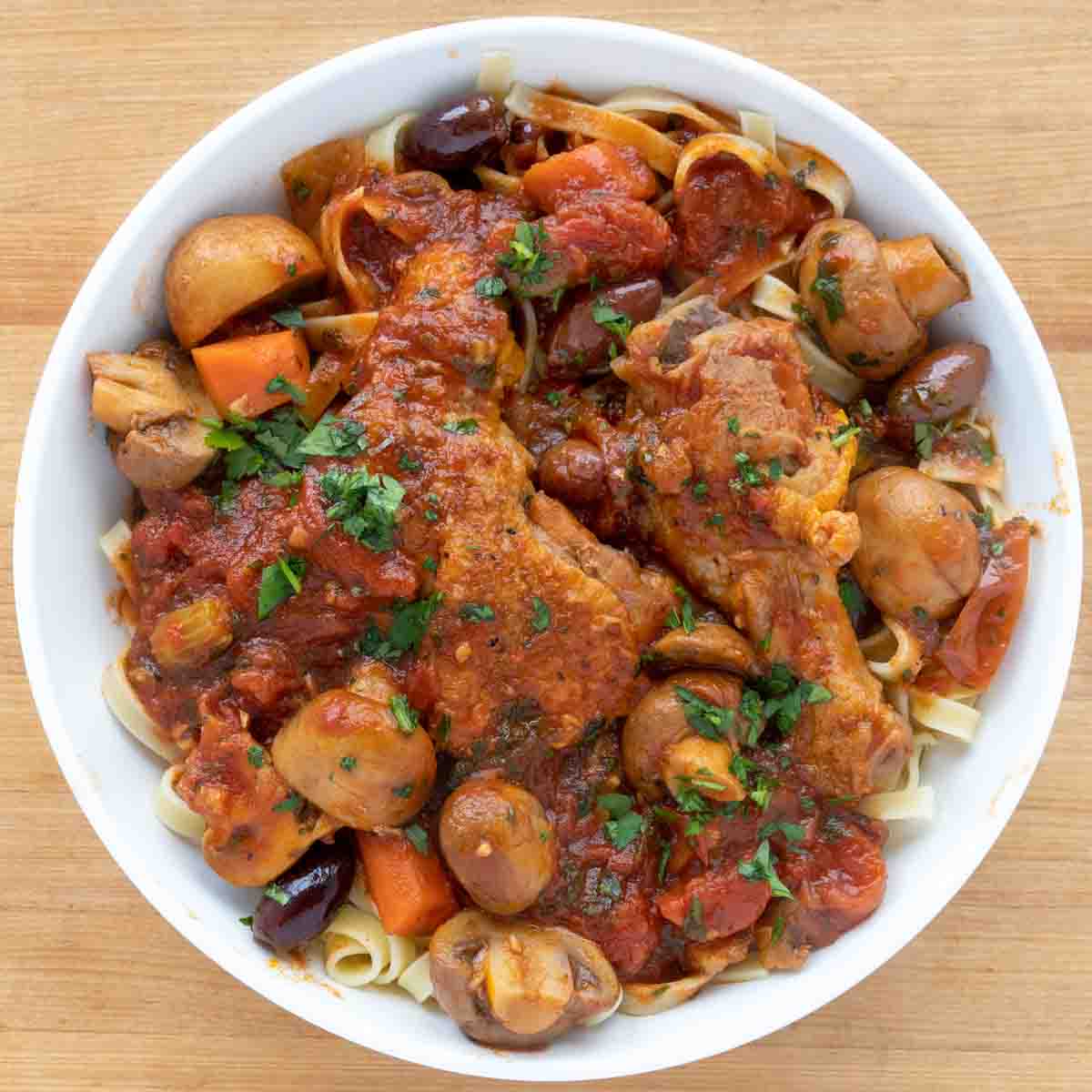 Whether you make Chicken Cacciatore Recipe with a whole cut-up chicken or chicken thighs and legs, this fall-off-the-bone delicious chicken is going to become one of your favorite recipes!
This is a family favorite at my house along with my Chicken Pepperoni and Creamy Tuscan Chicken.
What ingredients do I need to make chicken cacciatore?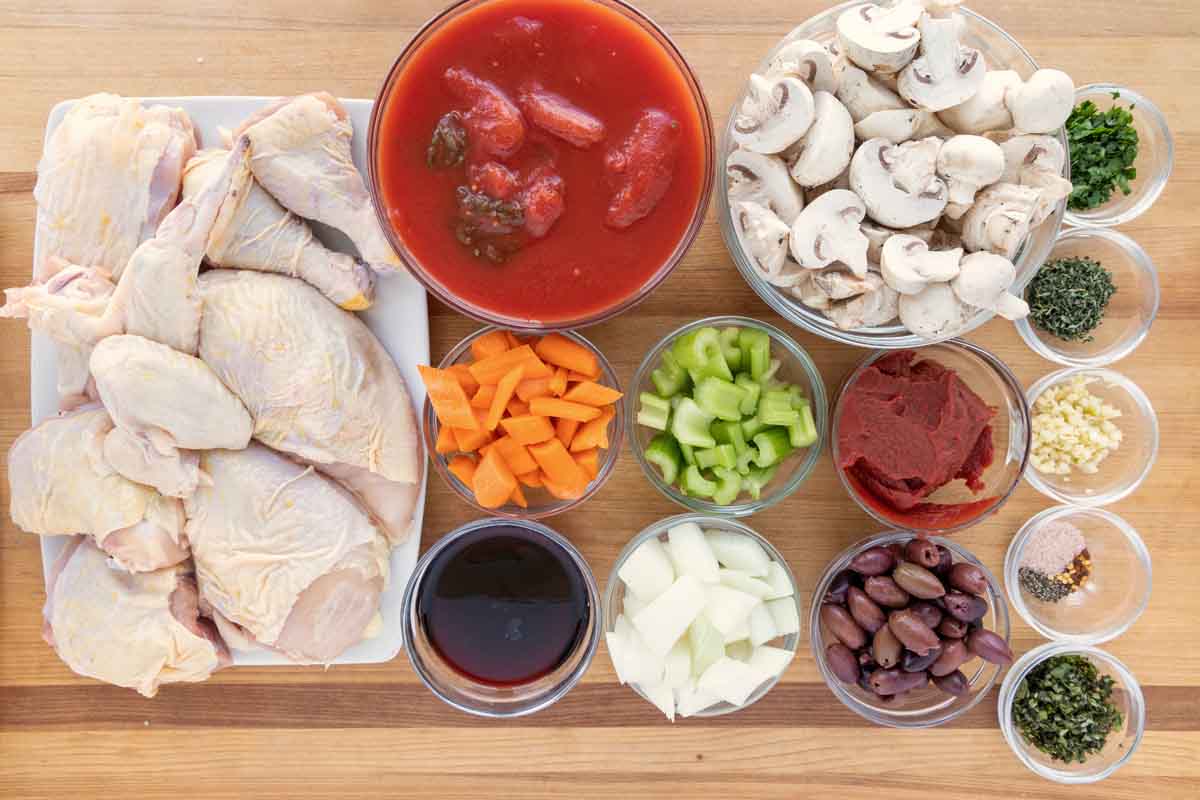 Let's start by gathering the ingredients we need to make Chicken Cacciatore. In Chef Speak this is called the "Mise en Place" which translates to "Everything in its Place".
Not only does setting your ingredients up ahead of time speed up the cooking process, it also helps ensure you have everything you need to make the dish.
In Italian Cacciatore translates to hunter and alla cacciatora translates to hunter-style. My interpretation of this classic dish is made with chicken or rabbit, onions, carrots, mushrooms, celery, garlic, tomatoes, herbs and red wine.
How do I make Chicken Cacciatore?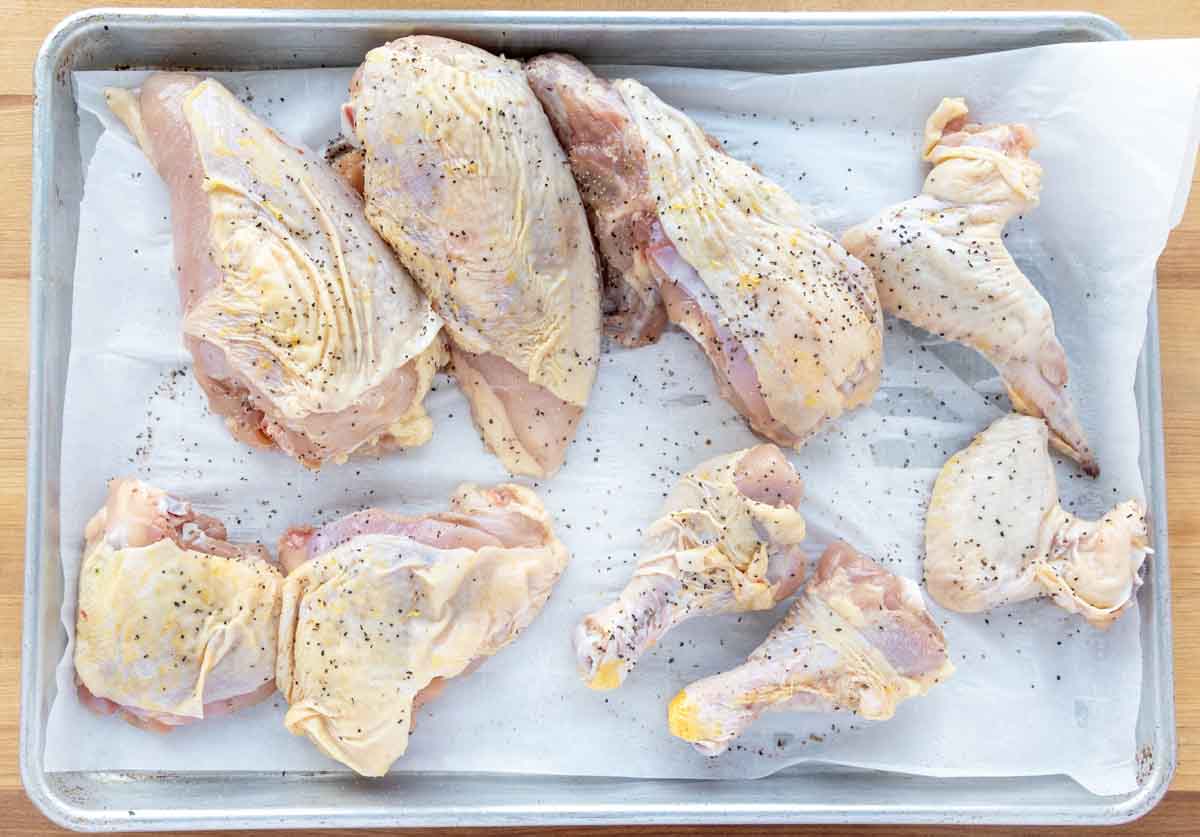 The first step is breaking down the whole chicken into pieces. You can use kitchen shears or a sharp knife to do this. Notice that I include the back which normally would be discarded.
There's a lot of flavor in that piece of chicken so we're going to include it in the pot, but not serve it to our guests.
Do I have to use a whole chicken to make this dish?
No, you don't. In fact, I prefer dark meat when making this type of braised chicken dish and will often use thighs and legs, excluding the breasts when making this type of chicken dish?
Can I use boneless chicken to make this dish?
Yes, you can. But truthfully it won't be as flavorful. The bones do add a good amount of flavor to the dish. But if you want to use boneless chicken I would stay with boneless skinless chicken thighs. They will have the most flavor and not dry out as much as chicken breasts.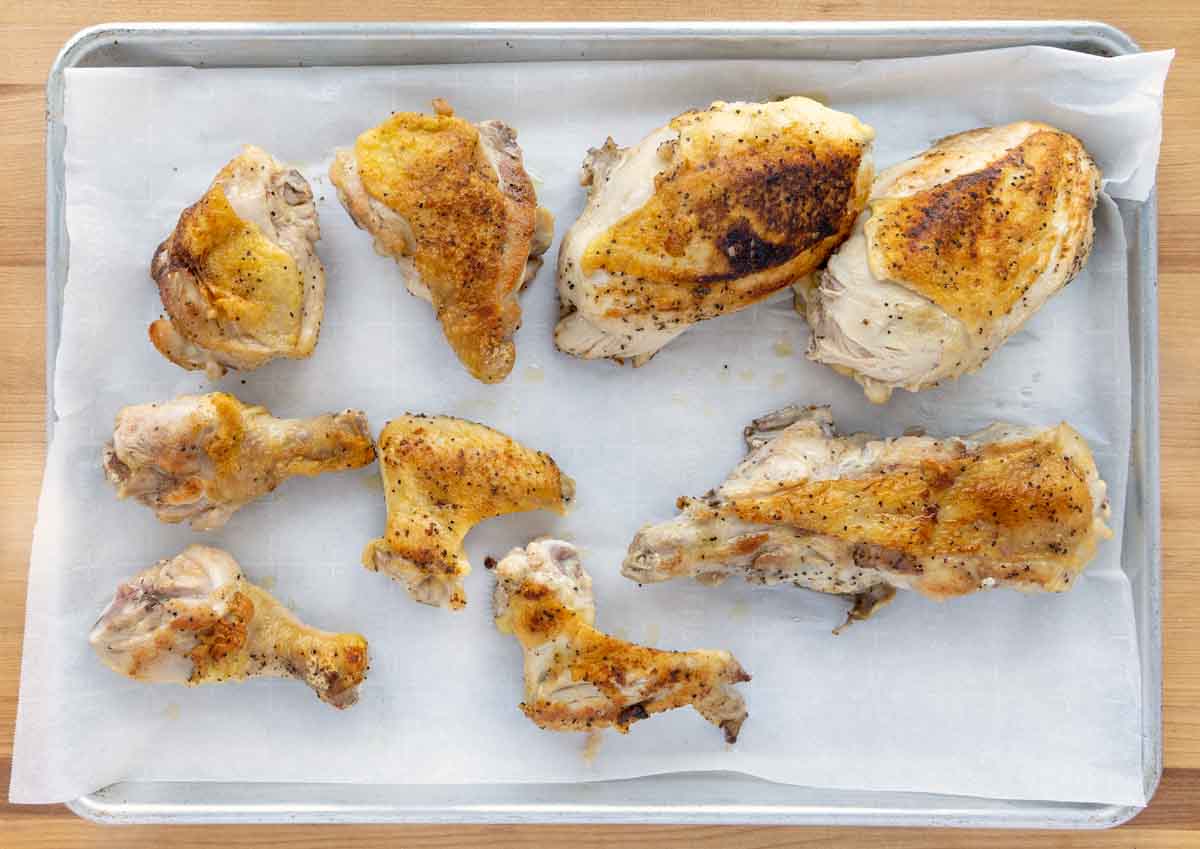 After preparing the chicken, the next step is searing those pieces to a nice golden brown. I wish they would stay that crispy but after cooking with the sauce you'll hardly recognize that beautiful crispy chicken skin. It is an important step so don't skip it.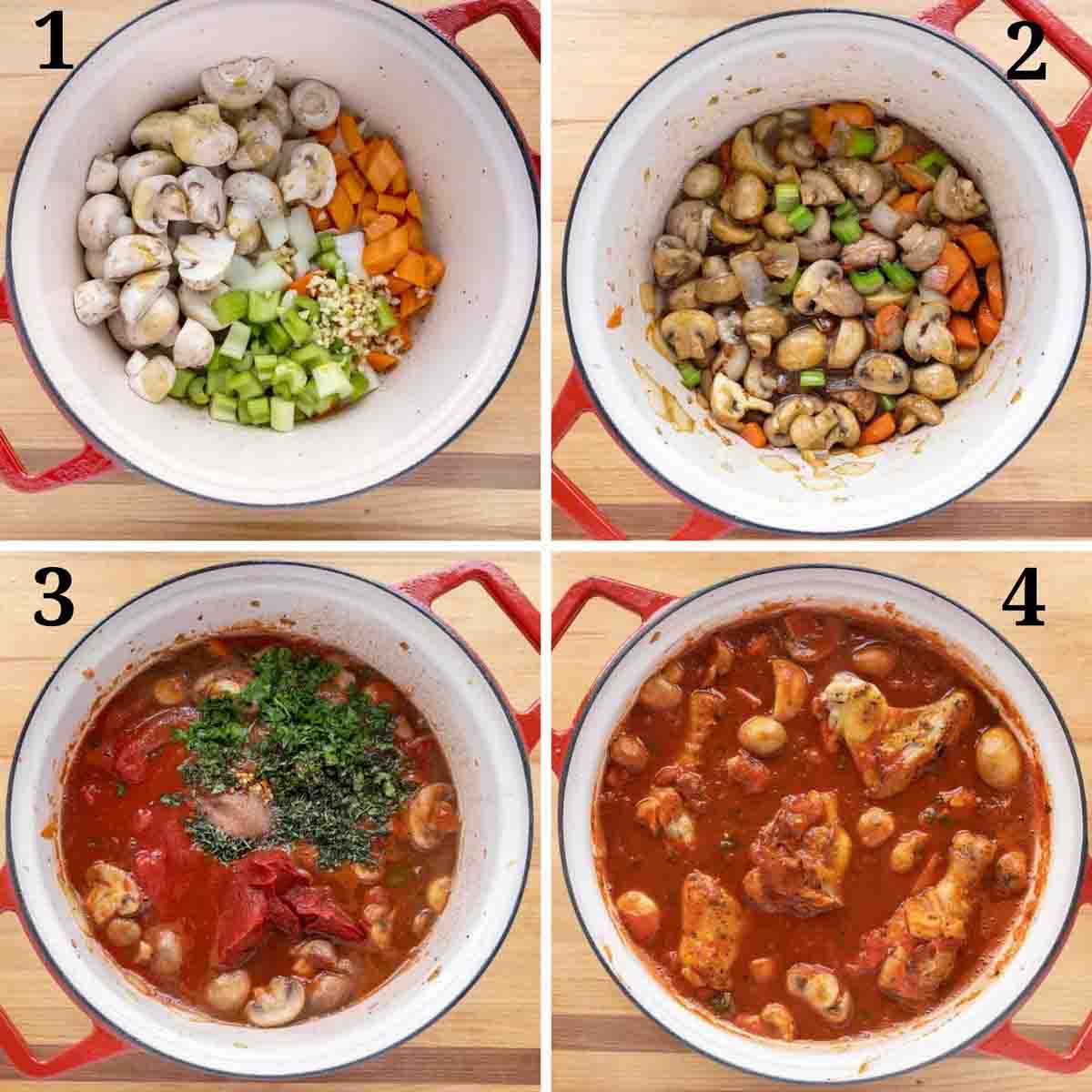 Add the onions, celery, carrots, garlic, and mushrooms to the pan and cook for 6-8 minutes. Turn the heat down to medium.
Deglaze the pan with the red wine and stir to get all the tasty bits off the bottom of the pan. (traditionally red wine is used but you can substitute a dry white wine)
Add the tomatoes, tomato paste, parsley, basil, thyme, sea salt and pepper. Stir until well mixed. Bring the mixture to a low boil then reduce the heat to a simmer.
Add the browned chicken back into the dutch oven, immersing the chicken in the sauce. Cover the dutch oven with a lid and allow to simmer for 1 hour.
Do I have to use a Dutch oven?
This post contains affiliate links.
Chicken cacciatore can be made in a large skillet if you don't have a Dutch oven. If you don't have a lid for the skillet, use aluminum foil to keep the pot covered.
I've used a lot of dutch ovens over the years and this chef only uses Misen Dutch Ovens for his cooking.
Misen also makes great quality knives at a reasonable price and has become my knife of choice for my home kitchens.
How do I make Instant Pot Chicken Cacciatore?
It's easy to Instant Pot Chicken Cacciatore, and the instructions aren't that much different. Sear the chicken as outlined in the recipe and follow the steps until it's time to let the chicken simmer. Use the directions below to finish the chicken in your instant pot.
Close the lid, and set the valve to the "sealing" position, if your model doesn't do this on its own. Make sure your Instant Pot is set to cook at high pressure.
Press the "manual" or "pressure cook" button and set the timer to 12 minutes. The Instant Pot will beep after a few seconds and it will start building up pressure. This can take 5 to 8 minutes, so be patient.
Once the cooking cycle is done, press the "cancel/off" button. Let the Instant Pot release pressure on its own. Do Not Touch the Pressure Valve.
When the pressure valve pin is down, carefully open the lid, making sure its away from your face. Stir in the olives, basil, and parsley, then let the pot sit for 5 minutes before serving.
You can also use your slow cooker to make this dish.
Do I have to use mushrooms in this dish?
No, you don't. I love mushrooms, they add an earthy flavor and help fill out the dish, but if you're not fond of mushrooms feel free to leave them out.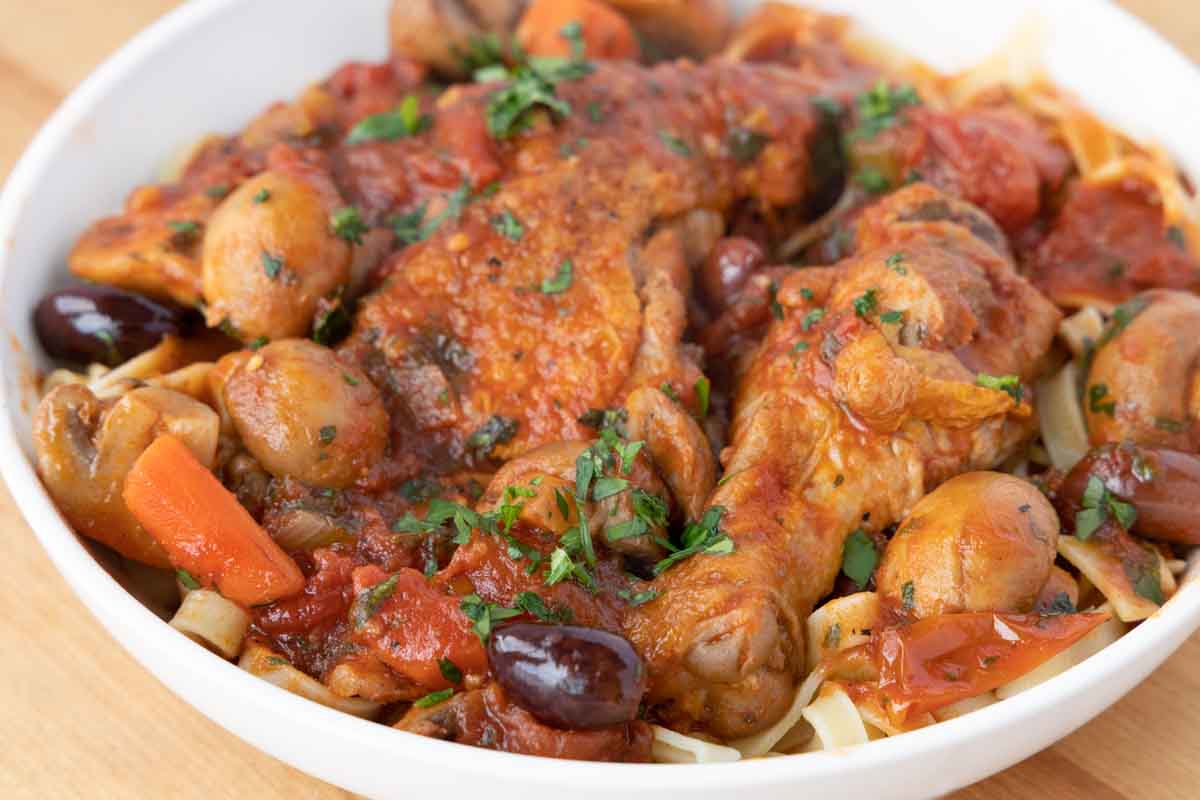 There are many variations on this delicious Italian chicken dish. Feel free to adapt it with your favorite seasonings and veggies. But any way you make it you're going to love this slow-cooked chicken cacciatore. It's an easy recipe, you'll turn to time and time again.
I like to serve chicken cacciatore with grated Romano or parmesan cheese, freshly ground black pepper and crusty bread…..sigh
Recipe FAQ's
Why is my chicken cacciatore watery?
If your cacciatore is watery you can thicken by adding tomato paste to the sauce. Mix it with some of the sauce from the pot and stir the mixture back into the cacciatore.
Is Chicken Cacciatore an Italian Dish?
Cacciatore (hunter-style) originated in central Italy during the time of the Renaissance. Originally made with rabbit or small game birds, the original recipe didn't include tomatoes and was made with wild mushrooms and available root vegetables and local herbs.
What is chicken cacciatore served with?
Cacciatore is best served with rustic bread, polenta, pasta, risotto or rice.
More Recipes You'll Love!