Demystifying Duck Breast – Pan Seared Duck Breast 101
Most of my friends think that Duck Breast is too difficult to make at home and wouldn't even know where to begin. The truth of the matter is, it's just not that difficult to make and duck is actually very versatile and can be served many different ways.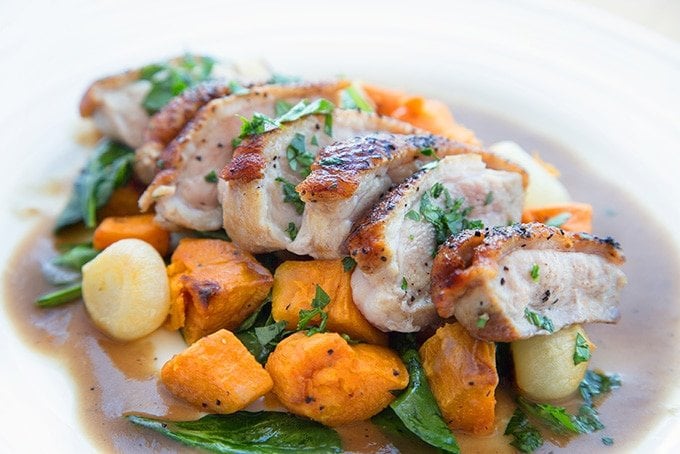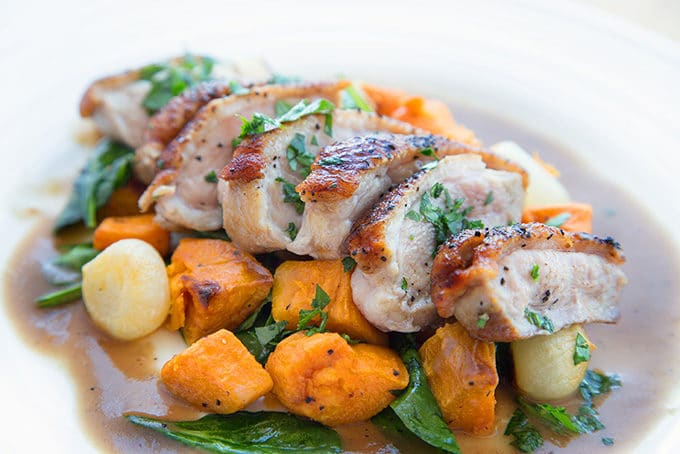 From Prep to finish, this pan-seared duck breast (with the vegetables) can be on your dinner table in about 45 minutes. Seriously, it's not rocket science.
But there is a secret to cooking duck breast that rivals your favorite restaurant. And the first secret is that most of the restaurants that serve duck use Maple Leaf Farms products.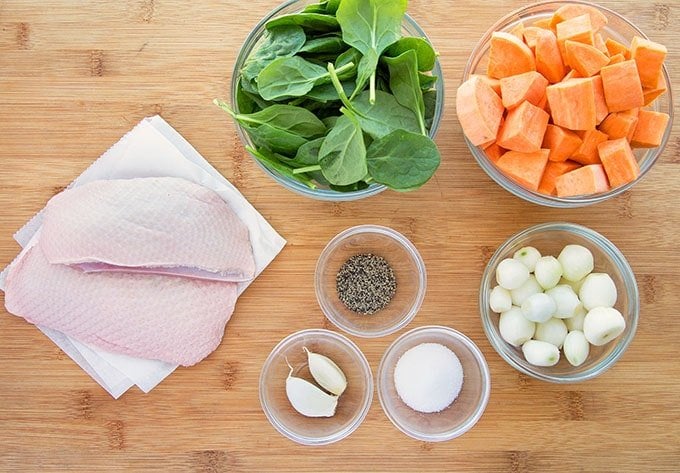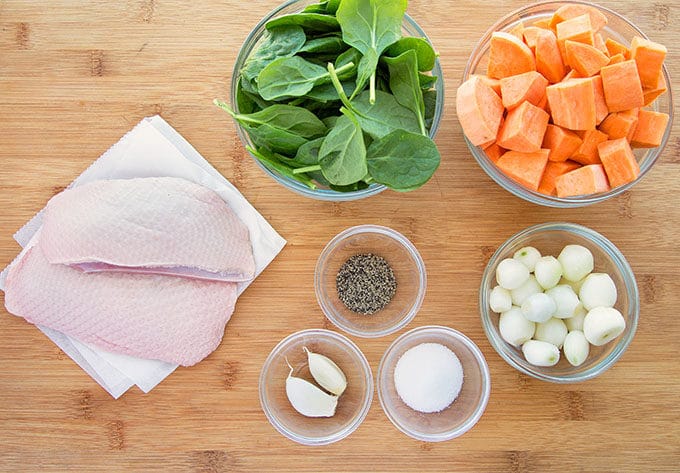 Before we dive into the process, let's gather our ingredients. As I finished the process I added two additional items to my list of ingredients that aren't pictured here, maple syrup and chicken stock. I also eliminated the garlic, since I went with the maple syrup for the sweet potatoes.
This is called a mise en place in chef speak. Translated it means everything in its place. It's a good way to make sure you have everything you need before you start cooking.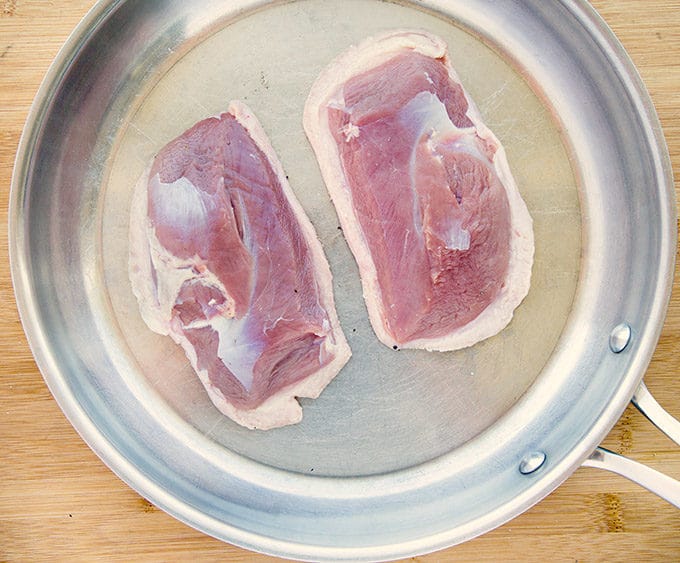 The secret to cooking duck breast is really pretty simple. You start with a cold pan.
And the reason you do this is to slowly render the fat from the breast while crisping the skin. So place your seasoned duck breast skin side down in a cold, dry skillet. Now comes the fun part!
How to Cook Duck Breast
And the only real secret on how to cook duck breast is to cook it low and slow on the stovetop. Rule of thumb is 8-10 minutes over medium heat until the skin becomes beautifully golden brown, thin and super crispy. The time can vary depending on your stovetop, so keep an eye on the duck. *Never cook a duck breast over high heat
After searing the skin side of the duck breast its time to turn the breast over to the other side and cook for an additional 3 to 5 minutes for rare to medium-rare (125°F – 130°F on an instant-read thermometer). And this is where I usually run into problems with friends that have never had rare duck breast.
Usually, for my first timers and staunch no pink meat eaters, I cook the duck breast a little longer. Cooking the seared duck breast for my wife falls into this category, so you won't see much pink in the duck in my pictures.
**Make sure you have good ventilation in your kitchen when pan-searing any meats or seafood.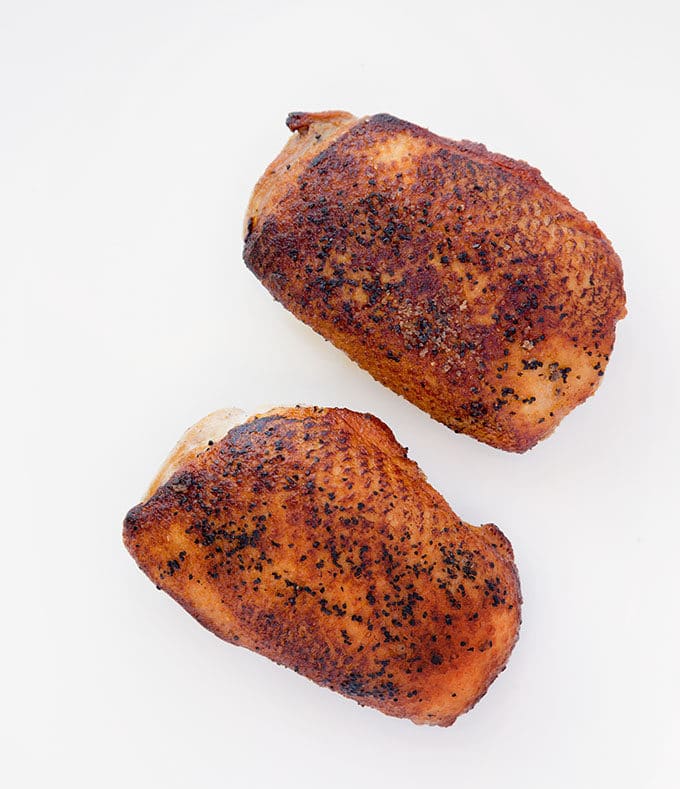 When you dine out, unless you specify the duck temperature you will be served medium rare to rare duck breasts. This gets kind of confusing for most people because we have been raised to cook all poultry completely to avoid problems. That being said the USDA recommends cooking to an internal temperature of 170 degrees to ensure any harmful bacteria are killed.
As with any poultry, there's always the chance that duck harbors harmful bacteria. But cooking duck is different than cooking chicken and turkey because it's considered to be red meat. And as with other red meats, some people prefer to eat duck that's cooked medium or medium-rare. The choice is yours.
So now that I've taken the mystery out of cooking duck it's time to get into your kitchen and give it a try.
You'll be surprised at how many of your favorite grocers carry Maple Leaf duck breasts. It's becoming a popular item for home cooks as well as restaurants.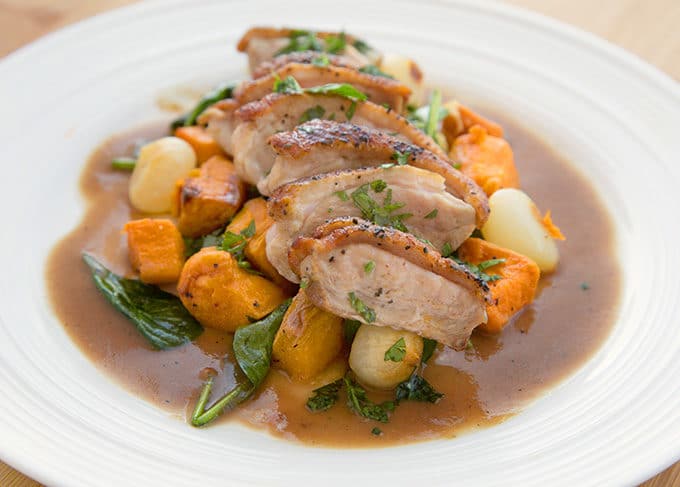 If you enjoy restaurant-style dishes made with poultry, you're going to love these!