My baked turkey wings are perfectly seasoned with a crispy skin and juicy, tender, fall off the bone dark meat turkey inside. The rich flavor of my turkey wing recipe is guaranteed to bring smiles to your dinner table.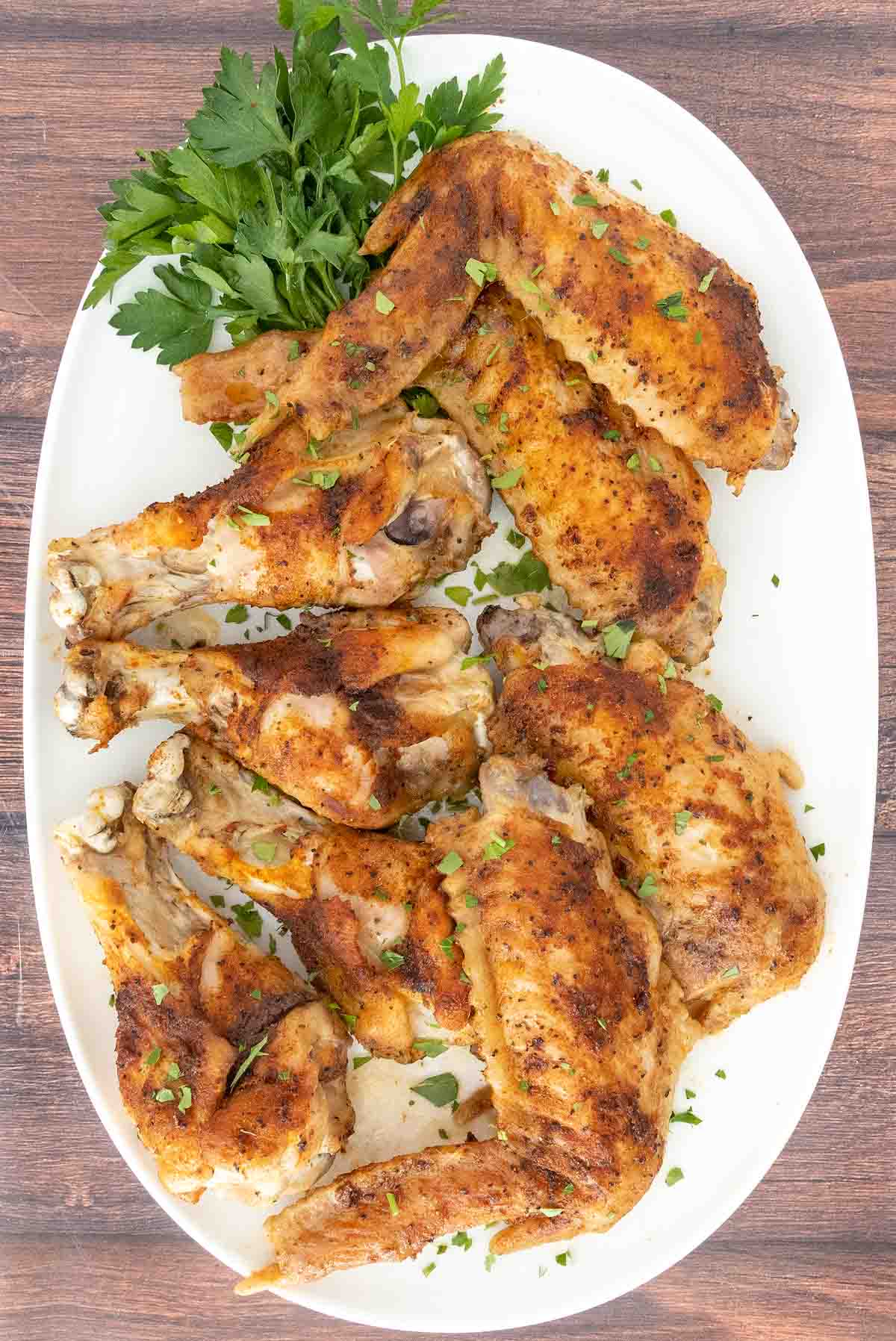 I love crispy turkey wings and turkey legs, they're a lot easier to make that cooking whole bird and are perfect for a small family dinner or game day.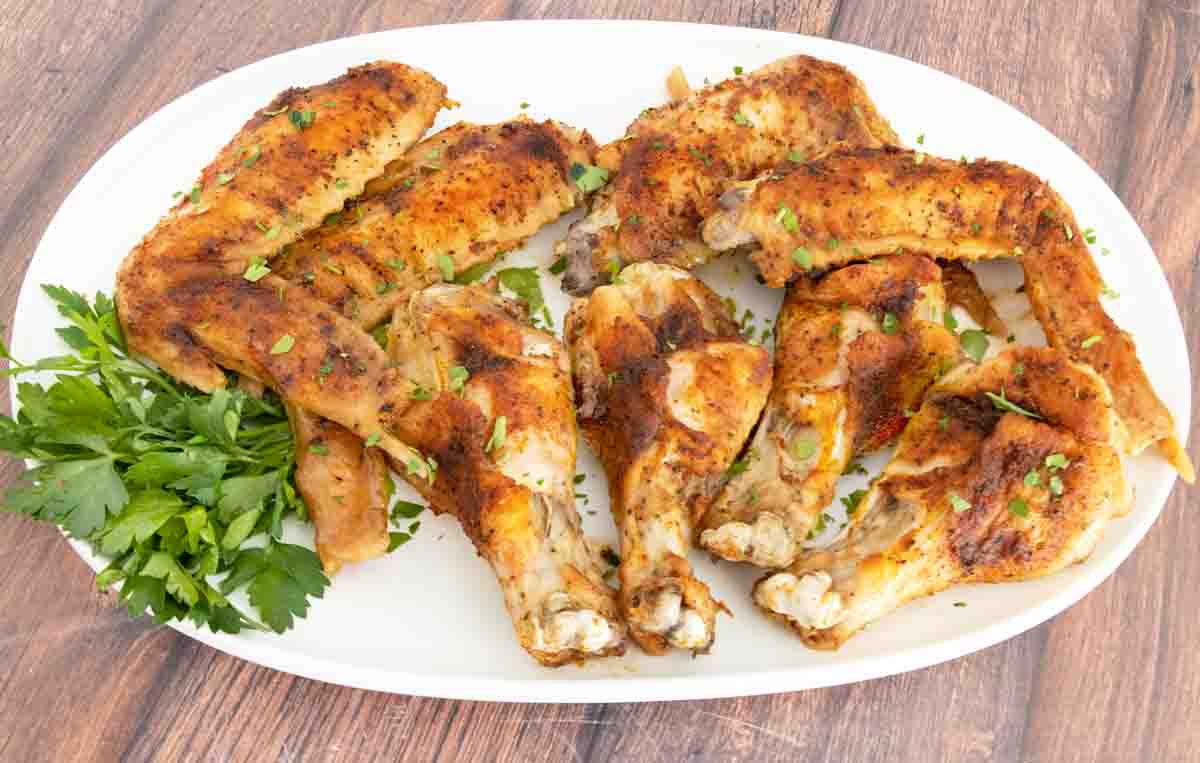 If you love turkey meat I promise these crispy wings would be a tasty turkey dinner that your whole family will love. My oven baked turkey wing recipe takes just a few minutes to set up and served with your favorite side dishes would make a delicious meal this holiday season!
If you love wings make sure to try my smoked turkey wings and my crispy fried chicken wings.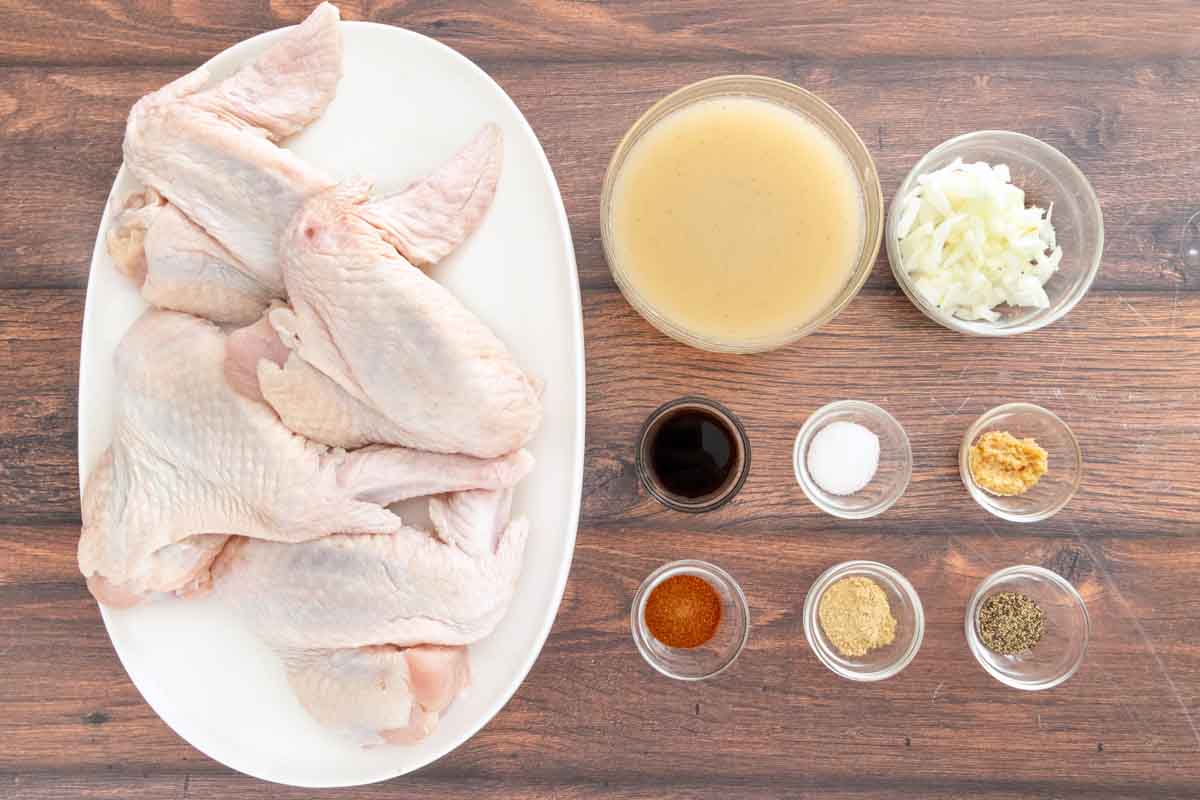 Let's start by gathering the ingredients we need to make my Baked Turkey Wings recipe. In Chef Speak, this is called the "Mise en Place," which translates to "Everything in its Place."
Not only does setting up your ingredients ahead of time speed up the cooking process, it also helps ensure you have everything you need to make the dish.
Made with simple ingredients
Fresh turkey wings – you'll find that the size of the wings available will be different at your local grocery stores.
Turkey broth – chicken broth can be used as a substitute.
Sweet onion – or red onion
Worcestershire sauce
Fresh garlic
Black pepper
Sweet paprika or smoked paprika
Sea salt or table salt
Ground ginger (optional)
I love the delicious flavor the ginger adds to the wings, but you can use your favorite seasonings instead. Poultry seasoning and fresh herbs would make a nice addition, and if you want to change up the flavors, cajun seasoning, Italian seasonings or lemon pepper are excellent choices. For a little heat add cayenne pepper or red pepper flakes to the dry rub, or for a touch of sweetness add brown sugar.
*If you'd rather not use fresh onion or garlic in my easy recipe, you can substitute onion powder and garlic powder.
How to make Oven Baked Turkey Wings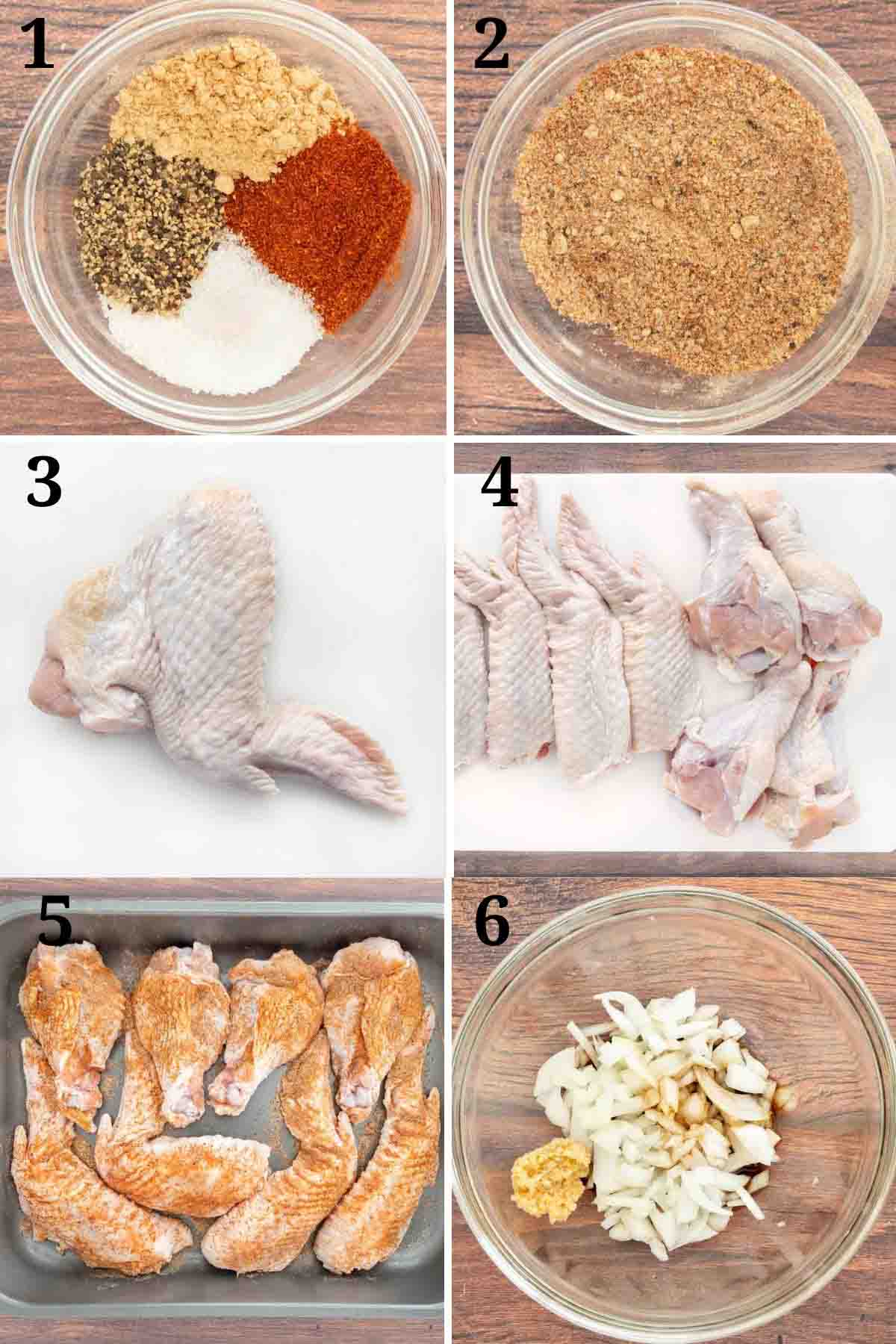 Add the powdered ginger, black pepper, sea salt, and sweet paprika to a small bowl.
Whisk to combine the seasoning blend.
Pat the whole turkey wings dry with a paper towel, then place them on a cutting board.
Using a sharp knife, carefully split the whole turkey wings by separating the wings into drumettes and wingettes with the wingtip still attached or removed.
*If you remove the wing tips, save them for turkey soup.
Season the wing pieces on both sides with the dry seasoning mixture. Let them sit at room temperature while the oven preheats.
*If time permits let the pieces marinate in the refrigerator for 2 -12 hours. If you do this step, make sure to let the turkey wings come to room temperature before baking.
Add the Worcestershire sauce, minced garlic, and chopped onions to a large bowl.
Preheat oven to 350 degrees Fahrenheit when you're ready to cook the turkey wings.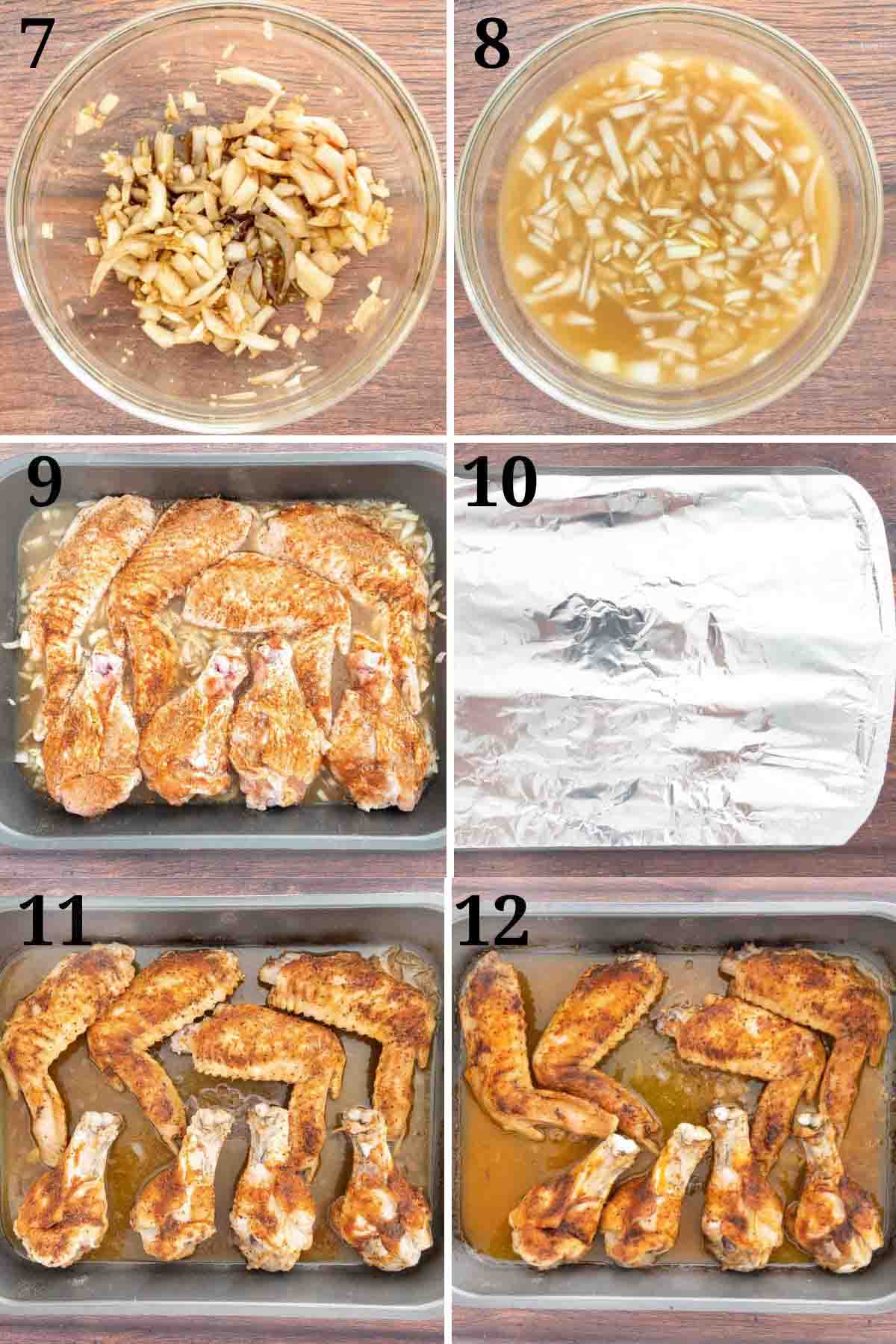 Whisk to combine the ingredients.
Add the turkey stock (or chicken stock) to the bowl and mix to combine.
Pour the broth mixture into the roasting pan (or casserole dish), then place the seasoned wings on top of the mixture.
Cover the roasting pan with aluminum foil, then place it on the center rack of the preheated oven, and roast for 45 minutes.
Remove the baking dish from the oven, and carefully remove the aluminum foil, being careful not to get burned by escaping steam. Then, baste the turkey parts with melted butter and return to the oven uncovered to continue roasting for an additional 25 – 30 minutes.
*Leave the pan uncovered to allow the skin to get brown and crispy.
Remove the pan from the oven and, using an instant-read meat thermometer, check to make sure you've reached an internal temperature of at least 165 degrees in the thickest part of the wing.
*Cooking time can vary depending on the size of the wings.
*Let the turkey wings rest for 10 minutes before serving to allow time for the juices to redistribute.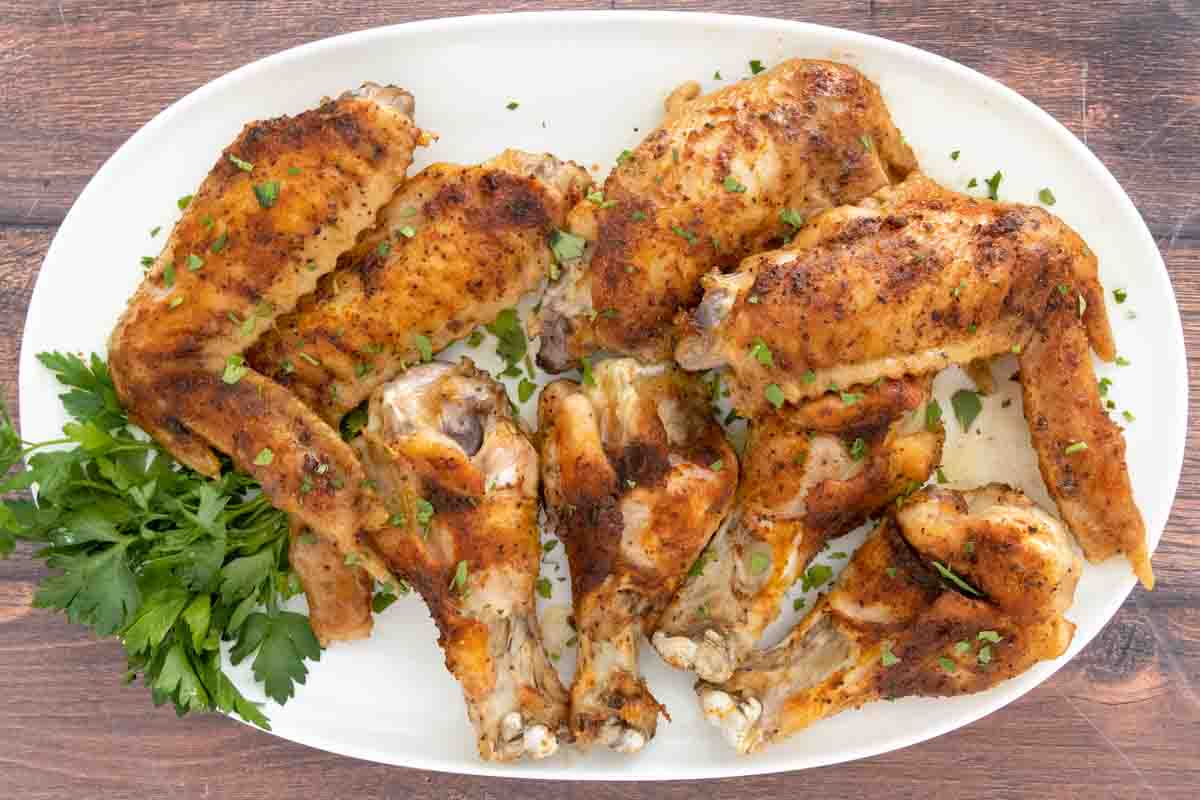 No time to cook an entire turkey? No worries, my oven baked turkey wings is a delicious turkey recipe that you'll make year after year, and not just during the holiday season.
Serve the turkey wings with mashed potatoes, turkey gravy, and green beans or your favorite sides.
Save any leftover baked turkey wings in an airtight container for 3-4 days. You can also freeze them in a freezer safe container for up to two months.
Recipe FAQ's
How do you know when the turkey wings are fully cooked?
Use an instant-read thermometer inserted in the thickest part of the wing to make sure the wings have reached an internal temperature of at least 165 degrees Fahrenheit before serving.
Why are turkey wings so good?
Turkey wings are packed with rich dark meat which makes them flavorful and juicy, with a hearty texture. The skin crisps up nicely, making them even more delicious.
Should I marinate turkey wings before baking?
Marinating turkey wings for at least an hour (overnight is best)will definitely enhance their flavor. But using a dry rub and letting the wings sit for 2-12 hours will also add flavor to the meat.
More Recipes You'll Love!