My classic Stuffed Peppers may not be a fancy dish, but the flavorful combination of lean ground beef, Italian sausage, brown rice, tomatoes, cheese, and seasonings elevates this simple dish to a whole new level of deliciousness!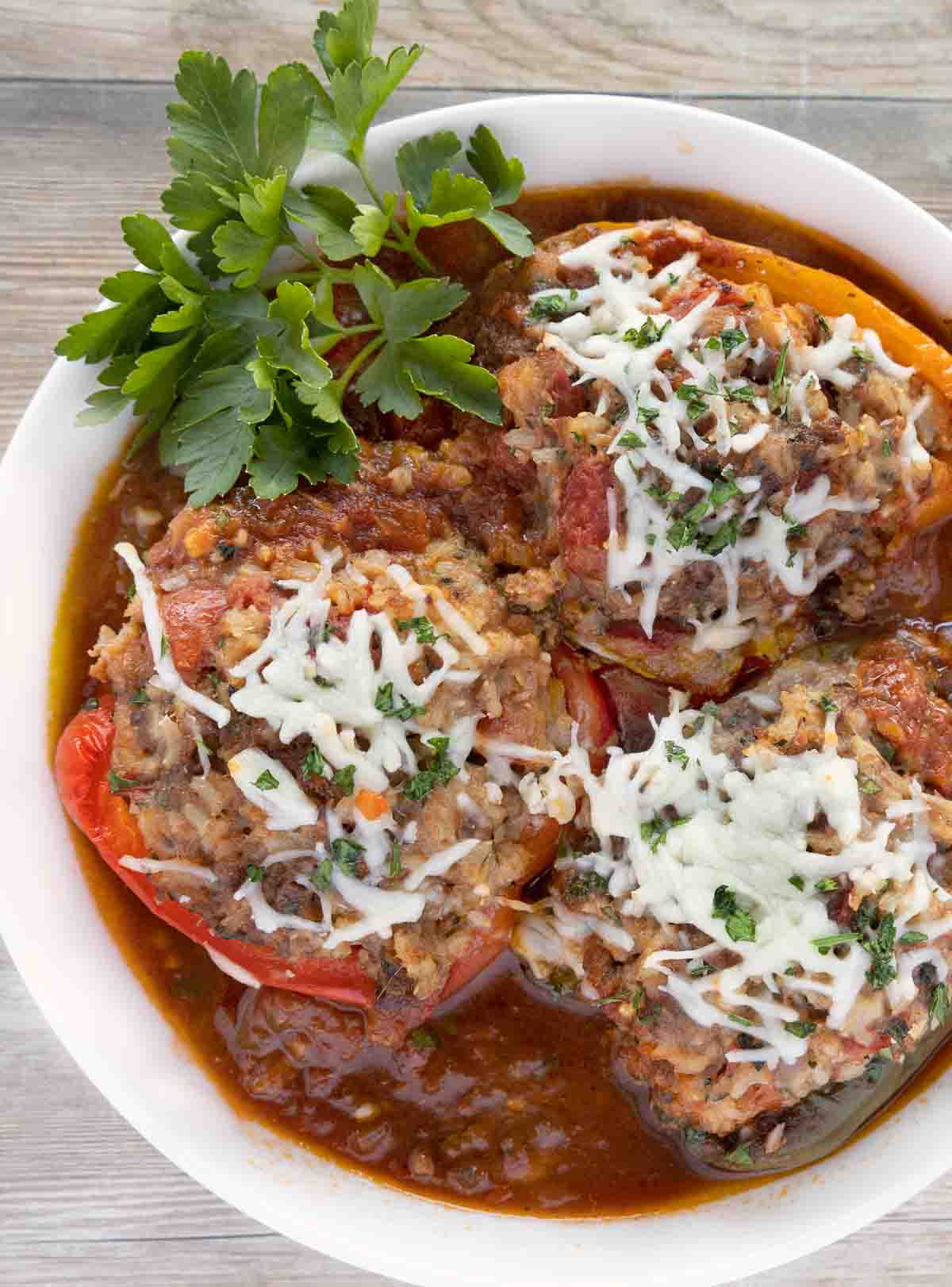 My Classic Stuffed Peppers recipe is perfect for a weeknight dinner or potluck. Made with simple ingredients and easily adaptable, your whole family is going to love my easy stuffed peppers recipe.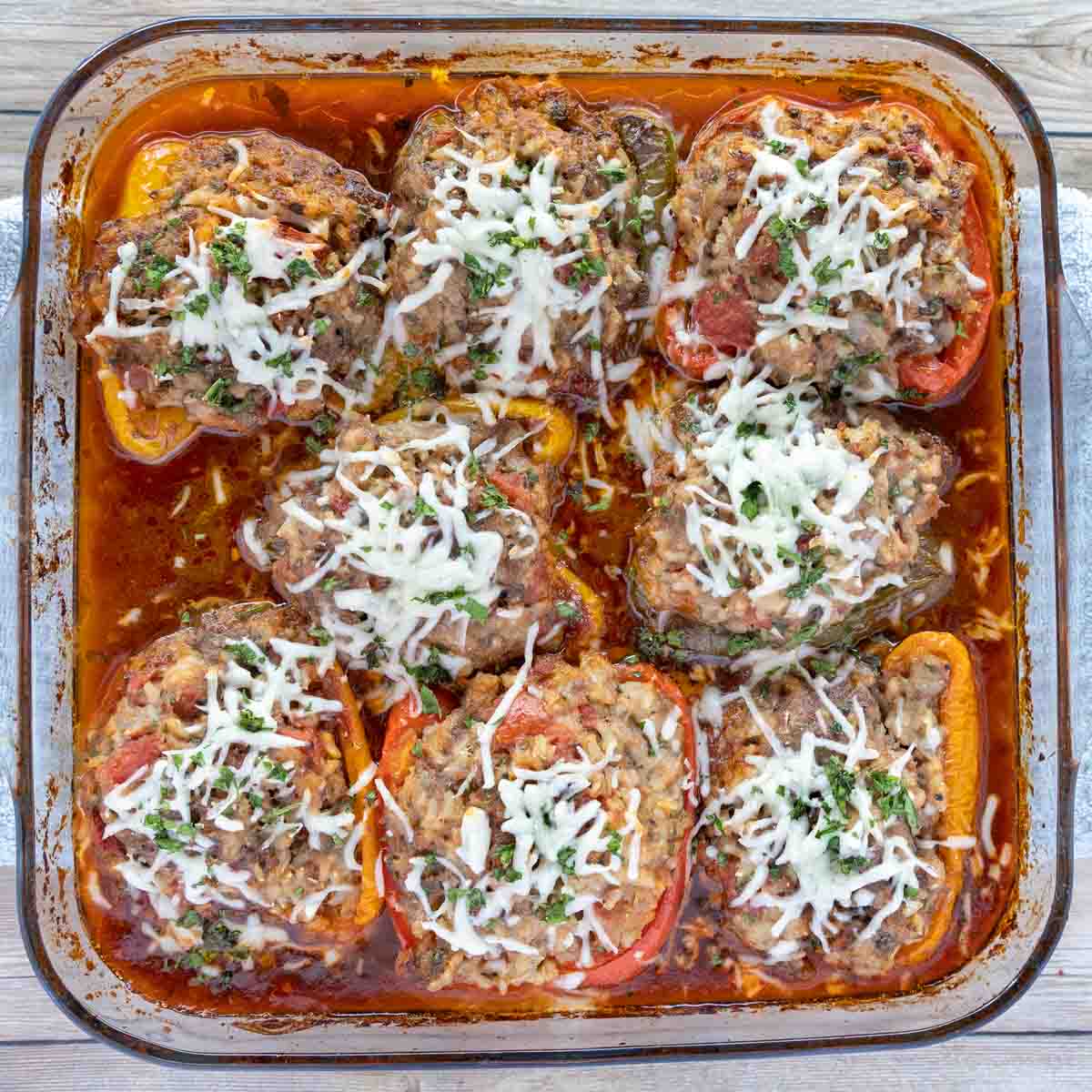 Stuffed peppers are believed to have originated in Mexico. They were first recorded in a cookbook in 1570, where they were stuffed with spices, herbs, and meat. The dish eventually spread to Europe and became a popular dish in the Balkans, where it was stuffed with rice and vegetables. Today, stuffed peppers are enjoyed in many different cultures and can be stuffed with a variety of ingredients.
Another of my favorite ground beef recipes is my Cottage Pie.
Ingredients to make Stuffed Peppers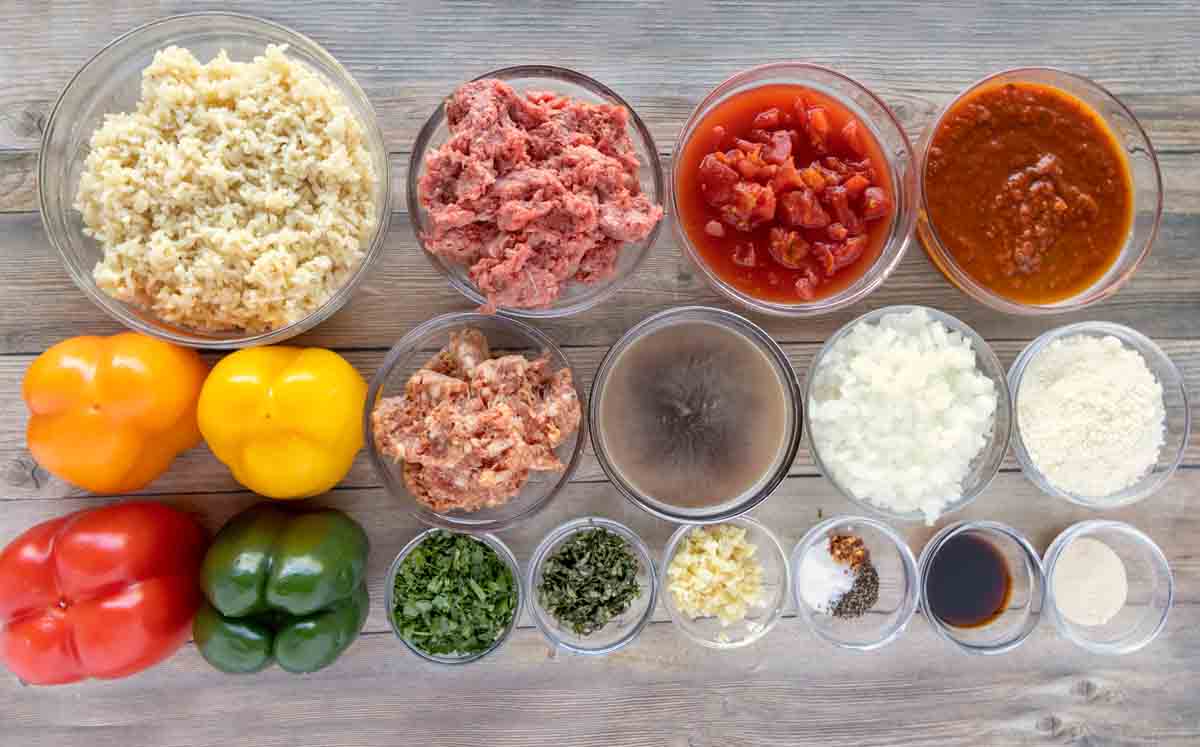 Let's start by gathering the ingredients we need to make Stuffed Peppers. In Chef Speak, this is called the "Mise en Place," which translates to "Everything in its Place."
Not only does setting up your ingredients ahead of time speed up the cooking process, it also helps ensure you have everything you need to make the dish.
What kind of bell peppers should I use?
Most people use green bell peppers, but I prefer a mixture of red, yellow, orange, and green. You'll find the red bell peppers have a sweeter flavor, as do the yellow and orange. But any type of large bell peppers can be used.
What kind of Rice should I use?
I used brown rice to make my stuffed peppers, but you can also use long or short-grain white rice. You could also use your favorite grain instead of the rice or use a combination of rice and grains.
Can I stuff peppers with other ingredients?
There are endless variations of stuffed peppers that you can try. Here are a few ideas:
Vegetarian: Replace ground beef with impossible beef, cooked lentils, quinoa, or tofu.
Mediterranean: Add feta cheese, olives, and chopped spinach to the beef mixture.
Mexican: Add ground turkey, black beans, corn, and chili powder to the beef mixture. Top with salsa and avocado.
Greek: Use ground lamb and add chopped kalamata olives, feta cheese, and diced tomatoes to the beef mixture.
*You can substitute the ground beef and sausage meat with ground chicken, ground turkey, ground pork or any combination of your choosing.
How to make Stuffed Peppers
Start by preparing the rice for the stuffing mixture. While the rice is cooking, move on to the next steps.
Preheat the oven to 375 degrees F.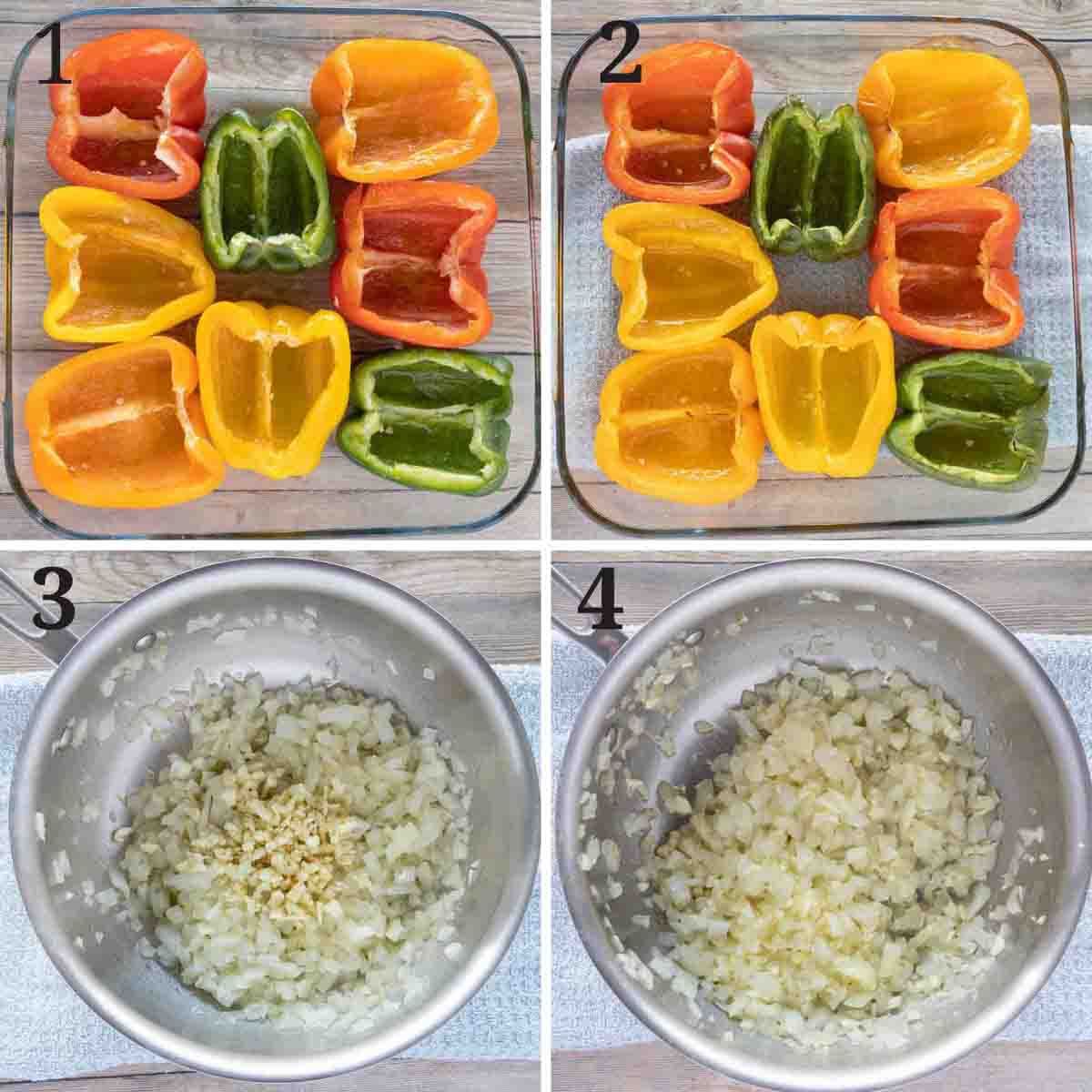 Cut the peppers in half longways, removing the stem and the seeds. Place the pepper halves cut side up in a 9×9 or 9×13-inch baking dish. Drizzle the peppers with olive oil and season with salt.
Place the baking dish on the center rack of a 350-degree preheated oven and roast the peppers for 15-20 minutes, until slightly browned and tender. *After the peppers cool, discard any liquid that may have accumulated in the bottom of the papers or baking dish.
Add the olive oil, diced onion, and chopped fresh garlic to a medium saucepan (or large skillet) over medium heat.
Cook the onions and garlic cook for 3-4 minutes or until they have softened. *Remove ½ cup cooked onion from the pan and set aside until needed.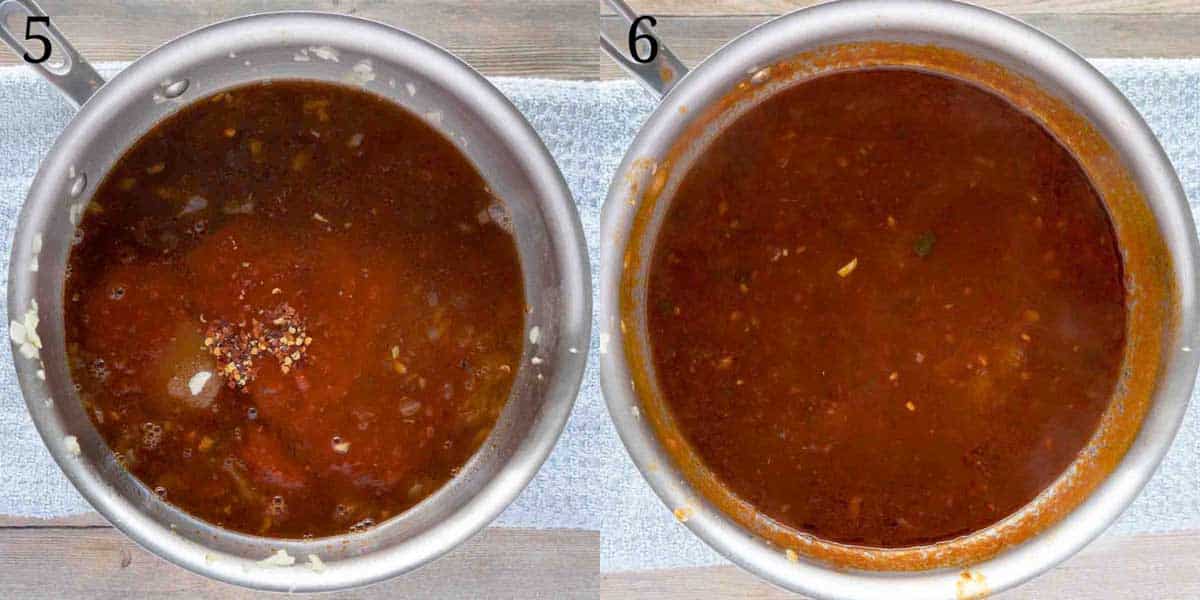 Add the marinara sauce, beef broth, balsamic vinegar, and red pepper flakes into the saucepan with cooked onion.
Mix until well combined and cook over medium heat for 3-4 minutes.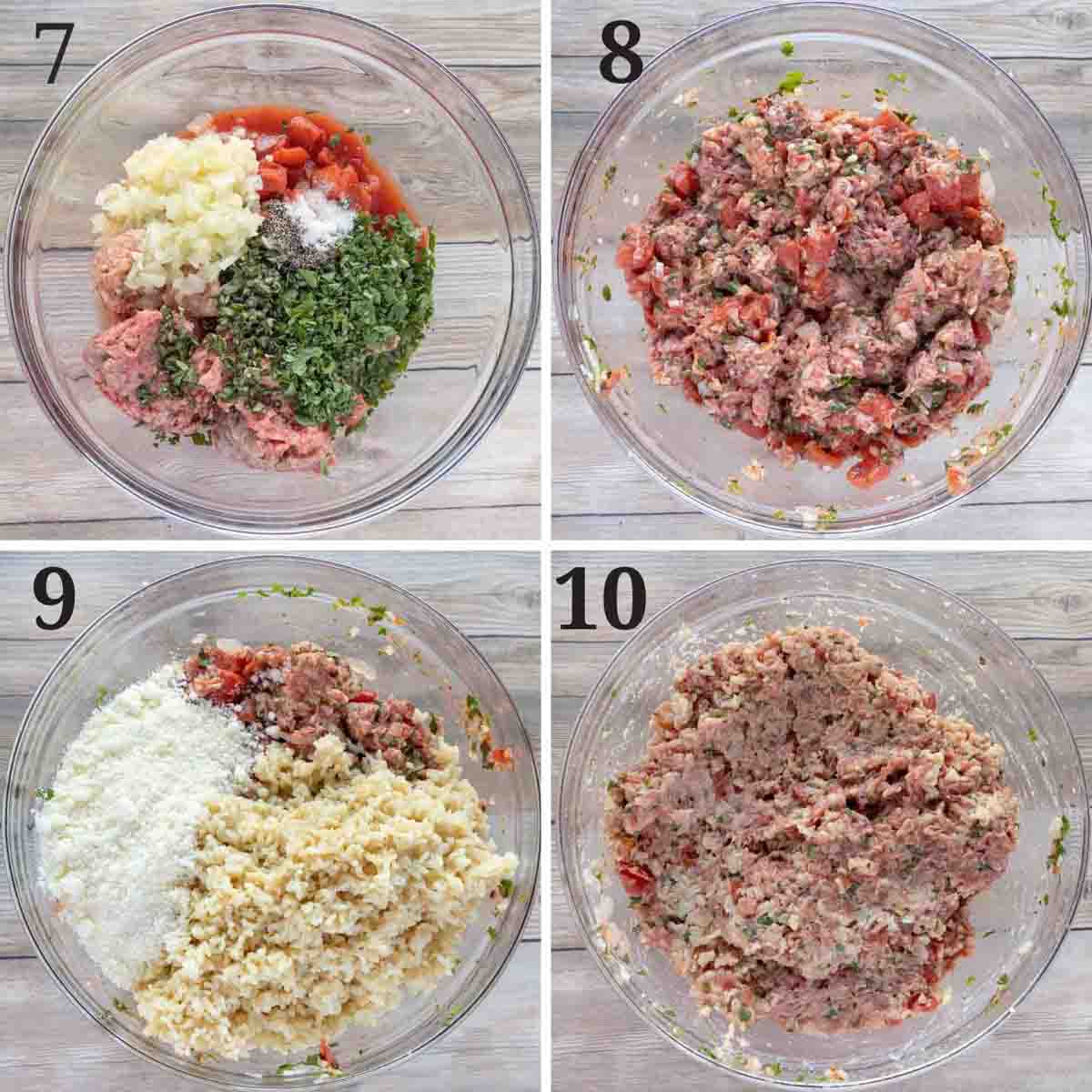 Add the raw ground beef, raw Italian sausage meat, diced tomatoes, Italian parsley, basil, reserved cooked onions, garlic, salt, and black pepper, into a large bowl.
Mix the ingredients just enough to combine.
Add the cooked brown rice and grated Romano (or parmesan cheese) to the ground meat mixture.
Mix the rice and cheese into the meat mixture until combined.
*This recipe is a great way to use up leftover rice or ground meat.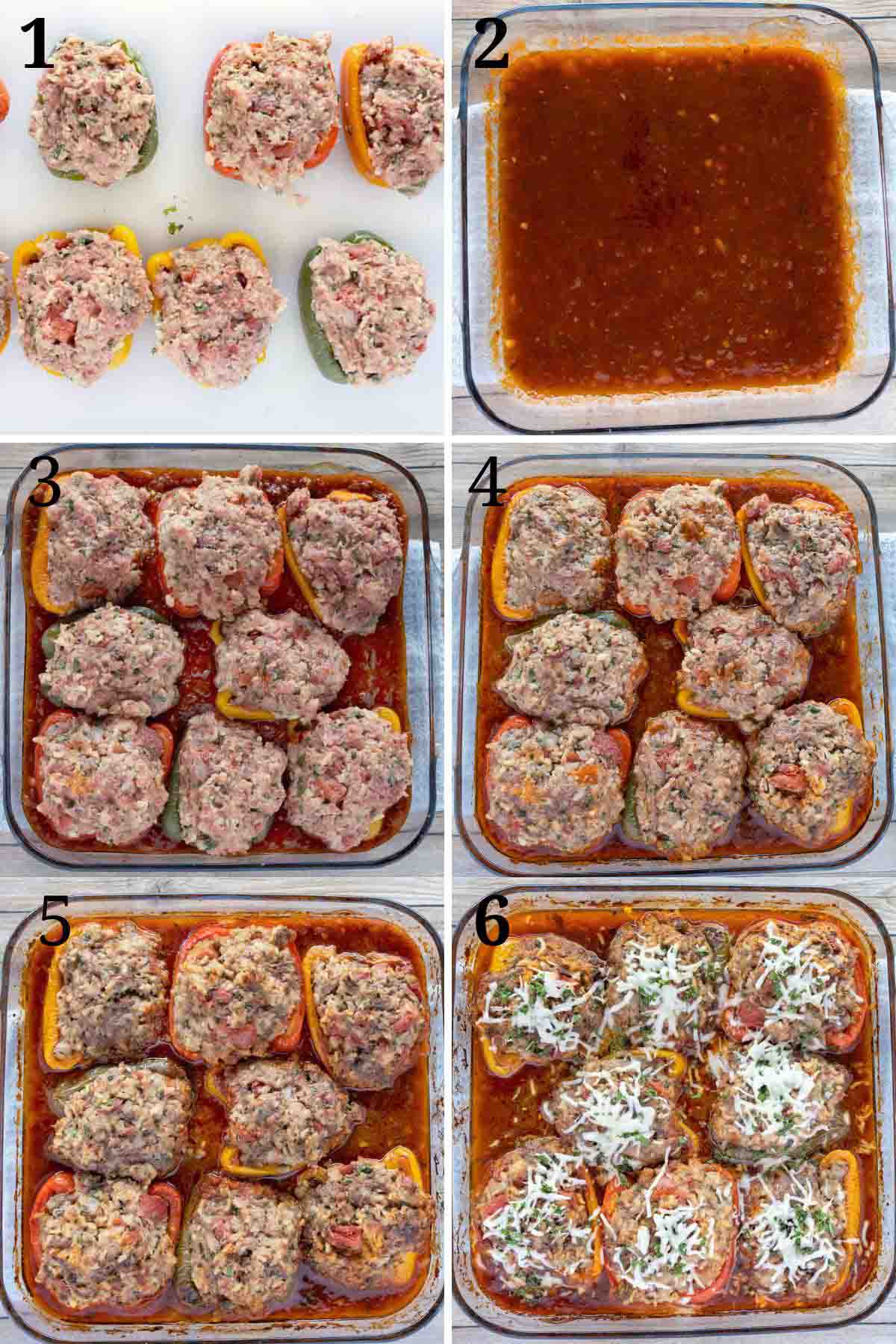 Stuff the bell pepper halves with the rice mixture.
Pour the sauce mixture into the baking dish.
Place stuffed pepper halves in the baking dish on top of the tomato sauce.
Cover the baking dish with aluminum foil, then place the baking dish on the center rack of the 350-degree preheated oven and bake for 40-45 minutes.
Remove the aluminum foil and continue to bake for 18-20 minutes until the meat is fully cooked and the peppers are tender. *The internal temperature of the filling should be at least 165 degrees.
Sprinkle the stuffed bell peppers with shredded mozzarella cheese and chopped parsley. Bake until the cheese has melted. Feel free to substitute cheddar cheese or Monterey jack cheese for mozzarella.
*Skim off any excess grease from the sauce before serving the stuffed peppers.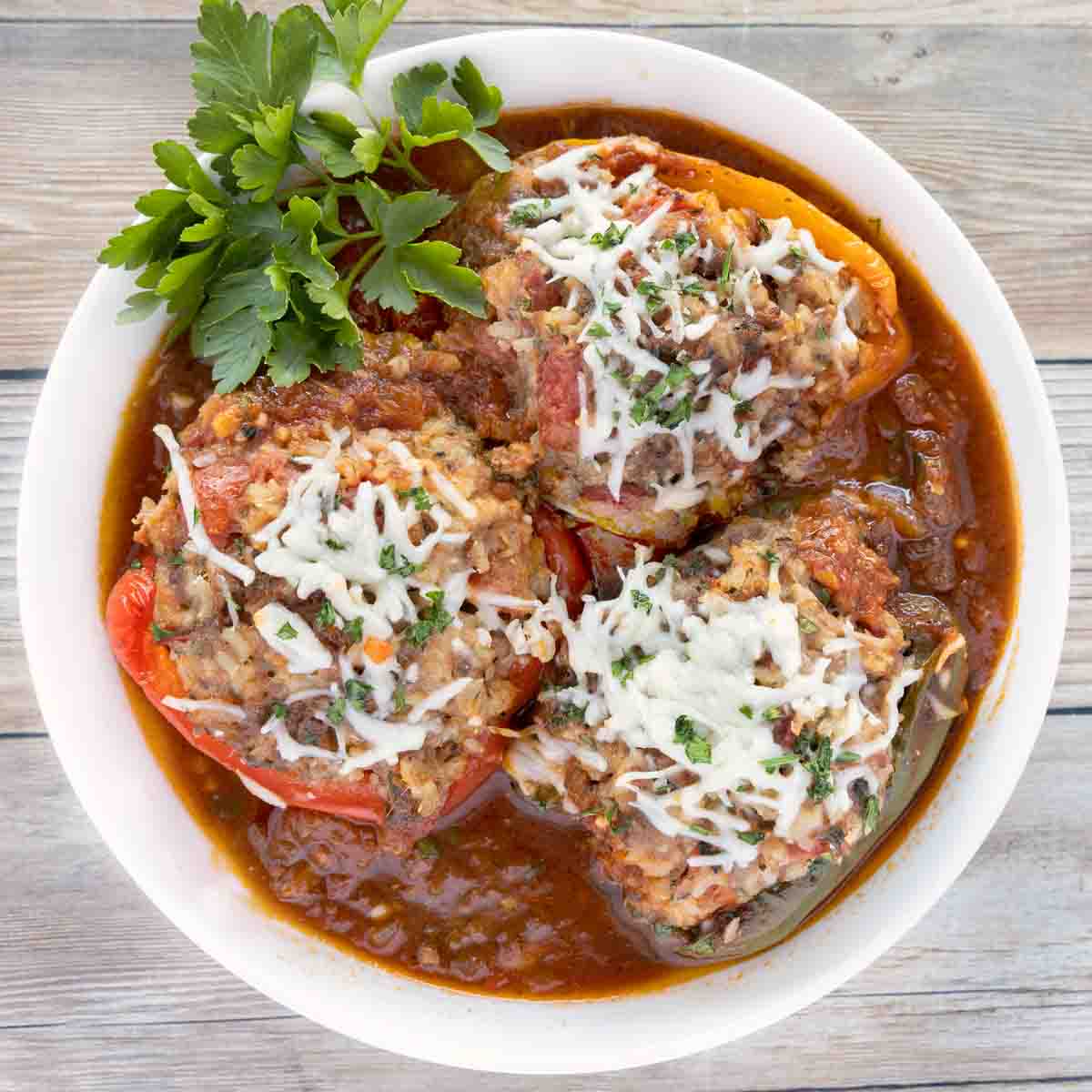 Stuffed peppers are a delicious and satisfying meal that can be served on their own or with a side salad and crusty bread. And the sauce is OMG delicious. In fact, the next time I make stuffed peppersI'm making extra sauce!
Stuffed peppers can be frozen, baked, or unbaked. They should be stored in an airtight container and can remain frozen for up to 3 months.
Recipe FAQ's
Do I have to boil the peppers before stuffing them?
Par-cooking the peppers before stuffing is a good idea but not mandatory. You can either par-boil the peppers for 2 minutes or roast them as I did in my recipe. I find that roasting allows the natural sugars to caramelize, making a sweeter pepper for stuffing.
Can I freeze stuffed peppers?
Yes, you can freeze stuffed peppers. Place the stuffed peppers in an airtight container or freezer bag and store them in the freezer for up to 3 months. To reheat, thaw in the refrigerator overnight and bake in the oven until heated through.
Can I make stuffed peppers without meat?
Yes, you can make stuffed peppers without meat. Use a vegetarian protein source, like Impossible Beef, or you can also use lentils, chickpeas, quinoa, or tofu instead of ground beef.
More Ground Beef Recipes You'll Love!