Jewish Apple Cake is one of my favorite food memories from my high school years. It was one of the cakes that the girls made in Home EC as a project. A lot of you probably have never heard of Home Ec either.
I could always count on the new class making Jewish apple cake and thankfully I was always asked to sample the cakes the girls in the class made.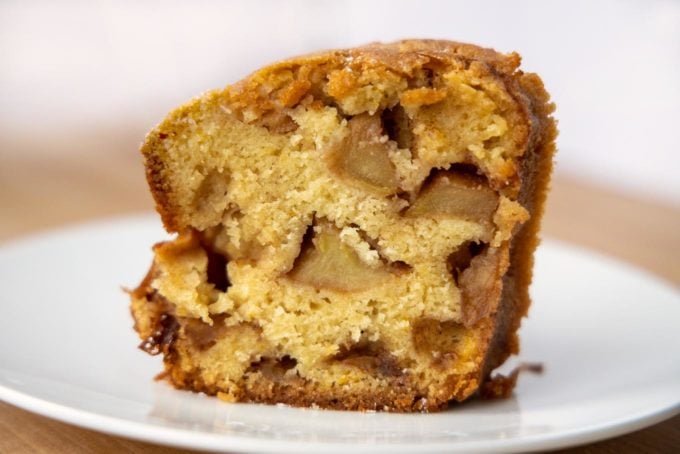 This cake truly is an American Classic and is definitely a cake that you need to make. Trust me on this one. Your friends and family will love you forever when you serve them a slice of this delicious apple cake!
What is a Jewish Apple Cake?
A Jewish Apple Cake is a dense cake made with apples. Suspected to have originated in Poland, this delicious cake was well known in the tri-state area of Pennsylvania, New Jersey and Delaware.
The Cake is made with vegetable oil, unlike many American cakes, which are usually made with butter. Because it doesn't contain any dairy products the cake can be eaten after a meat meal under the Jewish dietary laws that prohibit mixing meat and milk.
Did I mention it's Ah-mazingly Delicious!
What ingredients do I need to make a Jewish Apple Cake?
Let's start by gathering the ingredients we need to make a Jewish Apple Cake. In Chef Speak this is called the Mise en Place which translates into Everything in its Place.
Not only does setting your ingredients up ahead of time speed the cooking process, but it also helps ensure you have everything you need to make the dish.
How do I make a Jewish Apple Cake?
Start by prepping the apples.
In a large bowl, toss the chopped apples with the sugar and cinnamon. Set aside.
What kind of apples should I use?
When ever anyone mentions baking and apples, the first thought turns to Granny Smith. It may be sacrilege, but I don't like those apples. And because I'm baking for my family I use the kind of apples I like.
These are the apples I like to use for baking:
Gala
Fuji
Honeycrisp
Pink Lady
Winesap
Jonathon
This is how you should approach recipes. Use ingredients that you like, not necessarily what the recipe calls for (if its an easy substitution).
Prepare the Cake Batter.
In a large bowl, whisk together the flour, baking powder and salt.
In a medium bowl, whisk together the sugar, vegetable oil, orange juice, and vanilla extract.
Add the wet ingredients to the flour mixture and stir to combine with a spatula or wooden spoon.
Add the eggs to the mixture one at a time, mixing well after each addition (the batter will start out very thick, but will get looser and easier to mix as you continue to add the eggs).
Scrape down the sides and bottom of the bowl to ensure that all of the ingredients are fully incorporated.
Prepare the tube pan with butter (or margarine) and flour before adding the cake batter to the pan.
**It's best to use a Tube Pan with a Removable Bottom, it makes it much easier to get the cake out of the pan
Add a thin layer of the cake batter to the bottom of the pan, then add one-quarter of the apples on top of the batter.
Add one-quarter of the remaining cake batter over top of the apples, spreading it with a rubber spatula.
The batter will not completely cover all of the apples (it will spread when baking). Really, it will… I promise.
Repeat this process two more times with the remaining apples and cake batter, ending with a layer of cake batter.
Remember the batter will not completely cover the apples. Don't worry, its okay… trust me, I'm a chef.
Okay, I admit I had my doubts. It's been decades since I made a Jewish Apple Cake, but it came out better than expected. And the house smelled of apples and a time long gone.
Do I have to use a Tube Pan?
That's really a tough question, I would use a tube pan aka angel food pan if you have one. If not a 12 cup bundt pan should work, a 10 cup bundt pan might be cutting it too close.
Food stirs memories and this delicious cake certainly brought me back to a simpler time when a delicious slice of cake on the bus home from school made me happy.
How do I get the cake out of the pan?
Let the cake cool in the pan on a rack for 15-20 minutes before attempting to remove it. Do not let the cake cool completely before removing it.
Most cakes are best unmolded from their pan while they are still warm, otherwise, they may stick to the pan.
Kitchen tools I use for my cakes
More Cake Recipes You'll Love!