If you're looking for an easy-to-make dish that will tantalize your tastebuds my One Pan Skillet Jambalaya is just what you're looking for!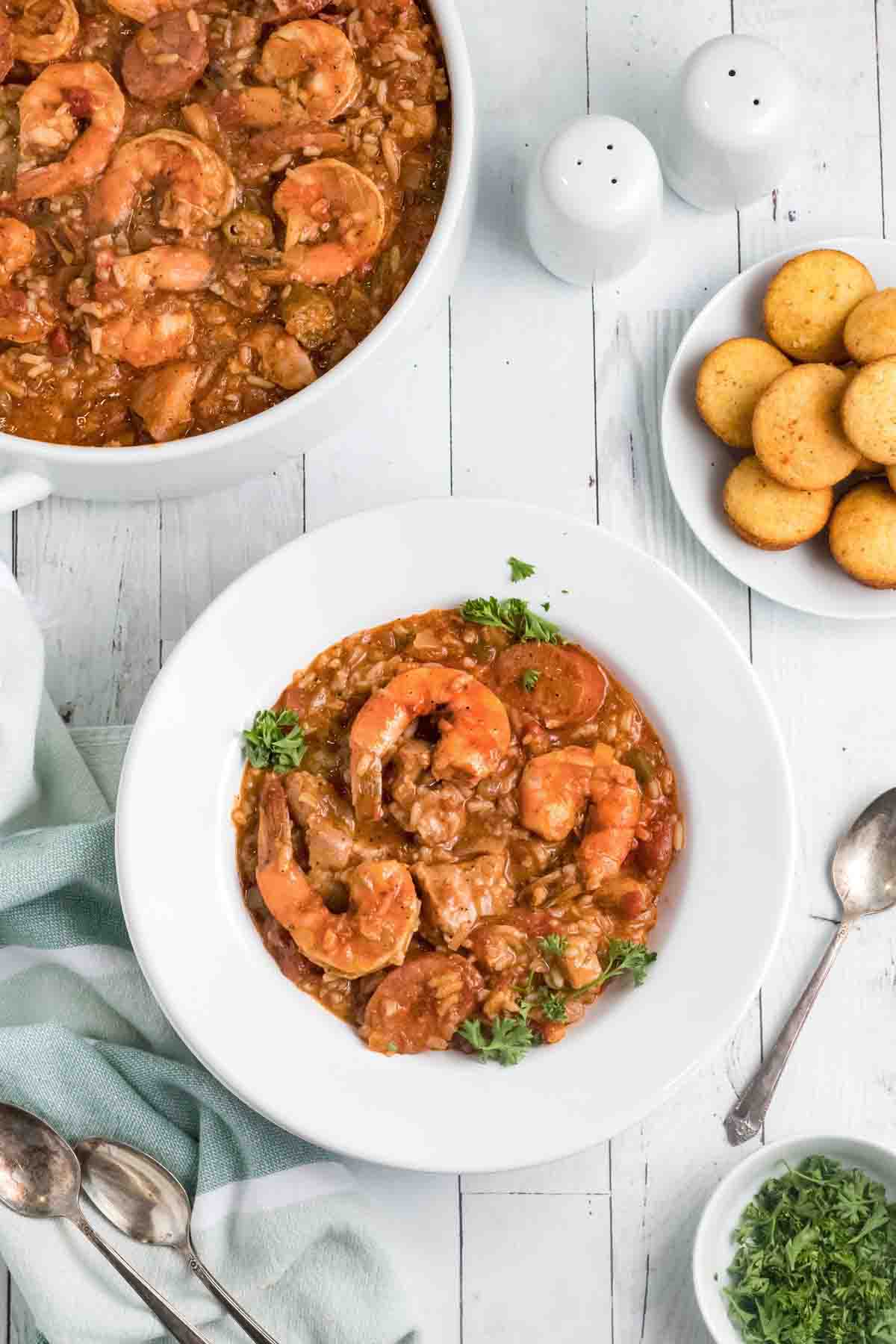 A world of flavors awaits you and it's not that hard to make that journey, simply by taking that path a little bit outside of your flavor comfort zone.
A taste of Lousianna awaits you, succulent gulf shrimp, andouille sausage and chicken blended together with rice, okra, tomatoes and blended with seasonings to make my Creole version of Jambalaya.
What Ingredients do I need to make Jambalaya?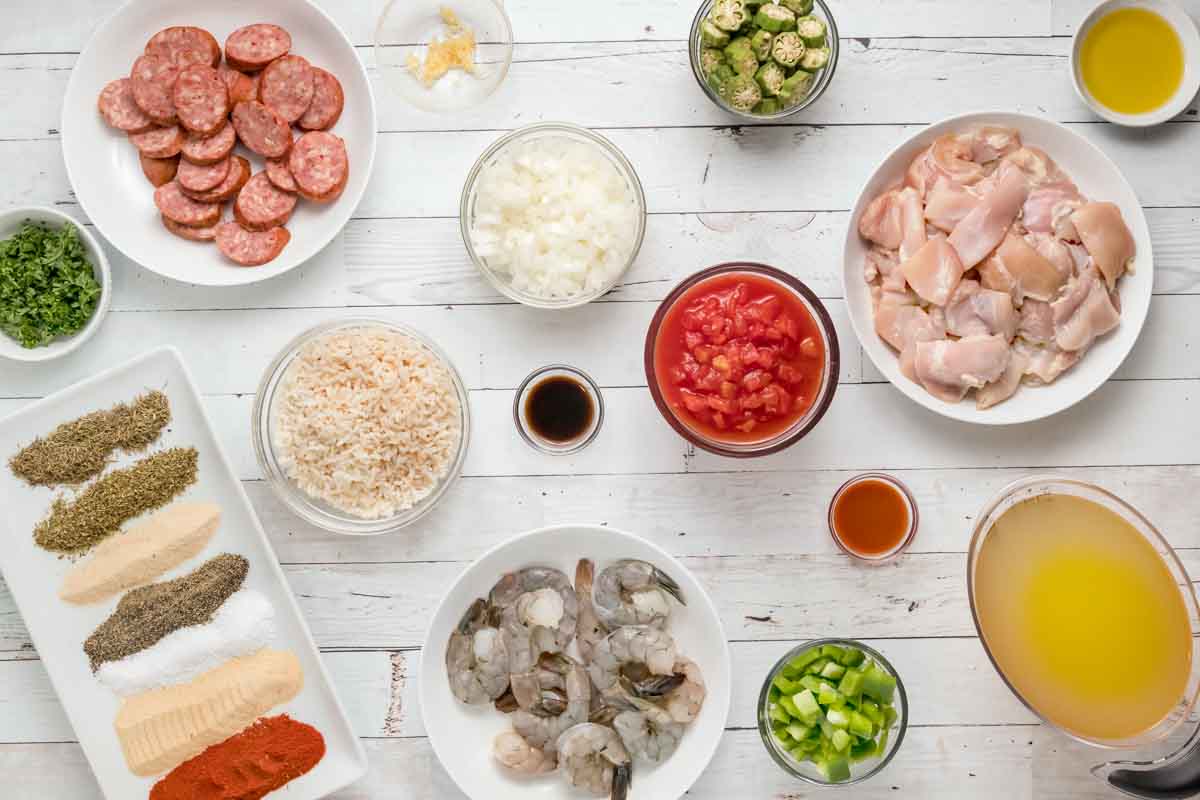 Let's start by gathering the ingredients we need to make Skillet Jambaylaya. In Chef Speak this is called the "Mise en Place" which translates to "Everything in its Place".
Not only does setting your ingredients up ahead of time speed up the cooking process, it also helps ensure you have everything you need to make the dish.
Can I make jambalaya without shrimp?
Yes, you can. The first rule of cooking at home is to make food you enjoy eating. If you don't want to add shrimp, simply leave them out.
How do I make Jambalaya?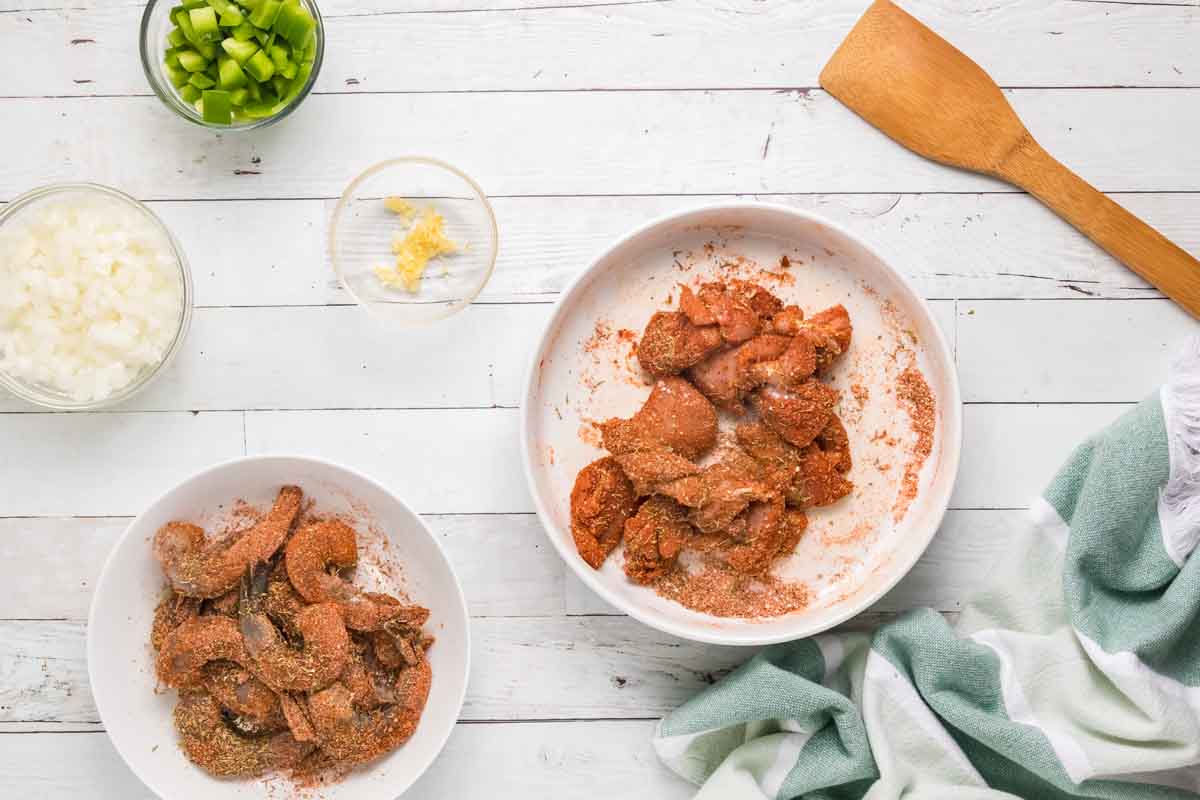 Combine the seasonings and dredge the chicken and shrimp in the creole seasoning. Set aside until needed.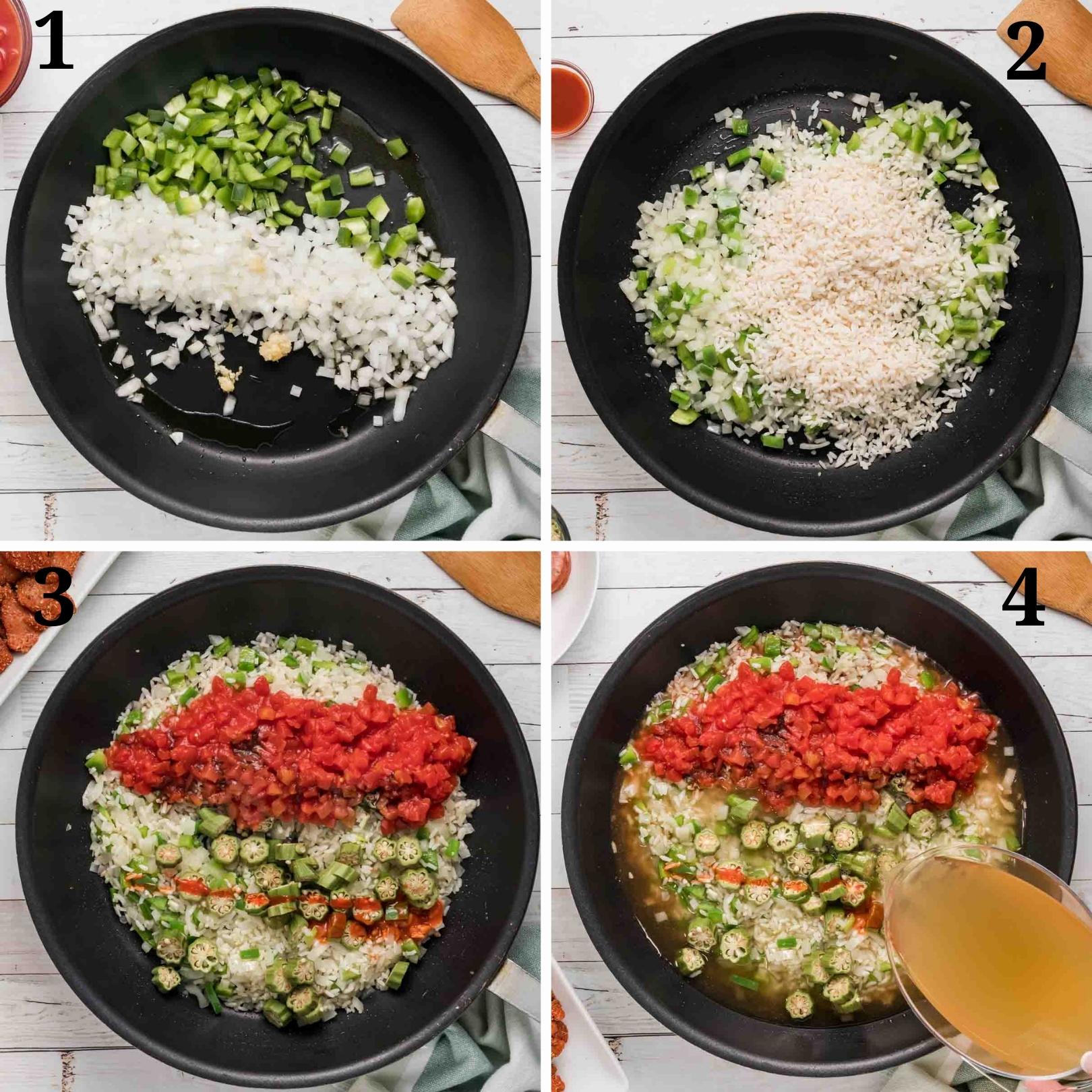 In a large hot skillet add olive oil. Then add the garlic, onions, peppers, and saute over medium high heat for 3-4 minutes
Add the rice and continue to saute for another few minutes, lowering heat to medium, adding more olive oil if needed
Add the tomatoes, okra, Worcestershire and hot sauce to the pan.
Add the chicken stock and turn the heat down to medium low, cover and allow to simmer for 10 – 12 minutes
Stir the mixture as needed to make sure the ingredients are well blended and do not stick to the pan.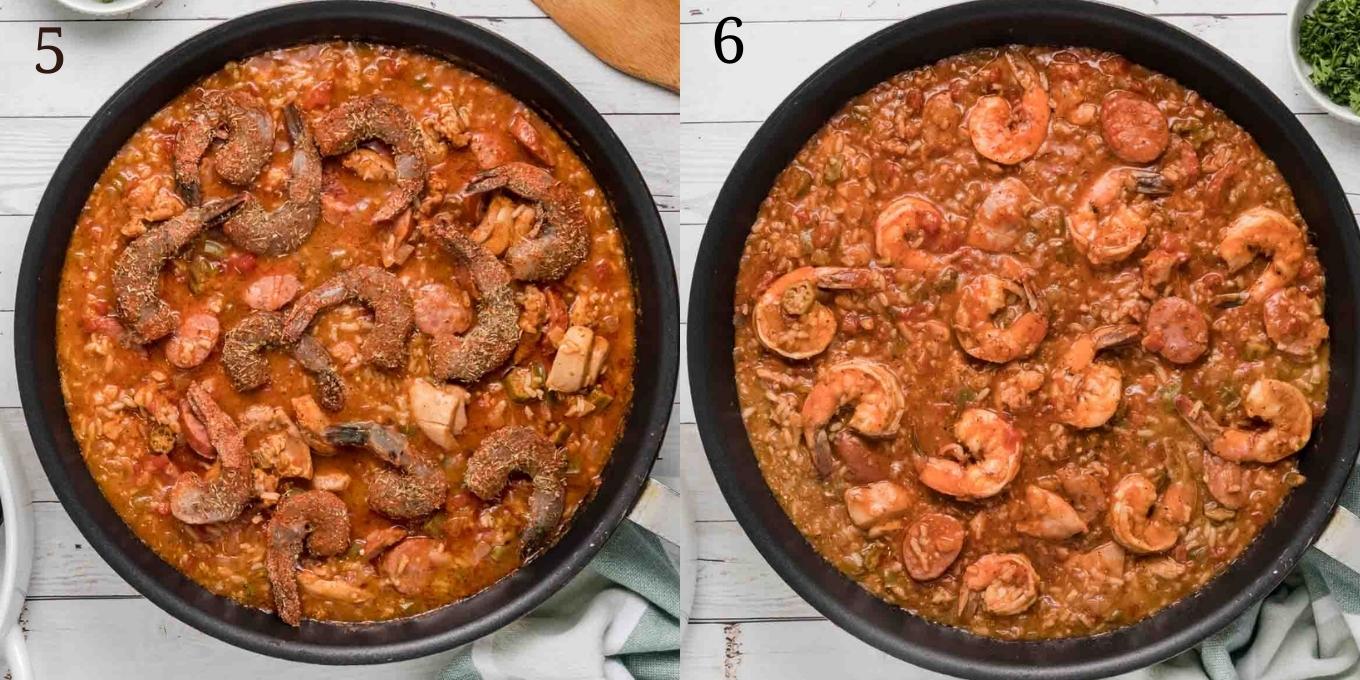 Add chicken and andouille sausage to the pan (not pictured) cover and allow to cook for an additional 8-10 minutes on medium low.
Add Shrimp to the pan and continu e cooking over medium heat for 5 minutes or until shrimp are fully cooked (don't overcook the shrimp).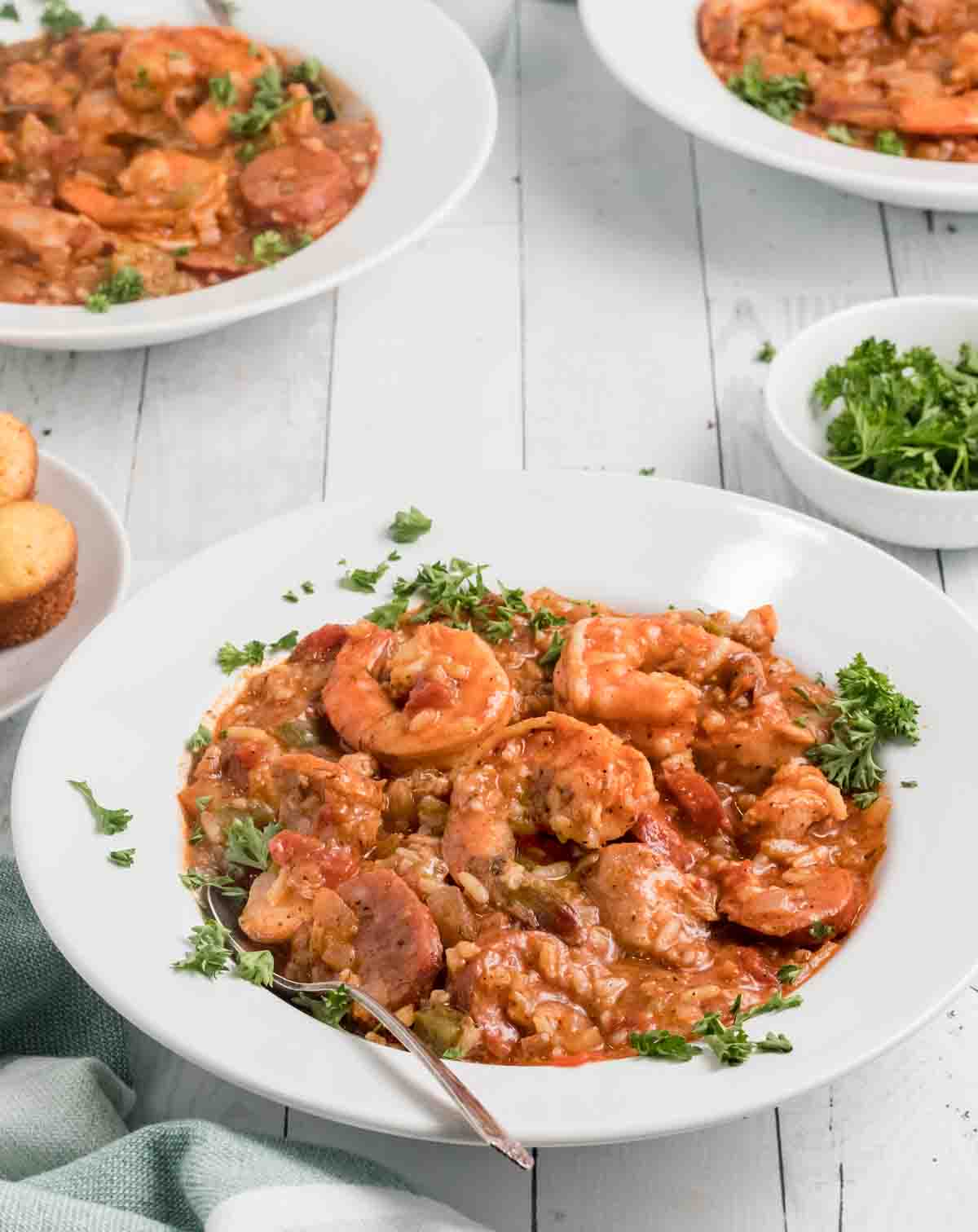 I don't make my Skillet Jambalaya too spicy, but you can easily kick up your recipe a few notches if you enjoy a little more heat in your food. And have a little fun when you're cooking up this kind of deliciousness in your kitchen with some of your favorite music. It's okay to sing and do a little happy dance while you're cooking……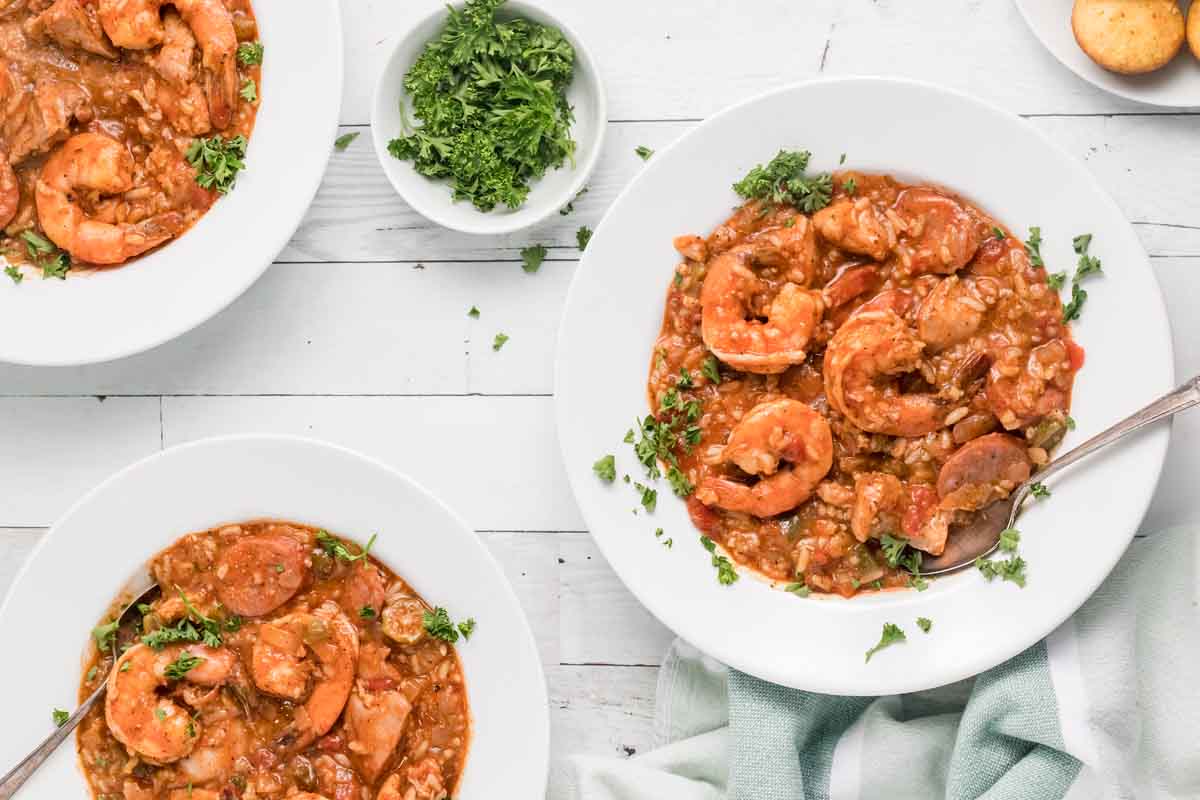 As they say in Louisiana- Laissez les bons temps rouler. For you and me that means– Let the good times roll!
Recipe FAQ's
What is the difference between Cajun Jambalaya and Creole Jambalaya?
Cajun jambalaya can have a deeper, smokier flavor due to this browning process. And generally won't use tomatoes. Cajun jambalaya is found in the more rural areas of Louisiana.
Creole Jambalaya is found in New Orleans and the surrounding areas where the Creole culture is more prevalent and will usually incorporate tomatoes in the dish.
Should Jambalaya be wet or dry?
Cajun Jambalaya which doesn't contain tomatoes will be a drier version of this dish, even having browned texture and color from cooking in a drier pan.
The Creole version with the added tomatoes will be a soupier, wetter version because of the added tomatoes.
What is the difference between Jambalaya and Gumbo?
The main difference between the two is that gumbo recipes almost always use a roux which is cooked until dark in color.
Jambalaya is more of a one-pot dish that doesn't use a roux for thickening or color. Jambalaya will also include rice that is cooked into the dish.
More Recipes You'll Love!