My delicious homemade coleslaw dressing is creamy, tangy, and easy to make using simple ingredients. You can make my easy coleslaw recipe in about five minutes with only four ingredients, salt, and black pepper.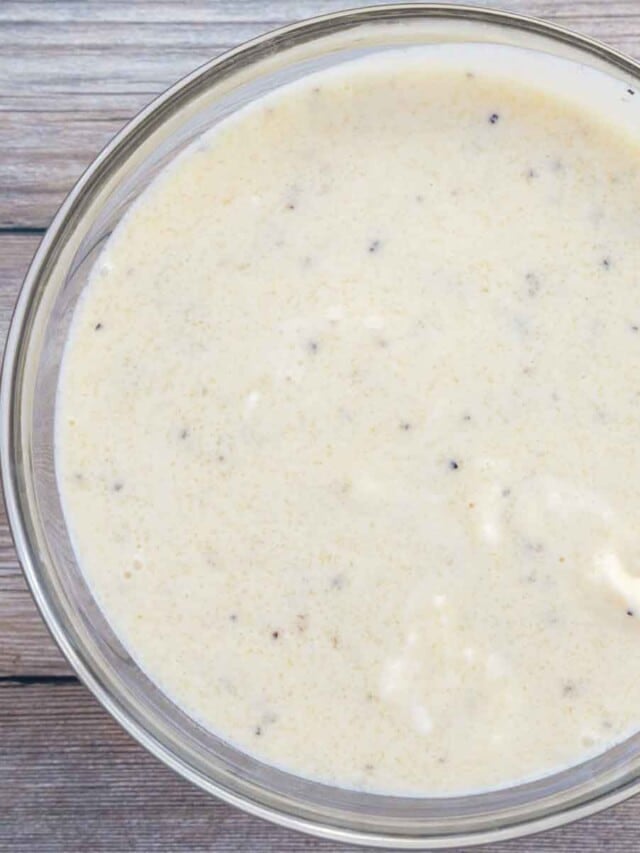 After one bite, you'll agree this is the best coleslaw dressing, even better than KFC coleslaw dressing!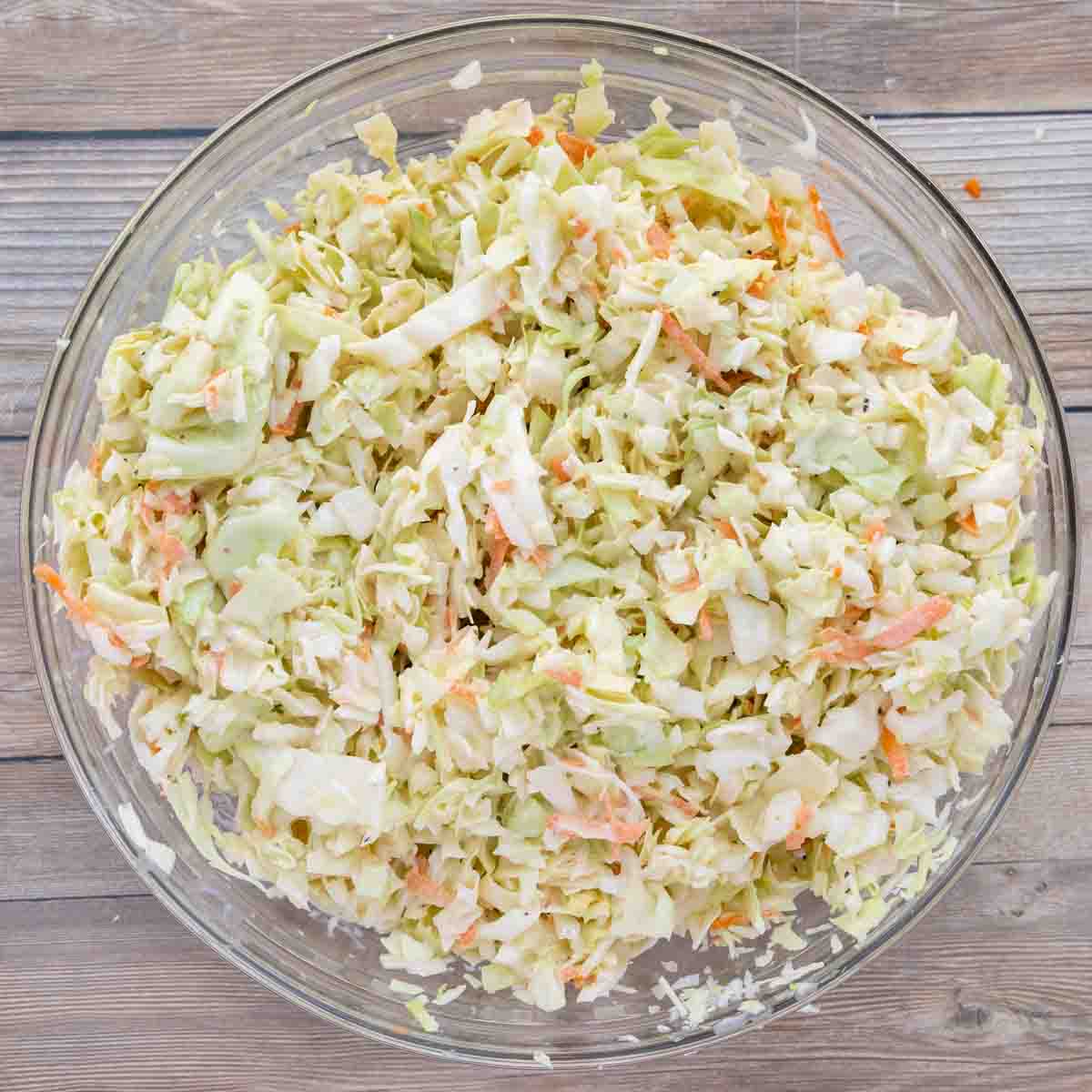 This is the dressing I used to make my easy homemade cole slaw.
Ingredients to make Coleslaw Dressing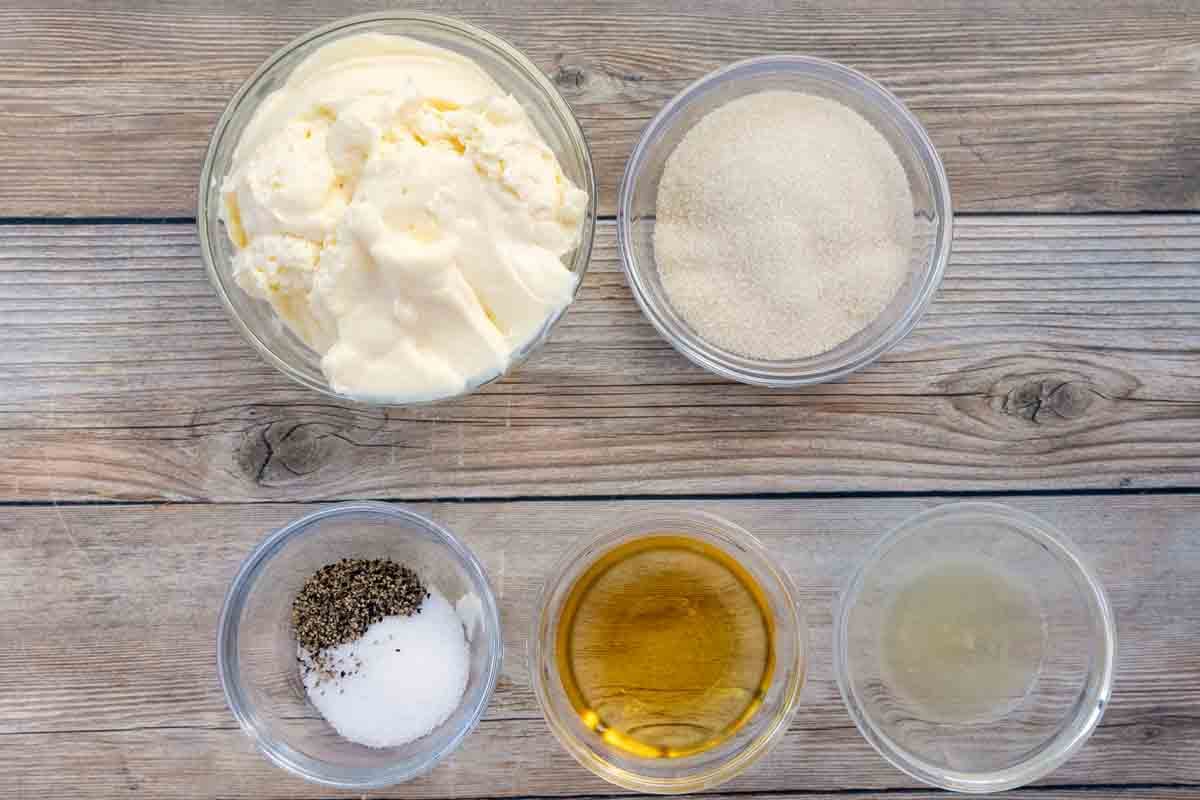 Let's start by gathering the ingredients we need to make my Creamy Coleslaw Dressing Recipe. In Chef Speak, this is called the "Mise en Place," which translates to "Everything in its Place."
Not only does setting up your ingredients ahead of time speed up the cooking process, it also helps ensure you have everything you need to make the dish.
Made with Basic Ingredients
mayonnaise
apple cider vinegar (or white vinegar)
fresh lemon juice
granulated sugar
salt
black pepper
For another delicious salad, add the dressing to shredded broccoli to make broccoli slaw.
How to make my Coleslaw Dressing Recipe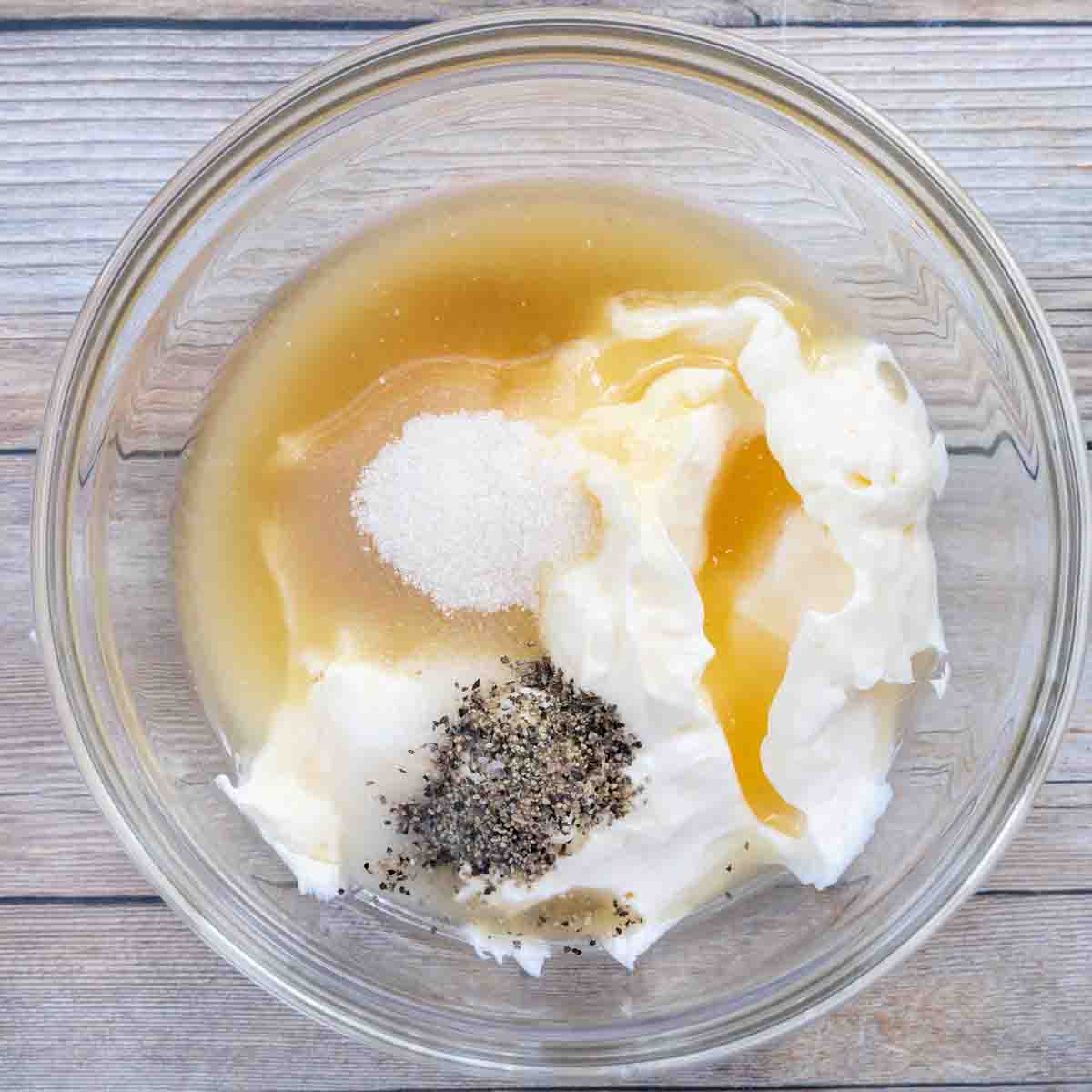 Add mayonnaise, sugar, vinegar, lemon juice, salt, and pepper to a large bowl. It really is that easy to make this mayo-based dressing.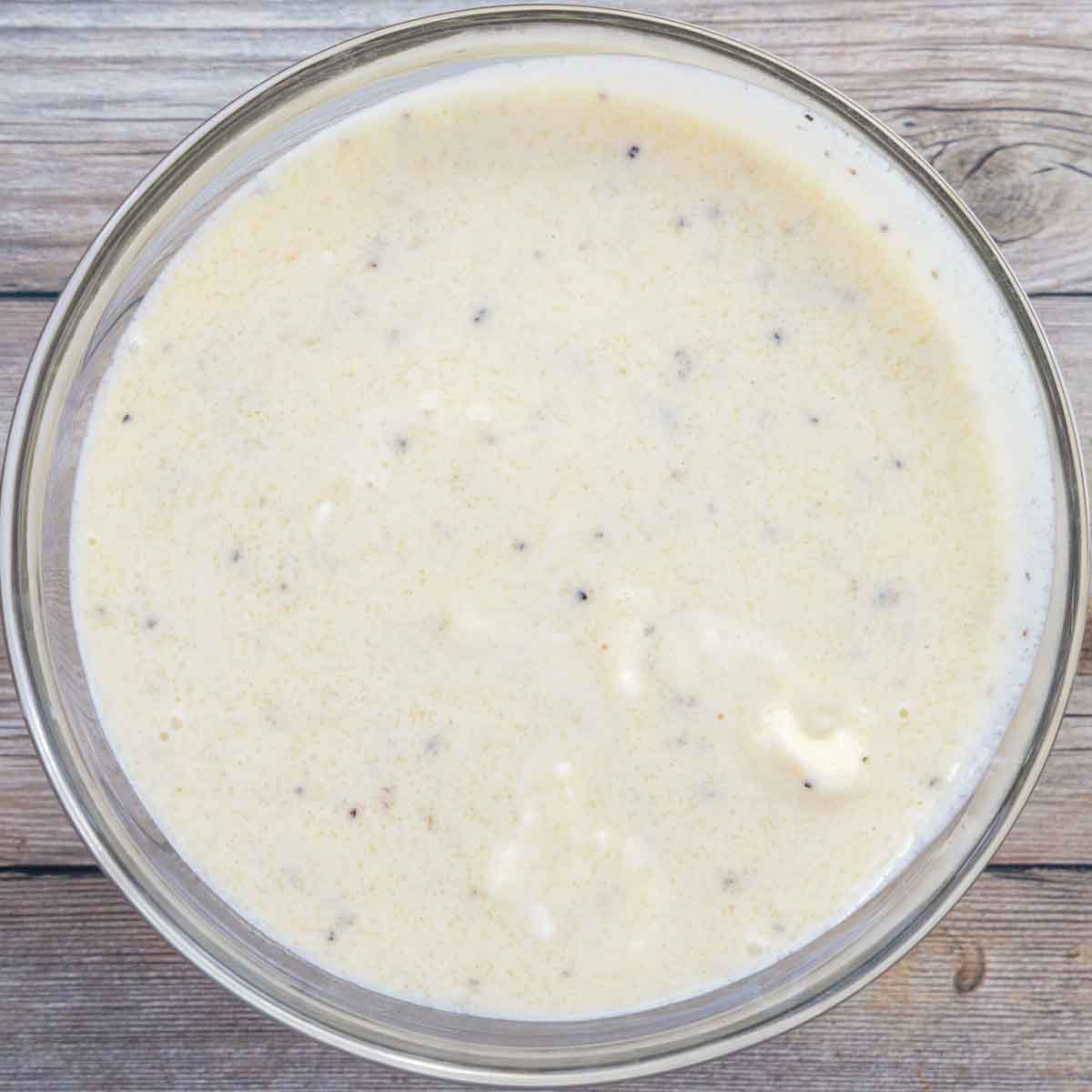 Once you see how easy it is to make my classic coleslaw dressing, you'll never buy store-bought coleslaw dressing again. Making homemade dressings lets you control the ingredients.
Just shred a head of cabbage with a box grater or food processor, and add cole slaw dressing, shredded carrots, or red cabbage for the perfect balance of flavors with just a couple of minutes of work.
How to make Coleslaw
Mix the dressing with 6 cups of shredded cabbage and one shredded carrot to make delicious homemade coleslaw. Or use one 14-ounce bag of store-bought coleslaw mix for a quick and easy coleslaw, perfect for your next backyard barbecue or get-together. Add my homemade macaroni salad, and you've got a party!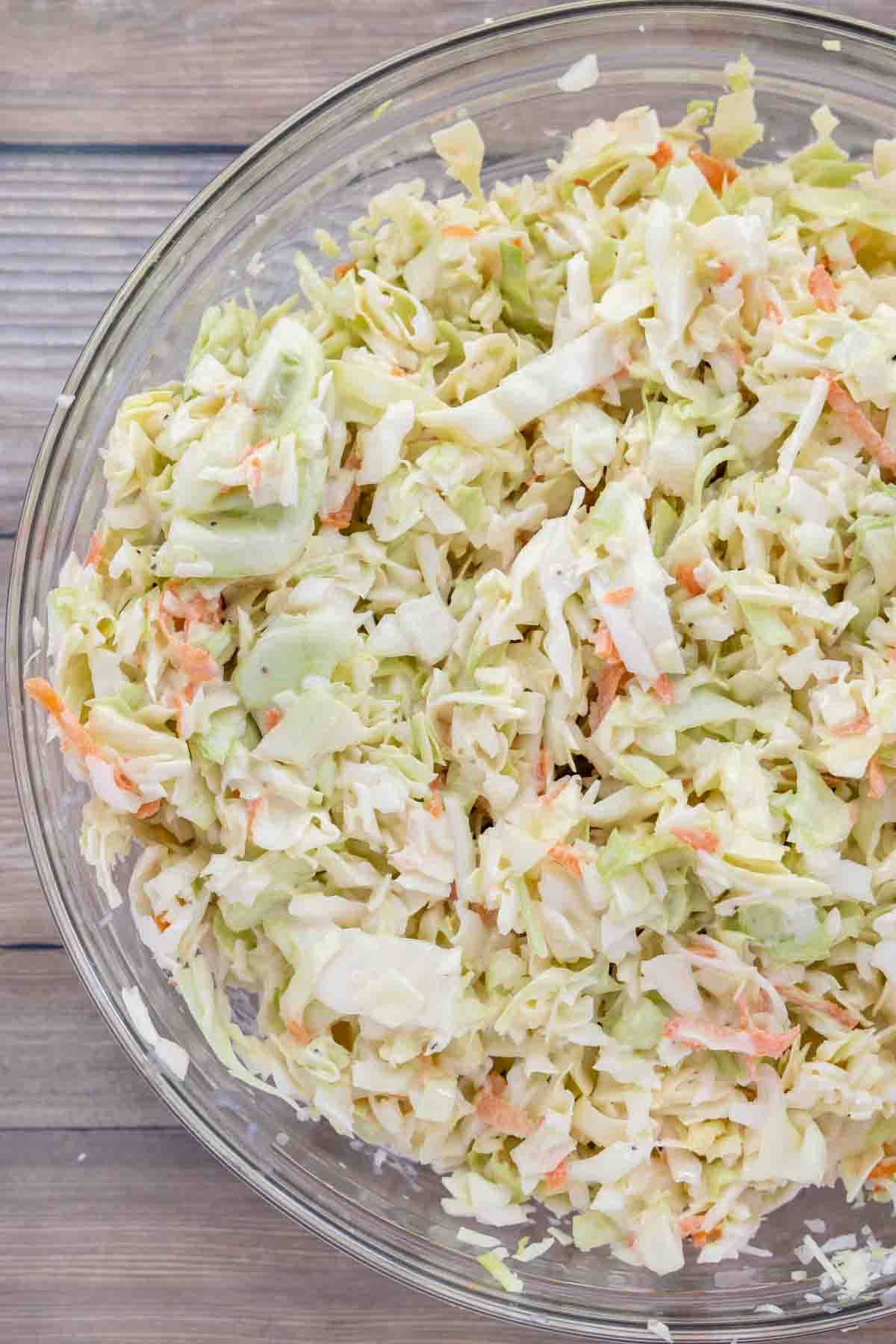 My easy recipe for coleslaw dressing makes the best coleslaw and the perfect side dish for hot dogs, hamburgers, pulled pork sandwiches, barbecued ribs, fried chicken, or just about anything you can think of.
Store the dressing in an airtight container, refrigerated for up to one week. You can also use slaw dressing as a sauce for sandwiches, a dip for vegetables or chicken tenders, or as a dressing for other types of salads.
Recipe FAQ's
Can I make slaw dressing without mayonnaise?
Yes, you can make slaw dressing without mayonnaise. Instead of mayonnaise, you can use alternatives like Greek yogurt, sour cream, buttermilk, or a combination of these ingredients to achieve a creamy texture.
How can I make a healthier coleslaw dressing?
To make a healthier version of my slaw dressing, you can use reduced-fat or light mayonnaise, substitute some or all of the mayonnaise with Greek yogurt or sour cream, and reduce the amount of sugar or use a natural sweetener like honey or maple syrup.
More Recipes You'll Love!