The first time I made my 4-Layer Chocolate Cake with Strawberry Mousse Filling, it was a Valentine's Day treat for my wife.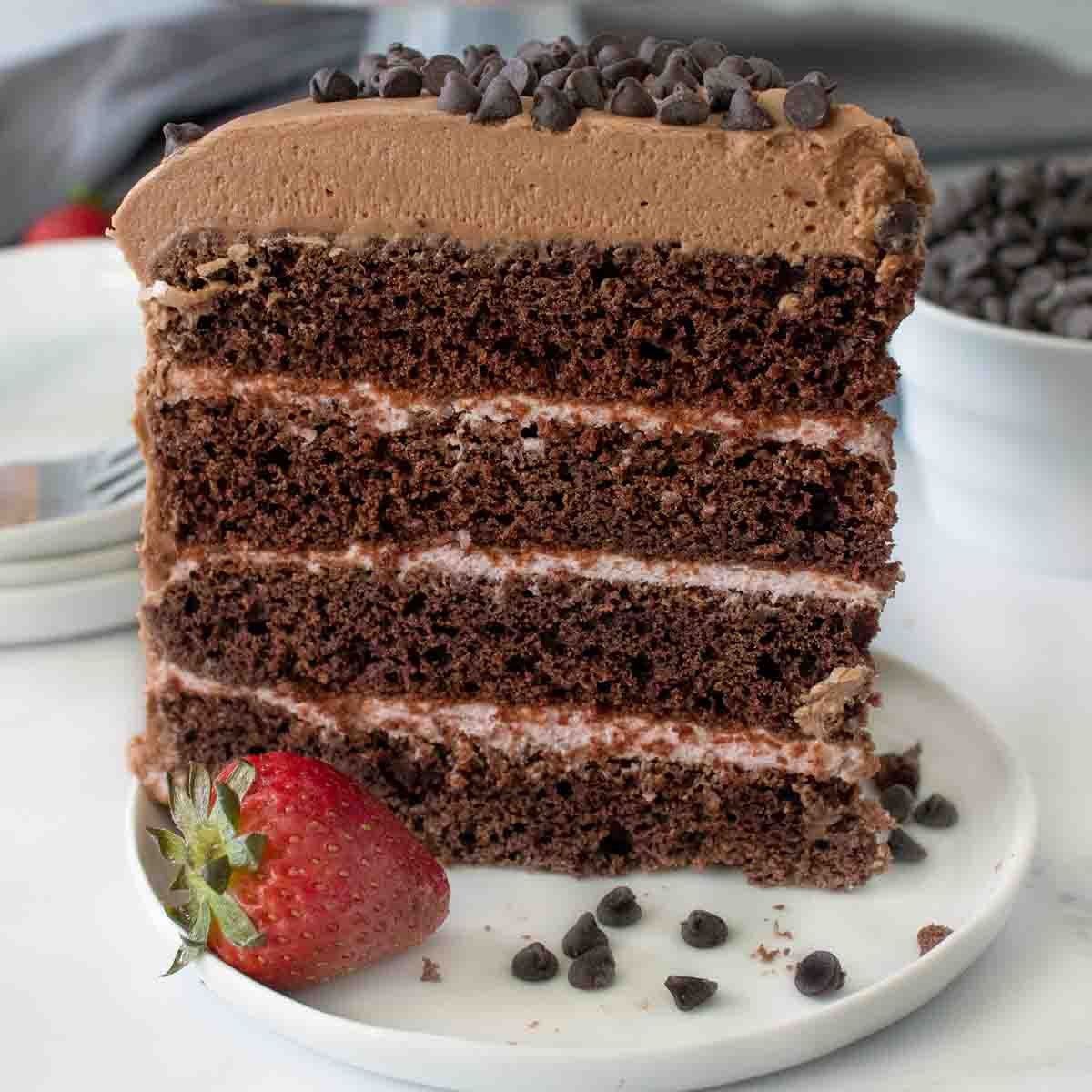 But it's such a delicious and easy-to-make cake it's made appearances for friends and family throughout the year.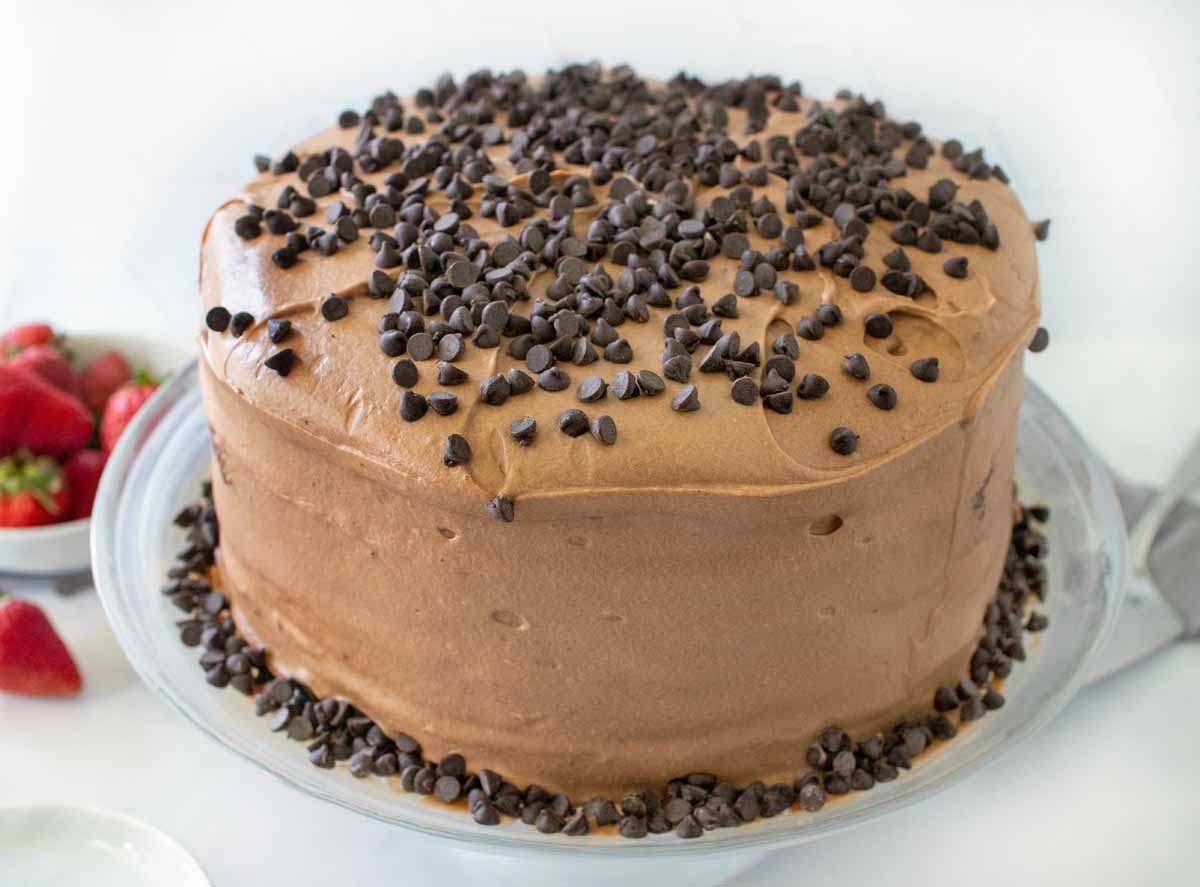 Wouldn't this cake be a great way to say I love you? Even if you just make it for yourself, self-love is a good thing!
Ingredients to make a chocolate cake with a strawberry mousse filling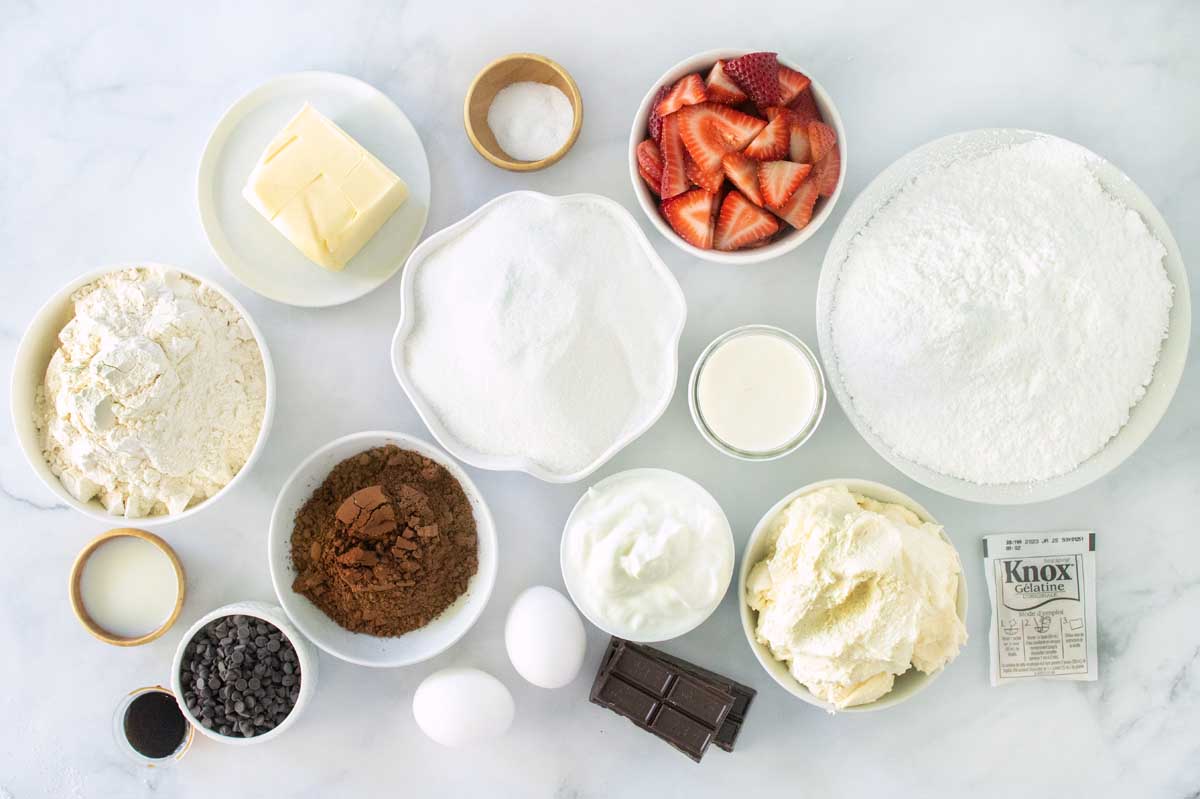 Let's start by gathering the ingredients we need to make my chocolate cake with a strawberry mousse filling. In Chef Speak, this is called the "Mise en Place" which translates to "Everything in its Place".
Not only does setting your ingredients up ahead of time speed up the cooking process, it also helps ensure you have everything you need to make the dish.
Chef's Choice
Chef's Choice
Chef's Choice
Chef's Choice
How do I make a Chocolate Cake?
Start by preheating your oven to 350 degrees F. and prepare four cake pans using parchment circles in the bottom of each pan and lightly coat the sides and parchment with butter.
*I use 9-inch cake pans for all my cakes.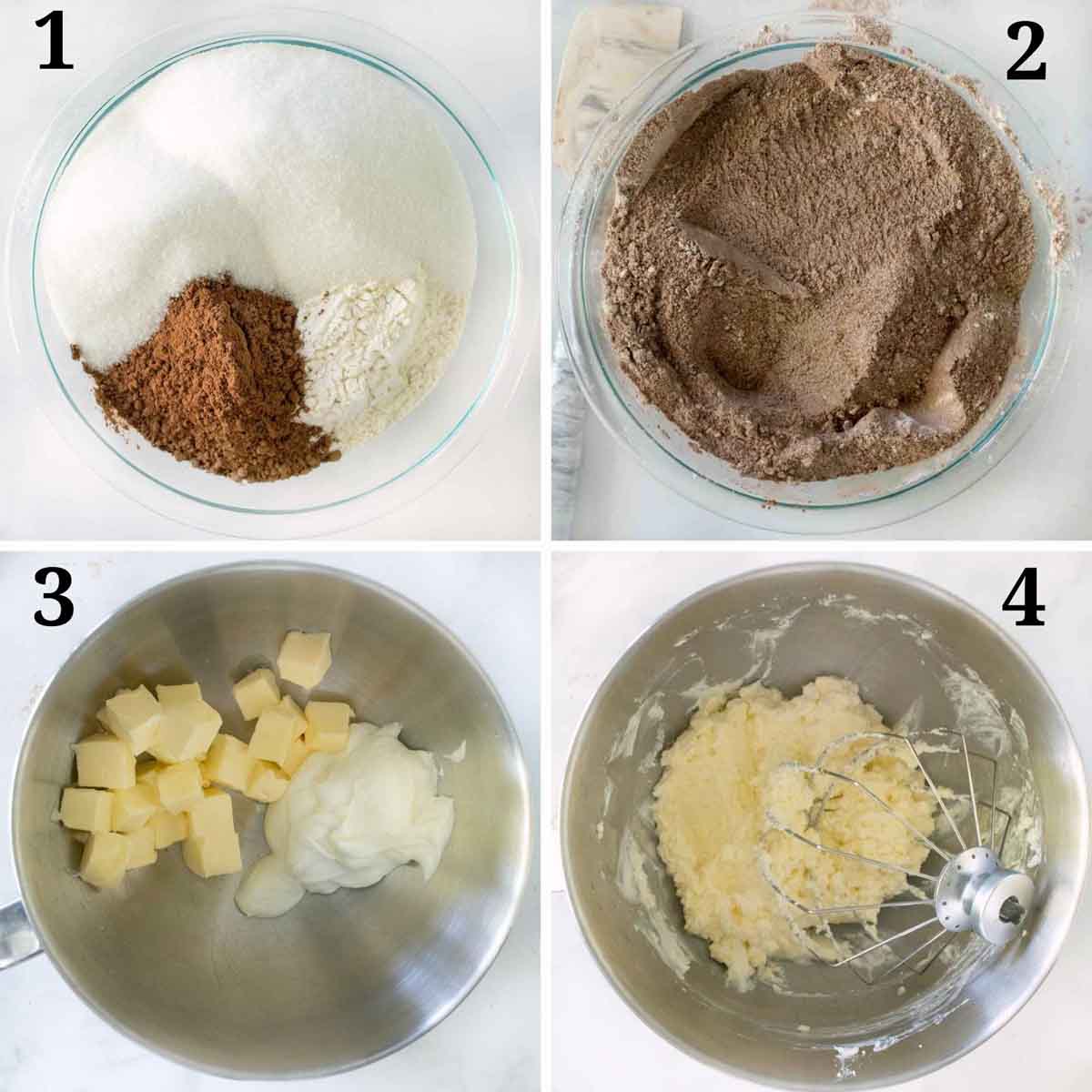 Blend the flour, salt, baking soda, cocoa and sugar together, set aside
In the bowl of your mixer, whip softened butter and yogurt together (make sure all of your wet ingredients, including the eggs, are at room temperature).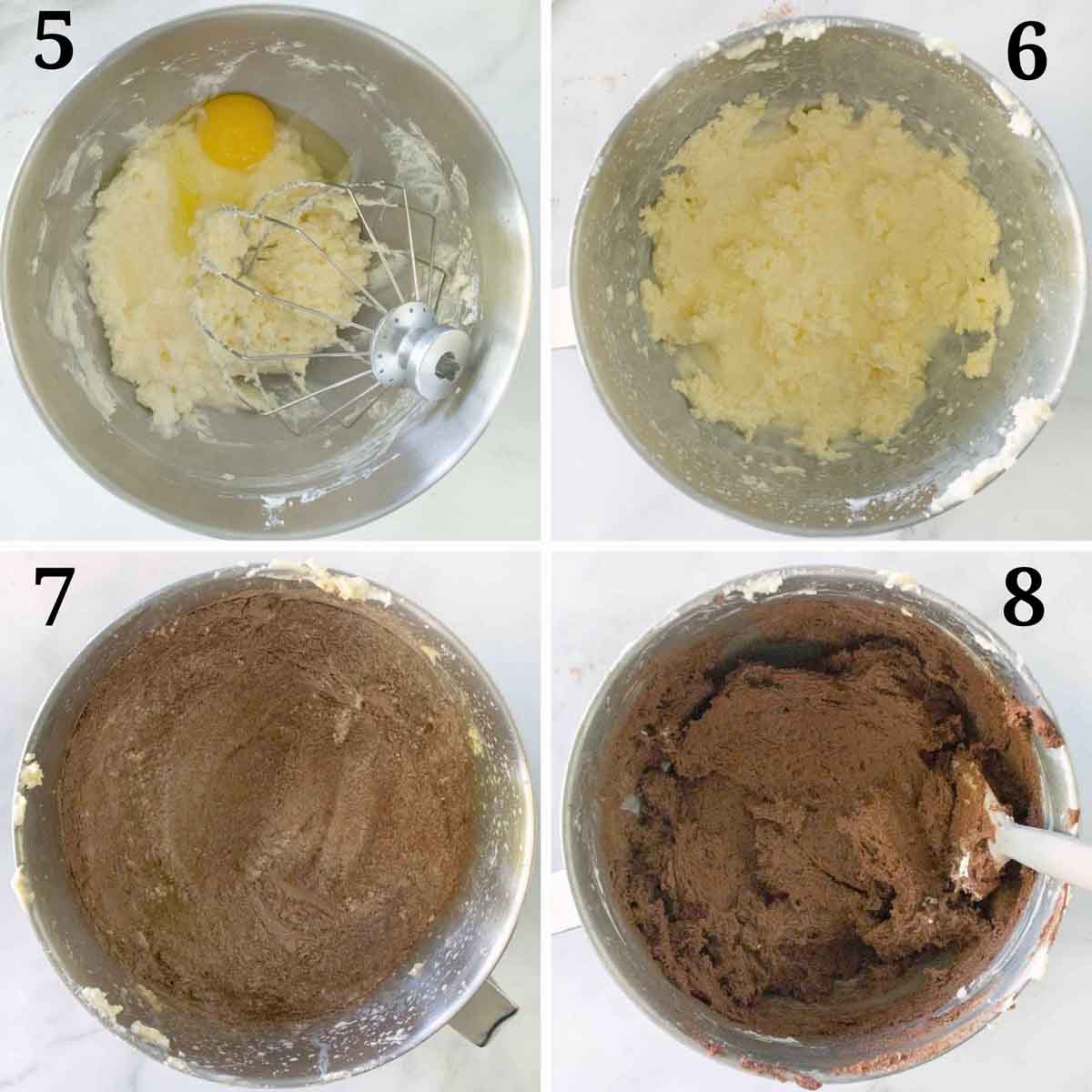 Add the eggs one at a time, fully incorporating them before adding another.
Scrape down your bowl in between each addition.
Add vanilla and mix until blended.
Add the dry ingredients and mix just enough to blend them into the wet ingredients.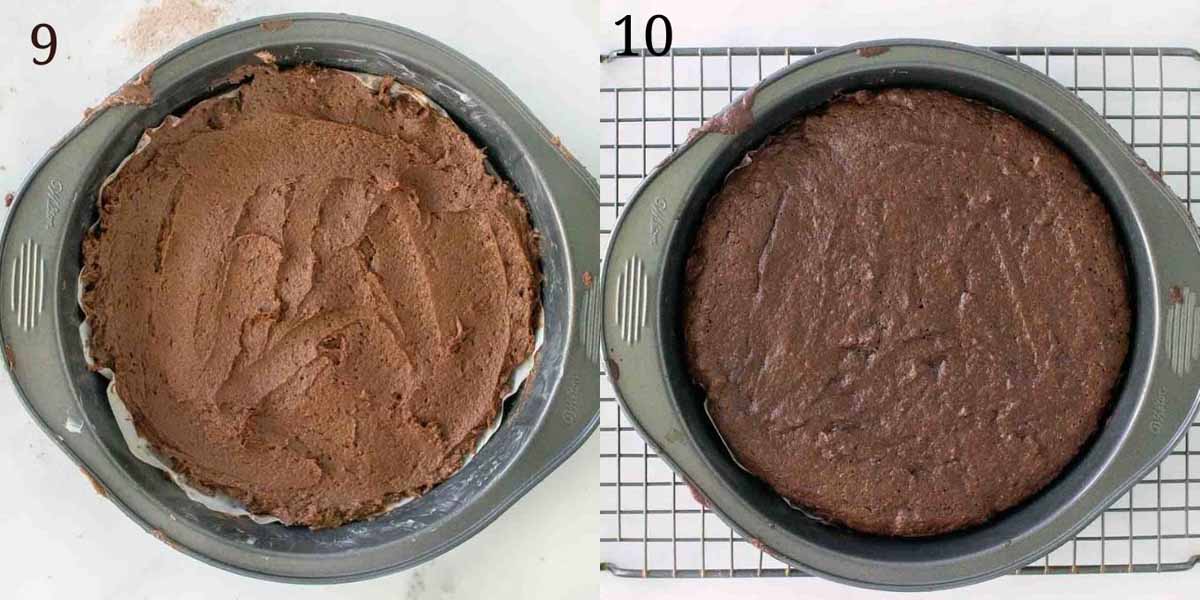 Divide the cake batter between 4 cake pans, spreading the batter evenly using an offset spatula.
Bake the layers for 20-25 minutes or until a toothpick inserted in the center comes out clean.
Let the layers cool on a wire rack for 10 minutes, then remove them from the pan to continue cooling.
How do I make strawberry mousse?
To begin, start by sprinkling the gelatin over ¼ cup of water in a small bowl and let it sit for 5 minutes.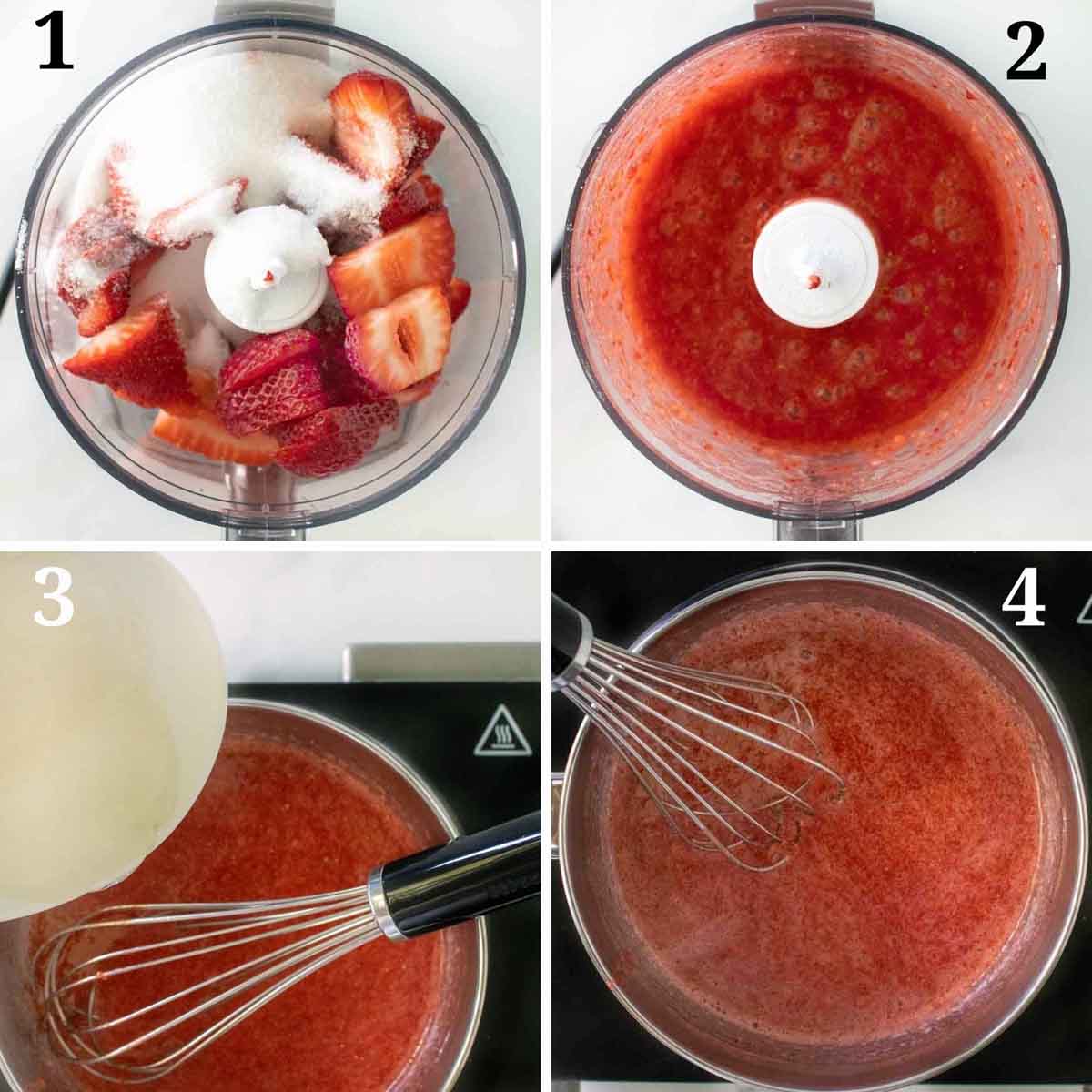 Add the strawberries and sugar to the bowl of a food processor.
Puree the strawberries and sugar until smooth.
Transfer strawberry mixture to a small saucepan and bring to a boil over medium-high heat.
Remove from heat, and add the gelatin mixture to the strawberry mixture, stirring constantly until the gelatin dissolves.
*Cover and chill the strawberry mixture until slightly thickened, about 30 minutes. Stir the mixture every 10 minutes to keep it smooth.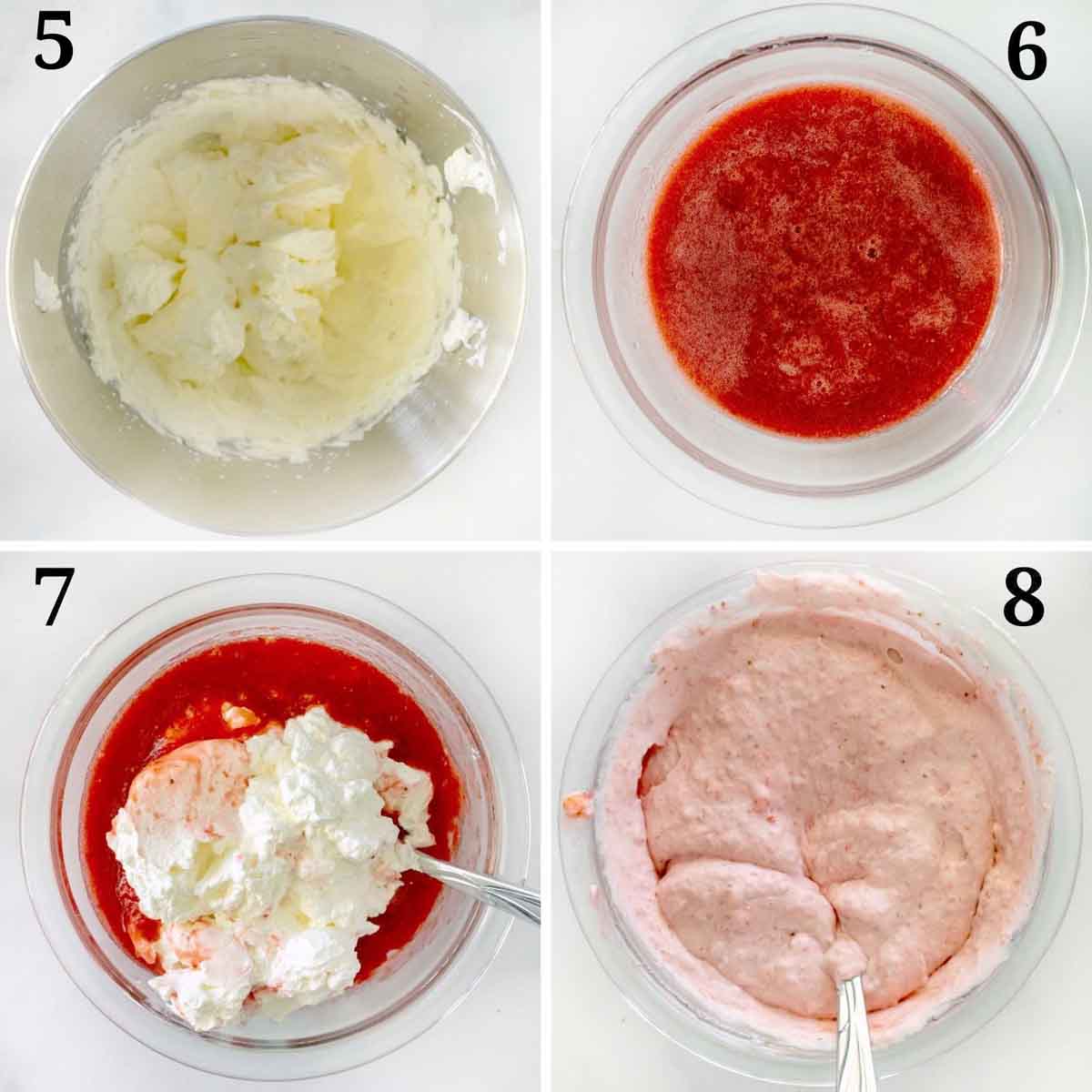 Whip cream at low speed until foamy; gradually increase speed to medium-high, and beat until soft peaks form.
Fold whipped cream into strawberry mixture until well blended.
Cover and chill for 30 minutes or until the mixture has firmed up enough to be used as filling.
How do I make Chocolate Mascarpone Frosting?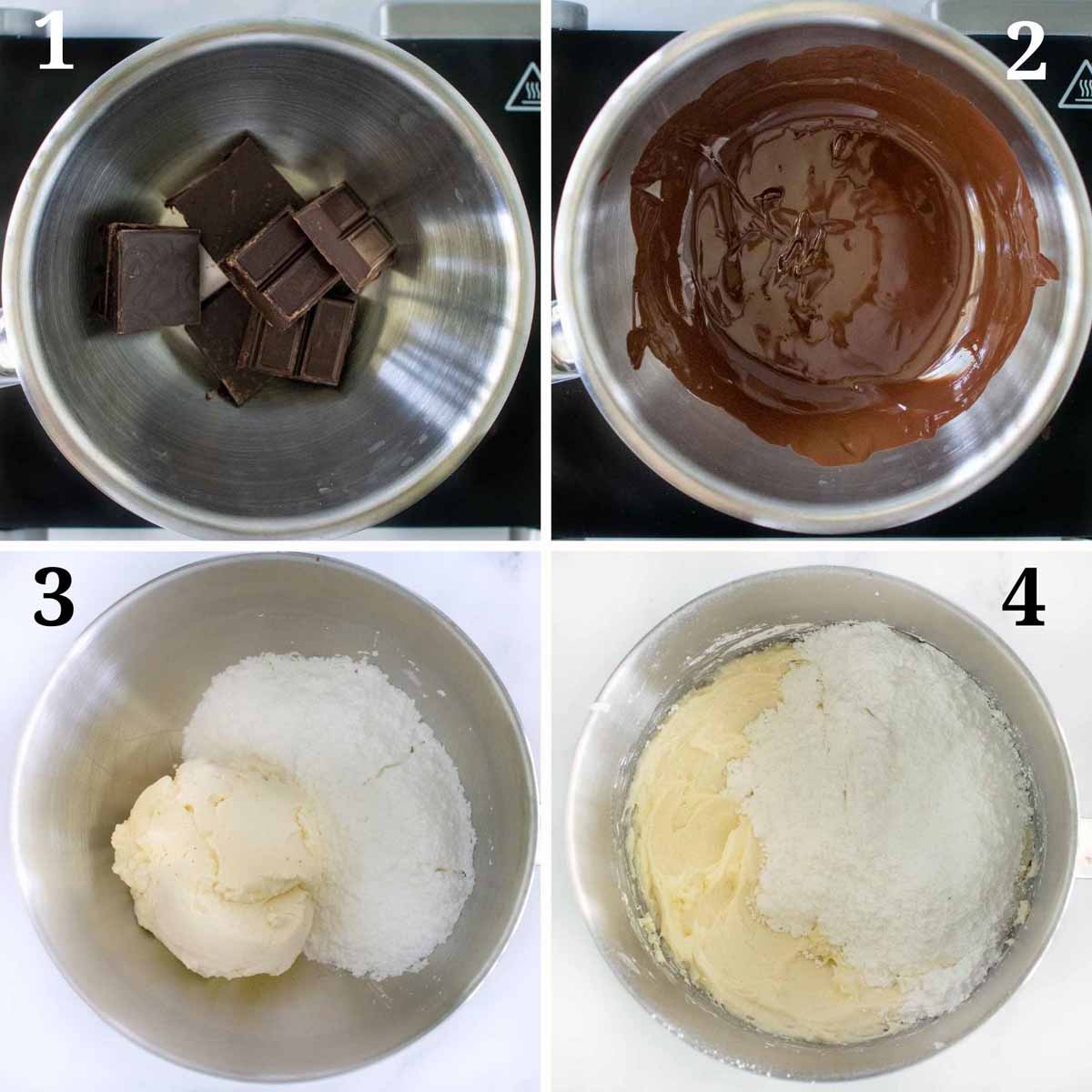 In a double boiler, melt the chocolate and set aside.
Add Mascarpone to a large bowl and beat with ⅓ of the confectioner's beating until smooth.
Continue adding the remainder of the 10x sugar in two additions beating until smooth.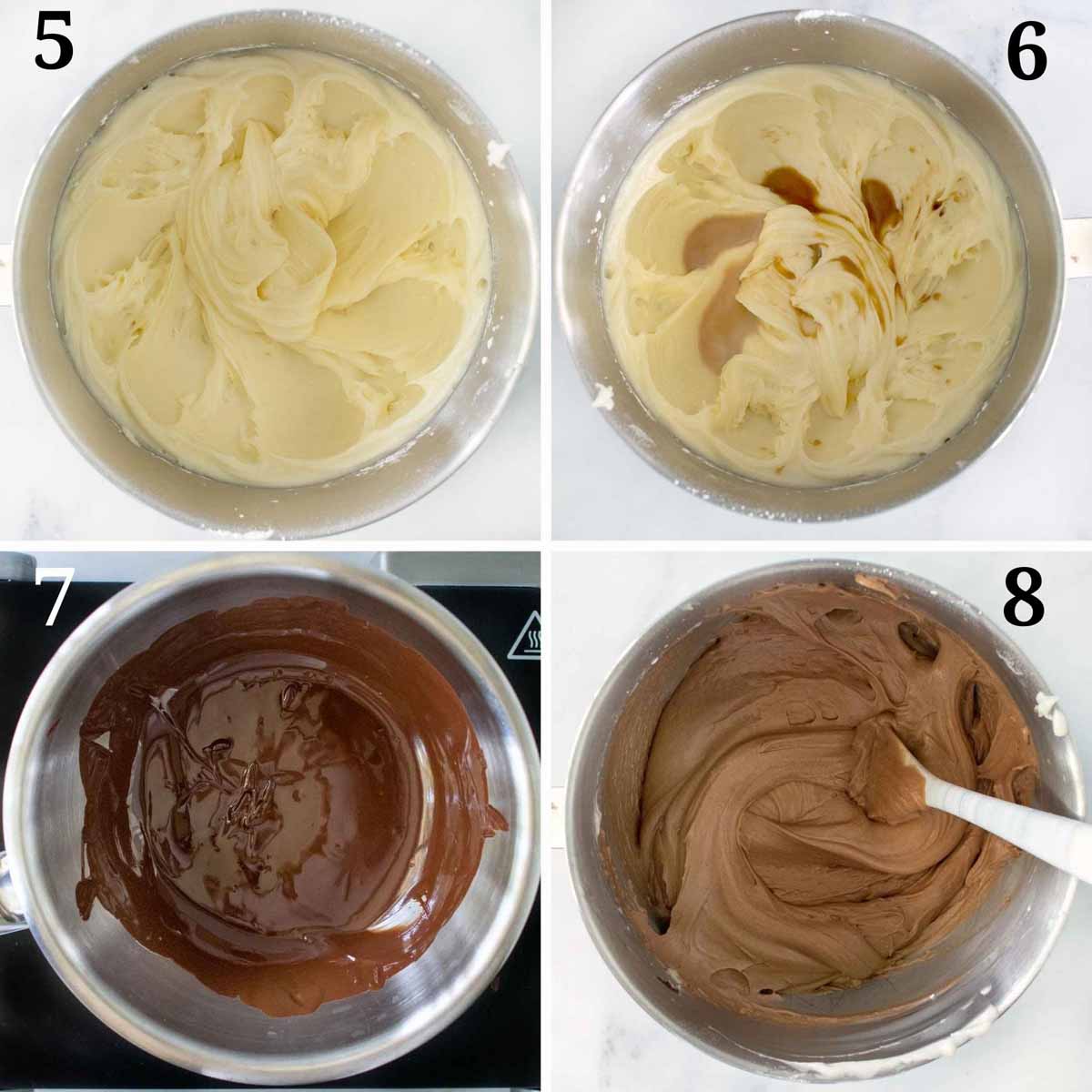 When all the confectioner's sugar has been incorporated, add the vanilla extract.
Gradually add the melted chocolate to the mixture
Whip the frosting until light and fluffy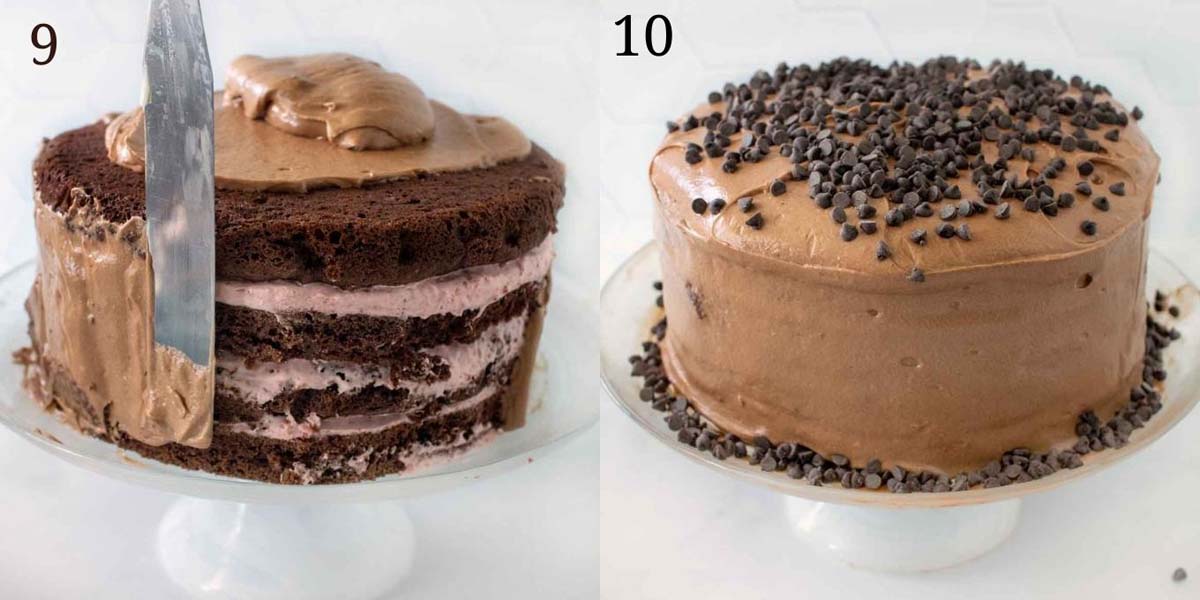 Begin frosting the cake as soon as the chocolate mascarpone frosting is finished. If you wait or refrigerate the frosting, it will set and be hard to work with.
Frost the entire cake and garnish with chocolate chips.
If the frosting sets before you can use it, rewhip until fluffy.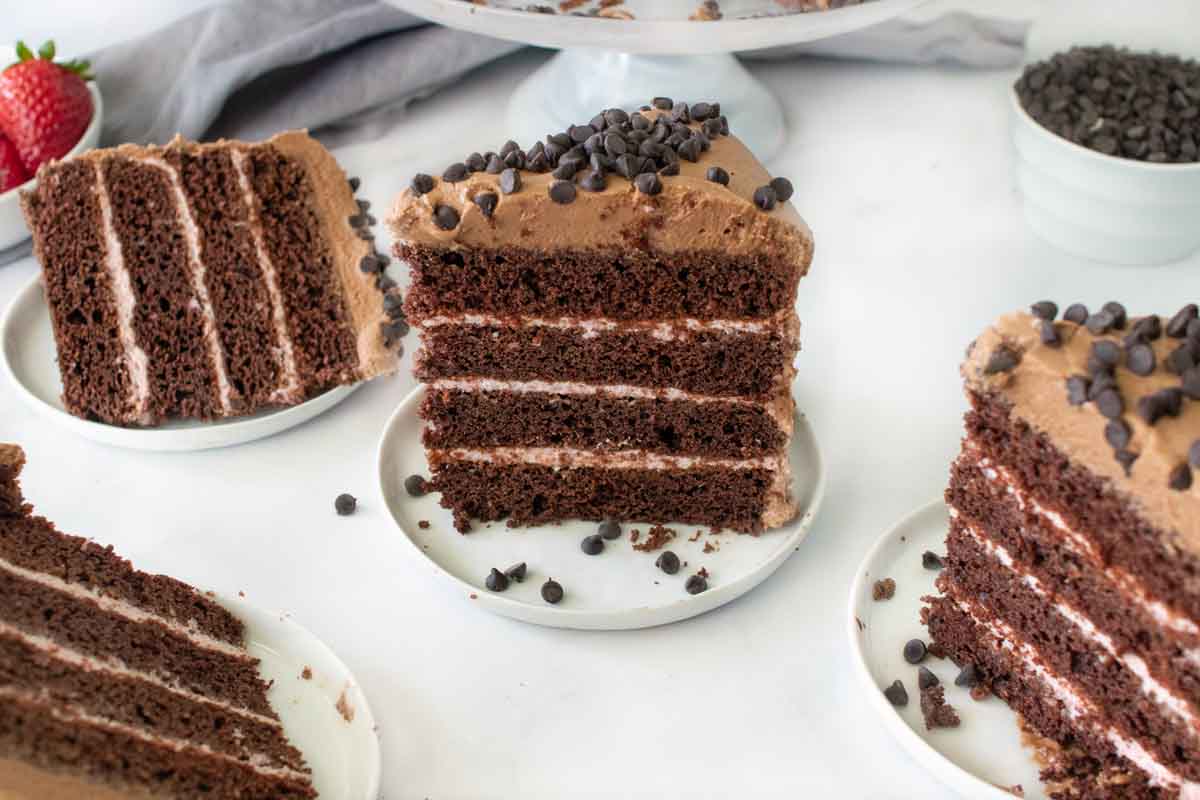 Can't you picture this on your table? Whether you make it for your significant other or a gathering of friends, it's sure to be a hit!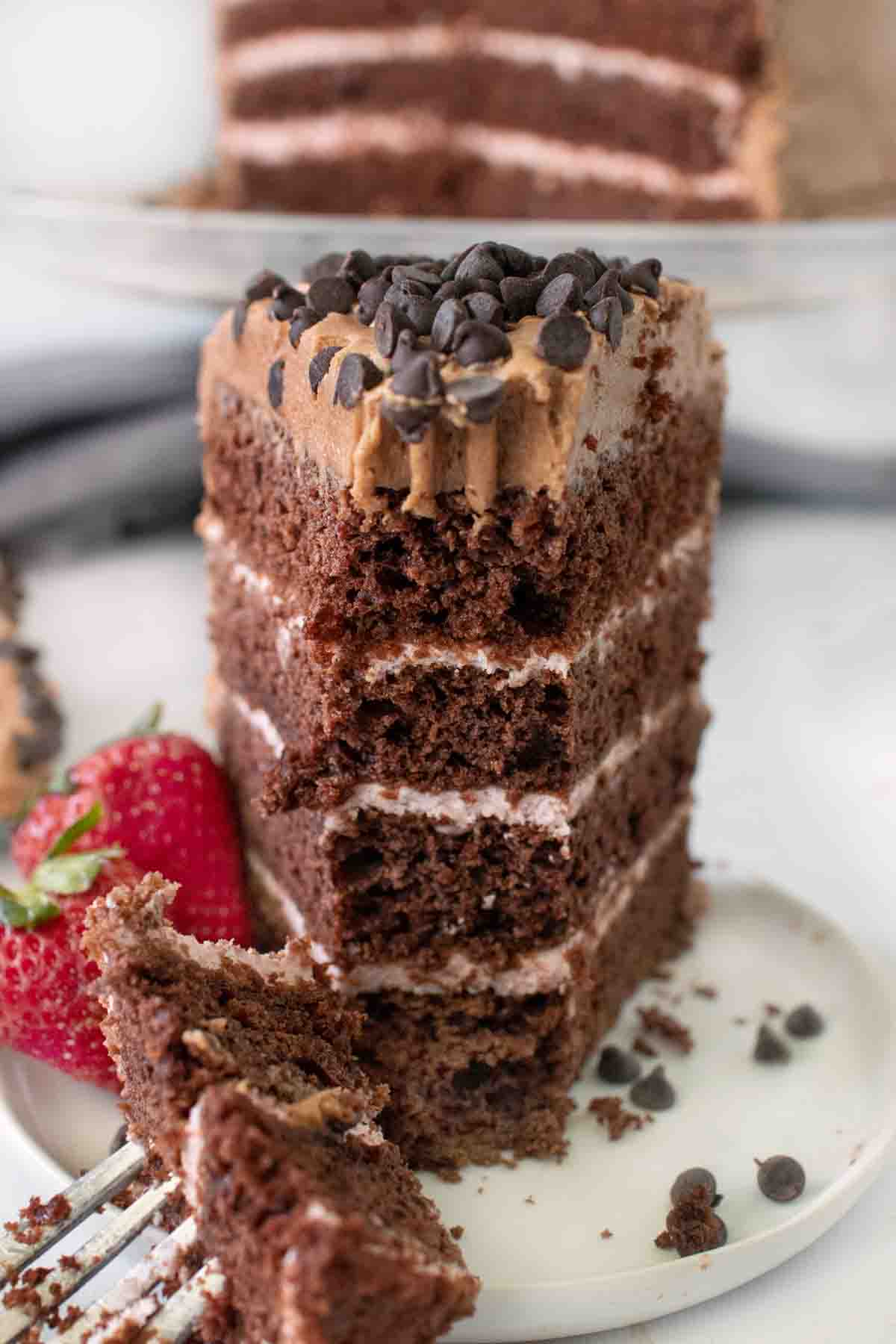 This cake was as good as it looks. The strawberry mousse was light and flavorful and offered enough of a distraction from the chocolate to keep the flavors balanced.
Recipe FAQ's:
Can I make Chocolate Frosting with Cream Cheese?
Yes, you can. Cream cheese can be substituted in the frosting recipe. I prefer the creamier texture and less pronounced flavor of mascarpone to cream cheese, but they are easily substituted.
Can I use other fruit to make the mousse filling for the cake?
Yes, you can. Raspberries or blackberries would make a delicious mousse filling, but you would want to strain the seeds out of the pureed fruit before making the mousse.
You could also make a white chocolate mousse to use as a filling.
Can I make this a two or three-layer cake?
Yes, you can. Just divide the batter between the number of pans you want to use. You will have to adjust to a longer cooking time depending on how much batter you use in each pan.
Can I make a thicker mousse filling between the cake layers?
Yes, you can. Make one and one-half times the recipe to make a thicker layer of strawberry mousse filling.
More Cake Recipes You'll Love!