You don't have to wait for Valentines Day to make this Chocolate Cake with strawberry mousse. But it would make the perfect dessert to say I love you!
Total Time:
1
hour
10
minutes
This post includes affiliate links. As an Amazon Associate I earn from qualifying purchases.
Enjoy my 4-Layer Chocolate Cake with Strawberry Mousse Filling. It's a great way to show that special someone you care!
One of the fondest memories I have of my father is sitting around the dinner table listening to Bill Cosby. My father had always been a very caring man, and while he may not have always told you how he felt, you could always tell from his expressions just how much he loved you.
He had been to hell and back in World War 2 and then again in Korea, so much so that he never spoke of it, and we knew better than to ask. Of course at that age I had no idea what exactly had happened to cause that much pain, I just knew there were movies we couldn't watch and things we didn't say. But to be able to look back on those times, and to remember my father and how he laughed as we listened to Bill Cosby was how I will always remember him, without a care in the world, with his family by his side.
The old man had his favorite routines but nothing ever struck home more than "Chocolate Cake for Breakfast" and it wasn't until my senior year in high school when I had friends staying over, that I found out Chocolate Cake wasn't a breakfast really a breakfast food after all. Well at our house it was, and I'm happy to say that Lisa doesn't seem to mind my addition to our breakfast table one little bit!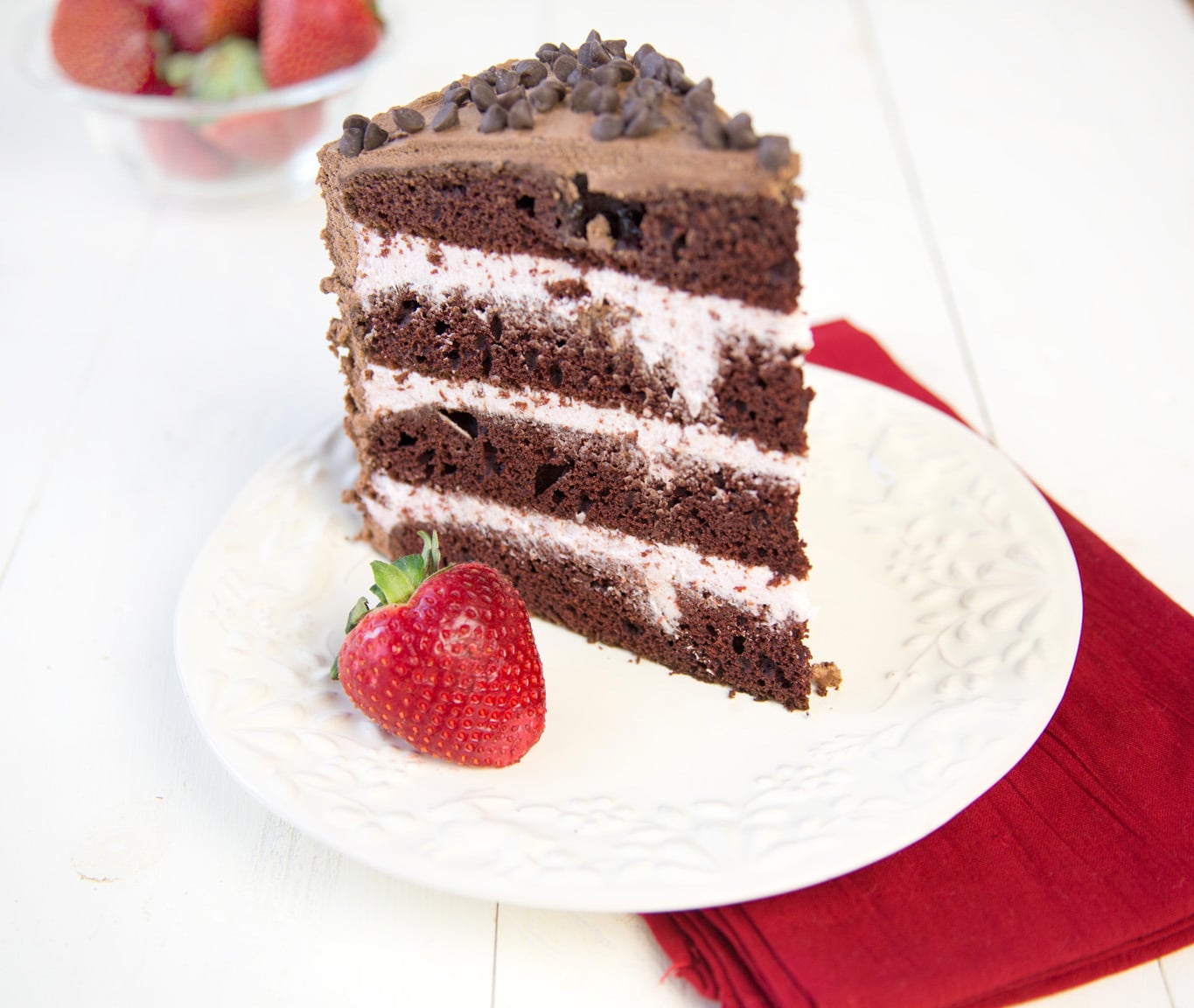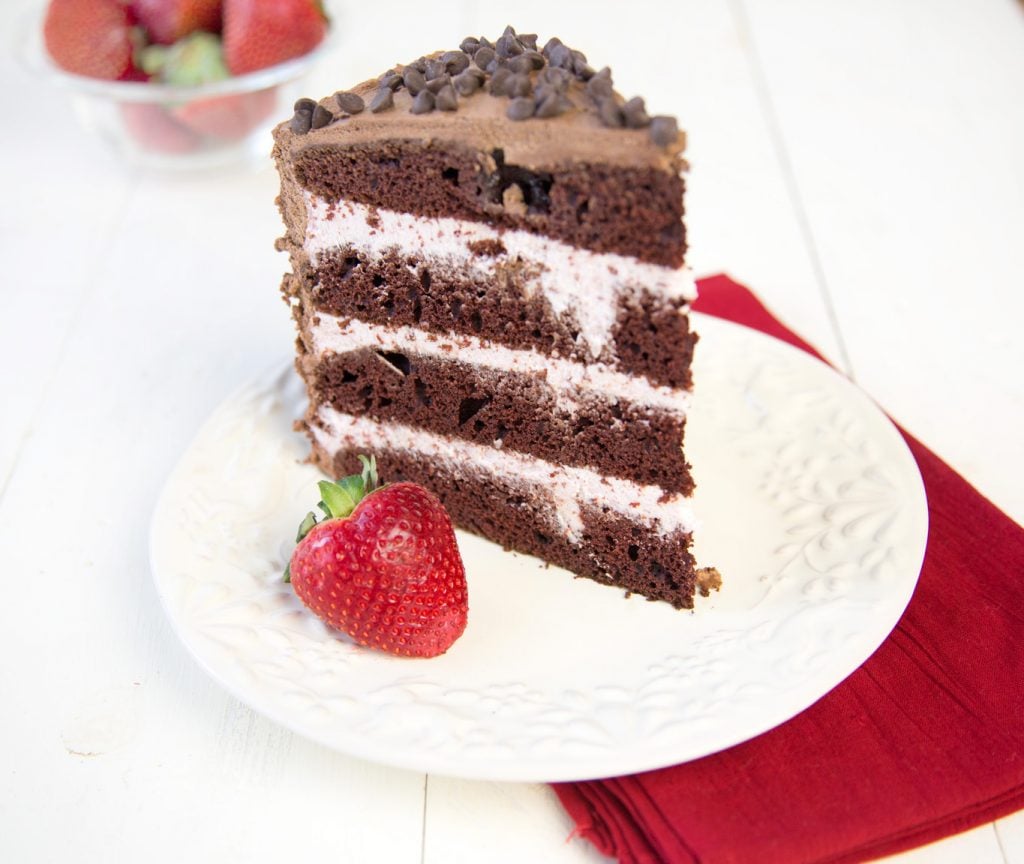 We keep telling ourselves it's a European thing!
With Valentine's Day almost here, I decided to make a special cake. I love my chocolate olive oil cake, but it's been seen too many times here, so I opted for a regular chocolate cake.
But I wasn't in the mood for a total chocolate attack, so I decided that a strawberry mousse filling would be just the right touch, with a mascarpone chocolate buttercream to finish it off!
It was as good it as it looked, and the strawberry mousse was light and flavorful and offered enough of a distraction from the chocolate to keep everything balanced.
Can't you picture this on your table? Whether you make it for your significant other or a gathering of friends, it's sure to be a hit!
If you're looking for more deliciousness to serve your friends and family you might also enjoy these holiday favorites.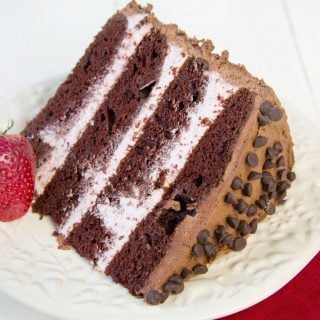 Print Recipe
Chocolate Valentines Day Cake
You don't have to wait for Valentines Day to make this Chocolate Cake with strawberry mousse. But it would make the perfect dessert to say I love you!
Ingredients
Chocolate Cake
2 2/3

cup

all purpose flour

2

cups

sugar

8

oz

unsalted butter

softened

3/4

cup

unsweetened cocoa

1

cup

Greek yogurt

2

teaspoons

baking soda

1/4

teaspoon

salt

1 1/2

teaspoon

vanilla

2

large eggs
Strawberry Mousse Filling
1

Cup

Heavy Cream

2

cups

sliced cleaned strawberries

1/2

cup

sugar

1

envelope

Knox unflavored gelatin
Chocolate Mascarpone Frosting
4

ounces

semi sweet chocolate chopped

16

ounces

Mascarpone

4

cups

500 g confectioner's sugar

2

tablespoons

milk

1

teaspoon

vanilla extract

1/2

cup

mini chocolate chips to garnish top of cake
Instructions
Chocolate Cake
Prepare 4 cake pans using parchment circles in the bottom of each pan and lightly coating the sides and paper with butter. I use 9 inch round cakes pans.

Preheat oven to 350

Blend flour, salt, baking soda, cocoa and sugar together, set aside

Make sure all of your wet ingredients are at room temperature.

In the bowl of your mixer whip softened butter and yogurt together .

Add the eggs one at a time fully incorporating before adding another, and remember to scrape down your bowl in between each addition.

Add vanilla and mix until blended

Add the dry ingredients and mix just enough to blend them into the wet ingredients.

Divide between 4 cake pans,spreading batter evenly using an offset spatula

Bake 20-25 minutes or until a toothpick inserted in the center comes out clean

Cool on wire rack for 10 minutes then remove from pan to continue cooling.

Sprinkle gelatin over 1/4 cup water in a small bowl and let stand 5 minutes.
Strawberry Mousse
In a food processor, puree 2 cups sliced strawberries and 1/2 cup granulated sugar until smooth.

Transfer strawberry mixture to a small saucepan; bring to a boil over medium-high heat. Remove from heat, and add gelatin to strawberry mixture, stirring constantly until gelatin dissolves.

Cover and chill until slightly thickened about 30 minutes, stir the mixture every 10 minutes

Whip cream at low speed until foamy; gradually increase speed to medium-high, and beat until soft peaks form.

Fold whipped cream into strawberry mixture until well blended. Cover and chill 30 minutes or just until mixture has thickened enough to be used as filling

Spread about 1 cup Strawberry Mousse between each cake layer, cover and chill 3 hours or until mousse is set.
Chocolate Mascarpone Frosting
In a double boiler melt chocolate, set aside.

Add Mascarpone to a large bowl and beat with confectioner's sugar in three additions until smooth.

Add vanilla and gradually add the melted chocolate.

Whip frosting until light and fluffy and frost cake immediately, before chocolate can set.

Sprinkle mini chocolate chips on top of cake.

Refrigerate cake until serving, but allow it to stand at room temperature for 30 minutes before serving.
Nutrition
Calories:
697
kcal
|
Carbohydrates:
89
g
|
Protein:
8
g
|
Fat:
35
g
|
Saturated Fat:
21
g
|
Cholesterol:
100
mg
|
Sodium:
214
mg
|
Potassium:
205
mg
|
Fiber:
3
g
|
Sugar:
67
g
|
Vitamin A:
1000
IU
|
Vitamin C:
10.6
mg
|
Calcium:
88
mg
|
Iron:
2.3
mg